If you drive for a rideshare company like Uber or Lyft, personal car insurance might not fully cover you. Rideshare insurance ensures that you have no coverage gaps, so you are adequately protected.
Your personal auto insurance policy typically won't cover rideshare driving through Uber or Lyft because ridesharing is considered driving for business purposes, which requires commercial insurance.
Commercial insurance, however, isn't usually sensible for rideshare drivers. It's expensive, compared to rideshare insurance, and you probably don't want a commercial insurance policy for your personal vehicle.
Many car insurance companies now fulfill the demand by offering coverage options tailored to Uber and Lyft drivers. It's called rideshare insurance, or a transportation network company (TNC) endorsement.
If you're interested in rideshare insurance, this article covers these topics:
How is rideshare coverage different from personal car insurance?
Personal car insurance financially protects you from accidents that occur during drives for personal reasons. This includes commuting to work, running errands and leisure driving. On the other hand, rideshare insurance covers you when you use your vehicle for business reasons. This includes transporting passengers for a TNC like Uber or Lyft.
Uber and Lyft provide some insurance coverage after you've signed into your app, but it is limited and does not financially protect you at all times.
Who needs rideshare insurance?
Uber and Lyft do not require you to purchase rideshare insurance, but we recommend you have it. Rideshare insurance covers gaps in your coverage to ensure you're protected the entire time you're on the road. Nearly every state requires drivers to have some amount of liability coverage, so you'll need at least that minimum if you want to be a rideshare driver.
If you only have personal insurance and decide to drive for a rideshare service, you'll have gaps in coverage. In the event of an accident on the job, you may not be covered and you can find yourself paying out-of-pocket costs. Rideshare insurance exists to close this gap and ensure you are protected at all times.
What does rideshare insurance cover?
Uber and Lyft provide some forms of insurance, but it's not comprehensive. Rideshare insurance functions to cover the gap between your personal car insurance and the partial coverage provided by Uber and Lyft.
A rideshare trip is divided into three periods, and Uber and Lyft insurance policies only provide coverage during periods two and three. In period one, they provide limited coverage if your personal policy does not.
Offline: The rideshare app is not on. You are protected under your personal car insurance policy.
Period 1: The driver is logged into the app but is waiting for a ride request.
Period 2: The driver has received a ride request and is en route to the passenger.
Period 3: The passenger is in the car and the driver is en route to their destination.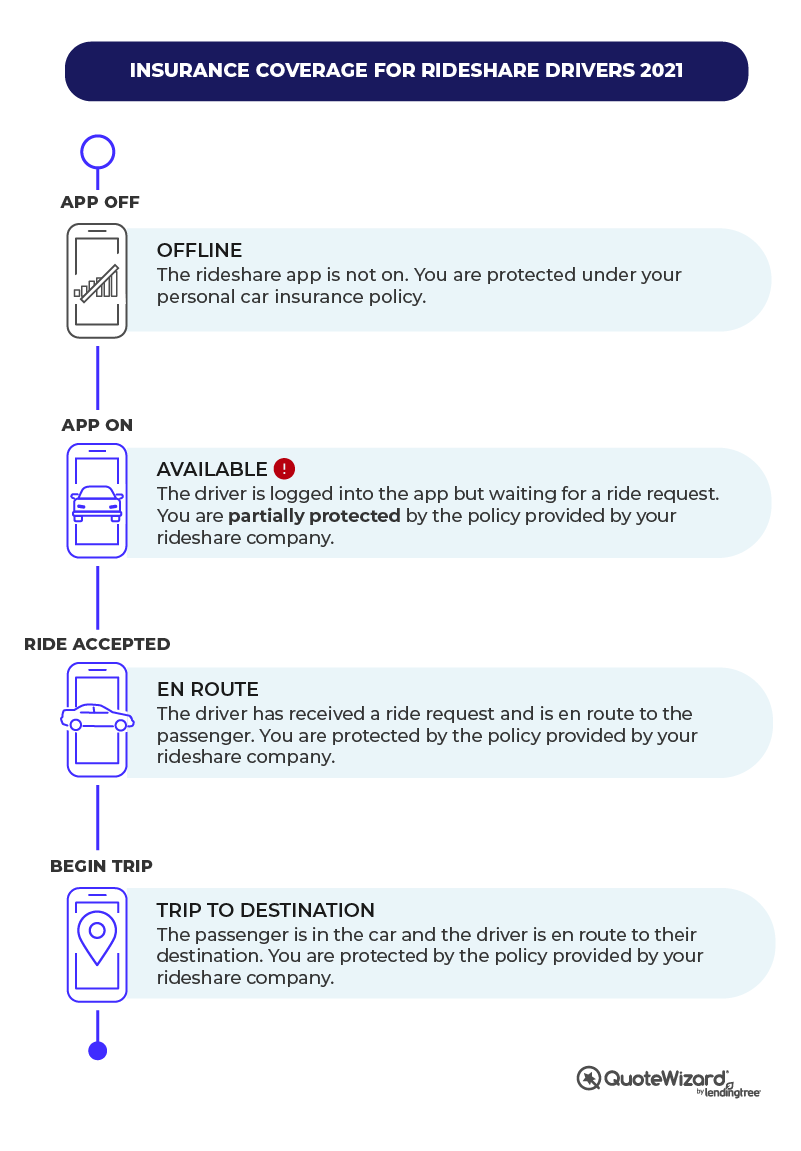 A typical personal car insurance plan will often cover you until you log into the rideshare app and begin period one. Period one is known as a gap. That's because there's a gap in insurance when you aren't picking up or driving a passenger.
When you are waiting for a ride request during period one, Uber and Lyft insurance policies and your personal policy won't entirely protect your vehicle. In period one, rideshare companies provide liability coverage for others in case you cause an accident, but that does not protect you.
After you've received a request, however, your rideshare company will provide you with collision and comprehensive coverage. However, keep in mind that collision and comprehensive coverage only kick in during period two and end after period three, or when you drop the passenger off. Rideshare insurance can cover medical payments and legal defense if your passenger is injured and files a claim against you.
Do I have to tell my car insurance provider that I drive for Uber or Lyft?
Before you start working for a ridesharing service, you must inform your insurance company. It's not a good idea to keep your rideshare driving to yourself if you want your claims to be paid. Alerting your personal insurer that you are using your vehicle for business purposes can allow for better coordination with your rideshare company in the event you get in an accident and file a claim.
If you don't inform your company and they find out through a car accident that you are driving for Uber or Lyft, your policy can get canceled or denied renewal.
How much does rideshare car insurance cost?
Prices for rideshare insurance range from a few dollars to an additional $27 a month, based on information collected from insurance company websites. The cost of rideshare insurance is relatively affordable compared to commercial policy, an alternative. What you pay depends on several factors:
Your insurance provider
The make and model of your vehicle
Your driving record
Your age
Where you live
How to get rideshare insurance
Before beginning your first rideshare gig, you need to contact your insurance company to let them know you will be driving for Uber or Lyft. Your auto insurance policy is catered towards your specific needs. If your company finds out you have been driving for business purposes without adequate protection, they can cancel your policy.
Informing your company will give you the opportunity to talk about options for coverage to prevent gaps. Your insurer may also have a cheap rideshare insurance policy available for you to add to your regular policy.
Companies offering rideshare insurance
Many companies offer rideshare insurance, and you can often buy it with your personal auto insurance company. That can be a good route to take if you're a part-time driver and need personal auto insurance, too.
The rates displayed below are estimated costs. Rates may vary based on location, driving record and vehicle.
Rideshare insurance companies by state and rates
Company
States available
Approximate rates
State Farm
AL, AZ, CA, CO, CT, DC, DE, FL, GA, IA, ID, IN, KS, KY, LA, ME, MI, MN, MO, MT, MS, ND, NE, NH, NJ, NM, OH, OK, OR, PA, SC, TN, TX, UT, VA, WA, WI, WV
15% to 20% of your current car insurance premium
Progressive
AL, AZ, AR, CO, DC, FL, GA, ID, IL, IN, IA, KY, LA, ME, MA, MI, MN, MS, MO, NE, NM, ND, OH, OK, PA, RI, SD, TN, TX, UT, VA, WA, WV, WI, WY
Get a quote
Allstate
Every state except NY
Get a quote
Farmers
AZ, DC, DE, GA, HI, IA, IN, KS, MD, MI, ND, NE, NV, PA, SD, VI, WV
Get a quote
Erie
DC, IL, IN, KY, MD, OH, PA, TN, VA, WI, WV
$9-$15/month
Mercury
AZ, CA, GA, IL, NV, OK, TX
$27/month
Travelers
CO, IL
Get a quote
PEMCO
OR, WA
Get a quote
USAA*
AL, AZ, AR, CA, CO, CT, DE, DC, FL, GA, ID, IL, IN, IA, KS, KY, LA, MD, MA, ME, MN, MS, MO, NE, NV, NH, NJ, ND, OH, OK, OR, TN, TX, UT, VT, WA, WV, WI, WY
$6/month
*USAA is only available to eligible military members, veterans and their family members.
Want to find your cheapest rideshare insurance? Compare rideshare auto insurance quotes from multiple providers.
What if rideshare car insurance isn't available in my area?
Double-check your insurer's website or contact an agent to see if they have rideshare insurance, as some companies refer to rideshare insurance by a different name, like TNC endorsement. Additionally, the companies that currently offer rideshare insurance may expand coverage to other areas, so be on the lookout for any changes.
If your company does not offer rideshare insurance, you can switch to another provider that offers rideshare insurance or consider a commercial insurance policy if you want to fill the coverage gap.
Uber and Lyft rideshare insurance policies
Both Uber and Lyft provide auto insurance coverage to their drivers. These are their company insurance coverage limits:
Company
Insurance coverage limits without a passenger (before accepting request)
Insurance coverage limits with a passenger
Uber

Bodily injury (BI) liability insurance: $50,000 per person/$100,000 per incident
Property damage (PD) liability insurance $25,000 for property damage

Lyft

Bodily injury (BI) and property damage (PD) liability: $1 million per incident
Uninsured motorist/underinsured motorist injury liability: Varies by state
Contingent comprehensive and collision: Up to car's actual cash value with $2,500 deductible

Policy coverage may vary slightly in each area to comply with state requirements and regulations.
QuoteWizard.com LLC has made every effort to ensure that the information on this site is correct, but we cannot guarantee that it is free of inaccuracies, errors, or omissions. All content and services provided on or through this site are provided "as is" and "as available" for use. QuoteWizard.com LLC makes no representations or warranties of any kind, express or implied, as to the operation of this site or to the information, content, materials, or products included on this site. You expressly agree that your use of this site is at your sole risk.