Best homeowners insurance companies in Minnesota
Minnesota on average has high home insurance rates. With most home insurance rates there being above the national average, finding your best home insurance coverage at the right price can be a chore. This article should help you clear any potential hurdles.
We looked at the average premiums, coverage offerings and customer satisfaction ratings of the home insurers currently underwriting policies in Minnesota. These are the best we found:
Auto-Owners: cheapest rates, great customer service
If you're looking for a combination of great prices and customer care, we highly recommend Auto-Owners for your home insurance needs. It has the lowest average premium of $1,086 annually, $395 less than the state average of $1,481.
Auto-Owners also comes out on top in terms of claims service and resolution. J.D. Power gave Auto-Owners an above-average 4/5 rating in its 2019 home insurance survey. This puts the insurer in sixth for customer satisfaction nationwide. Also, the National Association of Insurance Commissioners (NAIC) gave Auto-Owners a 0.20 rating on its Complaint Index. The lower a company's index, the better it is at handling complaints. This is lower than the state average index rating of 0.35.
While a low price should not be the sole reason for choosing a home insurance policy, finding a quote that fits your budget can be important. If you're looking for a great mix of cost, coverage and service, consider Auto-Owners. Below is a graph showing the average Auto-Owners insurance rates in the biggest cities in Minnesota: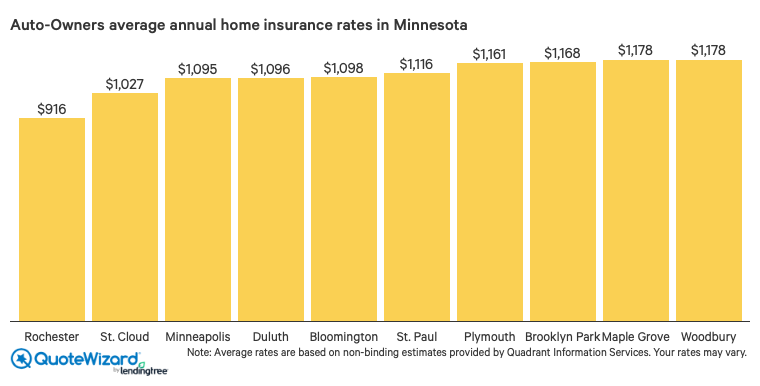 State Farm: most popular
State Farm holds 25.4% of the home insurance market share in Minnesota, despite having a high average home insurance rate of $1,685. This is $204 more than the state annual average of $1,481.
State Farm tends to be the most popular choice in many states. A big reason for this is its consistent reputation for customer care. The insurer scored a 4/5 rating for overall satisfaction on J.D. Power's home insurance survey. The NAIC also gave State Farm a low 0.20 rating on its Complaint Index.
State Farm has been selling home insurance since 1935 and currently underwrites $555,674 in policies in Minnesota. It has agents in over 200 cities and towns in Minnesota. This makes it easier to find a State Farm representative if you prefer the local touch to finding a quote online.
American Family: best discounts
American Family's average annual home insurance rate in Minnesota is $1,332. This puts it at $149 under the state average rate of $1,481.
American Family offers some great discounts to help you save on your annual home insurance premium. One of the bigger ones it provides is a bundle discount. If you bundle your home and auto insurance policies, you may save 20% on your home insurance and 29% on your auto insurance.
Other home insurance discounts American Family provides include:
If you're a new home buyer who bought a home in the last three years, you can get a discount on your home insurance policy no matter how old the house is.
If you do buy a newer home, you may qualify for another discount on your rate.
If you updated your plumbing or electrical systems in the last 15 years, it may earn you a discount.
The NAIC gave American Family a 0.32 rating on its Complaint Index. The lower a home insurer's index score, the better it is with complaints. This is below both the Minnesota average complaint index of 0.35 and the overall national index average of 1.00.
Travelers: best coverage options
Travelers' average homeowners insurance rate in Minnesota is $1,252, $229 under the statewide average rate of $1,481 annually.
One of Travelers' key strengths is the adaptability of its policies. It offers higher coverage limits normally not included in a standard policy. Most homeowners insurance policies place strict limits on high-value items such as jewelry and art collections. Travelers offers higher limits and wider coverage options for your more valuable personal property, higher than most other major home insurers.
If you require higher coverage limits than what even a Travelers standard home insurance policy provides, it also offers a personal articles floater that can help you get the fullest coverage for expensive belongings.
Home insurance companies in Minnesota
The top providers in Minnesota are mostly nationally known brand names. The table below shows how they compare by market share, customer satisfaction and complaint index:
Minnesota homeowners insurance companies
Company
Market share
Customer satisfaction*
NAIC complaint index (lower is better)
State Farm
25.4%
4/5
0.20
American Family
14.9%
3/5
0.32
Farmers
8.2%
3/5
0.37
Allstate
5.5%
3/5
0.29
Auto-Owners
5.4%
4/5
0.20
Liberty
4.3%
2.5
0.53
Travelers
4.1%
2/5
0.30
AAA
2.5%
3/5
0.99
*According to J.D. Power's 2019 home insurance satisfaction study.
Cheapest homeowners insurance in Minnesota
Auto-Owners has Minnesota's lowest average annual rate of $1,086. But even AAA with an average rate of $1,235, Travelers at $1,252 and American Family at $1,332 stay cheap in comparison to other insurers we looked at.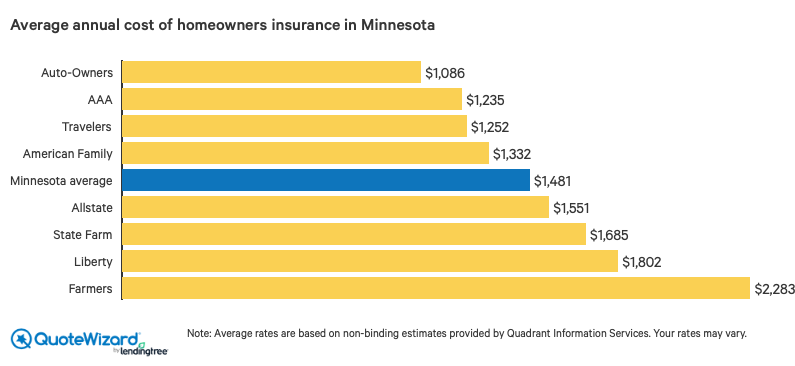 The average annual cost of homeowners insurance in Minnesota is $1,481. This is $266 over the national average home insurance rate of $1,215. We calculated this state average rate from over 1,500 quotes from the eight top home insurers currently underwriting in Minnesota.
Average home insurance rates in Minnesota vs. U.S.
 
Minnesota
U.S.
Average annual rate
$1,481
$1,215
Average monthly rate
$123
$101
Average rates are based on non-binding estimates provided by Quadrant Information Services. Your rates may vary.
If you want to find out how these home insurers compare nationally, read our study on the best homeowners insurance companies.
Home insurance rates in Minnesota by city
Rates are consistently high across Minnesota cities because the extremely cold weather affects all points of the state. The city of Duluth has the lowest average home insurance rate of $1,329, while Minneapolis has the highest at $1,689.
City
Average annual home insurance rate
Bloomington
$1,608
Brooklyn Park
$1,609
Duluth
$1,329
Maple Grove
$1,596
Minneapolis
$1,689
Plymouth
$1,595
Rochester
$1,448
St. Cloud
$1,453
St. Paul
$1,632
Woodbury
$1,603
Average rates are based on non-binding estimates provided by Quadrant Information Services. Your rates may vary.
Home insurance perils in Minnesota
Minnesota has one of the coldest and snowiest climates in America. Depending on what part of the state you live in, total snowfall ranges between 36 to 70 inches per year according to the Minnesota Department of Natural Resources. Heavy snows can cause significant damage to the exterior of your home, as well as water damage from frozen pipes. Fortunately, standard home insurance usually covers damage from snowfall.
Methodology
QuoteWizard studied and compared 1,545 quotes from the eight top home insurance companies currently underwriting home insurance policies in Minnesota. As a base profile, we used a home valued at $257,361 and constructed in 1976 as the median.
The homeowners insurance policy we rated included standard coverage amounts based on:
Dwelling coverage: $257,361
Property coverage (50% of dwelling): $128,681
Other structures coverage (10% of dwelling): $25,736
Loss of use coverage (20% of dwelling): $51,472
Liability coverage: $100,000
Deductible: $1,000
QuoteWizard.com LLC has made every effort to ensure that the information on this site is correct, but we cannot guarantee that it is free of inaccuracies, errors, or omissions. All content and services provided on or through this site are provided "as is" and "as available" for use. QuoteWizard.com LLC makes no representations or warranties of any kind, express or implied, as to the operation of this site or to the information, content, materials, or products included on this site. You expressly agree that your use of this site is at your sole risk.