Compare Homeowners Insurance in Minneapolis
Do you own a home in Minneapolis? Are you planning to buy a home in Minneapolis? Have you ever wondered what drives the cost of home insurance rates in your area?
The Twin Cities have affordable homes in a hot housing market. But an overall shortage of housing stock means buyers have plenty of competition. Beware, Minneapolis residents; high home prices lead to high homeowners insurance costs.
Housing prices aren't the only fluctuating factor in Minneapolis. Add in extreme weather conditions from tornados to snowstorms, and home insurance prices increase. 
Average Minneapolis Home Insurance Rates
How much is home insurance in Minneapolis? Minneapolis' growing popularity has increased the cost of home ownership. Residents should consider how this popularity is affecting homeowners insurance rates.
We created an 'average' Minneapolis home to understand what the average cost of home insurance is. Using data from QuoteWizard users from Minneapolis, this is the 'average' home:
1792 square foot home built in 1970
1 story
3 bedrooms and 2 bathrooms
Composite shingle roof
We received quotes for this house from top insurance companies in Minneapolis. However, homeowners insurance rates are unique to each person, their home, and their coverage. Your experience may differ from our findings.
This is the average rate for a homeowners insurance policy in Minneapolis:
$158.95/mo.
$1,907.49 annually
The graph below shows the change in average Minnesota home insurance rates from 2011 to 2015, the most recent year the data is available. According to the III, Minnesota homeowners insurance rates increased from $1,056 in 2011 to $1,323 in 2015, a jump of $267 dollars, or 25.28 percent.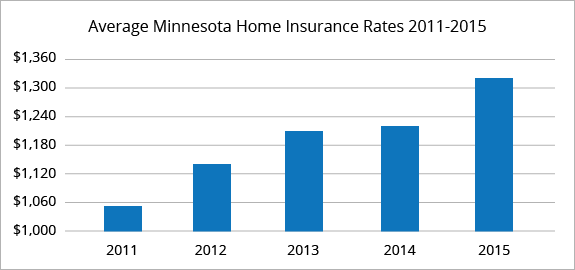 QuoteWizard helps consumers compare quotes from both national insurance companies and local agents. QuoteWizard can help you find affordable home insurance rates near Minneapolis, Minnesota.
Last year, many people used QuoteWizard to compare compare home insurance quotes in Minneapolis, MN from multiple companies.
Best Home Insurance Companies in Minneapolis
Most Popular Insurance Companies
Below is a list of the most popular homeowners insurance companies in Minneapolis:
State Farm
Allstate
Liberty Mutual
Farmers
Progressive
GEICO
Nationwide
American Family
MetLife
Esurance
Best Insurance Companies
The above list shows the most popular home insurers in Minnepolis according to our users. But popular doesn't always mean best.
Our study on the best rated home insurance companies focuses on top of the line companies. In no particular order, these companies stand out among the rest:
Amica: Best Overall
MetLife: Best for Bundling
Allstate: Best for Local Agents
Hartford: Best for Seniors
State Farm: Best for Pet Owners
Travelers: Best for Flexible Policies
Nationwide: Best Replacement Coverage
Farmers: Best for Eco-Friendly Homes
Liberty Mutual: Best for Quick and Easy Quotes
Auto Owners Insurance: Best Claims Experience
Minneapolis Home Insurance Rate Factors
Insurers factor a variety of elements when calculating your home insurance policy. Listed below are some of the most common elements used to decide your insurance premium:
Natural disasters and bad weather: Insurance companies charge more for homes located in disaster prone areas. In Minneapolis, residents can expect to see tornadoes, floods, and even blizzards. In fact, Minneapolis is the second snowiest city in the country, according to Forbes. Snow and freezing temperatures can cause roof damage, leaks, frozen pipes, and more. And those tornadoes? Estimates show that in 2011 alone, Minneapolis experienced $80 million of tornado damage. Home insurance companies consider these risks when pricing a policy. Minneapolis homeowners should be aware of this.  

It's not just disasters. Minneapolis is located in Minnesota, a state that has earned the dubious honor of having the worst weather in the country. That weather is sure to wear down even the nicest homes 
Credit history: In Minneapolis, the average credit score is 710. That ranks the city 8th out of America's 100 largest cities for credit scores. This is great news for Minneapolis residents and homeowners. Why? Insurers use your credit score to help decide your monthly premium. It's a controversial practice, but it's also reality.
Previous claims: It's no secret that filing claims often hurts your insurance rates. Even claims the previous owner filed can negatively affect your insurance rates. Like all types of insurance, your premium goes up if you file a claim. After filing enough claims, your insurance company may label you a high risk. They might even decide to cancel your coverage.
Coverage amounts: Coverage amounts play a big role in the cost of your home insurance. The more coverage you need the higher your home insurance premium is. Settling for a basic policy may be a great route if you are looking to save on your monthly premium. But this causes extra out-of-pocket costs if an something happens to your home.

Similarly, if you have valuable items, a unique home, or large assets, you're going to need more than a standard home insurance policy. That, in turn, will cost more.
Home security and crime: In 2017, Minneapolis reported 22,385 crimes. Of those 17,957 were property crimes. This means your chances of becoming a victim of property crime in Minneapolis is one in 23. Property crime is more likely to happen in Minneapolis than in the entire state of Minnesota. These statistics aren't great for homeowners. Property crime has a major impact on your monthly premiums. Luckily, there are some safety measures residents can take to save money.
What Doesn't Affect Your Rates
Minnesota law prohibits insurers and insurance companies from adjusting rates based on:
The specific location of a town where the home is located.
The age of the home.
Different zip code areas in the same town.
Whether or not the homeowner was previously denied coverage.
If the property was insured before under the Minnesota FAIR Plan.
Types of Homeowners Insurance
Most homeowners insurance come in standard packages across the Unites States. Below are the most common types of insurance: 
HO-1: Basic insurance that covers standard damages.
HO-2: Broad homeowners insurance that covers everything in HO-1. But also covers falling objects. As well as damages to AC units, pipes, and other household systems.
HO-3: Covers damage from all peris unless they are specifically excluded. Also covers unattached structures and liability.
HO-4: Provides belongings and liability coverage for renters.
HO-5: Comprehensive policy like HO-3. But with expanded coverage and less limitations for property claims. This is a premium policy.
HO-6: Covers possessions and provides liability for condo owners.
HO-7: Similar coverage as HO-3, but for mobile homes. 
HO-8: Designed specifically for older homes, this policy provides similar coverage as HO-3. It can be tailored to suit the unique needs of older homes.
7 Ways to Save Money on Homeowners Insurance in Minneapolis
Below are some tried and true ways to lower your homeowners insurance premium:
Don't smoke: Smoking increases the chances of an accidental housefire. For this reason, smokers pay more for home insurance. According to the CDC, of 9,686 Minneapolis residents surveyed, 17.8 percent reported that they smoke. That's higher than the national average of 15 percent, according to the CDC.
Redo your roof: Your roof protects your home from an array of problems. A good roof stops damage from the natural disasters listed above. So, it's no surprise that companies offer better rates to homes with high-quality roofs. That's especially true with Minneapolis' high rates of snow and tornados. Homeowners should check their roof annually to see if any improvements are necessary. Our research shows that, like the rest of the country, most Minneapolis homes have a composite shingle roof.
Shop around: It's easy to find an insurance company and never look again. But most home insurance companies will raise your rates year after year because they assume you won't have the time to find a new insurance policy. If you don't shop around you won't know what savings you're missing out on. Not to mention comparing quotes may motivate your insurance company to find more savings with them. What do you have to lose? Compare homeowners rates in Minneapolis today!
Add technology: Like we said earlier there are many steps you can take to make your home more secure. Technology is a great way to help stop potential disasters before they even happen. From security systems to smoke and carbon monoxide detectors, there are many ways to make your home safer. Most insurance companies reward high-tech homes with insurance rate discounts.
Renovate: The age of your home can be a reason your home insurance is higher. In Minneapolis, our data shows that the average home was built in 1970. That's necessarily old for home, but it's old enough that poorly maintained homes will have problems. Luckily, its prohibited to raise rates in Minnesota based on a home's construction date. However, updating your home with new fixtures, appliances, and wiring can earn you discounts.
Raise your deductible: Raising your deductible doesn't sound great, but it can save you money in the long run. By doubling your deductible, you can lower your rates by as much as 12 percent. And if you raise it to $2,500, you score discounts as high as 30 percent. Be aware that there's a lot to consider when choosing your home insurance deductible. Most importantly, a higher deductible means higher out of pocket costs when filing a claim.
Bundle: The easiest way to save on insurance is to bundle your insurance policies. Buying multiple insurance policies from one company can earn you a big discount. Think of it as a Costco-style bulk buy. By simply bundling your home and auto insurance you can easily save up to 20 percent on your monthly premium.
QuoteWizard.com LLC has made every effort to ensure that the information on this site is correct, but we cannot guarantee that it is free of inaccuracies, errors, or omissions. All content and services provided on or through this site are provided "as is" and "as available" for use. QuoteWizard.com LLC makes no representations or warranties of any kind, express or implied, as to the operation of this site or to the information, content, materials, or products included on this site. You expressly agree that your use of this site is at your sole risk.