Compare Homeowners Insurance in Memphis
The housing market in Memphis, Tennessee is growing at a rapid rate. Total home sales increased by 28 percent since the housing market crash. Memphis is currently experiencing record housing prices. 
Fortunately, Memphis' cost of living is among the lowest compared to other American cities. But Memphis is growing – especially among millennials. With housing prices rising in Memphis, TN, homeowners insurance is following suit. It's important for Memphis homeowners to stay ahead of the curve on home insurance. 
Average Memphis Home Insurance Rates
How much is home insurance in Memphis? Using data from almost 1,300 QuoteWizard users in the city, we created this 'average' Memphis home:
1,821 square foot home built in 1974
3 bedrooms and 2 bathrooms
One story
Deadbolt locks
Fire extinguishers
Composite shingle roof
To assess the cost to insure a house in Memphis, we gathered insurance quotes for this 'average' home. Remember, home insurance is unique to each person, their insurance needs, and their house. Your costs may differ from our findings. With that in mind, here are the average rates for Memphis home insurance:
$141.08/month
$1,693.00 annually
The graph below shows the change in average Tennessee home insurance rates from 2011 to 2015, the most recent year the data is available. According to the III, Tennessee homeowners insurance rates increased from $915 in 2011 to $1,149 in 2015, a jump of $234 dollars, or 25.57 percent.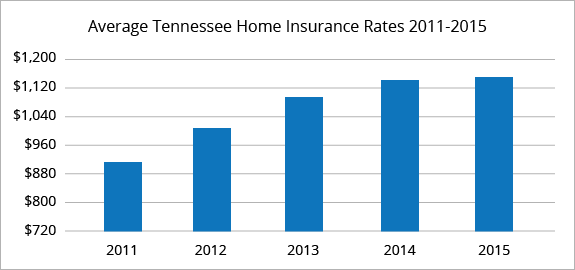 QuoteWizardhelps consumers compare quotes from both national insurance companies and local agents. QuoteWizard can help you find affordable home insurance rates near Memphis, Tennessee.
Last year, many people used QuoteWizard to compare home insurance quotes in Memphis, TN from multiple companies.
Best Home Insurance Companies in Memphis, TN
Most Popular Insurance Companies
Based on data from QuoteWizard users, these are the most popular insurance companies in Memphis:
State Farm
Geico
Liberty Mutual
Nationwide
Allstate
Progressive
Esurance
Farmers
MetLife
Erie
Best Insurance Companies
The above list shows the most popular home insurers in Memphis according to our users. But popular doesn't always mean best.
Our study on the best homeowners insurance rates focuses on top of the line companies. In no particular order, these companies stand out among the rest:
Amica: Best Overall
MetLife: Best for Bundling
Allstate: Best for Local Agents
Hartford: Best for Seniors
State Farm: Best for Pet Owners
Travelers: Best for Flexible Policies
Nationwide: Best Replacement Coverage
Farmers: Best for Eco-Friendly Homes
Liberty Mutual: Best for Quick and Easy Quotes
Auto Owners Insurance: Best Claims Experience
Memphis Home Insurance Rate Factors
Various factors determine the price of your home insurance. Some of these you can control, while others you cannot. Listed below you will find the most common factors used to decide your insurance rates:
Natural disasters: Insurance companies charge more for homes in disaster-prone areas. The city has hot and muggy summers and cold, wet, and windy winters. But, severe weather hits Memphis in the thunder, hail, and snowstorms. The city faces occasional flooding from the Mississippi river, with floods in 2011 causing $4 billion in damages.
Previous claims: The past, unfortunately, doesn't always stay in the past. What does this mean? It means that claims filed by your house's previous owner can come back to hurt you. Why? Houses with past claims are more likely to file a future claim. On top of that, your own personal claim history affects your rates. Insurance agents may label you or your home a high-risk if you have a history of claims. They may even refuse to cover you.
Proximity to emergency services: In the event of a house fire, the extent of damage depends on how close you live to first responders. Your proximity to a fire station might be the difference between total destruction and salvageable damage. Insurance companies use this information when deciding your homeowners insurance rates. Tennessee has a low fire protection class. Fortunately, Memphis has a Class 2 fire protection rating, the second best possible score.
Attractive nuisances: Pools, hot tubs and trampolines are an expensive liability. If you own one of these, you'll probably pay more for home insurance. Why? Home insurance pays for injuries on your property. You're liable for injuries to your guests, and trampolines and pools come with increased chances of injury. On top of that, trespassers can file liability claims if they're hurt on your property.
Coverage amounts: A standard insurance policy covers the basics. That includes the house structure, your belongings, and liability. These are covered to an extent in the event of an incident. Standard policies are cost efficient and a good option for homeowners who cannot afford more. But, some homeowners have unique homes, valuables, collectables, or large assets. These people need extra liability and coverage amounts. Of course, an extensive policy costs considerably more than a standard one. Thus, your coverage levels play a huge role in the price of your policy.
Home security and crime: Crime is a major factor when pricing your home insurance policy. In 2017, 77 percent of the crimes reported in Memphis were property crime. This is almost triple the national crime rate. Your chances of becoming a victim of property crime in Memphis is 1 in 18. These stats will significantly affect your home insurance rates. You can lower your premiums by making your home more secure.
Credit history: It's an unfortunate fact, but if you have bad credit, you will pay more for home insurance. This factor will impact most Memphis homeowners. A recent study ranked 100 metropolitan cities on their average credit scores. Memphis was ranked 99th, with an average score of 607. That's awful. With one of the lowest average credit scores in the country, homeowners in Memphis can expect to pay more for insurance.
Types of Homeowners Insurance
Listed below are the most common coverage types in the most areas, including Memphis: 
HO-1: Basic insurance covering standard damages.
HO-2: Broad homeowners insurance that covers everything in HO-1. Also covers falling objects and damages to AC units. As well as pipes, and other household systems.
HO-3: Covers damage from all perils except when specifically excluded. Also covers unattached structures and liability.
HO-4: Provides belongings and liability coverage for renters.
HO-5: Comprehensive policy like HO-3, but with expanded coverage and less limits on property claims. This is a premium policy.
HO-6: Covers possessions and liability for condos.
HO-7: Similar to HO-3, but for mobile homes.
HO-8: Designed specifically for older homes. This policy provides similar coverage as HO-3. It can be tailored to suit the unique needs of older homes.
8 Ways to Save Money on Homeowners Insurance in Memphis
Now that you know how your homeowners insurance is priced, let's see what we can do to save money! Below are some tried and true ways to lower your home insurance premium:
Improve your credit score: Improving your credit score can help lower your insurance rates. Memphis residents, as mentioned earlier, have bad credits scores. If you're able to improve your credit score, it can help you in several areas, including insurance.
Be a senior: People over the age of 55 qualify for many discounts, including home insurance. Insurance companies like seniors for two main reasons. One, they usually take good care of their houses. Two, they spend more time at home, which means they are quicker to notice a serious problem like a water leak or a fire. Memphis has a sizeable senior population. These residents will be happy to know they can save on their monthly premium.
Add technology: High-tech security systems and alarms can stop problems before they happen. Homeowners have plenty of options to beef up their home's safety. That includes alarms, security cameras, remote door locks, and smoke and carbon monoxide detectors. Insurance companies reward homeowners who have taken steps to protect their home.
Shop around: Buying insurance isn't anybody's favorite thing. In fact, most homeowners buy the first decent home insurance policy they find. But if you don't shop around and compare quotes from multiple companies, you're leaving money on the table. Each insurance company offers different rates and discounts. Plus, your insurance company knows you don't want to shop around, so they will raise your rates slightly every year. Fortunately, we make it easy to compare quotes from different home insurance companies.
Renovate: Certain home improvement steps help lower your premiums. Upgrading things like plumbing, wiring, heating, and your roof lower your home's risk of serious accidents. While certain renovations are expensive, you can save some of that money on insurance discounts.
Avoid claims: Filing frequently, as we learned, has negative consequences. Your insurance company may label you as high risk, hike your rates, or even refuse to renew your policy. These consequences can stick with you for years. That's why it's important to consider whether a claim is necessary.
Raise your deductible: A fast and easy way to lower your monthly premium is to raise your deductible. Depending on your personal needs, a high deductible may make sense for you. If you have savings and can afford to pay for small damages out-of-pocket, a high deductible may be a good choice. Remember: there are many things to consider when choosing your home insurance deductible.
Bundle: One of the fastest and easiest ways to save on insurance is to bundle multiple insurance policies. By bundling your home and auto insurance

,

you can save up to 20 percent on your monthly premium
QuoteWizard.com LLC has made every effort to ensure that the information on this site is correct, but we cannot guarantee that it is free of inaccuracies, errors, or omissions. All content and services provided on or through this site are provided "as is" and "as available" for use. QuoteWizard.com LLC makes no representations or warranties of any kind, express or implied, as to the operation of this site or to the information, content, materials, or products included on this site. You expressly agree that your use of this site is at your sole risk.