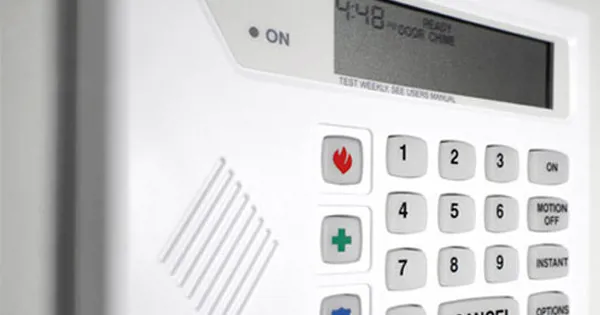 Most home insurance companies offer discounts for installing home security systems like burglar, fire and smoke alarms. However, our research shows that buying a home security system just to save money on your home insurance premium probably isn't worth it, because the monthly cost of the security system outweighs the premium savings. Here's everything you need to know before buying an alarm system.
Security systems can save you up to 15% on your home insurance premium
Our research shows that MetLife offers the largest rate discount for home security systems, with annual savings of 14.6% or $155. Farmers offered the smallest discount of only 0.6% annual savings. Allstate, Travelers, USAA and Farmers all fell below the average.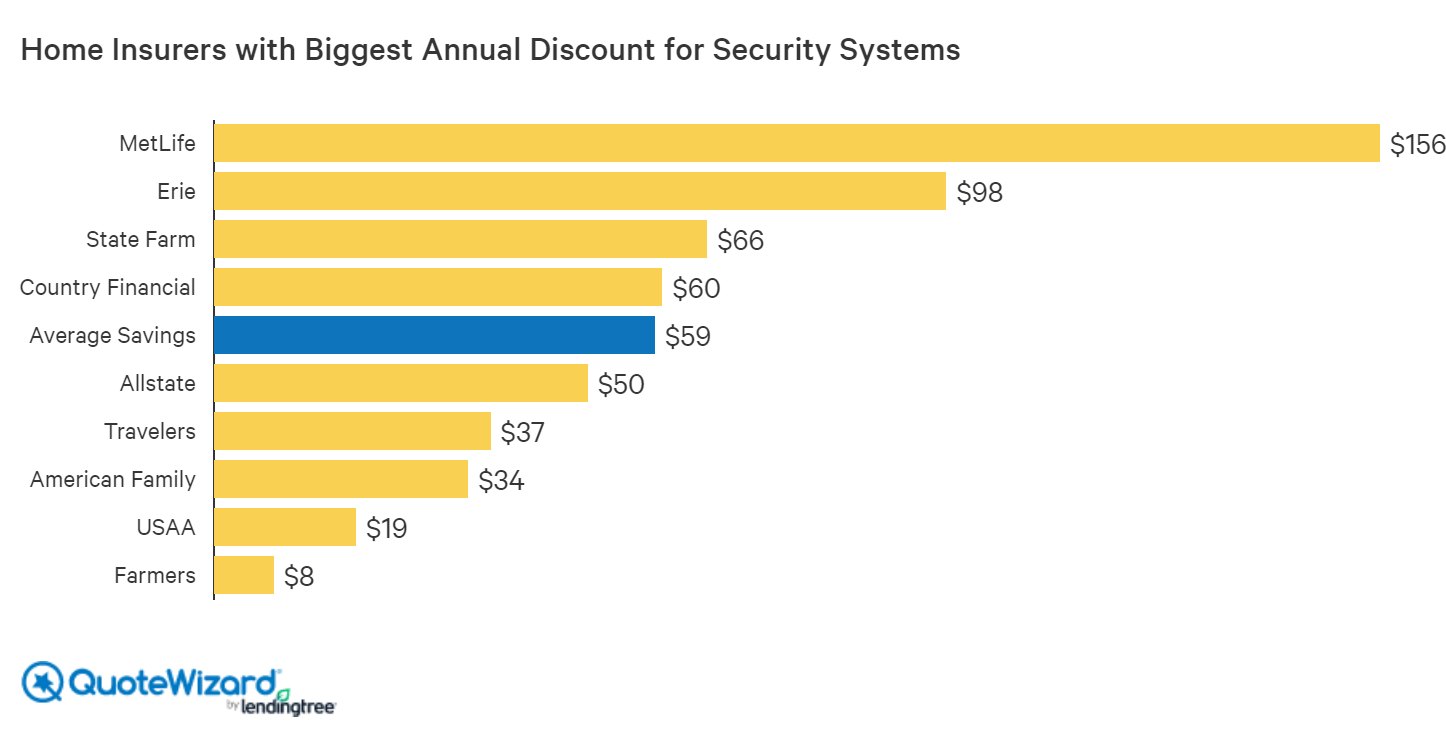 Note: Average rate increases are based on non-binding estimates provided by Quadrant Information Services. Your rates may vary.
We examined four types of security or alarm systems: burglar alarms, fire alarms, smoke alarms and deadbolts. Of those four, fire alarms made the biggest difference, resulting in 2.7% or $31 in annual savings on average. 
State Farm offers the biggest discount for burglar alarms, at 1.5% or $17 a year. Farmers, Allstate and USAA were much more modest, with a discount of 0.3% or less, or about $4.
Home Insurance Discount for Security Systems by Company
 
Allstate
Farmers
State Farm
USAA
Average
Burglar alarm
0.3%
0.2%
1.5%
0.2%
1.7%
Deadbolts
0.2%
0.0%
3.4%
0.0%
0.6%
Fire alarm
3.0%
0.5%
1.5%
1.3%
2.7%
Smoke alarm
1.5%
0.0%
0.0%
0.0%
0.4%
Maximum discount (all four)
4.9%
0.6%
5.8%
1.4%
5.0%
Note: Average rate increases are based on non-binding estimates provided by Quadrant Information Services. Your rates may vary.
In order to get the biggest home insurance discount from security systems, your best bet is to add a few types of alarms. Our research showed that you could save 5% or $59 dollars a year on average by installing deadbolts, fire alarms, smoke alarms and burglar alarms. While saving $59 a year seems great, the discount will almost certainly be outweighed by the cost of the systems themselves, as they come with monthly fees and up-front costs.
Up-front and monthly cost of security systems
Home security and alarm systems have monthly monitoring fees. In order to get the biggest discount on your home insurance, you generally need a centrally monitored system that is linked to an off-site location. If your burglar or fire alarm goes off, then someone at the centralized location will respond and call the police or fire department if needed.
The cheapest systems we could find were Ring at $10/month and SimpliSafe at $15/month. Larger companies like Brinks and ADT charge well over $25/month.
That means that unless your home insurance discount is at least $120 a year (the yearly fee for Ring), you probably won't save money by having a home security system. And that doesn't even account for the start-up costs of installing a home security system — Ring's smallest starter package is $199. Security systems pay for themselves if they prevent a burglary or fire but are otherwise a pricey investment.
Two other considerations: Avoiding claims and securing peace of mind
Even if a security alert system won't save you money on your homeowners insurance, it still offers two benefits: the potential to avoid a claim and peace of mind.
Filing a claim with your insurance company will usually raise your annual rates. If your home doesn't have a security system like a burglar alarm, it has a higher chance of being burglarized, and therefore you have a higher chance of needing to file a claim that could raise your future premiums. Data from the FBI say that the average cost of a burglary in 2017 was $2,416.
Securing your house with centrally monitored fire, burglary and other alarm systems will bring you peace of mind and could even come in handy. You should feel safe in your home. For most people, their home is the largest investment they will ever make. Therefore, protecting it with home insurance is a good idea.
Why is the alarm system discount so small?
Homeowners insurance rate discounts for alarm systems are often advertised as 15% to 20%. Our research showed that on average, it is more like 5%. So, we dove into the data to think like an insurance agent to try and reconcile these numbers.
Burglary claims are not a large concern for insurance companies. Security systems don't guarantee that your house won't be burglarized, and theft claims tend not to be severe. Theft only accounts for 6% of all homeowners insurance claims according to Travelers, and the FBI estimates the average cost of a burglary to be $2,416. So, if your deductible is bigger than that, you wouldn't want to file a claim at all.
For comparison, water damage accounts for almost 20% of all claims, and the average loss is over $10,000! No wonder the discount for security systems is so low.
Methodology
For our research, we compiled insurance quotes from every ZIP code in Illinois. Illinois was used as a model for the U.S. because it has about average home insurance rates and its insurance market mirrors the national insurance market. We used a sample home worth $190,000 built in 1965.
We compared quotes across four variables: having a burglary, smoke or fire alarm system, or having deadbolts. The average savings and percent discount were calculated using aggregated data from the largest insurers in Illinois: State Farm, Country Financial, Farmers, Allstate, American Family, Travelers, Erie Insurance, USAA and MetLife.
QuoteWizard.com LLC has made every effort to ensure that the information on this site is correct, but we cannot guarantee that it is free of inaccuracies, errors, or omissions. All content and services provided on or through this site are provided "as is" and "as available" for use. QuoteWizard.com LLC makes no representations or warranties of any kind, express or implied, as to the operation of this site or to the information, content, materials, or products included on this site. You expressly agree that your use of this site is at your sole risk.