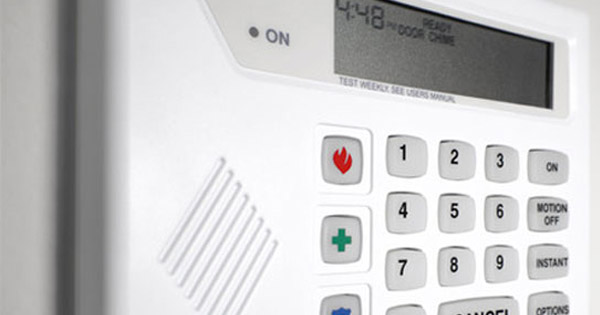 So you've shopped around and found the right home insurance policy. Now you can rest easy knowing your property is fully protected from theft or loss.
Like other forms of insurance, it's better to prevent filing claims altogether. We recommend reviewing the security of your home.
Based on the review, develop a plan to prevent burglaries. In most areas, break-ins are uncommon. However, but you can still take steps to deter potential thieves.
Security Systems
A security system is a great addition to any home security plan. Today, it's possible to purchase 24-hour monitoring services on more than just simple motion detectors.
Security companies now offer the following monitoring services:
Smoke
Heat
Broken glass
Carbon monoxide
Pet-immune motion sensors
Door contacts
Outdoor sensors
Installing a security system is one of the many ways QuoteWizard recommends for saving money on home insurance.
Not all home insurers treat discounts for installing security systems the same. In order to get the best deal, use QuoteWizard's quick and easy home insurance quotes form. You'll receive information from top nationwide home insurers.
Neighborhood Watch Programs
Neighborhood Watch Programs are designed to "unite law enforcement agencies, private organizations, and individual citizens in a massive effort to reduce residential crime." They're a great way for neighbors to help keep crime off of their streets.
If your neighborhood doesn't have a Neighborhood Watch program, start one. It's easy.
Schedule a meeting with interested neighbors. Call your local police department or sheriff's office.
They'll assign a crime prevention officer. This officer will attend your first meeting and help get the program started.
Develop a Home Security Plan
If you develop a security plan, make sure everyone in your family sticks to it. Your vigilance will go a long way in stopping potential thieves.
Focus on the little things. Routinely check and lock all exterior doors and windows before leaving.
Install adequate lighting in all entryways. Motion sensitive lights are even better.
These lights are not only helpful, they dissuade would-be burglars. Try not to hide keys outside your home. Needless to say, under the doormat isn't good enough.
Additional Tips
Hide all exterior wiring: especially wiring related to your home security system. Potential thieves know to look around the outside of your home for exposed wiring.
Change locks: when moving into a new home, be sure to change out all the locks. There's no way to tell who had keys to existing locks. If you lose your keys, replacing all locks will lead to maximum security.
Deadbolt locks: as you change out locks, consider using deadbolts. Insurers recommend using at least 1 inch thick deadbolt locks on all exterior doors. They provide significantly more protection and are stronger.
Leave a minimal amount of space between the door and its frame when installing deadbolts. Too much space and thieves can use a crowbar to pry their way in. Consider reinforcing your doors with plywood or sheet metal.
Make your house look occupied: use automatic timers to turn lights on and off while you're away. Burglars tend to target homes that appear unlived in. Like when folks go on vacation.
Window and door shades: along with keeping prying eyes from seeing what valuables you have inside, shades offer light filtration. This allows natural daylight in during the day. And makes your home look occupied at night.
Metal bars on sliding doors: have any sliding glass doors, patio doors, or sliding windows? Most homes do. Put in metal bars along the bottom track of the door or window. This will prevent crooks from forcing the door or window open.
Windows need protection: if possible, use smaller panes for your windows rather than large ones. This will minimize the temptation for someone to break it. And gain access into your home. Consider using window locks and/or burglar-resistant glass.
Interior door hinges: hinges on the outside of your home make it vulnerable to break-ins. All robbers have to do is remove the hinge pin to gain entry. If you have exterior hinges, remove the door and reset the hinges. You want them on the inside of the home.
Landscaping: large bushes and trees next to your home are great hiding places for crooks. Rethink your landscaping and adjust accordingly.
Note on front door: never, ever leave a note on your front door for cleaning services, handymen, etc. This is an invitation for thieves to walk in and help themselves to all your property.
Phone use: it's rare, but you may experience someone coming to your door asking to use the phone to call 911 or a tow truck. Most people have mobile phones these days. It's a good bet they're just trying to gain access to rob you. Don't let them in! Instead offer to place the call for them while they wait outside.
Dogs: consider adding a canine companion to your family. In addition to the health benefits' owning a dog brings, their loud bark is a deterrent for any would be burglar.
Sleep Secure and Sleep Easy
Keeping your home safe is cost effective and easy. Stick to a vigilant routine and educate everyone in your family about smart crime-prevention behavior.
This is usually enough to keep everyone safe and sound. Starting a neighborhood watch bolsters security even more.
Third-party monitored security system costs are usually offset by cheaper home insurance rates. With these simple precautions and a home insurance policy, peace of mind is easily obtainable.
References:
QuoteWizard.com LLC has made every effort to ensure that the information on this site is correct, but we cannot guarantee that it is free of inaccuracies, errors, or omissions. All content and services provided on or through this site are provided "as is" and "as available" for use. QuoteWizard.com LLC makes no representations or warranties of any kind, express or implied, as to the operation of this site or to the information, content, materials, or products included on this site. You expressly agree that your use of this site is at your sole risk.