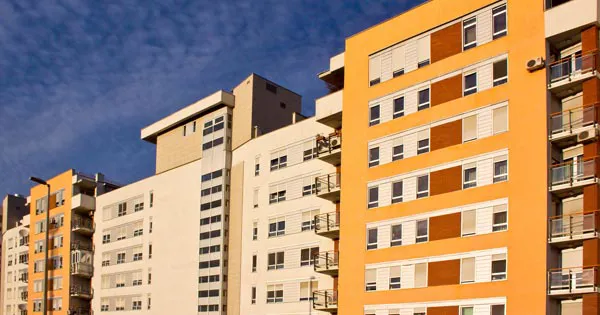 If you're renting out a property to others, there are some risks that require specialized insurance. That's where landlord insurance comes into play. It covers a landlord's property and liability.
You can tailor your rental property insurance needs by adding riders such as loss of income insurance, non-occupied dwelling endorsement and natural disaster insurance. This article will cover:
How landlord insurance works
Landlord insurance, also known as rental property or investment property insurance, is there to protect you and your property. Depending on the landlord insurance policy you choose, it may cover only common risks like fire, hail and vandalism. Or it can cover almost any perils except what is excluded in your policy.
Landlord insurance policy types
Just like home insurance has different policy types, landlord insurance provides a variety of coverage tiers. Minimal landlord insurance coverage can mean a lower premium. However, it may also mean less coverage if you need to file a claim.
Landlord insurance is classified by three different policy types:
DP1
DP1 policies are also referred to as basic dwelling property insurance or Dwelling Fire Form 1. This is the most bare-bones landlord insurance you can buy. It typically only covers specifically named risks in your policy. These perils often include:
Fire and lightning
Windstorms and hail
Smoke damage
Volcanic eruptions
Explosions
Vandalism
Riots and civil commotion
Vehicle or aircraft damage
DP2
This policy type is also known as a broad dwelling property policy. It covers everything the DP1 policy type does. However, it can also include coverage for explicitly named risks such as:
Damage due to the weight of ice, sleet or snow
Broken glass
Accidental water or electrical damage
Frozen, cracked or torn plumbing
Steam damage
Partial or total building collapse
The DP2 has advantages over the DP1. The key perk is how your landlord insurance claim is paid out. The DP2 policy allows you to cover your property for replacement cost. This means you can insure your property up to the dollar amount that you paid for it.
The DP1 policy only allows for payout at Actual Cash Value (ACV). ACV is equal to the replacement cost of the property minus any depreciation. This means that your rental property would be repaired at current market value, which could be less than what you paid for it.
Another perk of the DP2 policy is that it can cover loss of rent while the property is repaired. This means that you can be paid out the value of the property's monthly rent if a covered risk forces your tenants to vacate for repairs.
DP3
This landlord insurance type offers the highest level of coverage. A DP3 policy is also known as special dwelling landlord insurance or Dwelling Fire Form 3. It has all the coverage of the DP2 policy type, but it can be tailored to "open peril coverage". This means that risks to the house are typically covered unless they are explicitly excluded in your insurance policy.
It can also cover certain contents you have in the property, such as appliances and furnishings. DP1 and DP2 policy types typically only cover the structure of the insured property. DP3 policies may also cover for loss of rent like the DP2 policies. DP3 policies pay out at replacement cost value.
What does landlord insurance cover?
Depending on the DP policy type you purchase, landlord insurance can cover you for:
Property damage
Liability
Loss of income
Some structures external to your property
Property damage
Landlord insurance covers damage from covered perils to the structure of your rental property. These may include furniture, appliances and televisions you keep at the property for the tenants to use. Landlord insurance will not usually cover any damage to your tenant's property. They would need to purchase renters insurance in order to protect their own belongings. As a landlord, it's in your best interest to require renters insurance as part of your tenant's lease.
Liability
If a tenant is injured due to your negligence, they could possibly sue you for liability. Liability coverage protects against this. It can cover the tenant's medical expenses, as well as any legal fees that may arise.
Liability due to property damage from your negligence can be covered as well. Say the tenant complains about a weak floorboard that you haven't fixed yet. If the floor collapses and damages their belongings, liability coverage can help in that instance.
You should note that the liability coverage in a DP policy usually only extends to your tenant. It might not do much if the guest of a tenant gets injured on your property. Your tenant's renters insurance may cover the liability.
Loss of income
Your tenants might have to move out so repairs can be done to the rental property after a covered peril occurs. If so, you may not be getting rent from them for a while. Loss of income coverage may cover you for that lost rent. Not all standard landlord policies cover loss of income. Check with your insurer to see if it's included in the policy, or if you need to add it on.
Other structures
Your investment property insurance should also cover external structures such as sheds, detached garages, fences, swimming pools and more. Other structure coverage tends to come with dollar limits that you set. It should come as no surprise that the more coverage you buy, the higher your landlord insurance premiums may be. A good way to keep your premiums low is to go with a higher deductible.
Other landlord coverage to consider
While landlord insurance does cover a wide range of issues, it is by no means full coverage. Higher liability limits, as well as protection from natural disasters and other possible issues that can affect your property, should be considered as well.
Umbrella policies
If your liability coverage limit seems low, purchasing an umbrella policy can be an excellent solution. Umbrella policies provide higher liability limits. Umbrella policies come in increments of one million dollars and can go up to 10 million dollars in protection. It's important to note that while the premiums for umbrella policies are quite often low, the deductibles can be enormous. Some umbrella policy deductibles get up to the hundred-thousand-dollar range.
Umbrella policies are strongly recommended if you have a non-enclosed external structure like:
A swimming pool
A hot tub
A jungle gym
These structures have been shown to increase your liability risk. An umbrella policy can be a good shield against an expensive lawsuit.
Guaranteed income insurance
In the event that your tenant doesn't pay rent or comes up short one month, loss of income insurance can help you recoup that money.
Non-occupied dwelling endorsement
If your rental property is vacant for more than 30 days, your landlord property insurer might deny coverage after that time period. This rider provides for a time extension on that period.
Emergency coverage
If a tenant gets locked out of the house or you need to come out and fix something, this coverage can help cover travel costs and issue resolution.
Building code coverage
If you have an older home, there is a chance that parts of the house that get damaged and need repair may need to be brought up to code. Buying this insurance rider can help pay for the improvements.
Natural disaster coverage
Disasters such as floods or earthquakes are not covered by landlord, home or renters insurance. If your tenants have a sewer backup or their place is wrecked in an earthquake, they're probably not covered.
You will need to buy special insurance policies for flood, earthquake or landslide insurance. If you live in an area with a history of any of these disasters, you may want to look into getting that coverage.
How much does landlord insurance cost?
To figure out your cost for landlord insurance, take what you paid for homeowners insurance on the property and add 15% to 20% onto that sum. If your homeowners insurance on the property was $850 a year, for example, can expect to pay a yearly premium of around $975 to $1,020 for landlord insurance.
If the property you're renting is a house you've never lived in, you'll need to get quotes from different insurance companies. QuoteWizard can help you quickly compare landlord insurance quotes from top companies.
How long the house is vacant can have an effect on your premiums as well. It may seem counterintuitive, but the less time someone is renting the property, the more you can pay for investment insurance. The reason is that insurers tend to think that short-term tenants aren't as likely to pay attention to maintenance issues as long-term ones. This increases the chances of risk in their eyes.
Other factors that can affect your landlord insurance rates are:
The age of the house
Where the house is located
Number of units rented in the house
Any security features you may have
Where do I get landlord insurance?
Probably the best place to buy landlord insurance is through your current home insurance company. Having the benefit of working with an insurer you already use can make the process easier. Also, it gives you the opportunity to see if you can bundle your home insurance with the landlord insurance on the rental. You could save money on both policies. If you haven't connected with any insurer about landlord insurance, we recommend:
Allstate
GEICO
Liberty Mutual
State Farm
USAA
QuoteWizard.com LLC has made every effort to ensure that the information on this site is correct, but we cannot guarantee that it is free of inaccuracies, errors, or omissions. All content and services provided on or through this site are provided "as is" and "as available" for use. QuoteWizard.com LLC makes no representations or warranties of any kind, express or implied, as to the operation of this site or to the information, content, materials, or products included on this site. You expressly agree that your use of this site is at your sole risk.