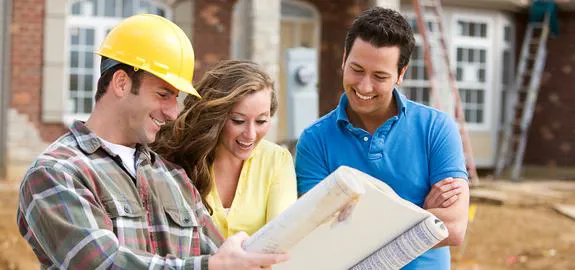 With all the other hurdles that come with building, remodeling or renovating a home, making sure your contractor has the proper insurance is a top priority. Insurance geared specifically towards contractors during the construction or remodel of a home is a necessity for you. If your contractor doesn't already have the proper construction insurance, you'll need to provide it yourself.
If vandalism, property damage or injury to one of the work crew occurs, you could owe thousands of dollars if you don't have builders risk insurance, construction liability or workers' comp in place. 
This article covers:
What is builders risk insurance?
Builders risk insurance, also known as Course of Construction (COC) insurance, covers your contractor's tools, construction equipment and building materials while your house is being built, worked on or remodeled. Some builders risk insurance policies also covers construction materials for the home held off-site. Home insurance does not cover your contractor's equipment or construction materials.
Builders risk insurance is often required by city, county or state government in order to show compliance with building codes.
A builders risk insurance policy is usually effective for nine to 12 months. The policy can normally be renewed if completion of the work on the house isn't on schedule. The insurer will usually want to check and make sure that the construction or renovation is going at a satisfactory pace first.
What does builders risk insurance cover?
A builders risk insurance policy covers the equipment and materials needed for the contracted work against:
Fire, lightning and explosions
Hail and wind
Theft and vandalism
Damage caused by vehicle or aircraft
Common exclusions to a builders risk insurance policy include:
Construction contract penalty
Employee theft
Government action or war
Mechanical malfunction
Voluntary parting
Water damage
Weather damage to property left out in the open
An additional exclusion to be aware of is the lack of coverage for damage resulting from faulty
Planning
Handwork
Materials
Should damage to the home happen due to shoddy workmanship, a builders risk insurance policy probably won't cover it. However, general construction liability insurance (see below) may help.
Builders risk insurance extensions
While builders risk insurance can exclude many things, there may be extensions that can be added onto a builders risk insurance to provide coverage for excluded items. These extensions include:
Coverage for temporary structures such as scaffolding, but only while they're at the work site.
Service charges from calling the fire department to save or protect the property from a covered risk.
Removal of debris resulting from a covered risk.
Damage to construction equipment and materials in temporary storage.
The limits of these extensions can vary from insurer to insurer. Make sure you are aware of exactly what each extension covers when you look at your contractor's builders risk insurance policy.
How much does builders risk insurance cost?
On average, the cost of builders risk insurance falls between 1% and 4% of the total construction budget for the house. For example, if your construction budget is $250,000, your premium will be between $2,500 and $10,000 per year. Other factors may figure into the cost of builders risk insurance as well. They include:
Estimated rebuild cost of the home
Quality of construction materials
Square footage of the house
Builders insurance can usually be purchased through any insurance company that provides home insurance.
Do I need builders risk insurance?
The answer to this question should be in the purchase contract between you and your home contractor. The contractor will often purchase builders risk insurance. If they don't, you are required to provide it. 
If your contractor is responsible for their own builders risk insurance, make sure they give you a certificate of insurance that lays out their coverage details and limits.
If you are having a custom home built, you may be required to have a homeowners policy established for liability purposes on top of builders risk insurance established. We recommend buying umbrella insurance for the increased liability coverage it provides.
General construction liability insurance
When looking over the coverage that builders risk insurance provides, you'll notice that liability isn't included. General construction liability fills this important gap. It provides coverage for settlements, medical expenses and legal fees in the event of:
Property damage: If your contractor or any of their employees damage the house or any of your other property during construction.
Client and third-party injuries: If you or another guest steps on a nail or falls at the construction site, medical expenses would be covered.
Faulty construction: Damage due to faulty workmanship may be covered by an ensuing loss provision in a builders risk insurance policy. An ensuing loss, simply put, is a loss that occurs because of an earlier excluded loss. For example, say a contractor completed a shower remodel. A month later, a pipe breaks and floods the bathroom. Builders risk coverage should cover the resulting damage. The limits of these provisions can be different from insurance company to insurance company. 
If your contractor's builders risk insurance includes an ensuing loss provision, take the time to fully understand exactly what it covers and what the limits are.
General construction liability insurance usually excludes:
Negligence on the part of the contractor.
Any errors and omissions the contractor makes in the contract agreement between you and them.
Legal actions that involve anything other than bodily injury, personal injury or property damage.
On average, general construction liability insurance costs between $361 and $924 annually.
Workers' compensation
It is crucial that your contractor has workers' compensation. If the contractor or their workers aren't covered by this policy, you wind up being responsible in the event that anyone gets injured at the work site. 
Some contractors may give you a cheaper bid than others by not paying for workman's compensation. This puts you at an immediate financial risk. Also, it will raise your home insurance rates if the contractor makes a claim against your homeowners insurance. 
Make sure your contractor has builders risk insurance, general construction liability insurance and workers' comp in place before hiring them.
Before, During and After
You should be in contact with your home insurance company while your house is under construction or remodel. This will help ensure proper insurance coverage is maintained at all phases of the project.  
After the project is completed, there are new home insurance considerations to take into account. If a remodel or renovation job adds square footage to your home, chances are it will increase the home's value and replacement cost. You'll want to make sure to increase your home insurance coverage to account for the value jump.
We recommend getting Replacement Cost coverage on new appliances, plumbing, fixtures, flooring, etc. This will protect the additions at their original value and not their Actual Cash Value (ACV). ACV accounts for depreciation and will provide less money at payout.
References:
QuoteWizard.com LLC has made every effort to ensure that the information on this site is correct, but we cannot guarantee that it is free of inaccuracies, errors, or omissions. All content and services provided on or through this site are provided "as is" and "as available" for use. QuoteWizard.com LLC makes no representations or warranties of any kind, express or implied, as to the operation of this site or to the information, content, materials, or products included on this site. You expressly agree that your use of this site is at your sole risk.