In the event of auto theft, you need to have comprehensive coverage as part of your auto insurance policy if you expect your stolen car to be replaced.
Filing a claim for a stolen car can be a lengthy process. Completing a police report and the claim itself with your auto insurance provider requires a lot of documentation and some back and forth.
Here's what you need to know about auto insurance and car theft:
What you need to do after your car gets stolen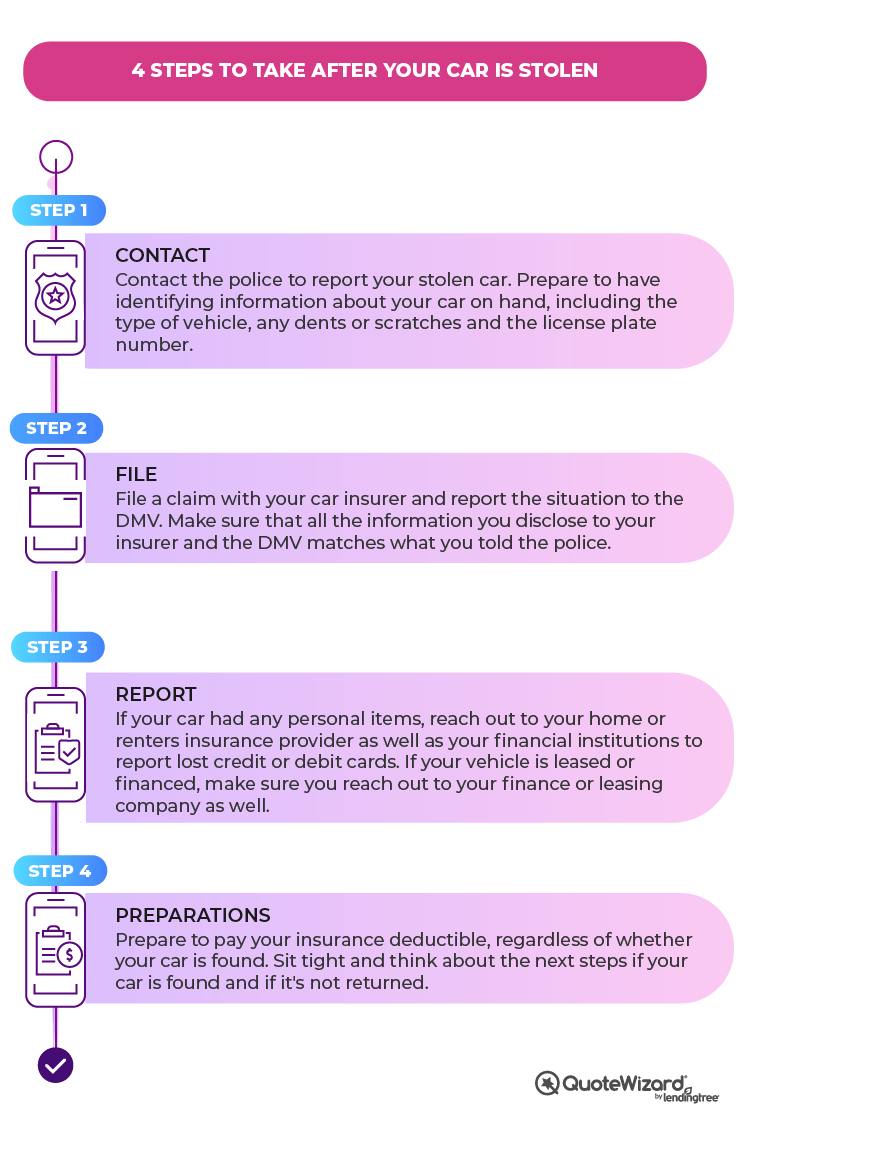 If your car is stolen, think of getting a payout for a new car as a two-step process. First comes the police report, then comes the car insurance claim. Additionally, if you are leasing or financing the car, contact your lessor or lender as soon as possible.
Call the police and report your car stolen
After confirming that your car is stolen, call 911 and file a police report immediately. The sooner the authorities start looking for the car, the more likely they are to find it.
Reporting a stolen car
When filing a police report for a stolen car, have the following information on hand:
Your vehicle identification number (VIN), which can be found on your insurance card.
The license plate number of the car.
The car's year, make and model.
The location and estimated time of the theft, as well as any other relevant information.
Identifying details of your car — large dents, custom add-ons or scratches, for example — or distinguishing features.
We recommend that you always have up-to-date photos of your car on your phone in case of an emergency situation like a theft. This can make the process of identifying your vehicle much quicker.
Locating your stolen car
If the stolen car has a GPS system, notify the police and your insurer. Make sure you get the police report number and a contact phone number for your auto insurance company to reference before you hang up. The police may contact someone at the company for you and get the ball rolling in that regard. If they don't, get on the phone yourself.
File a claim with your insurance company
Once you complete the police report, contact your auto insurer.
This step is especially important if you have comprehensive coverage. That's because it is the only form of car insurance that covers damaged or stolen vehicles.
Auto insurers usually have online systems to file claims quickly, but it is highly recommended that you call and talk to your own dedicated agent. This way you can answer any questions they may have immediately and reduce the amount of back-and-forth in an already time-sensitive situation.
When you file a claim, your car insurance company typically needs:
The police report number
Your certificate of title.
Details such as mileage, service records and any upgrades installed in the car.
A description of what happened, including the estimated date and time of the theft and any photos you have of the location of theft.
Your car insurance provider may require additional information, such as the location of all the vehicle's keys and contact information of anyone who had access to your car. It is the insurer's job to be thorough in the task of recovering your car in order to avoid a claim payout and going through the hassle of buying a replacement car, so be as helpful as you can.
Along those lines, expect some deep questioning when you file your claim. Fraudulent auto theft claims happen, and this makes insurers jittery about auto theft claims. Be as direct as possible with your insurer, and answer their questions as fully as possible.
Ensure that the information you provide the police and your insurer are the same, as any inconsistencies can cause issues in the claims process.
Contact your homeowners or renters insurance provider
If personal property was stolen along with your car, you'll need to contact your homeowners or renters insurer. It may sound odd, but the stuff in your car at the time of the theft isn't covered by your auto insurance. The personal property section of your homeowners or renters insurance policy should cover the replacement of your stolen belongings.
Auto insurance won't help you deal with this part of the crime. So if you lack a renters or homeowners policy, you'll have to replace your possessions on your own dime.
Alert your credit card issuer, financial institution and other entities, if necessary
You only need to follow this piece of advice if you left any personal items — or items containing personal information — in your car.
For instance, a lot of people keep their insurance card or registration document in the glove compartment. Even more people leave receipts or paycheck stubs sitting on the dashboard.
Those habits can cause problems if someone steals your vehicle. Specifically, they can lead to identity theft.
To avoid this scenario, take these precautionary measures if you suspect your personal information is stolen:
Call your bank, credit union and credit card issuer.
Alert other entities, like the DMV, if your wallet or purse were in your car when it went missing.
Make sure you contact your leasing agent or finance company if your vehicle is leased or financed
Let them know what happened so they can keep an eye out for suspicious activity.
Sit tight and prepare to pay your deductible
Imagine the police never finding your vehicle. Your insurance company won't declare it a lost cause for at least 30 days. If you pass that deadline and your car's still MIA, your insurer will pay you its current market value — assuming you have comprehensive car insurance, of course.
And what if your car finds its way back to you? Again, if you have the right kind of coverage, your insurance company will reimburse you for any damage done.
Something else to keep in mind: you'll likely have to pay your deductible no matter how things are resolved.
What happens if your car is stolen and recovered?
If your car is found, what happens next is a case-by-case scenario. If the car is retrieved, your auto insurance company will see if any damages are repairable and will cover the cost of repairs up to your comprehensive coverage limits. If the car is unrepairable when found, they will pay you out at actual cash value minus your deductible.
If your claim has been paid out before the car is recovered, it depends on your auto insurer. They may take ownership of the car to recoup their costs, or they may require you to return the claim payout.
As soon as you get your car back, you should inspect it for any damage or items inside that don't belong to you.
Does car insurance cover auto theft?
Legal minimum auto insurance policies do not cover you if your car is stolen. Basic car insurance only covers liability, which pays out in the event of you being at fault for injuries or property damage due to a car accident. Car theft falls outside these criteria. In order to have coverage in the event of your car being stolen, you need to buy comprehensive coverage.
How comprehensive coverage covers a stolen car
Comprehensive coverage is a type of car insurance that you can purchase as an add-on to your policy. Comprehensive coverage provides protection against theft or damage to your car due to events other than collision. These perils include:
Falling objects, like tree branches.
Vandalism.
Riot or civil disturbance.
The cost of comprehensive coverage varies among insurers. If you are leasing a car or if you purchased one through a lender, your lender will probably require you to purchase comprehensive coverage in order to protect their investment.
States with the most car thefts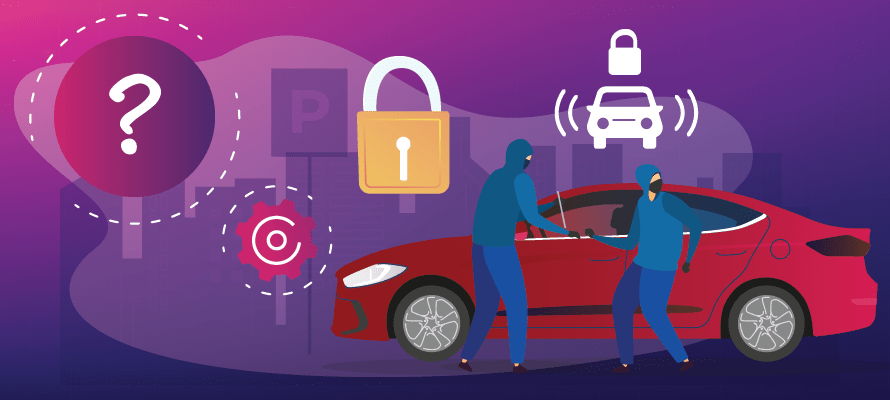 Automobile thefts are rising nationwide. In 2019, almost 800,000 cars were stolen. In 2020, that number rose to nearly 875,000. Some states, however, have been hit particularly hard by the rise in crime. Auto thefts have increased by more than 25% in 10 states over the last decade.
But while states like Alaska and Kentucky have seen a significant increase in automotive thefts, New Mexico, Colorado and Hawaii have the highest rate of stolen cars.
States with the highest number of automobile thefts

| State | # of thefts per 100k in 2019 | # of thefts per 100k, 10-year average |
| --- | --- | --- |
| New Mexico | 427 | 381 |
| Colorado | 384 | 296 |
| Hawaii | 371 | 361 |
| Nevada | 366 | 384 |
| Oregon | 360 | 301 |
| California | 359 | 413 |
| Alaska | 358 | 326 |
| Missouri | 343 | 291 |
| Oklahoma | 338 | 302 |
| Washington | 321 | 388 |
| South Carolina | 291 | 281 |
| Tennessee | 281 | 232 |
| Texas | 267 | 251 |
| Nebraska | 258 | 237 |
| Alabama | 257 | 232 |
| Kansas | 250 | 242 |
| Arizona | 249 | 275 |
| Arkansas | 246 | 213 |
| North Dakota | 235 | 204 |
| Louisiana | 231 | 214 |
| Kentucky | 228 | 183 |
| Georgia | 224 | 269 |
| Montana | 222 | 209 |
| Utah | 210 | 252 |
| Indiana | 204 | 214 |
| Minnesota | 199 | 163 |
| South Dakota | 199 | 142 |
| Mississippi | 193 | 158 |
| Maryland | 186 | 235 |
| Florida | 182 | 197 |
| Michigan | 178 | 218 |
| North Carolina | 172 | 159 |
| Connecticut | 167 | 185 |
| Delaware | 165 | 157 |
| Iowa | 163 | 146 |
| Ohio | 160 | 169 |
| Illinois | 148 | 172 |
| West Virginia | 135 | 126 |
| Rhode Island | 128 | 174 |
| Wisconsin | 127 | 154 |
| Wyoming | 123 | 113 |
| Virginia | 120 | 114 |
| New Jersey | 116 | 148 |
| Pennsylvania | 97 | 109 |
| Massachusetts | 89 | 127 |
| Idaho | 88 | 101 |
| New Hampshire | 66 | 71 |
| New York | 65 | 80 |
| Maine | 54 | 65 |
| Vermont | 48 | 51 |
| U.S. Average | 220 | 228 |
Cities with the most stolen cars
Car thefts in America's largest cities have increased by 10% since 2020. According to the FBI, nearly 180,000 cars were stolen during the first nine months of 2021. That's 30,000 more cars than the 150,000 stolen over the same period in 2020.
Milwaukee, Round Rock, TX., and El Paso, TX., have been hit the hardest. Automobile thefts in those three cities have increased by as much as 208% over the last year.
Cities with the largest increase in stolen cars
City
Car thefts in 2020
Car thefts in 2021
% change in car thefts
Milwaukee, WI
2,851
8,770
208%
Round Rock, TX
38
99
161%
El Paso, TX
256
635
148%
Grand Rapids, MI
399
695
74%
Arvada, CO
383
663
73%
Denver, CO
5,554
9,479
71%
Westminster, CO
626
1,064
70%
Centennial, CO
209
345
65%
Wichita Fall, TX
185
294
59%
Bellevue, WA
192
299
56%
Henderson, NV
372
576
55%
Aurora, CO
2,609
3,992
53%
Providence, RI
353
534
51%
Greeley, CO
242
365
51%
Tacoma, WA
1,553
2,282
47%
Pueblo, CO
676
982
45%
Sterling Heights, MI
98
142
45%
Kent, WA
652
943
45%
Billings, MT
554
798
44%
Escondido, CA
284
408
44%
Buffalo, NY
844
1,174
39%
Hampton, VA
177
244
38%
Peoria, AZ
143
197
38%
Thornton, CO
636
874
37%
Carlsbad, CA
107
147
37%
Reno, NV
717
972
36%
Norfolk, VA
519
698
34%
Lee's Summit, MO
138
183
33%
Cambridge, MS
65
86
32%
Edinburg, TX
50
65
30%
Chula Vista, CA
534
690
29%
Virginia Beach, VA
404
522
29%
San Diego, CA
3,637
4,688
29%
Vancouver, WA
863
1,093
27%
Portland, OR
4,599
5,808
26%
Columbus, OH
2,288
2,842
24%
San Antonio, TX
5,208
6,419
23%
Corpus Christi, TX
626
770
23%
Lakewood, CO
976
1,194
22%
El Cajon, CA
241
294
22%
Las Vegas, NV
5,160
6,210
20%
North Las Vegas, NV
772
911
18%
Clinton Township, MI
130
153
18%
Beaverton, OR
195
229
17%
Boulder, CO
263
307
17%
Sugar Land, TX
55
64
16%
Wilmington, NC
150
174
16%
Frisco, TX
77
89
16%
Pearland, TX
90
103
14%
Salt Lake City, UT
1,473
1,674
14%
Waco, TX
274
311
14%
Methodology: Data on stolen cars compiled from FBI Uniform Crime Report
The sharp increase in car thefts is even more dramatic when you compare it to each city's population. Nearly 1,500 cars are stolen for every 100,000 people in Milwaukee, Denver and Tacoma, Wash. The average nationwide is 307 stolen cars for every 100,000 residents.
Cities with the highest rate of stolen cars
City
Thefts per 100k people
Milwaukee, WI
1,489
Denver, CO
1,285
Tacoma, WA
1,037
Aurora, CO
1,035
Westminster, CO
934
Portland, OR
876
Pueblo, CO
869
Salt Lake City, UT
828
Tulsa, OK
760
Lakewood, CO
748
Billings, MT
724
Kent, WA
704
Albuquerque, NM
696
Chattanooga, TN
689
Minneapolis, MN
686
Detroit, MI
667
Dallas, TX
619
Independence, MO
618
St. Paul, MN
606
Thornton, CO
606
Springfield, MO
604
Gresham, OR
601
Kansas City, MO
589
Vancouver, WA
586
Cleveland, OH
574
Memphis, TN
553
Arvada, CO
539
Houston, TX
488
Seattle, WA
467
Atlanta, GA
467
Buffalo, NY
461
Louisville, KY
459
Knoxville, TN
455
Mesquite, TX
420
Everett, WA
416
Waterbury, CT
412
San Antonio, TX
408
Dayton, OH
399
Oklahoma City, OK
397
Elizabeth, NJ
393
Little Rock, AR
387
Salem, OR
386
Bridgeport, CT
381
Reno, NV
375
Las Vegas, NV
367
Colorado Springs, CO
363
Spokane, WA
359
Cincinnati, OH
357
North Las Vegas, NV
356
Grand Rapids, MI
343
Pasadena, TX
336
Methodology: Data on stolen cars compiled from FBI Uniform Crime Report
How does auto insurance replace a stolen car?
Most car insurance providers have a waiting period, usually 30 days, before they consider the car a total loss. It's a good idea to add rental car reimbursement to your auto insurance policy for situations like this. A basic car insurance policy does not include the cost of a rental car during the waiting period.
If your car is deemed irrecoverable, your auto insurance provider will pay out on your claim at the actual cash value (ACV) of your car. This means the payout will be based on the current market value of the vehicle, including any depreciation due to age. Your auto insurer will cut you a check for the ACV amount, minus whatever your auto insurance deductible is. If you're leasing or financing the automobile, the payout will go to your lessor or lender.
If you are leasing or went through a lender to buy your car, seriously consider investing in gap insurance. Gap insurance covers the difference between the limit of your comprehensive coverage and how much is owed on the stolen car. Ask your car insurance company about the cost of gap insurance when you're buying comprehensive coverage.
Will my car insurance rates go up if I file a claim for a stolen vehicle?
It depends on where you bought your policy. It also depends on your claims history. If you make a claim for an incident that's largely your fault, there's a high chance your insurer will increase your premium.
In the event of auto theft, you need to have comprehensive coverage as part of your auto insurance policy if you expect your stolen car to be replaced. A basic auto insurance policy primarily provides liability insurance, which doesn't cover car theft. Comprehensive coverage is available as an add-on to your auto insurance policy, should misfortune strike. Comprehensive coverage is typically required for a financed car.
Filing a claim for a stolen car can be a lengthy process. Completing a police report and then the claim itself with your auto insurance provider requires a lot of documentation and some back and forth. Also, be aware that your car insurance provider will pay out for a new vehicle based on what the stolen car was worth at the time of the theft, not what you paid for it.
QuoteWizard.com LLC has made every effort to ensure that the information on this site is correct, but we cannot guarantee that it is free of inaccuracies, errors, or omissions. All content and services provided on or through this site are provided "as is" and "as available" for use. QuoteWizard.com LLC makes no representations or warranties of any kind, express or implied, as to the operation of this site or to the information, content, materials, or products included on this site. You expressly agree that your use of this site is at your sole risk.