What To Do if Your Car is Stolen
Someone steals a vehicle every 46 seconds in the US. Here are the steps you should take if yours goes missing. Also, here is what your auto insurance will and won't cover.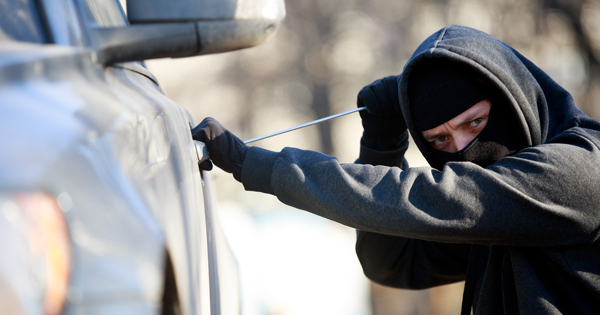 Vehicle theft in the US has dropped dramatically in the last decade and a half. In fact, since the crime peaked in 1991, when nearly 1.7 million cars were stolen, it has decreased 58 percent.
Still, crooks swipe almost 700,000 autos each year, and that figure is nothing to sneeze at—especially if your wheels are among the ones taken.
Speaking of which, what should you do if your vehicle goes missing? First, don't freak out. Second, read and follow the steps below. Although there's no guarantee they'll get your car back, they should help.
At the very least, this advice will put you in a good position when it comes time to work with your auto insurance company on a claim or payout.
Before you do anything else, make sure someone actually stole your vehicle
Imagine walking out your front door—or leaving work. or exiting the grocery store—and not finding your SUV where you left it minutes or hours before.
It would be easy in that situation to jump to the conclusion that someone stole it.
In fact, though, a number of other things could have happened to it. A couple of examples:
If you left it too close to a fire hydrant or in a "no parking" or "reserved" zone, towing is a better bet than theft.
The same is true if you have a number of outstanding parking or speeding tickets.
Have you missed any payments on your car? If so, it's possible your creditor or lessor repossessed it.
You may be confused as to where you parked it. Maybe it's in a different row, or on a different level.
As a result, the first thing you should do before you call the police is check to see if one of the above is responsible for its disappearance.
Gather identifying information about your vehicle
If after finishing the step above you decide that, yes, some jerk stole your car, quickly find and bring together the following info about it:
License plate numbers
Vehicle Identification Number (VIN)
Year, make (manufacturer), model, and color
You also should write down any identifying marks—large dents or scratches are good examples—or distinguishing features. Make note of custom add-ons too.
On a related note, if you have a photo that does a good job of showcasing all of the above, grab that and throw it in the pile as well.
All of these details will help the police track down your auto.
Want to get a bunch of "prep work" out of the way before you pick up the phone? Make a list of any possessions that were in your vehicle when someone stole it. You'll need this info if you want your insurer to reimburse you for those items down the road—assuming you have the right kind of insurance.
What's the right kind of insurance in this situation? Renters or homeowners insurance. None of the typical forms of car insurance will cover belongings taken from a vehicle.
Call the police and file a claim
Don't drag your feet while taking care of the two steps detailed above. You want to get the police involved as soon as possible after you notice your car is missing. Why? The sooner they start looking for it, the more likely they are to find it.
That requires you to do more than tell the police someone stole your vehicle, of course. You'll also have to give them the information mentioned earlier: its license plate numbers, its VIN, etc. They'll plug it into their database and use it while searching for your car.
While you've got a police officer's attention, make a point of filing a report related to the theft too.
That's a good idea for two reasons. One is it'll protect you if the person who stole your car gets into an accident and causes damage. The other is that some car insurance companies won't honor your claim unless you've filed a police report.
If your car is equipped with an OnStar or LoJack system, contact someone there too
Those and other tracking systems are pretty common these days. Which is a good thing, as they can help you locate and recover your vehicle.
So, if you've got one in your car, let the police know about it when you call. They may contact someone at the company for you and get the ball rolling in that regard. If they don't, get on the phone yourself.
Give your auto insurance company a heads up as well
This step is especially important if you have comprehensive coverage. That's because it is the only form of car insurance that covers damaged or stolen vehicles.
If you don't have comprehensive coverage, or if you think you don't have enough of this kind of coverage, shop around. See what multiple companies will offer you in terms of rates by getting an auto insurance quotes comparison.
Assuming you do have comprehensive car insurance, though, call someone at your insurance carrier once you're done talking with the police.
That person likely will ask you for some information, including:
Your vehicle's title
The location of all of its keys
The names of anyone with access to the car
A copy of your police report (or its case number)
Some experts suggest giving your insurer a heads up even if you only have liability coverage. Their reasoning is that doing so will protect you if the thief or thieves get into an accident and cause damage as a result.
Contact your homeowners or renters insurance provider
If you have either of these kinds of insurance, they should come to your rescue if someone swipes any of your belongings when they steal your car.
Auto insurance won't help you deal with this part of the crime, by the way. So. if you lack a renters or homeowners policy, you'll have to replace your possessions on your own dime.
Alert your credit card issuer, your financial institution and other such entities, if need be
You only need to follow this piece of advice if you left any personal items—or items containing personal information—in your car.
For instance, a lot of people keep their insurance card or registration document in the glove compartment. Even more people leave receipts or paycheck stubs sitting on the dashboard.
Those habits can cause problems if someone steals your vehicle. Specifically, they can lead to identity theft.
To avoid that, take these precautionary measures. Call your bank or credit union. Contact your credit card issuer as well. Let them know what happened so they can keep an eye out for suspicious activity.
Alert other entities, like the DMV, too if your wallet or purse were in your auto when it went missing.
Sit tight and prepare to pay your deductible
You know that old saying, "Patience is a virtue"? Keep it in mind as work your way through this process, as it can be a slow one.
Here's a good example. Imagine the police never find your vehicle. Your insurance company won't declare it a lost cause for at least a few days.
If you pass that deadline and your car's still MIA, though, your insurer will pay you its current market value. Assuming you have comprehensive car insurance, of course.
And how about if your car finds its way back to you? Again, if you have the right kind of coverage, your insurance company will reimburse you for any damage done.
Something else to keep in mind here: you'll likely have to pay your deductible no matter how things are resolved.
Let the police and your insurance providers know if you find your car
It probably could go without saying that you should follow up with the police, your insurer, and anyone else involved in the search for your vehicle if it turns up.
Frequently Asked Questions
Q: What are the first things I should do if someone steals my car?
A: Here are the most important things you should do once you're sure a thief took it:
Call the police and file a claim
If your vehicle is equipped with an OnStar or LoJack system, contact someone at that company
Alert your auto insurer
Get your homeowners or renters insurance provider involved too if you left belongings in your car
Do the same with your bank, credit union, or credit card issuer if you think the thief gained access to personal information
Beyond that, consider calling local cab companies as well. Offer their dispatchers and drivers a reward of $50 or $100 and they'll join the police in scouring the streets.
Also, scan eBay and Craigslist and see if anyone's trying to sell your car. Admittedly, this won't be all that helpful if it's a common make and model. If it's at all unique, though, it could lead to a recovery.
Q: What kind of insurance protects me the most if someone steals my vehicle?
A: If you don't want to dig into your own pockets to replace your stolen auto or pay for related damage, you need comprehensive car insurance. Neither liability nor collision coverage covers you if a thief swipes your wheels.
Q: Where do I find my Vehicle Identification Number (VIN) - which you said I'm supposed to dig up before calling the police or my insurance carrier?
A: Look for it on your insurance card.
Q: Do I have to pay my deductible if someone steals my car?
A: In most cases, yes. This is true if you find your car or if the authorities never recover it.
Q: What happens if the police find my car after the insurance company pays my claim?
A: Basically, this is your insurer's problem and they'll have to deal with it. They should still let you grab any belongings left in the vehicle, though.
Q: Will my car insurance rates go up if I file a claim for a stolen vehicle?
A: It depends on where you bought your policy. It also depends on your claims history. If this is your first auto claim, or your first in a number of years, you and your rates should be fine.
Q: How often are cars stolen in the United States?
A: According to the FBI, 2,097 cars were stolen each day in the US.
References:
QuoteWizard.com LLC has made every effort to ensure that the information on this site is correct, but we cannot guarantee that it is free of inaccuracies, errors, or omissions. All content and services provided on or through this site are provided "as is" and "as available" for use. QuoteWizard.com LLC makes no representations or warranties of any kind, express or implied, as to the operation of this site or to the information, content, materials, or products included on this site. You expressly agree that your use of this site is at your sole risk.