Auto Insurance for Leased Cars
Find out how to avoid being blindsided by high insurance rates when you go to sign a car lease.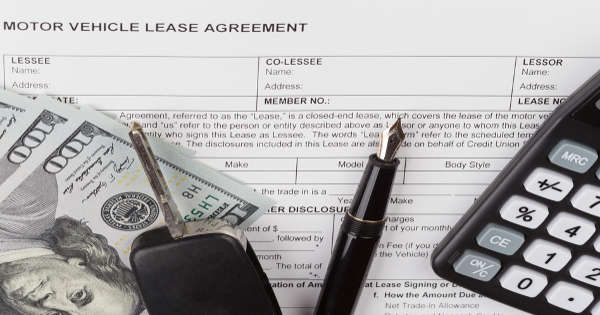 Even though you don't own a car you're leasing, you still need to purchase auto insurance for it. Auto insurance requirements for leased cars are enforced by both state laws and your leasing company. You need to carry the minimum car insurance required by state law where your car is registered, and you also need to carry the required coverage outlined in your lease agreement.
The cost of car insurance is something you should factor into your vehicle leasing expense. This article covers some things you'll want to consider if you find yourself in that situation, including:
Car insurance requirements for a leased car
Car insurance requirements come from two places: state laws and your leasing company.
For example, every state except New Hampshire requires a certain amount of liability insurance, whereas purchasing collision and comprehensive insurance for your new set of wheels isn't required by state law. But when you lease a car you don't own, the leasing company will likely make you carry collision and comprehensive coverage.
State-mandated insurance requirements
Most states require drivers to purchase a minimum amount of liability coverage. Leasing companies tend to require their customers to obtain amounts that go far beyond state minimums. This is what most states require drivers to purchase before hitting the road:
Property damage liability: Covers repair or replacement of vehicles or property after an accident you caused.
Bodily injury liability: Covers medical expenses and lost wages for all injured parties other than yourself in an accident you caused.
For example, some states like California only require drivers to have $5,000 of property damage liability coverage and $15,000 of bodily injury liability coverage. The company or financial institution backing your lease will likely will require quite a bit more than that. That may be around $50,000 of property damage liability and $100,000 of bodily injury liability. It doesn't cost much to increase your liability coverage, according to our data, only an average 8% to 14% increase in premiums when bumping up coverage levels.
Lease-enforced insurance requirements
Your lease agreement may require you to buy auto insurance your leasing company thinks is needed to properly protect their investment — the vehicle. The leasing company still owns the car, even though it's under your care. That's why it's important to them that it is fully covered, and it's why they require you to provide that coverage. Liability requirements protect other drivers and their property, which the leasing company isn't as concerned with. Comprehensive and collision coverage protects the lending company's property, so they typically require you to purchase it.
Leasing companies usually require you to purchase a certain amount of this coverage:
Many lease companies, dealers and banks place limits on the deductibles you can assign to these forms of coverage. $500 and $1,000 deductibles are options that you may be able to choose as your deductible. You may save money on this coverage by comparing quotes for comprehensive and collision insurance.
Gap insurance for a leased car
Another form of auto insurance you'll probably have to purchase as part of your lease agreement is gap insurance. "GAP" stands for "guaranteed asset protection."
Gap coverage protects both you and the leasing company if you're involved in an accident and the car is totaled. If a car is totaled, your insurance company would pay out the depreciated value of the car. Gap coverage covers the difference between the insurance company payout and the remaining balance of your lease agreement.
For example, you purchase a new car and owe $30,000 on it when you drive away from the dealership. Then, you're involved in an accident and the car is totaled. Your insurance company pays you $15,000 for the actual cash value of the car, and even though you've already paid $5,000 on the car, you still have $10,000 to pay off. With gap insurance, that $10,000 is covered so you don't have to continue paying for a car you can't drive.
Gap coverage is always recommended when leasing a new car. Most new cars depreciate at a faster rate in the first couple years of driving. With most leases spanning three to five years, you will be driving a car rapidly depreciating throughout the lease.
The good news is that although most lease agreements require gap insurance, it's often included in your car payments. Some lease agreements don't require you to go out and actually buy a gap policy. Read the fine print of any lease agreement or contract to see if gap coverage is included in your payments.
Auto insurance costs for leasing vs. buying a car
You could potentially pay more to insure a leased car than you would to insure a purchased car. This is because leasing companies often require you to buy more insurance than you may have chosen to get on your own if you purchased a car.
Here are some ways to get cheap insurance for a leased vehicle:
Check with your current insurer to see how much it would cost to lease a particular model. After you know the added cost of leasing a car, ask your insurance agent about the additional costs that could be involved. They can tell you approximately what you would pay to insure a certain make and model.
Some cars are more expensive to insure than others. All cars are not created equally when it comes to insurance. Some cars cost more to insure than others. For example, cars that aren't worth a whole lot and are fairly cheap to repair cost less to insure. These vehicles typically have more affordable insurance premiums than those that have higher price tags. Don't assume the insurance premium for a $50,000 luxury sports car costs the same as your old $20,000 sedan.
Shop around for rates before you buy. The leasing company may try to sell you some of the kinds of insurance we've discussed but you may be able to find better rates elsewhere. Compare car insurance rates online and research several insurance companies before you make a decision. Make sure to compare car insurance quotes from multiple companies to find your best rates for your lease.
Will the payments I make on my leased vehicle include insurance coverage?
The leasing company may roll the cost of gap insurance into your payments. If gap insurance is automatically included, your leasing company may charge more than a regular insurance company.
You'll likely have to separately purchase the other forms of coverage we've mentioned, such as collision, comprehensive and liability. You can purchase those policies through a standard insurance company of your choice.
Make sure you check exactly what coverage is automatically included in your leasing agreement to avoid paying for a policy you already have.
QuoteWizard.com LLC has made every effort to ensure that the information on this site is correct, but we cannot guarantee that it is free of inaccuracies, errors, or omissions. All content and services provided on or through this site are provided "as is" and "as available" for use. QuoteWizard.com LLC makes no representations or warranties of any kind, express or implied, as to the operation of this site or to the information, content, materials, or products included on this site. You expressly agree that your use of this site is at your sole risk.