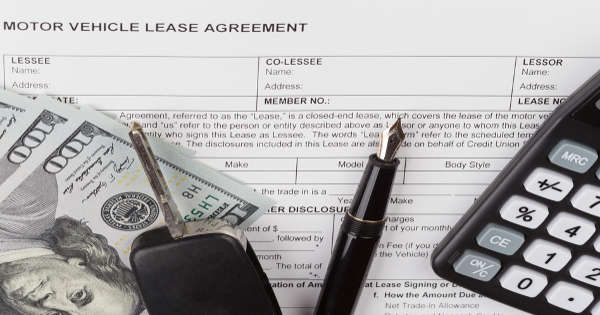 Americans leased nearly 4.5 million vehicles in 2014. A figure that accounted for about 27 percent of all car sales during that 12-month period. That number's likely to be even higher as 2015 comes to a close if recent trends are any indication.
According to Edmunds.com, the number of car shoppers who are more interested in leasing than buying has increased just over 41 percent over the last five years. There's little evidence to suggest that rate is going to slow down anytime soon.
It's easy to understand why so many U.S. drivers are giving the cold shoulder to buying vehicles in favor of leasing at the moment. After all, the latter allows them to upgrade to the "latest and greatest" every few years. It enables them to slide behind the wheel of BMW or a Lexus even when they've got a Kia budget.
The promise of driving a luxury car turn the would-be car buyers away from a more traditional financing situation and toward leasing. The costs associated with leasing a vehicle aren't always so straightforward—especially when the price of auto insurance is factored into the calculations.
Price isn't the only component of auto insurance that people need to keep in mind when they go to lease a car, jeep, truck, SUV, or van. Here are some of the things you'll want to consider if you find yourself in that situation.
Get the lowest insurance rates for leased cars!
You can save up to $492/year!
Click Here
The leasing company will require you to carry collision and comprehensive coverage
You're probably already aware that purchasing collision and comprehensive insurance for your new set of wheels isn't a requirement. When you are leasing a car you don't own, the leasing company will require you to carry collision and comprehensive coverage.
As part of the lease agreement the leasing company can require you to buy insurance they think is needed to properly protect their investment in the event that it's damaged, destroyed, or stolen.
That's going to mean purchasing a certain amount of both collision and comprehensive coverage. Collision covers any damage caused by a collision with another car or property. Comprehensive covers damages caused by fire, theft or any weather related event like hail.
Many lease companies, dealers, and banks will place a limit on the deductibles you can assign to these forms of coverage. That typically mean deductibles of $500 and $1,000 being the most likely options. Connect with multiple companies to compare quotes on comprehensive and collision insurance coverage.
You'll have to purchase liability coverage above the state minimum
Most states require drivers to purchase a minimum amount of liability coverage. Leasing companies tend to require their customers to obtain amounts that go far beyond state minimums.
Some states only require vehicle owners to have $5,000 worth of property damage liability coverage and $12,500 of bodily injury liability coverage. This means if you cause an accident that results in another person being injured or someone else's property being damaged, your insurance company will make payouts. This pays out the coverage amount to cover the victim's loss.
The company or financial institution backing your lease will likely will require quite a bit more than that. Most figure to be $50,000 of property damage liability and $100,000 of bodily injury liability.
These limits benefit the leasing company and the driver to protect both parties in the event of an accident. The driver is protected by higher limits to avoid exceeding coverage amounts. Leasing companies are protecting their investment to avoid disputing payouts exceeding minimal coverage amounts.
You may have to buy "GAP" insurance, too
One final form of auto insurance that you'll probably have to purchase as part of your lease agreement is "gap" (also known as GAP, or "Guaranteed Auto Protection") insurance.
This kind of coverage will protect both you and the leasing company if you're involved in an accident and your vehicle is damaged to the point of being deemed totaled. When a car is totaled your insurance company will pay out the depreciated value of the car.
GAP coverage will cover the difference between the insurance company payout and the remaining balance of your lease agreement.
GAP coverage is always recommended when leasing a brand new car. Most new cars depreciate at a faster rate in the first couple years of driving. With most leases being 3-5 years, you will be driving a car rapidly depreciating throughout the lease.
The good news here is that although most lease agreements require GAP insurance. It isn't unusual for the needed amount to be included in and covered by the resulting car payments.
There are certain lease agreements where you won't have to go out and actually buy a GAP policy. Be sure to read the fine print of any lease agreement or contract to see if GAP coverage is already included in your monthly payments.
As a result of all of the above, be prepared for insurance to add more to the price of your lease than you may have imagined
The bump in price that's associated with all of the insurance products discussed so far (collision, comprehensive, GAP, liability) is a big part of why so many people who lease vehicles quickly discover that the car of their dreams isn't quite as affordable as they initially believed it would be.
Many drivers who are interested in leasing tend to gravitate toward vehicles that are more expensive than the vehicles they could buy. People in this situation set their budget at $300 or $400 a month and think primarily about the cost of lease. The cost of insurance either is ignored or underestimated, which results in a rather nasty case of sticker shock for a good number of lessors in any given year.
Below are a few specific pieces of advice related to obtaining insurance for a leased vehicle.
Check with your current insurer to see how much it will cost you to lease a particular model
After understanding the added insurance cost of leasing a car, it's a good idea to check in with your current insurance agent to see what additional costs will be involved. They will tell you approximately what you'll pay to insure a particular make and model.
They should be able to tell you approximately what you'll have to pay to insure a particular make and model.
If the quote for that BMW you've been eyeing is a lot higher than you were expecting, you may want to scale back your car selection to account for insurance costs. Don't wait till the sticker shock of car payments and insurance cost sets in.
Don't forget: some cars are a lot more expensive to insure than others
All cars are not created equal when it comes to insurance.
Consider a vehicle that isn't worth a whole lot and that's fairly cheap to repair. These vehicles will have more affordable insurance premiums than one that has a larger price tag.
Don't go into a leasing situation assuming that buying insurance for the $50,000 sports or luxury car is going to cost the same as the $20,000 sedan you used to drive.
Spend some time shopping around before you finalize anything
It's possible the leasing company you're considering doing business with will, at some point, try to sell you some or all of the kinds of insurance that have been discussed so far.
As convenient as it may be to take them up on their offer, it's possible that doing so won't be in your best interests. Insurance sold by leasing companies is often marked up so that you could find better rates elsewhere.
You'll likely want to do a bit of research and talk with at least a small handful of insurance companies about your situation before you make any decisions. Make sure you compare car insurance quotes from multiple companies to find the best rates for your lease.
Frequently Asked Questions
Q: Will insurance cost more if I lease a car or purchase a car?
A: It's definitely possible that you'll pay more to insure a leased car than you would to insure a car that you purchased. This is due to the fact that leasing companies often require people they do business with to obtain more insurance than those folks who purchase cars.
Q: Will the payments I make on my leased vehicle include insurance coverage?
A: It's possible the leasing company will roll the cost of GAP insurance into your payments. You're probably going to have to purchase the other forms of coverage mentioned above, like collision, comprehensive, and liability.
Q: Why do leasing companies force people to buy so much insurance anyway?
A: The leasing company financing your new set of wheels is its owner. They want to protect their investment from damage, destruction, or theft as much as is possible. A good way to do this is by requiring the people who lease their vehicles to carry sufficient amounts of liability, GAP, comprehensive, and collision insurance.
References:
QuoteWizard.com LLC has made every effort to ensure that the information on this site is correct, but we cannot guarantee that it is free of inaccuracies, errors, or omissions. All content and services provided on or through this site are provided "as is" and "as available" for use. QuoteWizard.com LLC makes no representations or warranties of any kind, express or implied, as to the operation of this site or to the information, content, materials, or products included on this site. You expressly agree that your use of this site is at your sole risk.