Renters Insurance Mistakes
Not buying the right type or amount of renters insurance can be costly. Learn how to avoid some common renters insurance mistakes.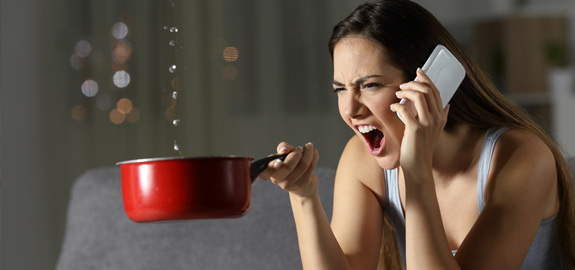 Renters insurance isn't required by law or by a mortgage lender like car and homeowners insurance. Because of this, many people don't purchase it.
But renting a home or apartment poses just as much risk to your possessions as owning a home. Your landlord is responsible for insuring the physical structure of the property. However, you're in charge of your personal belongings and personal liability.
We've outlined the most common mistakes people make when purchasing renters insurance. Hopefully this will help you avoid those mistakes.
Mistake #1: Not Purchasing Renters Insurance
Mortgage lenders generally require you to purchase homeowners insurance if you finance your home. As for car insurance, it's illegal to drive without at least having liability coverage in most states. But renters insurance isn't required, unless your landlord decides to mandate it.
Because many landlords don't make it mandatory, many people don't buy it. But renters insurance is very important.
Your landlord's insurance only covers the structure of the home. It doesn't cover your personal possessions or liability claims. If a tree falls on the house and destroys your belongings, your landlords insurance won't cover any of your damage.
A basic renters policy will protect you against covered perils. These are things that expose you and your property to risk. The most common covered perils include:
Fire
Lightning
Windstorm
Smoke
Vandalism
Malicious mischief
Theft
Accidental discharge of water
Policies offer:
Personal property coverage
Liability protection
Additional living expenses
Why do it?
You may not want to spend extra money on renters insurance. But say your kitchen catches fire in your apartment. Renters insurance covers damage to your belongings and people hurt in your home.
It also covers expenses you'll need to find a temporary residence while your apartment is under repair. Without renters insurance, you'd have to pay for repairs, liability claims, and additional living expenses.
And best of all, renters insurance is very affordable.
What do experts say?
Corey Brinkman is the regional vice president of Renters Warehouse St. Louis—a company that manages thousands of homes across the country.
"Most tenants don't have renters insurance because they simply don't have all of the information. They think they're saving money, when in fact, renters insurance is relatively inexpensive," Brinkman said.
"Whether you're renting an apartment, a condo, or a house, you can get coverage for as little as $10 to $20 dollars a month, and it can protect you if there's a fire or damage," he explains. "As a professional landlord service, we have seen firsthand how not having renters insurance can devastate both renters AND landlords. They are always sorry they didn't have it."
Mistake #2: Not Purchasing Enough Coverage
Renters insurance is perhaps the most affordable type of insurance. On average, it costs around $180 a year. If your possessions get damaged and you don't have renters insurance, you'll be paying a lot more than that.
Personal Property Protection
Your policy will come as either actual cash value (ACV), or replacement cost. ACV insures your personal belongings at what they were worth when you purchased them, minus depreciation.
Replacement cost is the cost to replace your items to their original condition. This is the more comprehensive (and expensive) of the two. 
You'll want to make sure to choose the right type of coverage. Insurance agents suggest replacement cost, because it provides more coverage.
For more information on actual cash value and replacement cost for renters insurance, read our article comparing the two options.
Liability Insurance
On the other end of the spectrum, you should buy liability coverage in $100,000 increments. Insurers suggest purchasing at least $300,000 worth of coverage.
Try to get enough coverage in case someone injures themselves on your property. You should be able to pay their medical fees and legal fees if they decide to sue. While $100,000 seems like a lot of coverage, these costs can quickly cover that amount and more.
Never underestimate how much coverage you'll need. It's better to pay a few dollars more per month in premiums than a couple hundred thousand dollars out of pocket.
Mistake #3: Miscalculating How to Set Your Deductible and Premiums
A deductible is the money you pay out-of-pocket when you file a claim before your insurance coverage kicks in. Premiums are the amount of money you pay (usually monthly) to your insurance company. How much you pay for each depends on what type of policy you purchased.
The lowdown on deductibles and premiums
The higher you set your deductible, the lower your monthly premiums, and vice versa.
It's important to make sure that you can afford both. You don't want your deductible to be so high that it wipes out your savings. But you don't want your premiums so large that it's a challenge to pay them each month. You'll want to find a happy medium between the two.
Determine your needs and crunch the numbers. Would you rather be paying a $500 deductible and $25 premiums each month? Or a $1,000 deductible and $12 per month? The choice is yours, but make sure you weigh the costs and benefits of all your options.
Mistake #4: I Don't Need Riders or Endorsements
Riders, endorsements, and floaters all refer to the same thing. They are optional add-ons that increase the coverage of a policy.
Most renters policies come with personal property coverage limits. They tend to have caps on the coverage of luxury and collectible items. Most insurers will limit coverage of your jewelry at $1,500. You can add coverage for your expensive items with endorsements.
If you have collectibles, antiques, jewelry, or anything valuable, make sure they're covered.
Check out endorsements
Endorsements offer protection beyond the covered perils in your renters policy. They might cover you if you lose an expensive piece of jewelry or drop it in the drain. Different insurers treat this feature differently, so ask for more information. You also need to get your jewelry and luxury items appraised before you can insure them.
What do experts say?
Mark Newman-Kuzel is a licensed insurance agent for Farmers Insurance.
He says, "It's imperative that an annual inventory should be conducted and pictures taken of any/all valuable possessions.  Pictures should be stored safely online in the case that their computer is destroyed in the fire (or other peril), so that they can access these pictures elsewhere."
Always keep track of your possessions. You'll need a laundry list of what to replace if a peril comes your way. Keep in mind that with these benefits you'll be paying higher premiums. But often these benefits outweigh the costs.
Mistake #5: It's Only for People with Valuable Possessions
Many people believe that only those with valuable items need renters insurance. This isn't the case. A fire in your home would force you to purchase replacements for the mundane things that you need in daily life.
Your stuff adds up
The cost of new kitchenware, new furniture, and new clothes adds up. It's better to pay a few extra dollars a month on premiums than to dish out thousands of dollars at once.
Plus, your insurance will cover personal liability. It covers medical and legal expenses if someone were to get hurt in your home. And temporary living expenses pays for you to live in a hotel for a few weeks because of a fire in your apartment.
Mistake #6: Not Purchasing Earthquake or Flood Insurance
Your landlord may have earthquake or flood insurance, but that just covers the structure of the property. You're on your own when it comes to the protection of your personal belongings.
Invest in additional coverage
Do you live in an area prone to earthquakes or floods? Talk with your insurer about additional coverage. You might be able to get a flood policy through the National Flood Insurance Program (NFIP). Various providers offer earthquake policies.
Speak with your insurer for more information on rates.
Mistake #7: Choosing a Policy by Price
Don't base the policy you purchase primarily on price. Price is important, but so is the reputation of the company and the type of the policy.
Look deeper than the price tag
A cheap policy may lack adequate coverage. You want to make sure the plan covers all the bases. Especially in terms of personal property, liability, and additional living expenses. Make sure it includes the right amount of coverage for your needs. You might want a cheap policy but need more coverage or a rider. This can cover expensive jewelry, musical instruments, or antiques.
Do your research and read reviews on different companies through the Better Business Bureau. Also check out credit ratings through agencies like Moody's, Standard & Poor's, and Fitch. 
The bottom line: don't just look for what's the most affordable.
Mistake #8: Sharing a Policy with a Roommate
Sharing a policy is a major faux pas for liability reasons. Because both your names are on the policy, you're both responsible for every liability claim. If your roommate invites her friend over and the friend hurts herself on your roommate's treadmill, you're both liable.
Get your own
She files a claim against you both, and your coverage pays for the injuries. The accident wasn't even your fault, but it will be on your insurance record because you share a policy.
If something causes you both to file a claim, you must figure out how to split the insurance check. Maybe your roommate claims her possessions got more destroyed than yours and demands more compensation. To save the trouble, it makes sense to get your own policies. The risks outweigh the benefits
Mistake #9: Not Seeking Out Discounts
Always look for discounts when getting a new policy. Insurance companies might offer them for bundling two lines of insurance under the same company. They might also offer deals if you install safety features in your home like burglar alarms and smoke detectors.
Being a student, military veteran, or having good credit may also qualify you for a discount. Always check with the insurer for discounts before moving to the next step of the process.
Mistake #10: Not Making an Inventory List
If you need to file a claim, having an inventory list will be a huge help. It's a comprehensive list of all your items and their values. While documenting everything you own seems like a lot of work, it's easier than you think.
Here's a helpful guide on how to create an inventory list. If you skip out on this step, you're going to have a hard time getting fully reimbursed for your stuff in the event of a claim.
Mistake #11: Not Shopping Around
The biggest mistake you can make is not shopping around for a policy. To know if you're getting the best rates, get quotes from multiple companies. QuoteWizard will match you with top insurers to help you get the best rates on the coverage you need.
References:
QuoteWizard.com LLC has made every effort to ensure that the information on this site is correct, but we cannot guarantee that it is free of inaccuracies, errors, or omissions. All content and services provided on or through this site are provided "as is" and "as available" for use. QuoteWizard.com LLC makes no representations or warranties of any kind, express or implied, as to the operation of this site or to the information, content, materials, or products included on this site. You expressly agree that your use of this site is at your sole risk.