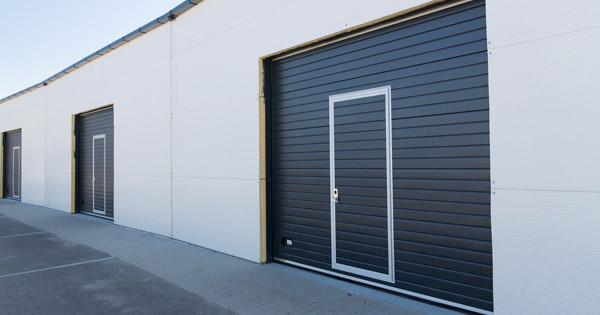 According to the Self Storage Association, one out of every 10 households in America rents a storage unit.
If you are one of the 10.8 million Americans who uses a storage facility, make sure that you're properly protecting your belongings. After all, storage facilities do not automatically take responsibility for damages. This is where insurance comes in to play.
Companies will often make consumers get insurance before they can rent a unit. Renters generally need enough coverage to replace all of their items.
The storage facility will likely try to sell you insurance directly. But don't be fooled into thinking you have to buy it from them. You can show proof of pre-existing insurance coverage or purchase coverage from an insurance company.
So do you already have insurance? Customers who have homeowners or renters policies are usually covered for property kept off site.
Don't have home insurance? Let QuoteWizard help you find the most affordable rates.
If you are insured, bring proof of coverage to the facility. This way you can avoid buying coverage you don't need.
A company may also limit the value of items stored. This is often determined by the size of the unit and your rent. Some businesses will allow you to store items beyond this value.
Do You Need Self-Storage Coverage?
Customers should talk with their personal insurance company to find out the extent of their homeowners policy.
Your insurer may be able to help you get around buying insurance from the storage company. Your insurance company may:
Cover items outside the home for a higher rate
Be able to add a storage facility to your policy as a second location
Sell self-storage insurance. This is usually a cheaper option than buying from a different company.
Have limitations for covering items offsite. Items in a storage unit may only cover up to 10 percent of the policy limit under home insurance. If your policy is for $100,000, then your insurer would pay for $10,000 worth of damages
To figure out the value of your possessions, try making an inventory list. This is similar to one you might have made for your home or apartment. Renters should also take photos of their belongings. It will be useful if damage does occur.
Another reason you might want a self-storage policy?
Alexander Harris, Editor in Chief of SpareFoot Blog, points out that storage insurance does not have a deductible, while home insurance does. In addition, getting separate storage coverage guarantees your home insurance rates will not go up if you do file a claim.
But, unlike homeowners insurance, self-storage coverage is not regulated by state insurance departments.
Who Sells Self-Storage Insurance?
Renters will usually have up to three options when deciding where to buy insurance. They could get it from:
The storage facility
An independent self-storage insurer
Their insurance company
Coverage bought directly from the facility covers less than insurance from an independent self-storage insurer. An independent company might offer a policy for over $20,000. Meanwhile, a storage facility may only sell $5,000 worth of coverage.
Always check with your home insurer to see if they also offer self storage coverage for a lower rate.
Average Cost
If your possessions are worth more than 10 percent of your homeowners policy limit, look into buying self-storage insurance. It can cost as little as $6 a month.
Harris notes that most facilities offer a specific policy onsite. Keep in mind, policy coverage varies. A higher rate may mean increased protection.
For example, according to Jared Beckstead, Marketing Coordinator for Bailey's Moving & Storage, Bailey's offers customers an all-inclusive policy. Their self-storage option through SMARTBOX offers insurance for $35 a month. It covers damages for anything that could happen.
Harris suggests looking into outside insurers to find the best price.
Find affordable self-storage or renters insurance to protect your possessions.
Compare and save!
Click Here to Begin
What Does Storage Insurance Cover?
Self-storage policies typically don't cover damages resulting from:
Vermin
Mold and mildew
Flooding
War
People who buy insurance for their storage unit will have protection from:
Fire
Theft
Hurricane
Tornado
Wind
Hail
Lightning
Leaking water
Smoke
Earthquake
Again, there are always exceptions. Be sure to read over the policy carefully or talk to your agent. Separate flood insurance is another way to add more protection.
Items Self-Storage Insurance May Not Protect
Self-storage coverage places limits on many items. For instance, renters who wish to store their car, motorcycle, or ATV will have to insure those items separately. Other things may only be covered up to a specific dollar amount, or not covered at all.
These items include:
Furs
Jewelry
Collections such as artwork
Antiques
Watches
Securities
Deeds and other valuable documents
Stamps
Similarly, some belongings have limited coverage under home insurance. Jewelry is often only covered up to $1,500.
To protect these special goods, consider buying a rider or endorsement. Riders (also called floaters) will give extra coverage to protect your item's full value. You may need to get the item appraised to get a floater. This way you have proof of its value.
Conclusion: Should You Buy Storage Facility Insurance?
Self-storage insurance might be a good idea if you want to add extra protection. It may cover damages not included in your standard homeowners policy. 
But in general, if someone already has home insurance—and is not storing possessions worth more than 10 percent of their policy—further insurance is unnecessary. If your items are worth more, consider getting storage unit insurance.
And if you don't have a homeowners or renter's policy?
"You should probably just buy self-storage insurance because it is specifically tailored to the hazards you might encounter while storing your items and filing a claim will be less complex," Harris said. "It is also likely cheaper than renters insurance."
Still, homeowners insurance might end up being the better deal. It may cost more, but your policy protects items inside your house as well as your storage unit. If you only want to meet the storage company's requirements though, only buying storage facility insurance is best.
There are, of course, special cases. Read your policy carefully to see if any items are not insured.
As explained, some items have a dollar limit on how much they can be insured. In this case, you may want to buy a floater.
Ultimately, whether you buy self-storage insurance or not is a personal choice based on your comfort level.
Frequently Asked Questions
Q: What are the typical things that go wrong in storage units?
A: According to Harris, the most common problems are theft and water damage. Water damage is more likely to happen in older, neglected buildings. Harris suggests looking for a newer multi-level facility to lower the likelihood of damage.
To prevent theft, make sure the storage company provides safety features. These could include:
Cameras
Onsite management
Door alarms
Keypad access
Beckstead notes that damages are often caused by the renter themselves. The renter may lack experience, and pack their belongings badly. According to Beckstead, vermin and fire are uncommon.
Q: What should you consider when shopping around for a storage unit?
A: When looking for a storage unit, take note of the following:
Theft is one of the biggest problems when storing items at a facility. Security is important to prevent possible theft. Ask about security measures such as 24-hour cameras.
Climate Control. Some facilities offer climate controlled units. They keep units at 55 to 85 degrees year-round and control humidity.
Is the facility free of cockroaches, mice, and rats? Does it generally seem well taken care of? Check if they have regular extermination checkups to prevent pest infestation. Investigate for any signs of water damage before storing your items.
How much room do you need? The amount of insurance offered is often based on size of unit.
Investigate the company. Do they have good reviews online? Do you know anyone else who has rented a unit from them?
Q: What types of items will need a climate controlled unit?
A: Anything you want to give extra protection to would best be placed in a climate controlled unit. Other belongings you might want to put in a humidity controlled storage facility include:
Wooden furniture
Coins
Wine
Musical instruments
Electronics such as computers
Photos
Family Heirlooms
Q: Are there any restrictions on what you can keep in a storage unit?
A: Items that could start a fire are best not kept in a storage facility.
Most facilities will not let you store:
Gasoline or other combustibles
Paint
Cleaners
QuoteWizard.com LLC has made every effort to ensure that the information on this site is correct, but we cannot guarantee that it is free of inaccuracies, errors, or omissions. All content and services provided on or through this site are provided "as is" and "as available" for use. QuoteWizard.com LLC makes no representations or warranties of any kind, express or implied, as to the operation of this site or to the information, content, materials, or products included on this site. You expressly agree that your use of this site is at your sole risk.