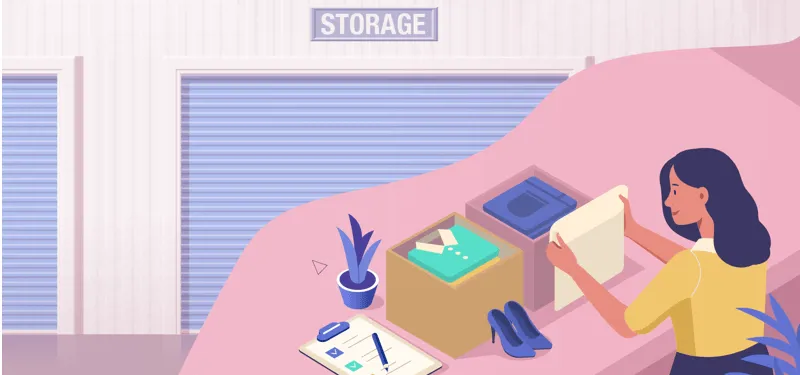 When storing your possessions in a storage unit away from your home, part of making sure it's all secure is having the proper insurance to protect it. Storage facilities may also require you to have some sort of insurance coverage before they store your belongings.
You can get this coverage either through homeowners or renters insurance, or a separate storage unit insurance policy. Self-storage insurance provides coverage to replace your items kept in a rental storage facility if they're damaged or destroyed by covered events.
This article covers:
Self-storage insurance basics
Self-storage insurance provides personal property coverage for your possessions contained in a rental storage facility. Should any of your property kept in a storage unit or locker be damaged by a covered event, self-storage insurance would pay to replace the damaged items.
Storage rental companies often try to get you to buy insurance for your property stored on their premises, if not outright require it. However, if you already have a homeowners or renters insurance policy, there's a good chance that it provides coverage for your belongings stored away from your home.
This coverage limit is most often 10% of your policy's personal property limit.
What does off-site storage insurance cover?
Self-storage insurance policies may differ some, but the main damage they usually cover includes:
Fire
Theft
Hurricane
Tornado
Wind
Hail
Lightning
Water damage
Smoke
Storage unit insurance exclusions
It's important for you to know that there are often exclusions to what self-storage insurance will cover. This may include:
Vermin
Mold and mildew
Flooding
War
What may or may not be covered in a storage unit
There are items that, due to their high value, may fall into a gray coverage area. Depending on the self-storage insurance provider you go with, your policy may have limits on coverage amounts for certain items, or they may be totally excluded. These types include:
Furs
Jewelry
Art collections
Antiques
Watches
Firearms
Important documents
If you're using your homeowners or renters insurance for your self-storage unit, your insurance provider may offer a rider to cover an item with limited coverage or excluded from standard self-storage insurance. Riders allow you to cover an item for its full value. An appraisal may be required in order to get a rider.
Does renters insurance cover storage units?
Check your policy to make sure, but odds are your renters insurance will reimburse you if covered damages or theft occurs in your rental storage unit. Most renters insurance policies cover damages or theft in a storage unit up to 10% of your personal property coverage limit. For example, if you have a $150,000 renters insurance policy, your stuff in storage would be covered up to $15,000.
Self-storage insurance vs. renters insurance
There are a few differences between self-storage insurance and renters insurance that may affect your decision as to which one to choose. If you already have renters insurance, this could be your best bet for insuring property stored away from your rental home.
However, keep in mind that any claim you file for stored items covered by your renters insurance will more than likely increase your premium. Self-storage insurance, being separate from the insurance coverage you have for your home, would not affect your renters insurance premium.
Storage unit coverage bought directly through the storage company usually covers less than storage insurance that comes with homeowners or renters insurance through your own provider. As an example, your provider may offer a coverage limit of $30,000, while the storage facility's coverage may max out at $5,000.
A key difference between self-storage insurance and renters insurance is that you have the option of getting self-storage insurance without a deductible. This means that you wouldn't have to cover a portion of the claim amount yourself, and your insurer would reimburse you for the full amount of your claim, assuming it's covered. A storage insurance policy without a deductible is preferable, however, you should expect to pay higher rates for it.
Getting self-storage insurance
Self-storage insurance can be purchased through the storage facility itself or through an independent self-storage insurer. Insurance purchased through a provider almost always offers greater coverage than what storage facilities offer, so make sure to compare quotes before you decide. Insurance companies that offer self-storage insurance include:
GEICO
Progressive
Nationwide
USAA
How much does storage insurance cost?
The total cost of a self-storage insurance policy usually relies on how much coverage you need and the size of the storage unit you're renting. On average, storage unit insurance costs anywhere between 50 cents and $2 for every $100 worth of property in the unit. The cost may vary depending on how large the storage unit is. A deductible for a storage facility insurance policy usually falls somewhere between $100 to $500, if you choose a deductible.
You'll want to purchase enough coverage to replace all of the belongings you put in storage. You shouldn't guess what that dollar amount is. Put together an inventory list with descriptions, serial numbers and replacement costs of the items you want covered. The best time to put this list together is as you're packing your belongings to take to storage. This list may also help expedite payout on your claim.
Wrapping up
If you have a storage unit, you can protect your possessions with insurance — either with a policy through the storage facility or through the personal property coverage on your renters insurance. Renters insurance generally providers a better value, especially if you already have a policy.
Whether you go with self-storage or renters insurance, make sure your stuff is covered for damage and theft, even if your storage facility doesn't require it. Should your things be damaged or destroyed by a covered event, you don't want to be left having to replace it all out of your own pocket.
QuoteWizard.com LLC has made every effort to ensure that the information on this site is correct, but we cannot guarantee that it is free of inaccuracies, errors, or omissions. All content and services provided on or through this site are provided "as is" and "as available" for use. QuoteWizard.com LLC makes no representations or warranties of any kind, express or implied, as to the operation of this site or to the information, content, materials, or products included on this site. You expressly agree that your use of this site is at your sole risk.