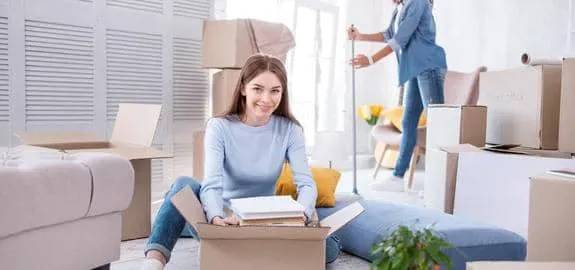 Getting a renters insurance policy can be a quick, relatively painless process in comparison to buying other forms of insurance. Once you know what renters insurance coverage limits you need, have the information that providers want and choose an insurer, getting a quote and policy doesn't take much time at all. You can get same day renters insurance.
This article will cover:
How long does it take to get renters insurance?
The actual process of buying a renters insurance policy may only take about 15 minutes. You'll want to compare renters insurance quotes to make sure you get your best premium and gather the required information you'll need before going online to buy. Overall, it shouldn't take you longer than a couple of hours from beginning to end.
As to when your policy actually goes into effect, that's usually up to you. Unlike other forms of insurance that have a wait time before becoming active, you can choose the start date for your renters insurance policy. Just be aware that some renters insurance providers won't underwrite a policy with a start date that is two or more months away. Otherwise, if you need renters insurance today or a month from today, it shouldn't be a problem.
Best places to get renters insurance
Here are some renters insurance companies with strong reputations for good coverage, competitive premiums and high customer satisfaction:
State Farm
Allstate
American Family
Liberty Mutual
Nationwide
What do I need to get renters insurance?
Your renters insurance provider will require specific information from you in order to generate an accurate quote. This usually includes:
Information about your rental
Your renters insurance company may want to know where your rental is located, as well as whether it's a house or an apartment. If there is any pre-existing structural damage to the unit, they could request that as well.
Personal information
Your renters insurance company will need some personal information about you when compiling a quote, including:
Claims history: If you have any previous insurance claims, whether renters insurance or another policy type, your renters insurance provider may want to know about it.
Dogs: Your provider may also want to know if you have a dog. Some dog breeds are considered high risk by certain insurance companies. This can result in higher premiums, exclusion of the dog from liability coverage or denial of coverage.
Personal business: Renters insurance companies may ask if you will be using the rental unit as a business location. A standard renters insurance policy may not provide coverage if you're using the rental for commercial purposes.
It may be tempting to do otherwise, but it is in your best interest to be honest about all of the above information. If you fudge on your personal history, or decline to mention a personal business or dog, your policy could be terminated. As landlords often require renters insurance as part of a leasing contract, this can put you in a predicament.
Choosing your renters insurance coverage limits
When you get a renters insurance policy, you'll want to be ready with the coverage limits you'll need. Here are some suggestions to find your ideal coverage:
Liability
Most companies offer a minimum liability limit of $100,000 for renters insurance. This may seem like a decent amount of coverage. However, keep in mind that if a trip to the hospital or lawsuit results from an injury you're responsible for at your rental, your landlord's insurance will not cover it, and medical bills or legal fees can eat through $100,000 quickly. We recommend that you get at least $300,000 in renters insurance liability coverage, or more if you can afford it.
Landlords may sometimes require a minimum amount of liability coverage as part of the leasing contract. Make sure that whatever renters insurance policy you purchase meets that limit. Landlords often request proof of renters insurance in order to make sure this limit is met and to make sure renters insurance is in place.
Personal property
You will want to buy enough personal property coverage to replace all of your belongings after a disaster. While your landlord's insurance covers the structure of your rental, it does nothing to protect your possessions.
When coming up with a dollar amount for personal property, don't guess. The risk of underestimating the total value of your belongings is too great. The best way to make sure that you're aware of the full value of your personal property is to make a home inventory list. If you're moving anyway, the best time to compile the list is as you pack.
Make sure the list includes makes, models, serial numbers and replacement costs when available. Once you've written the list, make sure to give a copy to your rental insurance provider. This may help speed up the process if you need to file a claim.
Deductible
Your deductible is the agreed-upon amount that you pay when filing a claim before your renters insurance provider pays the remainder of a claim. For example, if you file a claim for $7,000 and you have a $500 deductible, your renters insurance company will cut you a check for $6,500.
In simple terms, the higher your renters insurance deductible, the lower your premium. If you are able to afford a high deductible, you could save a significant amount of money on your renters insurance premium. Five hundred dollars and $1,000 are the most common deductibles for renters insurance, but some providers offer higher and lower deductibles.
Bottom line
If you take the time to properly prepare for buying renters insurance, it should only take you a few hours from start to finish to get a policy. Make sure that you have all the current necessary information, along with your coverage needs, and you'll have renters insurance in no time.
References:
QuoteWizard.com LLC has made every effort to ensure that the information on this site is correct, but we cannot guarantee that it is free of inaccuracies, errors, or omissions. All content and services provided on or through this site are provided "as is" and "as available" for use. QuoteWizard.com LLC makes no representations or warranties of any kind, express or implied, as to the operation of this site or to the information, content, materials, or products included on this site. You expressly agree that your use of this site is at your sole risk.