Best home insurance companies in New Mexico
New Mexico's average home insurance rates tend to stay below the national average. This makes comparing rates to find the best home insurance for you simpler, but there are still other important factors to consider. This article can help.
We looked at the average premiums, as well as coverage options and claims satisfaction ratings, of the biggest home insurers operating in New Mexico. These are the companies we recommend:
Allstate: cheapest home insurance premiums
Allstate's average annual home insurance rate in New Mexico is $922. This comes in at $258 less than the state average of $1,180. Due to several factors, such as property crime rates, your home insurance rate may vary considerably.
Allstate offers a wide array of discounts that can help you save more on your annual homeowners insurance rate. You may save up to 10% on your annual premium just for switching your home insurance policy to Allstate. If you're retired and 55 years of age or older, you may qualify for discounts as well. Allstate offers a sizable discount with its bundling package. If you bundle your home and auto insurance policies, you may save up to 25% on both policies combined.
Looking for a home insurance policy based solely on cost isn't always the best way to go, although budget is an important factor. The graph below lays out the average Allstate home insurance rates in New Mexico: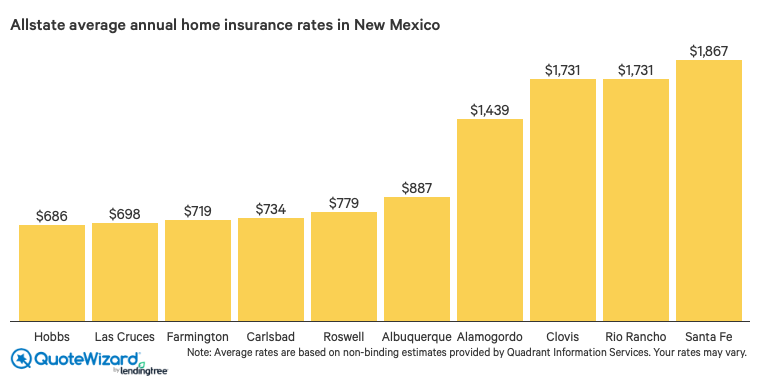 State Farm: most popular home insurance company
State Farm currently holds 20% of the New Mexico home insurance market share. Its average annual rate in the state comes in at $1,184, just a few dollars more than the New Mexico average annual home insurance rate of $1,180.
State Farm tends to be very popular in many states. A large part of this is because of its reputation for excellent insurance claims resolution and satisfaction. J.D. Power gave State Farm a high four-out-of-five ranking for overall satisfaction in its 2019 home insurance study. Furthermore, the National Association of Insurance Commissioners gave State Farm a low 0.20 rating in its Complaint Index. The lower an insurer's Complaint Index, the fewer claims-related complaints they receive. This puts Allstate well below the New Mexico state average Complaint Index of 0.43, as well as the national average index of 1.0.
Liberty Mutual: best home insurance discounts
Liberty Mutual's average New Mexico homeowners insurance rate of $1,204 a year is a bit above the average state rate of $1,180. But the company offers extensive home insurance discounts that may help bring your annual premium down:
Are you looking to cancel your current homeowners insurance policy and switch to a new one? Liberty Mutual offers an early shopper discount if you sign with them before your current homeowners insurance expires.
If you just bought a new home or renovated your current one, you may be eligible for discounts.
You may qualify for a discount just for setting up automatic payments.
While not technically a discount, Liberty Mutual's inflation protection benefit can offer great long-term savings. It automatically adjusts the limits of your home insurance coverage at renewal time to keep up with any inflation that may occur throughout the year.
Farmers: best local presence
If you want your home insurance provider to be located near you, Farmers is your best bet. Farmers has agencies in 44 towns and cities across New Mexico, more than any of the other providers we looked at in this study.
Despite having the highest average premium in our findings, of $1,412 annually, Farmers maintains a strong level of popularity in New Mexico. The company holds 10.6% of the home insurance market share in the state, the second-highest share of home insurers currently underwriting there. Furthermore, J.D. Power ranked Farmers as 11th in the country for overall claims satisfaction in 2019.
Cheapest home insurance companies in New Mexico
With the exception of Allstate, all of the home insurance providers we looked at for this article came in over the New Mexico annual home insurance average. Allstate has the cheapest average rate, of $922, while Farmers is the highest, at $1,412 annually.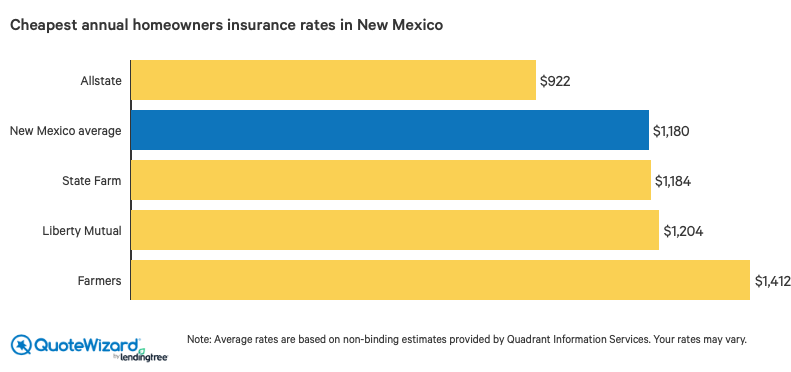 New Mexico's average home insurance rate is $1,180 annually. This stays a bit under the nationalaverage home insurance rate of $1,215. To find the New Mexico average rate, we calculated 479 quotes from the three largest homeowners insurance providers in New Mexico.
Average home insurance rates in New Mexico vs. U.S.
 
New Mexico
U.S.
Average annual rate
$1,180
$1,215
Average monthly rate
$98
$101
Average rates are based on non-binding estimates provided by Quadrant Information Services. Your rates may vary.
The best home insurance companies in New Mexico are primarily established, well known names. The following table gives a snapshot of how they compare by market share, customer satisfaction and Complaint Index ratings:
Home insurance companies in New Mexico
Company
Market share
Overall customer satisfaction*
NAIC Complaint Index (lower is better)
State Farm
20%
4/5
0.20
Farmers
10.6%
3/5
0.37
Safeco
6.3%
2/5
0.45
USAA
4.9%
5/5
0.15
Foremost
3.7%
-
0.41
Liberty Mutual
3.1%
2/5
0.53
Travelers
2.9%
2/5
0.30
Allstate
2.3%
3/5
0.29
*According to J.D. Power's 2019 home insurance satisfaction study.
Home insurance rates in New Mexico by city
Homeowners insurance rates span a wide range across the cities of New Mexico. A factor in this is New Mexico's high rate of property crime in some areas. According to U.S. News & World Report, New Mexico had a property crime rate of 3,420 property crimes per 100,000 people in 2018. This is far above the national average of 2,200 property crimes per 100,000 people.
Your location impacts your home insurance rates. Of the 10 largest cities in New Mexico, Las Cruces has the lowest average homeowners insurance rate, of $818, and Clovis has the highest, at $2,174.
New Mexico home insurance rates
City
Average annual home insurance rate
Alamogordo
$900
Albuquerque
$915
Carlsbad
$2,006
Clovis
$2,174
Farmington
$964
Hobbs
$2,122
Las Cruces
$818
Rio Rancho
$905
Roswell
$1,690
Santa Fe
$925
Average rates are based on non-binding estimates provided by Quadrant Information Services. Your rates may vary.
Methodology
QuoteWizard studied and compared 479 quotes from the four top home insurance companies operating in New Mexico. As a base profile, we used a home valued at $186,357 and constructed in 1982 as the median.
The homeowners insurance policy we rated included standard coverage amounts based on:
Dwelling coverage: $186,357
Property coverage (50% of dwelling): $93,179
Other structures coverage (10% of dwelling): $18,636
Loss of use coverage (20% of dwelling): $37,271
Liability coverage: $100,000
QuoteWizard.com LLC has made every effort to ensure that the information on this site is correct, but we cannot guarantee that it is free of inaccuracies, errors, or omissions. All content and services provided on or through this site are provided "as is" and "as available" for use. QuoteWizard.com LLC makes no representations or warranties of any kind, express or implied, as to the operation of this site or to the information, content, materials, or products included on this site. You expressly agree that your use of this site is at your sole risk.