How Does Homeowners Insurance Cover Wildfire Damage and Destruction?
Here's what you need to know about how home insurance protects you from these blazes, how you can file a claim for wildfire damage, and more.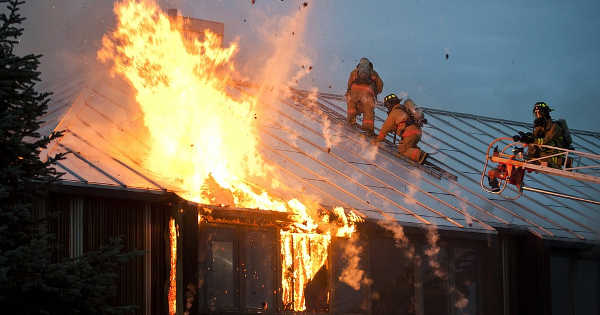 According to the National Interagency Fire Center, the US has already seen over 30,000 fires in 2016. Combined, they've burned close to three million acres of land.
Combine those statistics with the unpredictable nature of wildfires, and you've got a scary situation for a lot of Americans. After all, they can either cause minor damage or continue to blaze a trail for days, leaving entire areas in complete ruins.
That's why it is so important to prepare for natural disasters like these before one is racing toward your home and property.
Speaking of which, here are some of the most common concerns related to wildfires, homes, and homeowner's insurance that you should address as soon as possible.
Wildfire Damage and Homeowners Insurance
Fortunately, most standard homeowner's insurance covers your home if a wildfire damages or destroys it. The only fires it won't cover are ones that are intentionally set.
Not only does home insurance protect you and your house in the event of a wildfire, it also protects—or covers—any personal belongings damaged by the blaze. To a point, of course. How much it protects those possessions depends on your coverage limits.
Of course, coverage limits, and even deductibles, tend to vary by insurance company and by policy. So check yours regularly to reassess your coverage. If you aren't happy with it or with your insurance rates, shop around and compare homeowners quotes from multiple insurance companies.
What Kind of Fire Damage Does Home Insurance Cover?
Most homeowners insurance policies protect the following from wildfire damage:
Dwelling (your house or building)
Any detached structures (garage, shed, etc.)
Personal property
Water damage caused by firefighters
They also usually cover expenses tied to hotel stays, clothing purchases, and the like—up to certain amount. (Check your policy, or talk with your agent, for specific details.)
What if you're a renter? If you live in an area prone to wildfires, buy renters insurance. Your landlord's insurance only covers damage done to the dwelling. If you have your own personal renter's insurance policy, it will protect your personal belongings in cases like this.
Beyond that, if the fire damage is so bad that you're displaced while the structure is rebuilt, your renter's insurance will cover some related expenses. Again, up to a certain amount (depending on how much coverage you buy).
Areas in the US that are Prone to Wildfires
The parts of the US with dry, hot climates tend to be most at risk to wildfires. According to the Insurance Information Institute (III), here are the top 10 states, by percentage, that are most prone to them:
Homeowners in these areas should go to greater lengths to keep their home safe from wildfire damage. According to Kara Klotz of the Washington State Office of the Insurance Commissioner, if you live in one of these states, you can protect your rural home and limit wildfire exposure by:
Creating a firebreak by clearing the area between your house and outbuildings, trees, bushes, and uncut fields
Installing a water pump or having access to a nearby water source
Using fire-resistant roofing or building materials
Even if the state you live in isn't on the list above, you should still make sure any homeowners insurance policy you buy covers wildfire damage. Wildfires are unexpected and unmeasurable natural disasters. Due to record-setting heat the past two years, an influx of these fires have hit areas that normally wouldn't experience them.
For example, the National Interagency Fire Center released its fire potential outlook list for this summer. It projected Hawaii, Alaska, and many states in the Southwest to face an above-average threat of wildfires in 2016.
In other words, be sure you're prepared and properly covered regardless of where you're located. That way, if a wildfire damages or destroys your house or rental unit, the claims process will go as smoothly as possible.
How to File a Wildfire Insurance Claim
According to American Family Insurance, the first thing you want to do after a wildfire hits your home is compile a list of the property and belongings you believe were damaged or destroyed as a result. Briefly describe each item, including its age, current value, make, model, and serial number.
Carole Walker, executive director for rmiia.org, adds that, "Filing a single claim for property damage due to a wildfire may not directly affect your premium. However insurance companies consider a variety of individual and property risk factors when determining what you pay for homeowners or renters insurance."
So, filing once for wildfire damage should be okay. But if you don't take any measures to keep your house safe from such fires thereafter, it'll likely cost you in the form of higher homeowner's insurance premiums.
Need some help?
Here are some tips from Farmers that will help you prepare for a wildfire and also lower your homeowners insurance rates.
Wildfire Safety Tips
Prepare a fire escape plan for your family
Have fire alarms installed that alert first responders
Use fire resistant materials around your home and for landscaping
Clear away any debris and dry brush from around your house
Remove any dead or dying trees and shrubs near your house too
Be aware of the wildfire risk in the area where you live
Store flammable liquids in approved safety can
Create a zone around your home that will possibly slow a wildfire
Keep trees and shrubs pruned
Trim tree branches so they do not hang near our roof or chimney
Make sure that you have an up-to-date home inventory
Check your homeowner's policy often and make sure you have sufficient coverage
Prepare an emergency kit prepared for your family
Frequently Asked Questions
Q: Does standard homeowners (or renters) insurance cover wildfire damage?
A: Yes. Most standard homeowner's policies will cover you if a wildfire damages or destroys your home or personal belongings. If you live in a rental unit or house, renter's insurance protects your personal property up to the policy limit.
Q: Which parts of my home and property does insurance cover in the event of a wildfire?
A: If your home is destroyed or damaged by a wildfire, your homeowner's insurance covers the:
Dwelling
Detached structures
Personal belongings
Water damage caused by firefighters
Extra expenses—such as hotels and clothing—due to being displaced
If you're renting your home, your landlord's insurance will cover the expenses of the dwelling and your renter's policy—if you have one—will cover your personal belongings. It'll also cover any extra expenses that pop up if you're displaced from your rental, up to the limit set in your policy.
Q: Are any parts of the US especially prone to wildfires?
A: Yes, the Rocky Mountain and Pacific Northwest regions tend to see the most wildfires. These areas include states like California, Colorado, New Mexico, and Washington State.
Q: Could a wildfire happen—and damage my home—anywhere in the US?
A: Even though some areas are more likely to experience wildfires than others, the III says that 90 percent of wildfires are caused by humans. Given that, it's easy to see that wildfires can happen almost anywhere. On top of that, 2015 was a record-setting year in terms of heat and the number of wildfires, and that alarming trend is set to continue through 2016. So check your homeowner's policy often and review your home inventory annually in case one impacts your life.
Q: Will filing a claim for wildfire damage or destruction raise my homeowner's insurance rates?
A: According to Klotz, "some companies may charge you more based on the number or types of claims you file. They may even cancel your coverage due to one or more claims." However, filing one claim for wildfire damage will not raise your homeowners or renter's insurance rates. If you're worried that it will, "ask your agent or your company how they treat claim history," she adds.
Q: What's the best way to create a home inventory?
A: John Bodrozic, the co-founder of a digital home management, Homezada, provided these tips regarding how to prepare yourself and your home before, during, and after a wildfire:
First make sure to create a digital

home

inventory that itemizes all the things in your

home

, including estimated values and photos. 
Compare the total value of your belongings in your

home

inventory with the amount of coverage for your belongings in your policy.
You should also make a list of and note the values for all the "collectible" items that are typically excluded from a homeowners insurance policy. Examples include: art, coins, jewelry, china, rugs, and even wine. Once you have this digital

home

inventory, you can work with your agent to make sure these high-value possessions are covered.
Also photograph the various materials and equipment in your

home

. If you have done extensive remodeling with new appliances, floors, roof, etc., you want to make sure it's covered in your policy if your home is destroyed.
Have your

home

inventory stored away from the

home

. If it burns due to a wildfire, and you lose your

home

inventory as a result, you won't have the proper information to get reimbursed in a timely manner.
QuoteWizard.com LLC has made every effort to ensure that the information on this site is correct, but we cannot guarantee that it is free of inaccuracies, errors, or omissions. All content and services provided on or through this site are provided "as is" and "as available" for use. QuoteWizard.com LLC makes no representations or warranties of any kind, express or implied, as to the operation of this site or to the information, content, materials, or products included on this site. You expressly agree that your use of this site is at your sole risk.