Homeowners Insurance and Wildfire Coverage
Home insurance usually covers wildfire damage, but there are exceptions and limits. This article can help clear the air.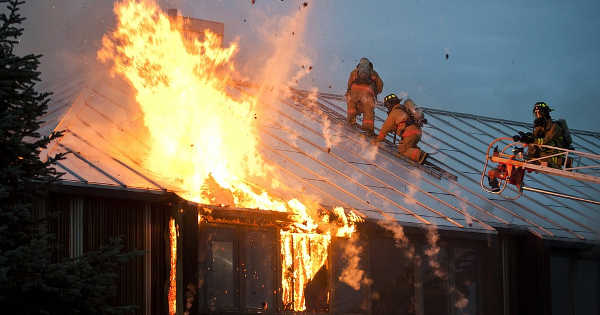 In the event of a covered fire, your home insurance should take care of the structure of your home, your belongings, relocation costs if necessary and other issues associated with the fire.
Wildfires have been a significant problem over the past few years across the country. Homeowners insurance companies tend to have higher premiums in high-risk states and areas such as these.
This article includes:
How does home insurance cover fire?
Standard homeowners insurance covers your home in the event of accidental and sudden fire damage. This also includes damage due to smoke. In the case of a covered fire damage claim, most standard homeowners insurance coverage includes:
Dwelling coverage
Dwelling coverage, also known as hazard insurance, protects the structure of your house, as well as built-in appliances like faucets and your water heater. You want the amount of dwelling coverage provided by your homeowners insurance to be equal to the rebuild cost of your home in the event of perils such as forest fires.
Personal property coverage
The personal property coverage section of standard homeowners insurance covers your belongings, including items outside the home and usually items you have kept in a storage facility. This includes items such as furniture, clothing, appliances and yard tools.
Most standard homeowners insurance policies have a personal property payout limit of 50% of your dwelling coverage. Some high-value items such as jewelry, antiques and unique collectibles usually have a lower payout limit than other items. This could put you in a dangerous financial position in the event of a wildfire. In order to make sure your expensive belongings are fully covered in the event of a wildfire, looking into protecting them with a rider.
Detached structure coverage
In the event of a wildfire, your home insurance should cover structures detached from the home, such as garages, gazebos and fences. The coverage payout limit on detached structures is usually 10% of your dwelling coverage. If you should need more detached structure coverage than what your home insurance policy provides, many home insurance companies offer additional detached structure coverage for purchase.
Loss of use coverage
It's not unlikely that a wildfire can cause you to relocate while your home is repaired. Loss of use coverage, also called additional living expense coverage, helps to take care of relocation costs outside of your standard costs of living. This includes temporary housing costs, food and rental storage.
Loss of use coverage usually has a dollar limit of 20% of your dwelling coverage. There may be a limit on the time you have access to LOU coverage from a single claim. Talk with your home insurer to see what your LOU limits are.
Debris removal
After a wildfire, the damaged or destroyed remains of your home will have to be removed before the rebuilding can begin. Some home insurers offer debris removal coverage as part of their standard home insurance. This coverage is usually between 5% and 10% of your dwelling coverage.
Do I need insurance coverage for wildfires?
As part of your home insurance, fire coverage isn't required by state law, but your mortgage company or other lender will probably require it for the duration of your loan.
Even if you don't have a mortgage, having home insurance is a good idea in order to protect one of your most valuable investments. The need becomes greater if you live in a state that has a high risk for fire.
According to the National Interagency Fire Center, there were 58,083 wildfires in 2018 that burned 8.8 million acres of land. By comparison, 2019 had 50,477 wildfires that destroyed 4.7 million acres. While the figures were lower in 2019, that means little if your home is part of that statistic.
The need for home insurance coverage is greater in some states. According to Verisk Analytics, California has more than 2 million properties at risk for wildfire damage. This is one of the factors that leads to California having an average home insurance rate of $1,684, well above the national home insurance average rate of $1,215. This can make getting affordable home insurance difficult. The table below shows the top 10 states at highest risk for fires:
States with most wildfire damage in 2019
State
Estimated properties at high fire risk
# of burnt acres
California
2,019,800
259,148
Texas
717,800
215,493
Colorado
371,100
40,392
Arizona
237,900
384,942
Idaho
175,000
284,026
Washington
160,500
169,742
Oklahoma
153,400
67,142
Oregon
151,400
79,732
Montana
137,800
64,835
Utah
136,000
92,380
Data compiled from Verisk
If getting homeowners fire insurance coverage is difficult
Your community probably has an ISO fire rating. The ISO rating is based on factors indicating how well prepared your area is for dealing with fires. If you live in an area with low capability for dealing with wildfires, you will at least see higher home insurance rates. In some high-risk areas, you may not be able to get homeowners insurance at all.
If you find yourself in either position, you may be able to get wildfire insurance coverage from your state's Fair Access to Insurance Requirements (FAIR) Plan. It's set in place to make sure you can get fire coverage for your home at a reasonable cost.
It should be noted that the FAIR Plan is not a substitute for standard home insurance coverage, as it only covers hazard insurance. You would want to get liability, personal property and loss of use coverage from another home insurance policy.
QuoteWizard.com LLC has made every effort to ensure that the information on this site is correct, but we cannot guarantee that it is free of inaccuracies, errors, or omissions. All content and services provided on or through this site are provided "as is" and "as available" for use. QuoteWizard.com LLC makes no representations or warranties of any kind, express or implied, as to the operation of this site or to the information, content, materials, or products included on this site. You expressly agree that your use of this site is at your sole risk.