Best homeowners insurance companies in Kansas
Kansas experiences a range of extreme weather that pushes the cost of home insurance in the state to more than 37% higher than the national average. Knowing what homeowners insurance you need and getting it at an affordable price takes some research, and that's where we can help.
We looked at the home insurance market in Kansas and compared companies' rates, policy options and customer satisfaction trends. Here are the best home insurance companies in Kansas:
State Farm: most popular home insurer
State Farm maintains 21.5% of the home insurance market share in Kansas, much higher than the next most popular home insurance provider in the state, American Family, which has 15.4% of market share.
State Farm tends to have a dominant market share across the U.S., even if it doesn't have the lowest rates. A big reason for this is its consistent reputation for customer satisfaction. J.D. Power gave State Farm an above-average four-out-of-five rating in its 2019 home insurance survey.
Also, State Farm's claim record has a 0.20 rating in NAIC's Complaint Index. A low Complaint Index indicates a low number of complaints. State Farm is excellent in this regard in comparison to the average Kansas Complaint Index of 0.6 and the national average of 1.0.
While cost is a definite factor to consider when looking at home insurance quotes, the service and capability of a home insurance provider will really be the yardstick that measures how good your policy is. As such, we strongly recommend State Farm for home insurance in Kansas.
Marysville Mutual: best local homeowners insurance company
If you're looking for a homeowners insurance policy from a company closer to home, Marysville Mutual is highly recommended. Started in 1956, Marysville Mutual has 240 agencies throughout Kansas and has written more than $33 million in premiums throughout the state.
Marysville Mutual's average annual home insurance rate in Kansas is $1,631. This is $37 under the state average of $1,668. Marysville Mutual only operates in Kansas, so your agent may better understand your home insurance needs depending on what part of the state you live in.
With Marysville Mutual, you have two options for home insurance coverage. Its standard homeowners insurance policy offers both replacement cost and actual cash value payout options for dwelling and personal property coverage. Its preferred homeowner program, primarily for newer homes, provides full replacement for personal property at a decent price.
Farmers: cheapest home insurance rates
Farmers insurance has the lowest average home insurance rate in Kansas, at $1,277 yearly. This is about 23% lower than the state average of $1,668.
NAIC gave Farmers a 0.37 Complaint Index rating for its claim complaint resolution in Kansas. The lower a company's Complaint Index, the better its record in resolving claim issues. Farmers' rating is well below the state average of 0.57 and the national Complaint Index rating of 1.0.
Even at its highest average annual rate of $1,456 in Wichita, Farmers stays well below the Kansas average. At the low end, Lawrence stands at an average rate of $1,033 yearly. If finding the lowest home insurance premium is a high priority for you, definitely consider Farmers.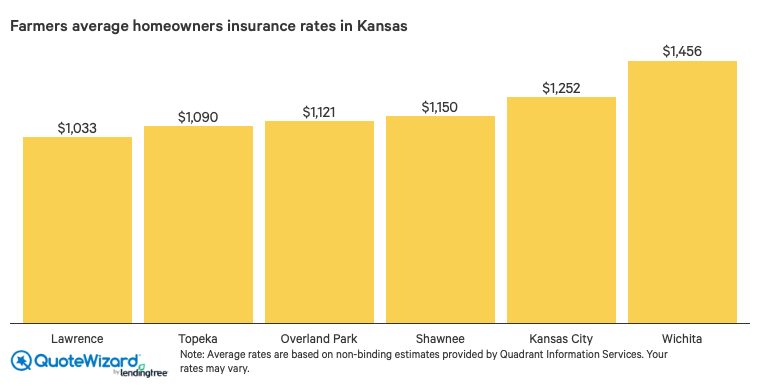 Travelers: second-lowest rates and best discounts
Travelers has an average yearly rate of $1,470 in Kansas, $198 below the state average. A big part of its low rates is the discounts that Travelers offers:
Bundling home and auto insurance may be worth up to a 15% discount on a home insurance policy.
Travelers offers a loss-free discount for homeowners who haven't made any claims in a set period of time.
Travelers also offers discounts for installing a home security or fire prevention system.
The chart below shows Travelers' rates in Kansas' larger cities, with rates ranked from low to high. If budget is a key consideration for you, compare quotes between Farmers and Travelers to see how their rates stack up in your area.
Travelers' home insurance rates across Kansas
City
Travelers' home insurance rate
Overland Park
$1,058
Shawnee
$1,074
Topeka
$1,129
Kansas City
$1,233
Lawrence
$1,472
Wichita
$1,472
Average rates are based on estimates by Quadrant Information Services. Your rates may vary.
Home insurance companies in Kansas
The home insurance market in Kansas is mostly dominated by larger insurers. The chart below shows the biggest homeowners insurance companies in Kansas ranked by market share:
Company
Market share
Overall customer satisfaction*
NAIC complaint index (lower is better)
State Farm
21.5%
4/5
0.20
Farm Bureau Financial Services
7.9%
-
0.32
Farmers
7.7%
3/5
0.37
Travelers
6.3%
2/5
0.30
Allstate
5.8%
3/5
0.29
USAA
5.1%
5/5
0.31
Marysville Mutual
1.3%
-
0.97
*According to J.D. Power's 2019 home insurance survey
To see how the biggest home insurers rank in the U.S., take a look at our national best homeowners insurance companies study.
Average cost of homeowners insurance in Kansas
Homeowners insurance costs a yearly average of $1,668 in Kansas, $453 above the national average of $1,215. This rate was calculated from 974 quotes from seven of the top insurers operating statewide.
 
Kansas
U.S.
Average annual rate
$1,668
$1,215
Average monthly rate
$139
$101
Average rates are based on estimates by Quadrant Information Services. Your rates may vary.
After studying the top homeowners insurance companies in Kansas, we found that Farmers and Travelers had the cheapest average annual premiums of $1,277 and $1,470, respectively. Farm Bureau Financial Services had the highest rate, at $1,993 a year.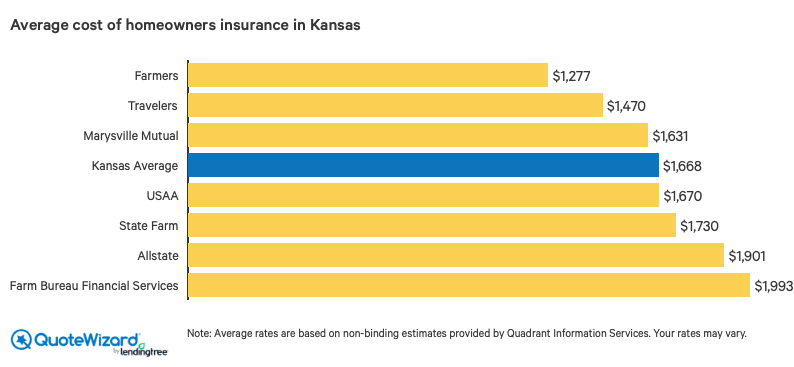 Since Kansas has higher-than-average homeowners insurance rates, it's important to compare home insurance quotes to find a good rate.
Homeowners insurance rates in Kansas by city
Johnson County has the highest annual average home insurance rates in Kansas, at $1,276. Most of the major cities in Kansas have homeowners insurance rates under the state average of $1,668, except for Wichita, the most populated city, whose rate is $1,942. The following table shows annual and monthly rate breakdowns of home insurance premiums in the largest cities of Kansas.
Home insurance rates in Kansas by city
City
Average annual rate
Average monthly rate
Kansas City
$1,488
$124
Lawrence
$1,343
$112
Lenexa
$1,337
$111
Manhattan
$1,455
$121
Olathe
$1,325
$110
Overland Park
$1,360
$113
Salina
$1,584
$132
Shawnee
$1,346
$112
Topeka
$1,419
$118
Wichita
$1,942
$162
Average rates are based on estimates by Quadrant Information Services. Your rates may vary.
Kansas homeowners insurance perils
Tornadoes are incredibly common in Kansas. The state's location in Tornado Alley puts it at high risk in the eyes of home insurance companies. This is one of the main reasons for the high cost of homeowners insurance in Kansas.
Tornadoes
They weren't making stuff up when "The Wizard of Oz" was released in 1939. Tornadoes do severe damage in Kansas. In 2018, Kansas experienced 45 tornadoes, the worst of which did $13,690,000 in damage.
Standard home insurance usually covers damage from heavy winds caused by tornadoes. You'll want to make sure the roof, siding, doors and windows of your home are sufficiently reinforced against wind damage to begin with, but also make sure that your dwelling coverage limits are sufficient to handle any repair or replacement needed after tornado damage occurs.
Precipitation
Heavy rain and snow can occur with relative predictability in Kansas, causing damage to the structure of your home, as well as possibly freezing your plumbing. Homeowners insurance often covers damage due to rain, hail and snow. Check your policy for specific coverage.
Methodology
QuoteWizard compiled and analyzed 975 quotes from seven of the top home insurance providers in Kansas. As a base profile, we used a home valued at $167,854 and built in 1972 as the median.
The home insurance policy we rated included standard coverage amounts based on $167,854 in dwelling coverage and a $1,000 deductible.
Coverage limits for our sample home
Dwelling coverage: $167,854
Personal property coverage (50% of dwelling): $83,927
Other structures coverage (10% of dwelling): $16,785
Loss of use coverage (20% of dwelling): $33,571
QuoteWizard.com LLC has made every effort to ensure that the information on this site is correct, but we cannot guarantee that it is free of inaccuracies, errors, or omissions. All content and services provided on or through this site are provided "as is" and "as available" for use. QuoteWizard.com LLC makes no representations or warranties of any kind, express or implied, as to the operation of this site or to the information, content, materials, or products included on this site. You expressly agree that your use of this site is at your sole risk.