Homeowners insurance covers some natural disasters, but you need to purchase separate policies if you want to be covered for floods and earthquakes.
What natural disasters are covered by home insurance?
There is no single insurance policy called natural disaster insurance, but home insurance policies can cover several types of natural disasters. The natural disasters covered by your home insurance depend on the type of policy you have. The most common homeowners insurance policy is called an HO-3, which includes protection from fires, hail, volcanic eruptions and some damage from tornadoes and hurricanes.
What natural disasters are not covered by home insurance?
Home insurance does not cover some natural disasters, but you may be able to buy separate policies for the ones that aren't covered. A standard home insurance policy doesn't cover the following natural disasters:
Floods
Earthquakes
Mudslides or landslides
How do insurance companies cover natural disasters?
Insurance companies do not categorize damage by the type of natural disaster, but by the peril. A peril is a hazard or event that can cause damage. For example, wind damage and flooding are both perils that can be caused by a hurricane. You may be able to add an endorsement that broadens the perils your policy covers.
Homeowners insurance typically covers wind damage, but not flooding, making wind a covered peril and flooding an excluded peril. That means your insurance doesn't cover every type of damage a hurricane can cause, but only some of the perils.
The reference table below shows the most popular home insurance policy types and the perils they cover.
| Peril | HO-1 | HO-2 | HO-3 | HO-5 | HO-6 | HO-7 | HO-8 |
| --- | --- | --- | --- | --- | --- | --- | --- |
| Fire | ✓ | ✓ | ✓ | ✓ | ✓ | ✓ | ✓ |
| Hail and windstorm | ✓ | ✓ | ✓ | ✓ | ✓ | ✓ | ✓ |
| Lightning | ✓ | ✓ | ✓ | ✓ | ✓ | ✓ | ✓ |
| Frozen piping | x | ✓ | ✓ | ✓ | ✓ | ✓ | x |
| Flood | x | x | x | x | x | x | x |
| Earthquake | x | x | x | x | x | x | x |
| Landslide and mudslide | x | x | x | x | x | x | x |
Most homeowners insurance policies cover damage from wind, hail, fire and lightning. Although many policies provide this coverage, they differ in the level of coverage. For instance, the HO-3 and HO-5 both protect your belongings from fire, but the HO-3 is an actual cash value policy, while the HO-5 is a replacement cost policy for your belongings.
It's important to note that homeowners insurance policies almost never cover floods or earthquakes. Many types of natural disasters can cause flooding. But because flooding is not a covered peril, your home insurance may not fully cover damage caused by some natural disasters.
States with the most natural disasters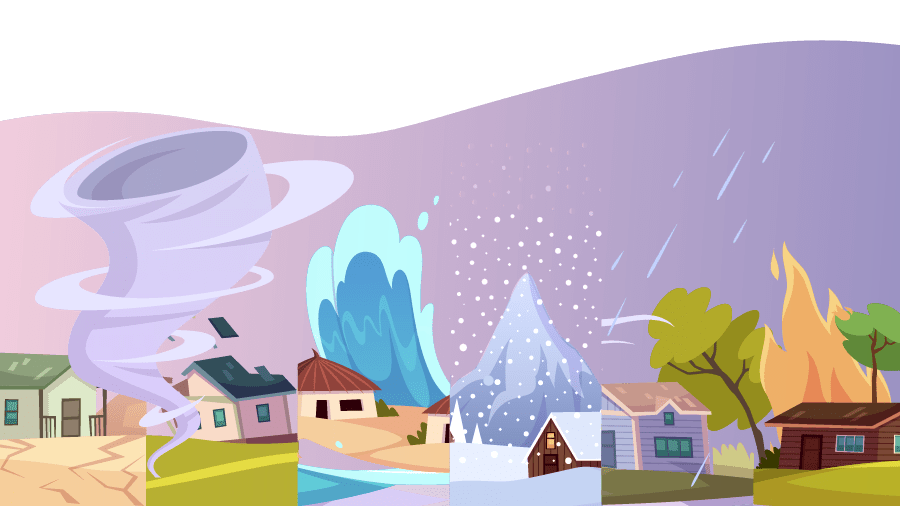 Natural disasters are becoming more common and costlier, with the number of disasters topping $1 billion in damage more than doubling in the last 20 years.
Our team of analysts looked at natural disasters nationwide going back to 1984 and found that the number of billion-dollar disasters has increased by 157% in the last two decades.
Severe storms are by far the most common type of natural disaster. Over the last 20 years, there have been 144 billion-dollar natural disasters caused by severe storms. That's a 380% increase from the previous 20 years. Cyclones (hurricanes), floods and drought are the next most common natural disasters.
Natural disasters in the U.S.
Disaster type
Billion-dollar disasters, 1984-2003
Billion-dollar disasters, 2004-2023
% change over 40-year period
Drought
12
16
33%
Flood
12
25
108%
Freeze
4
3
-25%
Severe storm
30
144
380%
Tropical cyclone
21
37
76%
Wildfire
7
14
100%
Winter storm
11
10
-9%
All disasters
97
249
157%
Source: National Centers for Environmental Information
Texas has faced more major natural disasters than any other state. Over the last 40 years, Texas has had 155 natural disasters — and 121 of them have occurred in the last 20 years. Hawaii has had the fewest billion-dollar natural disasters, just one such cyclone since 1984.
Natural Disasters by State, 1983-2023
State
Total number of events
Estimated damages
Texas
155
$200B-$340B
Georgia
108
$20B-$50B
Illinois
107
$20B-$50B
North Carolina
104
$50B-$100B
Missouri
100
$20B-$50B
Oklahoma
99
$20B-$50B
Alabama
98
$20B-$50B
Tennessee
98
$20B-$50B
Virginia
98
$10B-$20B
Mississippi
93
$50B-$100B
Pennsylvania
93
$20B-$50B
Ohio
86
$20B-$50B
South Carolina
86
$20B-$50B
Indiana
85
$20B-$50B
Kansas
85
$20B-$50B
Louisiana
84
$200B-$270B
Arkansas
81
$10B-$20B
New York
79
$50B-$100B
Kentucky
77
$10B-$20B
Florida
73
$200B-$250B
Massachusetts
71
$5B-$10B
Iowa
70
$50B-$100B
Colorado
65
$20B-$50B
New Jersey
60
$50B-$100B
Nebraska
54
$20B-$50B
Wisconsin
51
$10B-$20B
Minnesota
49
$20B-$50B
Michigan
47
$5B-$10B
California
45
$100B-$200B
West Virginia
41
$5B-$10B
Connecticut
39
$5B-$10B
Oregon
37
$10B-$20B
Maine
36
$1B-$2B
New Mexico
35
$5B-$10B
Montana
31
$10B-$20B
Washington
31
$5B-$10B
Arizona
30
$5B-$10B
Delaware
30
$2B-$5B
South Dakota
30
$10B-$20B
Idaho
29
$5B-$10B
Rhode Island
29
$2B-$5B
Wyoming
28
$2B-$5B
Nevada
27
$2B-$5B
Utah
23
$2B-$5B
North Dakota
20
$20B-$50B
New Hampshire
18
$1B-$2B
Maryland
16
$10B-$20B
Vermont
16
$2B-$5B
Alaska
8
$2B-$5B
Hawaii
1
$5B-$10B
Source: National Centers for Environmental Information
Many states have seen staggering increases in major natural disasters over the last 20 years. Fifteen states have experienced a 200% or more increase in natural disasters. Wisconsin has seen the largest increase in billion-dollar disasters over the last 20 years. The state had nine major disasters between 1984 and 2003, and 42 major disasters between 2004 and 2023, a 367% increase.
States with the Largest Increase in Natural Disasters
State
Number of natural disasters, 1984-2003
Number of natural disasters, 2004-2023
% change
Wisconsin
9
42
367%
Wyoming
5
23
360%
Oklahoma
19
80
321%
Arizona
6
24
300%
Kansas
17
68
300%
Missouri
21
79
276%
Iowa
15
55
267%
Texas
34
121
256%
Nebraska
12
42
250%
New Mexico
8
27
238%
Colorado
15
50
233%
Illinois
25
82
228%
Indiana
21
64
205%
Alaska
2
6
200%
Georgia
27
81
200%
Michigan
12
35
192%
Washington
8
23
188%
Arkansas
21
60
186%
Nevada
7
20
186%
Kentucky
20
57
185%
Utah
6
17
183%
Tennessee
26
72
177%
Idaho
8
21
163%
Virginia
28
70
150%
Montana
9
22
144%
Source: National Centers for Environmental Information
Earthquake insurance
Home insurance doesn't cover damage from earthquakes, but you can purchase a separate earthquake insurance policy to protect yourself and your home from this disaster.
We recommend purchasing earthquake insurance if you live in an area prone to earthquakes. According to the U.S. Geological Survey, California and Alaska experience the most earthquakes that cause damage in the U.S.
You can purchase earthquake insurance from home insurance providers. If you live in California, earthquake insurance is typically issued by the California Earthquake Authority, but you can still purchase it directly from insurance companies.
Flood insurance
A standard home insurance policy won't cover flood insurance, but it can be purchased separately. Most flood insurance policies are issued by the National Flood Insurance Program (NFIP), which is administered by the Federal Emergency Management Agency (FEMA).
Flood insurance is required by the federal government if you live in a designated high-risk area and have a federally-backed mortgage.
The average cost of flood insurance is around $874 a year for an NFIP policy, but rates vary depending on where you live. Because premiums are set by the government, the price does not vary among companies. Some people find cheaper coverage through a private company, but private options are more limited. Private flood insurance policies also account for a very small percentage of all flood insurance policies, but they are slowly becoming more popular.
Landslides and mudslides
To protect your home against landslides and mudslides, you need a difference in conditions policy (DIC). Although earthquakes can trigger landslides and mudslides, earthquake insurance will not cover either of them.
Tornado insurance
Tornadoes can be devastating, as high winds and flying debris may compromise your home's structure. There were 1,240 tornadoes in the U.S. in 2022, according to the National Weather Service. Although tornadoes are more common in some states than others, they should be a concern for all homeowners.
Because wind is a covered peril in most homeowners insurance policies, you'll typically have coverage for the damage tornadoes cause. We recommend taking a few measures to help lower your risk of experiencing severe tornado damage, including:
Reinforce your roof.
Install storm shutters.
Tie down objects and smaller buildings on your property.
Make an emergency tornado plan with your household.
States with the most tornadoes
Tornadoes can happen in almost every state, but most tornadoes occur in the Midwest and Southeast.
State
Number of tornadoes
Mississippi
184
Texas
160
Alabama
117
Minnesota
77
Florida
73
Kansas
68
Louisiana
61
Arkansas
56
Georgia
56
Iowa
53
Source: National Weather Service
Hurricanes
Although there isn't one single insurance policy that covers damage due to a hurricane, you can get homeowners insurance, flood insurance and, in some states, windstorm insurance to protect your home against hurricanes. In certain states like Texas and Florida, wind coverage is not always included in homeowners insurance policies. In some areas, insurers may sell windstorm insurance separately from a standard home insurance policy.
States that have a high rate of hurricanes might have a hurricane deductible. A hurricane deductible is the amount you pay when you file a claim before your insurer covers the remainder, up to your policy limits. Nineteen states and the District of Columbia have hurricane deductibles.
Wildfires and fire insurance
Standard homeowners insurance policies cover damage from wildfires, but some insurers won't write policies in high-risk areas, occasionally making it difficult for homeowners to get protection from this natural disaster. If you're having trouble getting home insurance, you may be able to get wildfire coverage from your state's Fair Access to Insurance Requirements (FAIR) Plan. However, FAIR Plan insurance policies don't provide extensive coverage and may cost more than a standard home insurance policy.
Wildfires aren't the only way fires can start in your home. A stray spark from a fireplace or electrical outlet can also start a house fire. Luckily, homeowners insurance typically covers fires of all types, as long as they are not the result of neglect. Your dwelling and personal property are covered in the event of a fire under a standard homeowners insurance policy.
Volcanoes and tsunamis
Volcanoes and tsunamis are less common natural disasters, but they can cause a lot of damage. A standard homeowners insurance policy usually covers volcanic eruptions, but it doesn't cover damage from a tsunami. However, if you have flood insurance, it can cover flood damage due to a tsunami.
References:
QuoteWizard.com LLC has made every effort to ensure that the information on this site is correct, but we cannot guarantee that it is free of inaccuracies, errors, or omissions. All content and services provided on or through this site are provided "as is" and "as available" for use. QuoteWizard.com LLC makes no representations or warranties of any kind, express or implied, as to the operation of this site or to the information, content, materials, or products included on this site. You expressly agree that your use of this site is at your sole risk.