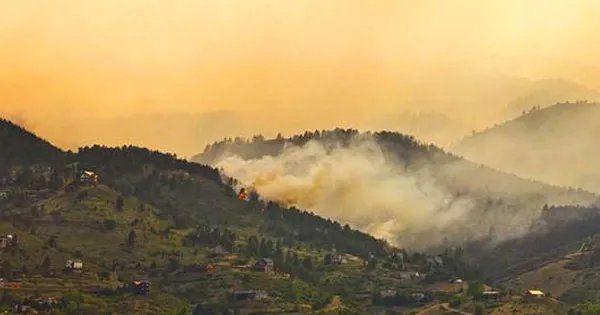 There is no single insurance policy called natural disaster insurance, but homeowners insurance is a great way to obtain that type of coverage. The natural disasters covered by your home insurance depend on the type of policy you have. The most common homeowners insurance policy is called an HO-3, which includes protection from fires and some damage from tornadoes and hurricanes. In this article, we'll cover:
Do insurance companies cover natural disasters?
There are eight residential insurance policy forms, which all provide some level of protection from natural disasters. The forms are denoted as HO-1 through HO-8, but the HO-3 is by far the most common policy type for homeowners.
Insurance companies do not categorize damage by the type of natural disaster, but by the peril. A peril is a hazard or event that can cause damage. For example, wind damage and flooding are both perils that can be caused by a hurricane. You may be able to add an endorsement that broaden the perils your policy covers.
Homeowners insurance covers wind damage, but not flooding, making wind a covered peril and flooding an excluded peril. That means your insurance doesn't cover every type of damage a hurricane can cause, but only some of the perils.
To know if you have coverage from a natural disaster, we recommend consulting your insurance agent about the specific perils your policy covers and excludes. Below, we've included a reference table for the most popular home insurance policy types and the natural disasters they cover.
Natural disaster insurance coverage by policy form
Disaster
HO-1
HO-2
HO-3 (most common)
HO-5
HO-6
Fire
✓
✓
✓
✓
✓
Hail and windstorm
✓
✓
✓
✓
✓
Tornado
✓
✓
✓
✓
✓
Lightning
✓
✓
✓
✓
✓
Frozen plumbing
X
✓
✓
✓
✓
Flood
X
X
X
X
X
Earthquake
X
X
X
X
X
Landslide, mudslide, sinkhole
X
X
X
X
X
Note: This is not a complete list of natural disasters and perils. We include the most common policies and disasters.
Most homeowners insurance policies cover damage from wind, hail, fire and lightning. Although many policies provide this coverage, they differ in the level of coverage. For instance, the HO-3 and HO-5 both protect your belongings from fire, but the HO-3 is an actual cash value policy and the HO-5 a replacement cost policy for your belongings.
It's important to note that homeowners insurance policies almost never cover floods or earthquakes. Many types of natural disasters can cause flooding. But because flooding is not a covered peril, it's possible for damage from a natural disaster to be only partially covered.
Open-peril vs. named-peril policies
You may hear parts of your home insurance policy described as open peril or named peril. These terms refer to the events and damage that your policy covers.
Open-peril policies cover all damage except for the specifically excluded perils. There are significant exclusions in these policies, however. For example, the HO-3 has open-peril dwelling coverage, but major exclusions include damage from:
Flooding
Earthquake
Neglect
That means while open-peril policies cover you from some of the damage natural disasters can cause, they don't cover everything.
Named-peril policies, on the other hand, cover only the specifically listed perils. This type of coverage is not as broad as open peril, but still provides a level of baseline coverage.
It's possible for different parts of your policy to be open peril and named peril. For example, an HO-3 policy is open peril for protecting your home, but named peril for protecting your belongings. These small differences can have a big impact on your reimbursement claim.
For a full description of the eight residential insurance policy types, check out our policy form guide.
Tornado insurance
Tornadoes can be a devastating natural disaster, as the high winds and flying debris can compromise your home's structure. There are 1,253 tornadoes in the U.S. a year on average, according to the National Centers for Environmental Information. Although tornadoes are more common in some states than others, they should be a concern for all homeowners.
Because wind is a covered peril in most homeowners insurance policies, you'll typically have coverage for the damage tornadoes cause. We recommend taking a few measures to help lower your risk of experiencing severe tornado damage, including:
Reinforce your roof.
Install storm shutters.
Tie down objects and smaller buildings on your property.
Make a tornado plan with your household.
States with the most tornadoes
Tornadoes aren't just becoming more common, they're happening in places not known for destructive storms. We found that the number of tornadoes has increased by nearly 12% in the last ten years.
Kansas and Texas had the most tornadoes overall, but these "Tornado Alley" states actually saw a decline in tornado numbers over the last decades. Southern states like Louisiana, Kentucky and Mississippi, meanwhile, had a 70% or more increase in tornadic activity over the same time period.
Tornado Frequency by State
State
# of tornadoes 2010 - 2019
% increase in number of tornadoes since 2000 - 2009
Damage costs since 2010
Alabama
730
16.60%
$1,901,707,700
Arizona
48
33.30%
$2,675,000
Arkansas
330
-20.10%
$916,164,000
California
106
26.20%
$26,084,600
Colorado
407
4.10%
$2,753,000
Florida
354
-34.90%
$103,238,400
Georgia
429
35.80%
$661,254,000
Illinois
565
6.80%
$1,417,129,000
Indiana
330
53.50%
$99,061,500
Iowa
519
-8.10%
$407,948,300
Kansas
935
-8.70%
$592,861,900
Kentucky
381
84.10%
$202,820,000
Louisiana
559
70.40%
$470,875,700
Maryland
69
-10.40%
$7,732,500
Michigan
132
-7.00%
$111,818,500
Minnesota
452
11.90%
$212,086,500
Mississippi
881
74.80%
$1,465,197,100
Missouri
638
20.80%
$674,986,150
Montana
88
39.70%
$33,056,500
Nebraska
531
4.10%
$105,584,000
New Mexico
82
2.50%
$5,977,500
New York
91
35.80%
$57,570,000
North Carolina
369
34.20%
$617,775,500
North Dakota
318
1.00%
$32,666,000
Ohio
300
70.50%
$780,965,500
Oklahoma
614
38.00%
$188,914,500
Pennsylvania
187
83.30%
$42,081,500
South Carolina
163
-41.20%
$137,254,500
South Dakota
224
-23.30%
$28,119,500
Tennessee
319
35.70%
$725,434,000
Texas
1196
-10.10%
$1,680,406,750
Virginia
196
-14.40%
$125,735,000
Wisconsin
281
17.60%
$171,458,700
Wyoming
157
93.80%
$954,000
Methodology: The total number of tornadoes between 2000-2009 and 2010-2019 was compiled using data from the National Oceanic and Atmospheric Administration's Storm Event Database
The increase in the number of tornadoes has been costly. Damages in Alabama, Texas Mississippi and Illinois have cost more than $1.4 billion since 2010. And when added up, tornadoes have caused more than $14 billion in damages across the country over the last ten years.
Wildfires and fire insurance
Wildfires can damage entire neighborhoods and communities. Standard homeowners insurance policies cover damage from wildfires, but some insurers won't write policies in high-risk areas, occasionally making it difficult for homeowners to get protection from this natural disaster.
Wildfires aren't the only way fires can start in your home — a stray spark from a fireplace or electrical outlet can also start a house fire. Luckily, homeowners insurance typically covers fires of all types, as long as they are not the result of neglect.
Flood insurance
Flood insurance is a separate insurance policy from homeowners insurance. Flood insurance is required by the federal government if you live in a designated high-risk area and have a federally backed mortage. Even if you aren't required to have flood insurance, it's still a good idea if you want your home to be fully protected from natural disasters like hurricanes and floods.
Most people purchase flood insurance through the National Flood Insurance Program (NFIP). NFIP policies are backed by the government but administered by private companies. Private flood insurance companies account for a very small percentage of all flood insurance policies, but they are slowly becoming more popular.
The average cost of flood insurance is around $700 a year for an NFIP policy, but rates vary depending on where you live. Because premiums are set by the government, price does not vary company to company. Some people find cheaper coverage through a private company, but there are limited private options.
Bottom line
Every homeowner should protect their home from natural disasters with homeowners insurance, as natural disaster insurance does not exist as a standalone policy. Homeowners insurance covers much of the damage from natural disasters, but notably excludes flood and earthquake damage.
Whether your home is at risk of hurricanes, tornadoes, fires or floods, protection from natural disasters can give you peace of mind and financial security.
QuoteWizard.com LLC has made every effort to ensure that the information on this site is correct, but we cannot guarantee that it is free of inaccuracies, errors, or omissions. All content and services provided on or through this site are provided "as is" and "as available" for use. QuoteWizard.com LLC makes no representations or warranties of any kind, express or implied, as to the operation of this site or to the information, content, materials, or products included on this site. You expressly agree that your use of this site is at your sole risk.