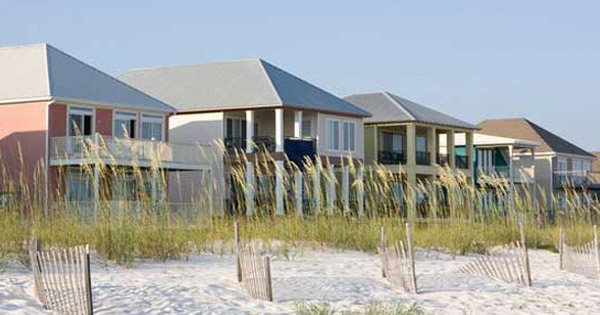 Whether you're buying a second home for seasonal getaways or to rent out, second homes have unique insurance risks. These include how isolated the house is, how often it's vacant, and its distance from emergency services. Because of these risks, owning a home that is not owner occupied can have higher home insurance costs.
Some primary home insurance policies include coverage for a second home. Otherwise, you'll need to buy insurance coverage of the second home as a separate policy. This article will cover:
Primary home insurance coverage vs. secondary home insurance
One of the key differences between a first and second home insurance policy is what coverage is offered. Odds are your first home is covered by a standard homeowners policy, otherwise known as a HO-3 policy. The HO-3 policy covers "open perils". This means that unless something happens to your home or its contents that is excluded in writing in your policy, it's covered.
If your primary policy doesn't cover a second home, you'll need to buy a second policy. If you have to buy a separate home insurance policy for your second home, expect the coverage to work differently. Secondary home coverage is usually limited to "named perils". This means that if damage to your home and belongings is caused by something not listed in your home insurance policy, it isn't covered.
Second home insurance policies also tend to provide much more limited coverage to external structures such as workshops and detached garages. You'll want to check with your home insurer for limit details.
Insurance risks of a second home
Second homes tend to fall into two groups: personal getaways or rental properties. Both types of home carry risks that home insurers will look at. Length of vacancy, how remote the house is from emergency services, liability, and local natural disaster trends are all factors that can affect your home insurance premium.
Vacancy rate
You would think having an empty house would actually cut down on home insurance claims, risks still exist. No one living in the house means no one to act when a problem occurs. If a frozen pipe bursts during the winter and no one is on hand to notice it, you can be greeted by huge amounts of water damage when you do get to the house. If a fire starts in the house and no one knows it until (and if) a car passing by calls it in, the second home could be a total loss. Home insurers consider these risks when quoting you.
Distance from emergency services
While having a vacation spot that's away from it all can be pleasant, it can endanger your home. How far you are from the closest fire department is a big factor in home insurance rates. The farther the fire department is from your home, the more fire damage your insurer may have to cover. Other distance-related issues, such as where the nearest fire hydrant is and how close the police station is to the house in the event of a theft, also increase your rates.
Liability
If you're using the second home as a rental property or as an occasional guest house, your insurer may consider you liable if anyone living in the home is injured. Also, you can be held responsible for damages done by renters or guests, even if you're absent.
Chance of natural disaster
The chance of a natural disaster in the second home's area can increase premium prices. If the vacation or rental home is on beachfront property or in an area prone to tornados, a higher premium rate is very likely.
Areas with histories of natural disasters may require extra coverage not offered by home insurance. If you mortgage a home in an area known for flooding, your mortgage company may require you purchase flood insurance. With the number of hurricanes along the East Coast, you would be wise to combine flood insurance with windstorm insurance. Some home insurers do not cover windstorm damage in hurricane-prone parts of the country. Talk to your home insurance provider and make sure your second home has the proper coverage.
Buying insurance for a second home
There is a chance that your current home insurance policy might cover the second house. Even if this isn't the case, you may be able to purchase a liability extension for it. A liability extension is an insurance rider that increases the limit of liability coverage for your home. While this can be an inexpensive option, buying a separate policy for the second home is usually the safest, most cost-effective route to take.
Due to the higher risk, it is more than likely that the premium on the secondary home will be higher than your primary home's insurance cost. All home insurance companies that provide second home insurance tend to have different price increases for second homes. As an example, Nationwide applies a 20% increase to the yearly premium for a second home's coverage. If the house was the primary home with a yearly premium of $1,000, the premium for the same house as a secondary home would be $1,200.
Landlord insurance
If you bought the home strictly as a rental, ask your home insurance company about a landlord insurance policy. This policy does not offer the same range of coverage a standard homeowners policy does. If you're renting the home, it no longer falls under the owner-occupied status that a HO-3 policy covers. Landlord insurance coverage includes:
The structure of the house
External structures on the property
Theft, fire, wind, and ice damage
Your belongings (but not the renter's)
Loss rental income if the house is made unlivable
The average yearly landlord insurance premium is 15 percent to 20 percent of your yearly home insurance policy cost. There can also be a price different depending on if you are renting long-term or short-term. Premiums for short-term rental insurance can be higher than long term rentals. Check with your home insurer for rate differences.
QuoteWizard.com LLC has made every effort to ensure that the information on this site is correct, but we cannot guarantee that it is free of inaccuracies, errors, or omissions. All content and services provided on or through this site are provided "as is" and "as available" for use. QuoteWizard.com LLC makes no representations or warranties of any kind, express or implied, as to the operation of this site or to the information, content, materials, or products included on this site. You expressly agree that your use of this site is at your sole risk.