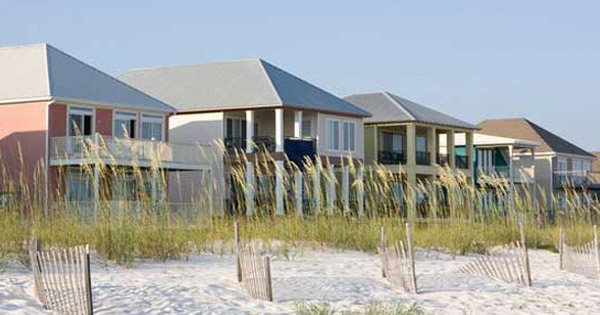 Whether it's a beachfront vacation home you have your heart set on, or a secluded cottage in the woods, renting or buying a vacation home or second home can go from a dream to a nightmare if you're not properly insured.
Buying a second home can be a very different process than renting one, and it's important to be wary of the considerations for either. Before dishing out tens of thousands of dollars on a second home, you should first determine whether it makes more sense to rent the home or buy it.
Renting a Vacation Home
Whether renting a lakefront property for the week, or a summer home off the coast for a month, it's important make sure you're properly insured. People go on vacations to relax, why not give yourself one less thing to worry about so that you can fully unwind. There are a few different types of insurance policies to choose from. It all depends on the amount of coverage you're looking for.
Some might suggest adding to your homeowners insurance policy before you go. If you already have a homeowners policy, your personal belongings should be covered even if you go on vacation with them. However, this might not be enough to cover all your belongings, so you might want to purchase additional coverage. There is such thing as temporary personal property coverage, which covers your personal belongings for a short amount of time, such as when you're on vacation.
Some landlords might require or encourage their tenants to purchase renters insurance. If any of your personal belongings were to be stolen or damaged from the perils listed in your policy, the property owner wouldn't be held liable, and you'll be reimbursed for your belongings. It also protects against you or someone else getting hurt while in the home.  However, it's important to fully understand the components of the policy, because your landlord's policy might not include all the coverage that you'd want to include in your policy.
The same goes with purchasing travelers insurance. Many opt for this coverage when renting a vacation home because it covers an unforeseeable cancellation of your visit. However, it's also important to understand the coverage you're getting before you commit, because there are only a few acceptable reasons for cancelling your reservation. Usually, your policy will include cancelling due to an unexpected illness or injury, a traffic or travel accident, or a preexisting illness that prevents you or your family from traveling.
Be cautious if your landlord offers you travelers insurance, because more often than not, you won't get the full coverage you'd be getting when purchasing the coverage on your own. You want to be able to cancel your stay at the last minute if an emergency comes up, and often times landlords will give you a 30-day limit to cancel, and will not give you all of your deposit back. It's important to fully understand what is included in your policy, before you commit to one.
Get an insurance quote for your vacation home now.
Find low rates with top insurance providers!
Compare now and save!
Click Here to Begin
It's also worth noting that if the vacation home is located in a natural disaster zone, your policy might not cover you if you're unable to get to your destination, or a disaster strikes while you're there.
For example, let's say you decide to rent a home in the Florida Keys during hurricane season and an unanticipated hurricane sweeps in. Your travel insurance policy may cover you for a trip delay and not getting to the location on time. However, not all insurance policies cover perils such as hurricanes or the floods that accompany them. When it comes to these policies, coverage can vary, so it's important to research and understand what is covered in the policy before you make any purchase decision.
Renting Out Your Vacation Home
Suppose you buy a vacation home for your family, but you can't get to the mountains or beach where it's located that often. Wouldn't you rather make a profit off your beloved vacation home than let it just sit vacant and go to waste?
Maybe the reason stopping you from renting out your home is that the tenants might trash or damage the place? Luckily, there are homeowners policies that'll safeguard against your potential renters' shenanigans.
Getting landlord insurance is a safe bet. This can protect against potential damages to the home from your tenants, and there are many different hazards that the policy can cover. Depending on your provider, it will most likely cover you against damage to your property, a tenant being injured on your property, and the claims against you that accompany it.
Many providers will suggest purchasing additional liability coverage in case your tenants get hurt on your property. Keep in mind that every endorsement added to your policy will up your premium.
You may also want to add your vacation home to your existing homeowners policy. It's a good idea to check and see if your homeowners insurance policy will cover your vacation home as well. If you bundle your two policies together—meaning you conjoin your two homes under the same policy, you can often get a discount on your premium.
However, it's important to note that there might be aspects of your homeowners insurance that exclude features of your second home or vacation home, and in this case it might be your best bet to purchase additional coverage. It might even be in your best interest to purchase an umbrella policy to preserve the value of your second home, while still earning some extra income from the tenants.
While saving some cash by renting out your home, there are some money traps you can get yourself into if you're not careful. For one, if you own a swimming pool or hot tub at your vacation home, be prepared to either increase your policy or purchase an umbrella plan, due to the high risk of injury and liability.
Buying Second Homes or Vacation Homes
If you choose to purchase your vacation home or second home instead of just renting one, there are a few important responsibilities to touch on before finalizing your policy.
If you live in the second home for half of the year or less and don't rent it out, you run the risk of problems arising with no one there to notice or deal with them.For example, maybe a pipe leaks in the summer, or it freezes and breaks in the winter. There would be no one to take care of the issue instantly, and it might be a while before you notice the problem and get it fixed. This can lead to more damages within the interior and exterior of the home, which can become a large, costly insurance claim.
The National Association of Insurance Commissioners suggests getting flood insurance or sewer back up insurance because water damage can be very destructive if no one is home to stop it. They also recommend getting extended coverage if your second home or vacation home has attractive nuisances such as a swimming pool or hot tub that can attract trespassers while you're not home. If someone was to get hurt on your property while trespassing and swimming, you'll be deemed liable. This is why it's important to purchase a gate, security devices, and extra liability coverage for your home. It's also recommended that you purchase an umbrella policy to get the maximum protection and defend your home while you aren't living in it.
Buying a second home can be a big investment, but with the appropriate insurance coverage insure it, you can relax and enjoy your vacation home, knowing that you're covered.
Simultaneous catastrophes
Occasionally, two weather events that are capable of producing a lot of costly damage happen at the same time. That can be problematic for property owners if one of those events is of the sort that isn't covered by homeowners insurance, like flooding. In such situations, a hurricane is a good example, even if the damage done to your house was caused by strong winds, your insurance company may deny your claim because flooding was involved as well.
Frequently Asked Questions
Q: How do I lower the rates on my vacation home's policy?
A: There are a few different ways to lower the insurance rates on your vacation home. One way is to bundle your primary and secondary homeowner's policies together under the same insurance provider. By doing this, the provider will usually give you a discounted rate. Also, if you install a security system in your vacation home while no one is living there, you become less of a liability in the insurance provider's eyes, equating to a cheaper premium.
You should also get homeowners insurance quotes from several insurance companies and compare rates.
Q: Will my homeowners insurance change if I turn my vacation home into a rental property?
A: You'll definitely want to talk to your insurance agent about this before renting out your property. You should also read your policy carefully. Many homeowners policies exclude coverage for homeowners that use their house for business purposes. And, renting out a house can be considered a business, especially if you do it often. Some insurers allow you to rent your home, but only if you add an "endorsement" or "rider" to your policy. If you rent out a portion of your vacation home to short-term guests, you may need to acquire a landlords' insurance policy. It's also a good idea to consider picking up additional liability insurance in case renters injure themselves on your property. So, in general, there's a good chance you'll end up paying more for your home insurance policy.
Q: If I rent out my vacation home and need to file a claim, who pays? My renters or me?
A: Typically, if a guest or renters damage your rental home or the property in it, they'll be on the hook for charges. If, however, the damage isn't covered under your policy, you could be on the hook for the entire bill. This makes it very important to make sure your policy allows you to rent your home.
Q: What are the insurance implications if I plan to use a vacation home only a few weeks a year?
A: No matter how much you plan to use a home, it should be insured. There could even be an argument made for charging more to insure a vacant home. No one is around to protect it from weather, fire dangers, or crime. This doesn't mean you'll pay more. Make sure you talk to your insurance agent about who and how often your home will be used.
A landlord home insurance policy may be the right option depending on how you plan to use your second home. It may sound odd to get this policy for a home you do not intend to rent out. But, in this context, landlord means you're the homeowner but do not live in the house. If you have questions and want to know more, ask your insurance agent. They will be more than happy to give you expert advice.
Q: How can I protect myself from landlord scams?
A: It's wise to make sure you fully understand the landlord tenant agreement set in place before you move into your rental vacation home. Make sure that the price the landlord is offering is a popular market value and not way underpriced or overpriced. You should also do a bit of research on the property you're renting and look for any problems with the house that you might have to fix on your own.
Q: How can I make a rental vacation home enjoyable for my family?
A: Do as much research as you can before you decide on a vacation rental. Since it's not always possible to tour the home before you move into it for the summer, you might want to check out a virtual tour of it. You can also read the reviews the previous tenants wrote about the property, which can most likely be located on the house or the rental company's website. Some popular websites to do research on are Flipkey and Trip Advisor.
QuoteWizard.com LLC has made every effort to ensure that the information on this site is correct, but we cannot guarantee that it is free of inaccuracies, errors, or omissions. All content and services provided on or through this site are provided "as is" and "as available" for use. QuoteWizard.com LLC makes no representations or warranties of any kind, express or implied, as to the operation of this site or to the information, content, materials, or products included on this site. You expressly agree that your use of this site is at your sole risk.