How to Bundle Your Auto and Renters Insurance
Learn how to get multi-policy discounts by bundling your renters and auto insurance policies.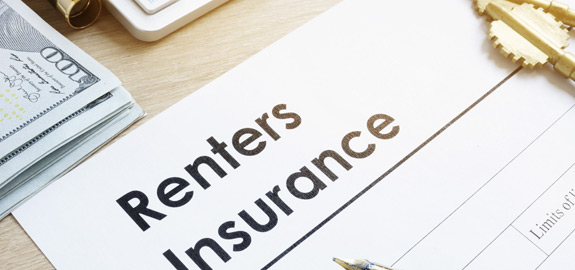 Bundling insurance policies means buying more than one policy, like auto and renters insurance, from the same company. It's an easy way to lower your rates, as insurers offer discounts for bundling.
Bundling your car and renters insurance is also simple to do. You can add whichever policy you don't have to your existing plan, or buy both coverage types at once.This article covers everything you need to know about bundling your car and renters insurance policies, including:
Is bundling renters insurance and auto insurance cheap?
Most insurance companies, like GEICO, Progressive, State Farm and more, will give you a multi-policy discount for bundling policies. You'll save somewhere between three and 10% for your renters coverage if you bundle it with at least one other kind of insurance. As for your auto coverage, you could receive a discount of between 5 and 20% or more if you bundle it with your renters insurance. But the exact discount you're offered has a lot to do with your carrier.
What you pay for your renters and auto insurance policies will differ from what someone else pays for their policies due to factors like:
How much coverage you buy
Any endorsements or floaters you add to your policy
Where you live
Your claims history
Pros and cons of bundling your car and renters insurance policies
Here are the main pros and cons with bundling insurance policies:
Pros
Companies give discounts when you buy more than one insurance policy from them. In other words, bundling saves you money.
Getting your car insurance and renters insurance coverage from the same company is convenient. You only have to deal with one agent. You don't have to remember multiple due dates (for premium payments), usernames or passwords. You should receive a single bill for all your plans, and you may deal with just one deductible for them as well.
When you have more than one insurance policy with a carrier, they're less likely to drop you or cancel your coverage if you file too many claims.
You build a stronger relationship with your insurer when you bundle policies with them. And they get to know you and your needs better as a result.
Cons
You may be less likely to shop around for better insurance rates after bundling policies. Rather than compare quotes every six to 12 months, as experts recommend, you may only do so after a bad experience with your current carrier.
Some bundled insurance policies aren't really bundled. To be more specific, they aren't all owned or maintained by the company that sold them to you. For instance, an affiliate or third party may provide the renters coverage you got from your auto insurer. That's not the worst thing, but it could make bundling less convenient than it is in most other cases.
You might get less coverage than you bargained for when you bundle renters and other insurance policies. This is because a lot of people in this situation focus on the overall cost and little else.
Does renters insurance cover car theft?
One major perk of getting renters insurance as a car owner is that it covers items stolen from your vehicle. You need auto insurance to protect damage to the car itself, but the items inside your car aren't covered unless you have a separate renters or homeowners insurance policy. Many people bundle their renters and auto insurance policies so they're completely covered if someone breaks into their car.
So, if someone breaks into your car and steals your wallet, you'll file a claim through your renters policy. But if they break the window, you'll file a claim through your auto insurance policy. Keep in mind that you may have to purchase additional renters coverage for expensive items like laptops or jewelry.
Auto and renters insurance bundling options
Although bundling plans with the same carrier will get you a discount, it may not be the cheapest option. You could save money if you buy plans from different carriers.
Imagine you're going to bundle car and renters insurance with one company. The auto policy costs $100 per month, and the renters policy costs $30 per month. Your insurer offers you a 10% bundling discount. Instead of paying $130 per month, you'll pay $117 per month if you bundle.
But what if another company sells a similar auto policy for $80 per month? Even if you add on the full $30 a month for the renters policy, you're paying $110 total without bundling. That's less than the original $117 with bundling.
So, before you make the move to bundle your renters insurance and auto insurance with your current company, shop around. Compare the discounts you'll get for combining coverage under one carrier with what you'd pay if you bought them separately. Do this with multiple insurance companies. It takes time and patience, but you'll be rewarded for both when it comes time to sign on the dotted line.
QuoteWizard.com LLC has made every effort to ensure that the information on this site is correct, but we cannot guarantee that it is free of inaccuracies, errors, or omissions. All content and services provided on or through this site are provided "as is" and "as available" for use. QuoteWizard.com LLC makes no representations or warranties of any kind, express or implied, as to the operation of this site or to the information, content, materials, or products included on this site. You expressly agree that your use of this site is at your sole risk.