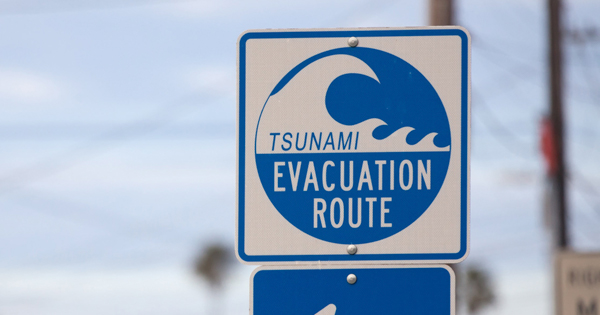 When it comes to preparing for and insuring against natural disasters and weather events that could damage or destroy their homes, most Americans focus on tornadoes, hurricanes, earthquakes, and floods.
Which makes a lot of sense. Those perils are far more common – or at least prompt more worrying – than volcanic eruptions, sinkholes, or tsunamis.
Still, tsunamis, in particular, are a bigger threat to people who live along or near US coastlines than many realize.
According to the National Oceanic and Atmospheric Administration, for example, an average of two tsunamis cause damage somewhere in the world each year. And every 15 years or so, an especially destructive tsunami sweeps the globe.
If neither of those stats sound all that worrisome, consider this list of "recent" tsunamis:
The 2004 Indian Ocean tsunami killed at least 230,000 people in Indonesia, India, Sri Lanka, and Thailand
The 2006 Java tsunami killed more than 600 people
The 2010 Chile tsunami killed more than 500 people (although a related earthquake likely caused most of those deaths)
The 2011 Tohoku (Japan) tsunami killed nearly 16,000 people
In other words, major tsunamis don't happen often, but when they do, they tend to have a huge impact.
How can you protect yourself, your loved ones, and your property from these devastating waves? One solution is to make sure your auto and homeowners insurance policies offer enough coverage. Another is to purchase flood insurance.
Alaska, Hawaii, and the Pacific Northwest Have Highest Risk
That advice is especially relevant if you currently call Alaska, Hawaii, or one of the Pacific Northwest states home.
Both Alaska and Hawaii have seen quite of lot of tsunami activity throughout their histories, for instance. Washington, Oregon, and Northern California, on the other hand, have seen less activity, but that may not hold true for much longer.
Why? The Pacific Ocean is chock-full of areas called subduction zones. And, as any geologist or oceanographer will tell you, subduction zones produce the world's most powerful tsunamis (and earthquakes).
That's a problem for people who live and work in the Northwestern corner of the US because one of these zones – the Cascadia Subduction Zone – looms just off the coast. In fact, the 600-mile-long fault stretches from Canada's Vancouver Island all the way down to northern California.
As a result, tsunamis are more likely to hit the coastal portions of the states in this region than they are to hit any other location in the continental US.
Add to that the fact that "the Washington and Oregon coasts and the Puget Sound region are veined with unstable seismic fault lines," as NW Insurance Council president Karl Newman said after the Tohoku tsunami, and you've got a situation that's ripe for disaster.
East Coasters Aren't Completely Off the Hook
Although tsunamis pose the biggest threat to Americans who live in Alaska, California, Oregon, Washington, and Hawaii, that doesn't mean East Coasters are in the clear as far as their risk is concerned.
One reason for this is the majority of low-lying cities along the East Coast aren't prepared to deal with the amount of water a tsunami would dump on them. (A good case in point: 2012's Hurricane Sandy. It flooded the streets and subway lines of New York City and caused millions to lose power.)
Admittedly, there's less potential for tsunamis to strike the East Coast of the US than the West Coast. Still, at least a few massive tsunamis have impacted Atlantic locations in the past. That history has prompted some experts to suggest similar devastation is on the horizon for places like Boston, New York City, and Washington, D.C.
The most recent example of what could happen to those and other locales under the right circumstances: the tsunami that surprised Newfoundland in 1929. In most places, its waves reached about 26 feet high, though they were up to twice that in some of this Canadian island's narrow bays. Twenty-eight people died as a result, and hundreds more were left homeless.
Which reinforces the idea that there's no time like the present to review your homeowners insurance policy and make sure it will cover as much damage and destruction as possible if disaster strikes. And if that doesn't seem to be the case? Shop around and see what other insurers will offer. Also, consider buying flood insurance if you live in an area with significant tsunami risk.
Not Just Earthquakes Cause Tsunamis
An interesting -- and relevant -- aspect of the 1929 Newfoundland tragedy is that it shows more than just earthquakes cause tsunamis.
Though a 7.2-magnitude quake got the ball rolling, so to speak, the tremor itself wasn't responsible for the tsunami. What was responsible? The underwater landslide that followed in its wake.
Even worse: an earthquake doesn't have to be all that large to cause one of these geological phenomena. At least one expert, the U.S. Geological Survey's Uri ten Brink, suggests offshore quakes of magnitude 4.5 or above could prompt avalanches or landslides that lead to disastrous tsunamis.
Three other events known to cause tsunamis:
Volcanic eruptions
Underwater detonations
Atmospheric shock waves
Meteor strikes
On a related note: you don't have to live on or near an ocean for tsunamis to be a real threat to your life, home, and property. Avalanches, landslides, and even detonations happen in and around lakes and other bodies of water too, after all.
A real-world example of this occurred in 1963 when a landslide sent a mountain of debris into Italy's Vajont Dam. That sent a wall of water 820 feet high toward the towns and villages at the dam's base and killed nearly 2,000 people.
Tsunami Insurance Advice
Do you live in an area a tsunami could hit in the future? Here are a few things you should know from an insurance perspective:
If a tsunami damages or destroys your home, it'll probably do so through flooding. That's bad news if all you have is standard homeowners or renters insurance. Those policies won't cover flood damage.
To ensure you're protected from that kind of damage, buy an adequate amount of flood insurance. (To learn more about that product, read our article, "What You Need to Know About Flood Insurance.")
Tsunamis and earthquakes often go hand in hand. Because of this, consider buying earthquake insurance too if you want to be as protected as possible.
How about your vehicles? You should be set if comprehensive coverage is part of your car insurance policy.
Comprehensive auto insurance only covers damage to your vehicle, though. If you need coverage for the contents of your car, purchase homeowners or renters insurance.
Frequently Asked Questions
Q: Are tsunamis more likely to hit some states or parts of the US than they are to hit others?
A: Yes. Tsunamis are especially likely to impact Hawaii thanks to its location. (It's in the middle of the Pacific Basin, which means it's surrounded by subduction zones.) Alaska has an elevated risk of tsunami strikes too.
Other than that, tsunamis are more likely to hit the Pacific Northwest – Washington and Oregon in particular -- than they are to hit any other location in the continental US.
Q: Will my homeowners insurance cover damage or destruction caused by a tsunami?
A: For the most part, no, it won't. Standard home insurance policies rarely cover flood damage, and flood damage is the main result of a tsunami.
Q: Will flood insurance cover damage or destruction caused by a tsunami?
A: Yes, it will cover flood damage tied to the tsunami. Which is important, as waves produce most, if not all, of a tsunami's destruction.
That said, other elements associated with a tsunami could damage your home, condo, or apartment too. For example, earthquakes cause many tsunamis. And to be protected from earthquake damage, you need an earthquake endorsement or a separate earthquake policy. (To learn more, read our "Earthquake Insurance Basics" article.)
Q: Where can I buy flood insurance?
A: The federal government offers flood policies through its National Flood Insurance Program (NFIP). Some private insurers also sell these policies, although they do so in partnership with the NFIP.
Q: How much does flood insurance cost?
A: It depends. Agents base your flood insurance premiums on a number of factors, including:
The amount of coverage you need
The location of your home
The age and design of your home
So, if you need a lot of coverage and your home is in a high-risk area, you'll pay more than someone who needs less coverage and who has a home in a lower-risk area.
Q: What kind of insurance do I need to have if I want to protect my car and its contents from a tsunami?
A: If your goal is to protect your vehicle against tsunami damage, make sure comprehensive coverage is part of your auto insurance policy.
Note: comprehensive car insurance won't pay to repair or replace any belongings that are in your car when it's damaged. If that's a concern, make sure you have renters or homeowners insurance.
References:
QuoteWizard.com LLC has made every effort to ensure that the information on this site is correct, but we cannot guarantee that it is free of inaccuracies, errors, or omissions. All content and services provided on or through this site are provided "as is" and "as available" for use. QuoteWizard.com LLC makes no representations or warranties of any kind, express or implied, as to the operation of this site or to the information, content, materials, or products included on this site. You expressly agree that your use of this site is at your sole risk.