Compare Homeowners Insurance In Alaska
Alaska is the biggest U.S. state geographically, but has the 3rd smallest population. The 49th state's geography is as varied as it is beautiful. Alaska experiences extremely cold temperatures and high levels of precipitation, presenting unique homeowners insurance hazards.
Average Alaska homeowners insurance rates
The average cost of homeowners insurance in Alaska is $974, which is right below the national average of $1,192. Alaska's home insurance premiums are the 34th most expensive in the U.S.
Alaska Average Annual Homeowners Insurance Rates
 
2016
2015
2014
Alaska Annual Average
974
$982
$976
Alaska Price Per Month
$81
$82
$81
US Annual Average
$1,192
$1,173
$1,132
US Cost Per Month
$99
$98
$94
National Rank
34
32
30
Source: National Association of Insurance Commissioners
Alaska has enjoyed relatively stable and occasionally decreasing homeowners insurance costs, even as some states have seen their premiums rise. Alaska home insurance rates rose from $942 in 2012 to $974 in 2016, an increase of $32 dollars, or 3.4%. The graph below shows the change in average home insurance rates in Alaska from 2012 to 2016.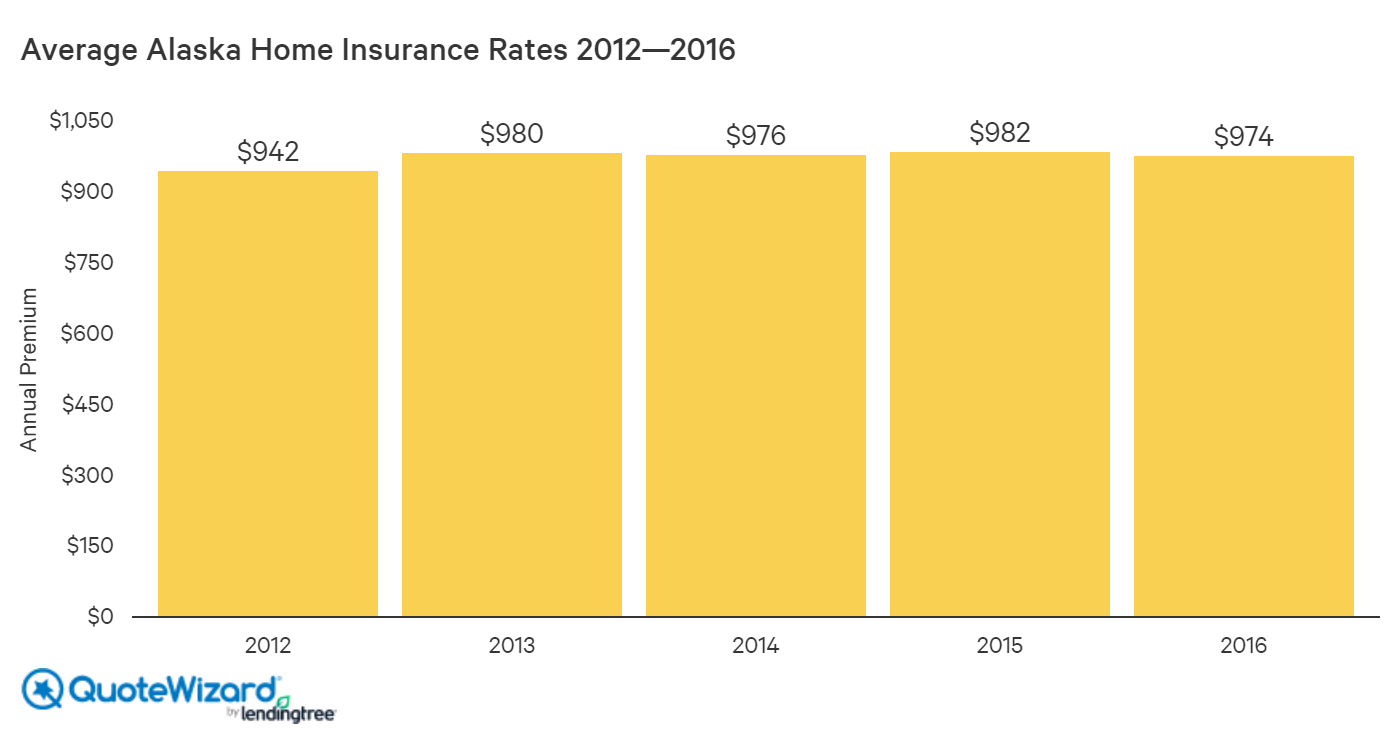 While the state average can help you ballpark where your rates should be, premiums will nevertheless differ between insurers. The best way to get the cheapest rates is to compare home insurance quotes in Alaska from multiple companies.
Most popular Alaska home insurance companies
In 2018, these were the most common home insurance companies reported by QuoteWizard users living in the state of Alaska.
State Farm
Allstate
Geico
Progressive
Liberty Mutual
Country Financial
Best homeowners insurance companies in Alaska
The above list shows Alaska's most popular home insurers according to our users. But popular doesn't always mean best.
Our study on the best home insurance companies focuses on top of the line companies. We judged insurers based on many criteria, including customer satisfaction, awards, financial stability and coverage. These companies stand out among the rest:
Allstate: Best for Local Agents
State Farm: Best for Pet Owners
Liberty Mutual: Best for Quick and Easy Quotes
Alaska homeowners insurance company market share
Insurance markets vary greatly state-to-state. Below is a snapshot of Alaska's unique profile.
Rank
Company
Financial Rating
Market Share
1
State Farm
A++
31.97%
2
Allstate
A+
19.64%
3
USAA
A++
16.69%
4
Country Financial
A+
8.42%
5
Safeco
A
7.79%
6
Umialik
A+
6.55%
7
Foremost
A
1.27%
Source: Alaska Division of Insurance and S&P Global
Best local provider
It's rare to see a small insurer like Umialik control such a large share of the home insurance market. Umialik earns an A+ rating in financial strength from AM Best, indicating that their economic outlook is stable. Authorized to operate since 1981 and headquartered in Anchorage, Umialik is in tune with the specific needs of Alaskans. Umialik is part of Western National Insurance Group and has also expanded outside of Alaska, serving 19 total states.
Alaska homeowners insurance rate factors
Insurance providers consider an array of factors in determining your premium. Some are characteristics of your home, like its age and structure. Others relate to the particulars of your geographic area, like crime rates or frequency and severity of natural disasters. Here are some of the factors that affect the cost of homeowners insurance in Alaska.
Average home listing prices: Home prices greatly affect the cost of insurance in any given state; higher average home prices generally mean higher premiums. Alaska's home prices are slightly above the U.S. average.
Average burglary rates: Alaska's average burglary rate was 396.7 per 100,000 people in 2013 — considerably lower than the national average of 610.0 per 100,000. Higher burglary rates generally increase average homeowners premiums, as the chance of a claim being filed is higher. Therefore, a small part of Alaska's lower-than-average home insurance premiums can be attributed to low crime rates.
Home insurance hazards
Alaska's environmental hazards are diverse, due to its size, variety of weather and terrain, and geographic location. Cold winters are probably the best-known feature of Alaska's climate, but precipitation and seismic activity can be just as severe.
Extremely cold and snowy winters: Alaska's winters bring new meaning to the word "freezing." In 1971, it set the record for the coldest ever temperature in the U.S., at -80 degrees. This puts homeowners at risk of frozen pipes and ice dams. Most home insurance policies will cover these perils if you have taken reasonable precautions to prevent them. You should make sure your insurer does not exclude burst pipes.
Rain and flooding: Some parts of Alaska receive unusually large amounts of precipitation. The southeast region of Alaska gets the most rain. Rain can cause flooding, especially in conjunction with melting snow in the summer. It is important to note that regular home insurance does not cover flooding; the only way to obtain flood insurance is through the National Flood Insurance Program or a private insurer.
Heat waves and drought: Despite freezing winters and an extremely northern location, Alaska's summers are occasionally marked by heat waves and drought, forming a deadly combination: wildfires. Between April and July of 2015, over 2.4 million acres in Alaska burned. Not all home insurance policies will cover wildfires, and insurers are less likely to write policies including the coverage in fire-prone areas. Be sure to ask your agent if your policy includes protection from wildfires.
Earthquakes: Alaska is the most seismically active state, as it sits at the border between the North American and Pacific plates. Seismic activity occurs daily but is usually unnoticeable. Earthquakes can be dangerous to the structure of your home, however most home insurance policies do not cover earthquakes. Due to the frequency of earthquakes in Alaska, Alaskans should consider purchasing earthquake insurance.
QuoteWizard.com LLC has made every effort to ensure that the information on this site is correct, but we cannot guarantee that it is free of inaccuracies, errors, or omissions. All content and services provided on or through this site are provided "as is" and "as available" for use. QuoteWizard.com LLC makes no representations or warranties of any kind, express or implied, as to the operation of this site or to the information, content, materials, or products included on this site. You expressly agree that your use of this site is at your sole risk.