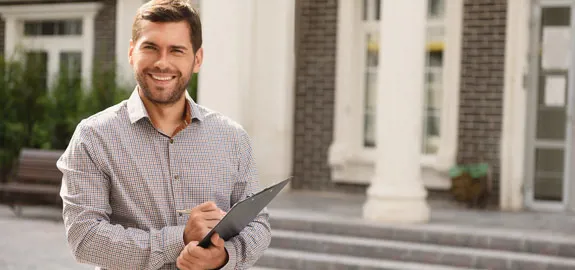 Whenever a home insurance claim is made, it's recorded in a CLUE report. This report acts as a history of two types of claims: any insurance claims you personally have made and claims tied to the house even before you lived there.
Home insurers access the CLUE report database in order to calculate policy rates, taking the number and cost of any claims into account. The report can be a useful tool for you as well, whether you're a homeowner, home seller or home buyer. This article will include:
What does a CLUE report do?
A Comprehensive Loss Underwriting Exchange report, often shortened to a CLUE report or a loss report, is a record of home insurance losses linked to a property or the homeowner in the past five to seven years. Almost all home insurance providers report to LexisNexis, the company that runs the CLUE report program, so the report is usually the most comprehensive way to learn the home insurance claim history of the property in question.
What is in a CLUE report?
A CLUE report includes two different categories of claims: claims that you have personally made and claims that have been filed against the property. It often contains general information regarding the property and information on home insurance claims made, including:
The name of the insurance companies involved.
Date and time of the loss in question.
Whether the claim was paid out or denied.
If paid out, how much the claim payout was.
A CLUE report will usually also contain the property owner's personal information, such as their name, date of birth and Social Security number. CLUE reports don't include information such as credit scores or civil or criminal records, but that information may be acquired through other channels. Specific locations of damage in the home may not be detailed either.
There are two instances where a CLUE report may be blank:
If there have been no claims made against the property in the past five to seven years.
If the home insurers involved in claims against the property didn't take part in the CLUE program.
Is a CLUE report important?
A CLUE report is a crucial resource in having an accurate grasp of what your home insurance risk history looks like. Your CLUE report can affect your insurance rates. Homeowners insurance companies will look for how many claims both you and the property have recorded, as well as their cost. This can have different benefits for homeowners, home sellers and home buyers.
CLUE reports and homeowners
Large or reoccurring claims can be causes of concern for home insurance providers. In some cases, how much a home insurance claim costs may be a bigger influence on your rates than how many claims you have filed. Simply put, a CLUE report showing many claims or any number of high-dollar claims may lead to higher rates for you.
Even if you're not buying or selling a home, your CLUE report will let you know if there are any claim inaccuracies that could be falsely increasing your rates. It may sound odd, but uncompleted claims can affect your insurance rates. If you started to put in a claim for a broken pipe, then decided to do the repairs out of pocket, the claim would still stay on your CLUE report.
If you are denied home insurance because of data from your CLUE report, home insurers are required by law to let you know the reasons why.
How CLUE reports help home buyers
If you're looking for a home, it's a good idea to see what insurance losses the property has in its past to see if it's a good buy in general, and also what kind of insurance history it has.
The Fair and Accurate Credit Transactions Act only allows owners of a home to get a CLUE report on a property. If you're looking at a particular home, you can request the current owner to pull a report. You will receive an edited report called a Home Seller's Disclosure Report. This report has all the insurance history in a CLUE report minus the current owner's personal information.
It should be pointed out that a CLUE report isn't a home inspection. A CLUE report doesn't give recommendations on how to fix any problems found in the house. Also, a home inspection will have more current details regarding the state of the house than what a CLUE report will provide. However, the CLUE report can be very useful to your inspector before you buy the home.
CLUE reports and selling a home
Having a claims history on hand for potential buyers to openly show what kind of claims and how many have been filed in the past few years is a great trust-builder and a good start to a possible buyer-seller relationship. A home inspection on the buyer's part could turn up any poorly done or incomplete work from a claim, so you're in a better position to know what problems there are before a buyer does.
How to see your CLUE report
You can contact the LexisNexis consumer center directly to get a CLUE report for free once a year. If you're a home buyer looking at the claim history of a house you're intending to buy, ask the home seller for a disclosure report. It'll have all the claim history you'll need to make informed decisions.
How to dispute or update your CLUE report
Should your CLUE report contain an error, or if changes have been made to the property that need to be reflected in your report, contact LexisNexis. In the case of an error that needs to be fixed, LexisNexis has 30 days from the time of your request to fix the error.
Follow the same process if you make any major renovations or remodels that would affect your home insurance. You are the only person who can add notes to your CLUE report, not insurers. For instance, if you had a complete roof replacement, update your CLUE report so home insurers can be aware of the change.
References:
QuoteWizard.com LLC has made every effort to ensure that the information on this site is correct, but we cannot guarantee that it is free of inaccuracies, errors, or omissions. All content and services provided on or through this site are provided "as is" and "as available" for use. QuoteWizard.com LLC makes no representations or warranties of any kind, express or implied, as to the operation of this site or to the information, content, materials, or products included on this site. You expressly agree that your use of this site is at your sole risk.