What is an Insurance CLUE Report?
Whether it's for a home or auto policy, your CLUE report is a critical part of your insurance rates.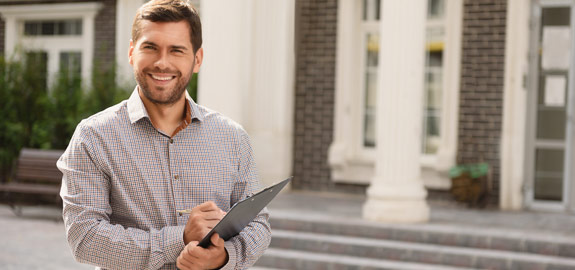 When shopping for insurance, you may hear the term CLUE thrown around. The insurance industry loves its acronyms. CLUE stands for Comprehensive Loss Underwriting Exchange. What exactly does that mean? It's an insurance database that provides details and loss history for both a property and its owner. CLUE reports are available for personal property and homes as well as for vehicles.
The information on a CLUE report is valuable to insurers but it's also helpful for homebuyers. Insurers use it to analyze properties and policyholders for potential risk. Homebuyers can glean insight into potential problems with the property that aren't obvious.
This article explains CLUE reports, how to get one, how they can hurt your insurance rates, and more.
What Are the Benefits of Having a CLUE Report?
A CLUE report can give prospective buyers important insight about a property. The CLUE report provides a seven-year claims history for an individual and his or her property. You can learn about previous issues that may not be otherwise obvious.
If you were buying a used car, for example, you'd be interested in knowing the car's accident history. Even if a car is repaired after an accident, mechanical issues from the accident can creep up later. The resale value of the vehicle is also affected by its accident history. Without looking at the CLUE report, you might not find out about those issues.
A CLUE report gives you similar insight into a home's claim history when you're considering a purchase. If the home has had a prior flood claim, for example, you'd want to know about the claim. Water can be particularly destructive to a home in ways that aren't always obvious. You don't want to buy a house only to find out that the basement has hidden signs of water damage, for instance.
Knowing about other types of homeowners insurance claims can be useful as well. Maybe the home had damage repaired after an earthquake which could lead to questions about the foundation. Or maybe a pipe burst, which could lead to questions about mold, termites, or other concerns hidden behind the walls.
Knowing the claims history of a home can help in the homebuying process. You'll have a better understanding of the right questions to ask. A CLUE report is most useful if you can obtain the report before the home inspection is scheduled. Your home inspector is trained to look for all signs of damage, but a CLUE report gives your home inspector a roadmap to prior damage that needs to be inspected.
How to Get a CLUE Report on a Home You're Thinking of Buying
In the past, real estate agents were able to obtain the CLUE report for a property to show buyers. Due to changes in regulations, real estate agents don't have access to CLUE reports. However, there are other ways to obtain a clue report for a property you're considering.
The Fair and Accurate Credit Transactions Act (FACT Act) limits who can access a CLUE report. You can request your report through LexisNexis, which keeps a database on insurance claims histories. You're entitled to one free report each year. For privacy reasons, consumers can't request reports on other consumers and their claims history.
The home seller can request a copy of the CLUE property report and then provide you with the report. It's called a Home Sellers Disclosure Report. According to Investopedia, this report "safeguards the owner's personal information and shows a five-year loss history for the property."
You can also find out about claims when you're getting a quote for homeowners insurance for the property. Most insurance providers can access the claims history for the property. Ask your agent if the home has had any prior claims.
Insurers may not be able to share the CLUE report or may hesitate to give you a printed copy. But many agents will be happy to advise you about prior claims in a general way. That includes the type of claim and when the claim was placed. If prior claims are serious, be sure your home inspector knows of them, so they verify the repairs were done properly.
Does a CLUE Report Impact My Insurance Rates?
When insurance a new home, claims you've made on any homes in the past seven years will appear on your CLUE report. These claims can affect your insurance rates. Insurance premiums reflect the risk of a loss. To put it simply, when you file a claim, the insurance company loses money. And if you've recently filed a claim, insurance companies believe you're more likely to file one again.
In some cases, insurers may also use the loss information for the property you are purchasing as a rating factor. In other words, a home with prior claims has a higher chance of requiring a future claim. Because of this, homes with a claim history may have higher premiums.
How Do You Fix Errors on Your CLUE Report?
If you find an error on your CLUE report, the best remedy is to contact LexisNexis to dispute the incorrect information. You can call directly at 888-497-0011 or send a dispute by mail to LexisNexis Consumer Center, P.O. Box 105108, Atlanta, GA, 30348.
Errors in your CLUE report can lead to higher insurance premiums. Also, if you're trying to sell a house but there are errors in the CLUE report, completing the sale can be more challenging and can lead to higher insurance costs for the buyer.
Does My CLUE Report Follow Me or the Property?
Both. According to LexisNexis, a CLUE report is divided into two areas:
Losses report on the property
Losses reported on the homeowner
Any claims you've had within the past seven years can affect your insurance premiums. This is true even if you no longer own the property. Prior claims for a property you are buying can affect your rates as well even though you didn't place the claim. The property had a prior loss, which can suggest future risk.
Before insurers quote a home insurance rate, the insurer places an inquiry on the property and checks the CLUE database for details on the prospective homeowner. They'll assess both you and the property. Your rates ultimately depend on several different factors, but you and your home's previous claim history are crucial.
QuoteWizard.com LLC has made every effort to ensure that the information on this site is correct, but we cannot guarantee that it is free of inaccuracies, errors, or omissions. All content and services provided on or through this site are provided "as is" and "as available" for use. QuoteWizard.com LLC makes no representations or warranties of any kind, express or implied, as to the operation of this site or to the information, content, materials, or products included on this site. You expressly agree that your use of this site is at your sole risk.