Home Insurance for Senior Citizens
Are you a senior homeowner? Find out how you can benefit from home insurance and where to find the best deals from top companies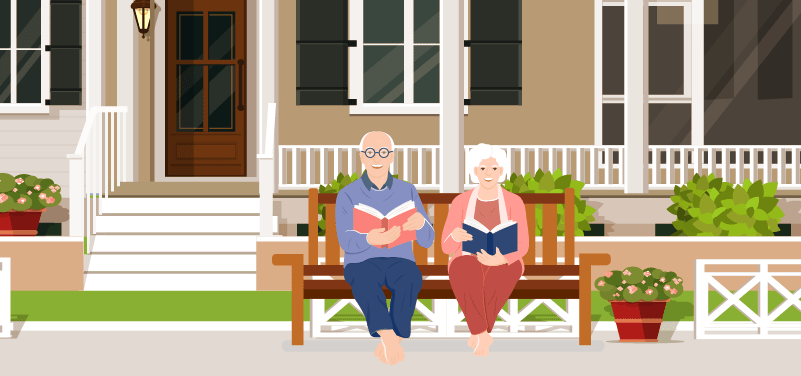 Senior citizens are the one demographic of homeowners in the country that is actually growing. Home insurance companies recognized this and offer benefits and savings focused toward senior homeowners. Many homeowners insurance providers also offer services that can protect you from identity theft or fraud threats.
This article will cover:
Senior citizen homeowners on the rise
According to Gallup's annual Economy and Personal Finance poll, homeownership amongst most demographics in the U.S. has decreased an average of 8%.
The same cannot be said for senior citizen homeowners. In the 65+ age range, homeownership has actually increased 1%.
As such, home insurance providers offer many discounts and benefits to senior homeowners.
What companies offer the best home insurance policies for seniors?
Several insurers sell policies for homeowners. According to J.D. Power, here are the 10 best homeowners insurance companies based on overall satisfaction:
Amica Mutual
Auto Club of Southern California Insurance Group
Cincinnati Insurance
GEICO
Auto-Owners Insurance
Erie Insurance
State Farm
American Family
Progressive
Chubb
Senior homeowners should also look into AARP's home insurance program through The Hartford. Designed with AARP members in mind, you can tailor your home insurance to your specific needs.
Another benefit of the AARP program is Lifetime Renewability in many states. This feature protects you from your home insurer cancelling your policy, even if you file a homeowners claim, as long as a few criteria are met.You can possibly save even more if you bundle your auto insurance with a homeowners policy.
Best home insurance discounts for senior for senior homeowners
Many home insurance companies have policy discounts that can be of great advantage to senior citizens. Here are some discounts you should look into:
Loyalty bonus
It makes sense to check what other home insurance companies offer on a yearly basis to see if you're getting the best value for your dollar. At the same time, home insurers understand how competitive the market is and reward their long-time policyholders with premium discounts.
If your home insurance history is in good standing and you've been with your provider for five or more years, you could receive a 5% to 10% discount.
Retiree credits
Home insurance providers may provide a significant premium discount to retired homeowners. Since retirees tend to be at home more, the start of a fire or a plumbing leak are more likely to be spotted, meaning less of a coverage risk.
If you're 50 or over and work less than 24 hours a week, you could save between 5% and 25% on your homeowners insurance.
See how much you can save when companies compete for your business.
Home insurance policy features for seniors
On top of these discounts, some insurance companies offer different policy options worth considering:
Deductible forgiveness
If you experience a large property loss, your home insurance provider may waive your deductible. There could be a qualifying loss amount that has to occur before the deductible forgiveness kicks in.
Your home insurance provider may require that the home's damage total or surpass a certain amount before your deductible is waived. It's a possibility there may be a maximum amount of deductible that is waived, as well.
For example, say you meet your home insurer's $20,000 loss minimum. If $1,000 in deductible is forgiven and you have a $1,500 deductible, you will have to pay $500 out of pocket before your insurer forgives the rest of the deductible.
Protection for full cost
Home insurance providers will often cover belongings at actual cash value (ACV). This means that depreciation can factor into your payout, reducing how much you're paid out after a claim. With protection for full cost, also known as new-for-old protection, your insurance company replaces your belongings with equal value after a covered event.
Identity theft and fraud protection
Identity theft crime largely hits senior citizens. Seniors are most frequently targeted by scammers through fraudulent telephone calls and internet scams.
In order to help seniors combat these crimes, many home insurance providers also offer identity theft and fraud protection. This rider is insurance coverage you can add onto your standard home insurance policy. According to III data, adding identity theft to your home insurance coverage costs an average of $25 to $50 yearly.
Recommended home insurance coverage for senior citizens
For many seniors, your home is your retirement investment. As such, it's crucial that you provide it with the best coverage that you can by getting the right amount of home insurance. A home insurance policy is made up of three coverages:
Dwelling/structure
Personal belongings
Liability
First, make sure your home's replacement cost is properly calculated and your dwelling coverage accurately reflects it. Replacement cost is the amount it costs to rebuild your home from the ground up. Your dwelling coverage limit is also the basis for your personal property coverage.
Liability is a portion of homeowners insurance you should look at carefully. Most home insurance providers set policies with at a minimum of $100,000. Strongly consider upping that to at least $300,000.
If someone is seriously injured on your property, a hospital stay or a lawsuit can tear through that minimum amount quickly. If the medical or legal bills surpass the amount of liability coverage, you could wind up paying a lot out of pocket. Increasing your liability coverage from $100,000 to $300,000 is a small premium difference, as well.
QuoteWizard.com LLC has made every effort to ensure that the information on this site is correct, but we cannot guarantee that it is free of inaccuracies, errors, or omissions. All content and services provided on or through this site are provided "as is" and "as available" for use. QuoteWizard.com LLC makes no representations or warranties of any kind, express or implied, as to the operation of this site or to the information, content, materials, or products included on this site. You expressly agree that your use of this site is at your sole risk.