Find Cheap Homeowners Insurance
Getting affordable coverage for your home can give you peace of mind without breaking the bank.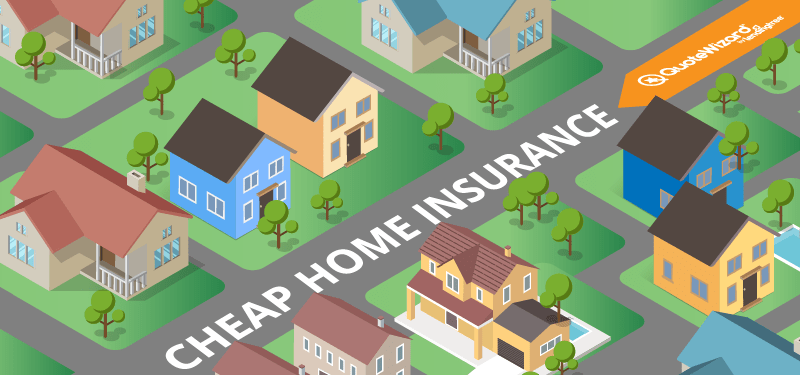 Owning a home can be expensive, and overpaying for homeowners insurance won't help. We found the cheapest homeowners insurance companies by compiling more than 30,000 quotes from 12 companies in 14 states. Our data shows that for an average homeowner in the U.S., the cheapest home insurance companies are:
Nationwide
MetLife
American Family
Allstate
USAA
Country Financial
Cheap homeowners insurance companies
There is no single cheapest homeowners insurance company: rates depend on many factors, such as your home, your insurance claims history and where you live. That means the most affordable home insurance company for you might be different than the most affordable option for your neighbor.
However, QuoteWizard's analysis can give you a sense of which companies tend to be cheap or expensive. Our study found that Nationwide, MetLife, American Family and Allstate tend to be the cheapest companies for many people. Some of these companies have average rates lower than $100 a month, making them highly affordable homeowners insurance options.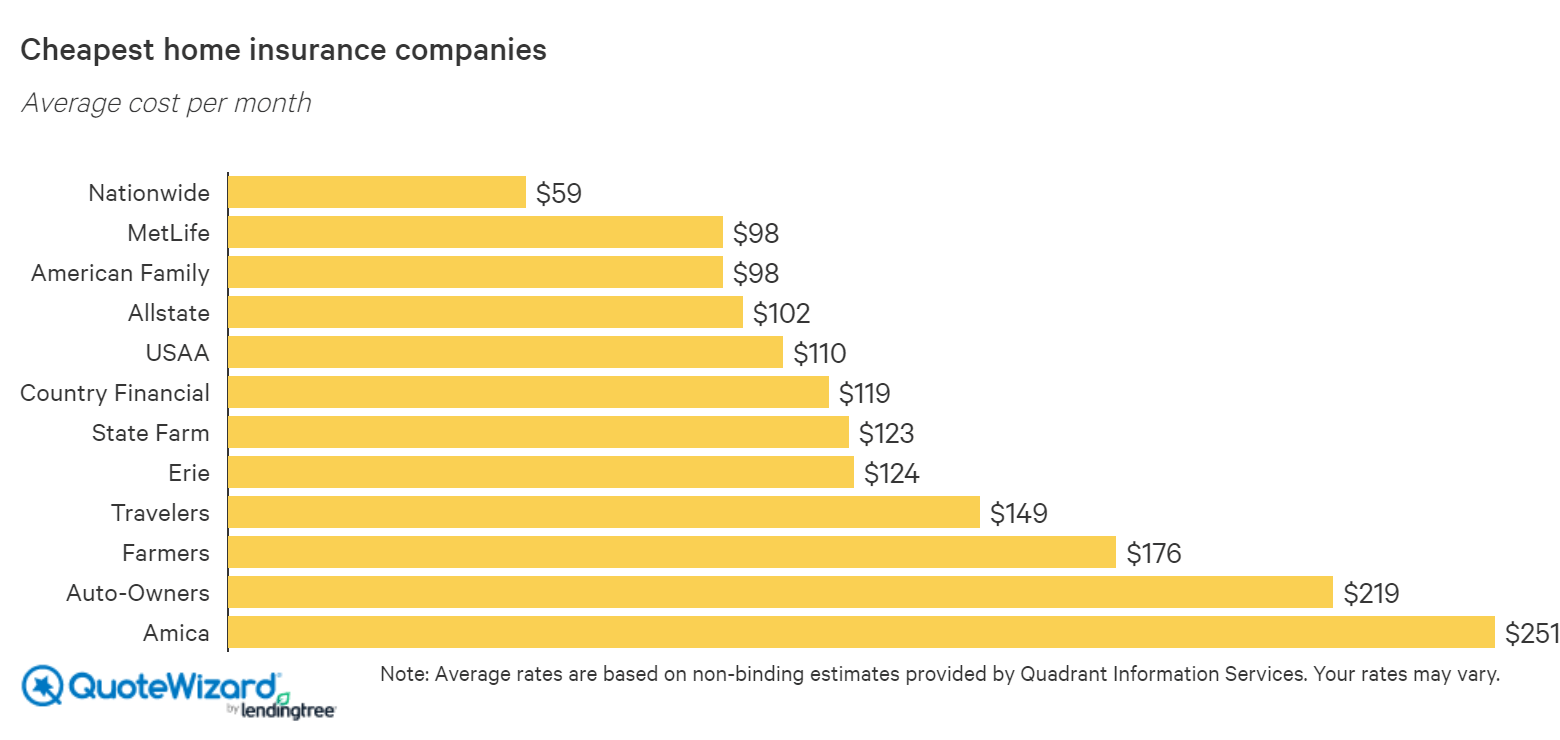 Country Financial, State Farm and Erie are also among the cheapest home insurers in the country. Nevertheless, homeowners insurance typically costs more in states that face more risk factors. To see the cheapest insurer in your state, check out our state homeowners insurance guide.
Find your best homeowners insurance rates.
Customer satisfaction ratings of cheap home insurance companies  
You should only buy a low-cost home insurance policy if you know you are getting the level of service and coverage you need. That's why we recommend considering a cheap company's satisfaction ratings as well as their premiums.
QuoteWizard uses two primary ratings for customer satisfaction: J.D. Power's home insurance study and the NAIC Complaint Index. J.D. Power rates overall customer satisfaction on a scale of five, and the Complaint Index measures complaints relative to a company's size.
Comparison of cheap homeowners insurance companies

| Company | Average monthly rate | 2019 J.D. Power overall satisfaction (higher is better) | 2019 NAIC Complaint Index (lower is better) | Market share |
| --- | --- | --- | --- | --- |
| Nationwide | $59 | 2/5 | 0.47 | 3% |
| MetLife | $98 | 2/5 | 0.44 | 1% |
| American Family | $98 | 3/5 | 0.37 | 4% |
| Allstate | $102 | 3/5 | 0.51 | 8% |
| USAA | $110 | 5/5 | 0.28 | 6% |
| Country Financial | $119 | 3/5 | 0.18 | 1% |
| State Farm | $123 | 4/5 | 0.38 | 18% |
| Erie | $124 | 5/5 | 0.29 | 2% |
| Travelers | $149 | 2/5 | 0.46 | 4% |
| Farmers | $176 | 3/5 | 0.37 | 6% |
| Auto-Owners | $219 | 4/5 | 0.27 | 2% |
| Amica | $251 | 5/5 | 0.22 | 1% |
While Nationwide has some of the cheapest home insurance rates, it underperforms in J.D. Power's home insurance survey and has a higher Complaint Index. MetLife, the second-cheapest company on our list, shows similar performance. That's why we recommend thinking about more than price: in the event you need to file a claim, having good customer service may be worth the higher premium.
Homeowners insurance policies are standardized, meaning coverage does not vary much between providers. However, you should always review your policy and make sure you are aware of its exclusions. Homeowners insurance usually covers damage from fire, wind and more, but almost always excludes flood and earthquake.
How to make your rates cheaper
There are steps you can take to lower your homeowners insurance premium. For example, you can see large savings by switching companies. However, if you want to remain with your current provider, you can save with discounts, home improvements and policy adjustments.
Take advantage of home insurance discounts
Insurance companies usually offer a handful of discounts to policyholders. Many companies have discounts for:
Bundling multiple insurance policies.
Having a claims-free history.
Installing fire, burglar and smoke alarms.
Adding storm shutters.
Additionally, home improvements that make your home less susceptible to damage, like an impact resistant roof or storm shutters, can lower your premium.
Lower your coverage or raise your deductible
You can lower your rates by adjusting your policy limits and deductible. Your coverage limits are the maximum reimbursement amounts your insurance company will pay out after a claim, so higher limits lead to higher premiums. You may find that you're paying for more coverage than you need.
For example, say your current policy provides $100,000 of personal property protection for your belongings. Do you have $100,000 worth of belongings? If not, you can reduce your personal property coverage and save on your overall premium.
Raising your deductible can also lower your monthly premium. Our study of the average cost of homeowners insurance found that raising your deductible from $500 to $2,000 can save you $22 a month, or $266 a year. However, be careful about raising your deductible to an amount you're unable to pay. 
For more ideas, check out our guide on how to save on homeowners insurance.
Methodology
We collected quotes for 30,176 ZIP codes in the U.S. from the following 14 states: Alabama, Arizona, California, Connecticut, Georgia, Illinois, Michigan, New York, North Carolina, Ohio, Pennsylvania, Texas, Virginia and Washington. We chose these states because they represent diverse geographies and have many of the largest home insurance companies in the U.S.
Our study considered 14 subsidiaries of 12 companies. The 12 companies we included are: Allstate, American Family, Amica, Auto-Owners, Country Financial, Erie, Farmers, MetLife, Nationwide, State Farm, Travelers and USAA.
To gather quotes, we created a homeowner profile based on median U.S. values according to the U.S. Census. The median value of owner-occupied homes is $245,219 and was built in 1977. Based on these numbers and typical coverage limits, we used the following policy specifications:
Dwelling coverage: $245,219
Personal property coverage: 50% of dwelling ($122,610)
Other structures coverage: 10% of dwelling ($24,522)
Loss of use coverage: 20% of dwelling ($49,044)
Liability coverage: $100,000
Deductible: $1,000
Home built in 1977
57-year-old homeowner
QuoteWizard.com LLC has made every effort to ensure that the information on this site is correct, but we cannot guarantee that it is free of inaccuracies, errors, or omissions. All content and services provided on or through this site are provided "as is" and "as available" for use. QuoteWizard.com LLC makes no representations or warranties of any kind, express or implied, as to the operation of this site or to the information, content, materials, or products included on this site. You expressly agree that your use of this site is at your sole risk.