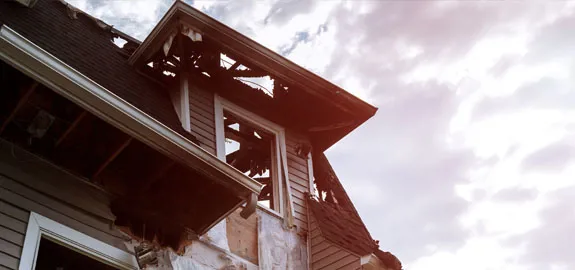 Hazard insurance is the part of a homeowners insurance policy that protects your home's physical structure. It's also called "dwelling coverage," and mortgage lenders often require you to have it as a condition of your home loan. We go over what hazard insurance covers, whether you need it, how it relates to your mortgage and how much it costs.
What is hazard insurance?
Hazard insurance policies protect your house's structure if it is damaged. This includes parts of your home like:
Walls, ceiling and floors.
Built-in appliances such as faucets, boilers and water heaters.
Mortgage lenders may require you to buy hazard insurance, but hazard insurance is not a standalone policy. It is most often part of a homeowners insurance policy, where it is usually referred to as dwelling coverage.
Mortgage lenders usually only require HO-1-level coverage, which is a home insurance policy type that covers the physical structure of the home. HO-1 home insurance policies cover the following basic named perils:
Fire and lightning
Hail and windstorm
Explosions
Damage from aircraft
Vehicular damage (Unless cause by policyholder)
Vandalism and theft
Riot and civil disturbance
Volcanic eruption
However HO-1 policies are rarely sold due to their limited protection. You're more likely to find an HO-2, HO-3 or HO-5 policy, which include additional protections. HO-3 policies are the most common homeowners insurance policy in the U.S., and where most people will find hazard insurance.
The perils included under hazard insurance coverage can vary based on the insurer and the policy type. For example, home insurance companies may not cover wildfires in high-risk areas if the home's roof is built with wood shingles.
How are hazard insurance and home insurance different?
Hazard insurance is the subsection of a home insurance policy that protects the physical structure of your home from covered perils, but home insurance policies include other coverages as well. For example, standard homeowners insurance coverage include personal property coverage, personal liability protection and loss of use protection.
The table below outlines the coverage in a standard HO-3 homeowners policy, only one of which is required by mortgage lenders.
Hazard insurance requirements on a mortgage

| Coverage | Required by lenders? | What it covers |
| --- | --- | --- |
| Hazard insurance (dwelling coverage) | Yes | The structure of your home. |
| Personal property | No | Your belongings. |
| Personal liability | No | Costs if you're found responsible injury to someone or damage to their property, including lawsuits. |
| Loss of use | No | Increased living expenses if you temporarily cannot stay in your home due to a loss. |
To learn more about what a standard homeowners insurance policy covers, see our article on home insurance basics.
How much does hazard insurance cost?
Hazard insurance cannot be purchased on its own, so we gathered rates for a standard HO-3 policy, as that's where most people will get hazard insurance. We found that hazard insurance as part of a home insurance policy can range from $1,038 a year for $150,000 of coverage, up to $2,092 a year for $450,000 of coverage.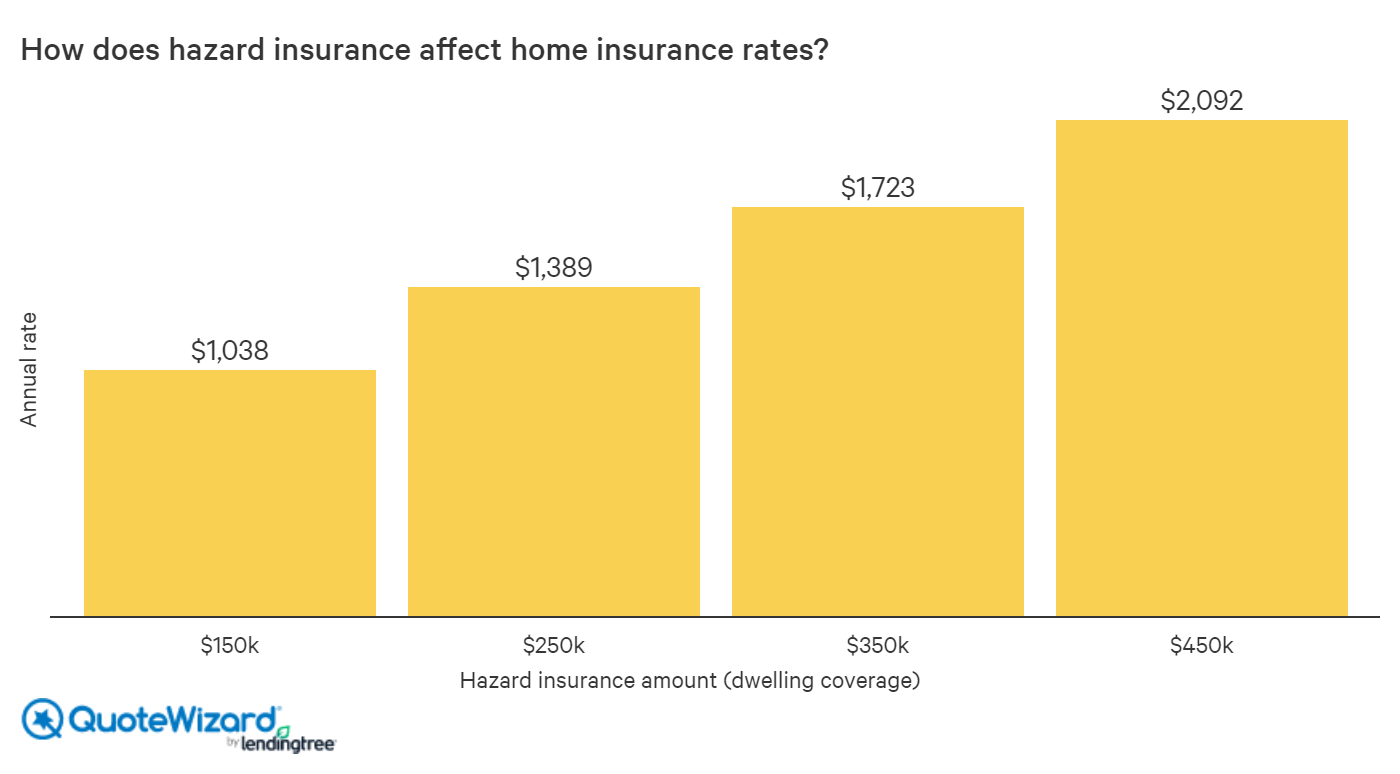 Note: Average rates are based on non-binding estimates provided by Quadrant Information Services. Your rates may vary.
What you pay for hazard insurance depends primarily on where you live. Every region has its own unique hazards, and it costs more to insure homes in areas with high disaster risk.
For example, states like Louisiana, Texas, Florida and Oklahoma have the highest average home insurance rates in the country, largely because they are prone to natural disasters. Conversely, states with relatively mild climates like Oregon, Utah, Idaho, and Nevada have the lowest average home insurance rates.
The cost of hazard insurance also depends on several other homeowners insurance rate factors, including:
The construction style and replacement cost of the house.
Policy limit and deductibles.
Your credit score and claim history.
How hazard insurance works with your mortgage
Mortgage companies often require hazard insurance from their mortgage holders to protect their investment – the structure of the home. Because mortgage lenders only invest in your home, they don't require personal property or personal liability protection.
Why do lenders require hazard insurance?
If you have a mortgage, the physical structure of your house acts as the collateral for that loan. If that collateral is damaged, the mortgage company's investment loses value, which is why mortgage companies have an interest in protecting the homes they give loans on.
If a peril is excluded by your home insurance, your mortgage company may still require you to have hazard insurance for it. For example, earthquakes are not covered by standard homeowners insurance policies, but if you live in a high-risk area, your mortgage lender may require you to buy a separate earthquake insurance policy.
There are several other hazards typically excluded from standard HO-3 coverage:
Flood
Neglect
Sewer backup
Hazard insurance should not be confused with mortgage insurance. Mortgage insurance protects the lender in the event of you defaulting on your home loan. Banks will often require hazard insurance if they're giving you a home loan or if a house is being offered as collateral on a loan.
Hazard insurance and escrow
It is common for mortgage lenders to set up escrow for homeowners. Escrow is a savings account that holds the funds which go toward your mortgage payment, home insurance premium and real estate taxes. Payments into escrow occur once a month.
The main function of escrow is to simplify the payment process for folks financing a home and break up the payments over a 12-month period so they are more manageable. Escrow allows homebuyers to make one monthly payment that covers their mortgage payment, home insurance premium and property taxes. In this way, your homeowners insurance premium can be looped into the mortgage payment.
Condo hazard insurance
If your homeowners association, or HOA, master insurance policy doesn't cover the interior structure of your unit, such as the floors, walls and ceiling, mortgage lenders may require that you have hazard insurance for the interior of your unit.
Your homeowners association will have a master insurance policy that insures the building and shared spaces. However, there may be interior parts of your unit that the master policy doesn't cover. Most condo owners will find their hazard insurance included within their HO-6 policy, which is the standard property insurance coverage for condos. For more information about the types of condo insurance and what it covers, see our condo insurance basics.
Methodology
In order to calculate cost of hazard insurance, we gathered quotes for an HO-3 homeowners insurance policy. The policy specifications were as follows:
Dwelling coverage: $150,000, $250,000, $350,000 and $450,000
Other structures coverage: 15% of dwelling coverage
Personal property coverage: 50% of dwelling coverage
Loss of use coverage: 20% of dwelling coverage
$100,000 personal liability
$500 deductible
The sample home was in Illinois and built in 1965. Illinois was used because it has about average insurance rates in the U.S., and its insurance market resembles the national insurance market. We collected quotes from Allstate, American Family, Country Financial, Erie, Farmers, State Farm, Travelers and USAA for every ZIP code in Illinois.
Frequently asked questions
Q: What is hazard insurance?
A: Hazard insurance is part of homeowners insurance – it is not a standalone policy. It is the section of home insurance that provides coverage for your home's physical structure.
Q: Is hazard insurance different than homeowners insurance?
A: Yes. Hazard insurance is included in homeowners insurance, however. Home insurance consists of hazard insurance, along with several other coverages such as personal property and liability protection.
Q: Is hazard insurance required?
A: Hazard insurance is not required by law, but mortgage lenders usually require it as a condition of your loan. Even if you don't have a mortgage or hazard insurance isn't required, we recommend it as a great way to protect your home and give you peace of mind.
Q: How much does hazard insurance cost?
A: Hazard insurance cannot be purchased on its own – it is part of homeowners insurance. The average cost of homeowners insurance is $1,215 according to our study, but your rates will vary based on many factors.
QuoteWizard.com LLC has made every effort to ensure that the information on this site is correct, but we cannot guarantee that it is free of inaccuracies, errors, or omissions. All content and services provided on or through this site are provided "as is" and "as available" for use. QuoteWizard.com LLC makes no representations or warranties of any kind, express or implied, as to the operation of this site or to the information, content, materials, or products included on this site. You expressly agree that your use of this site is at your sole risk.