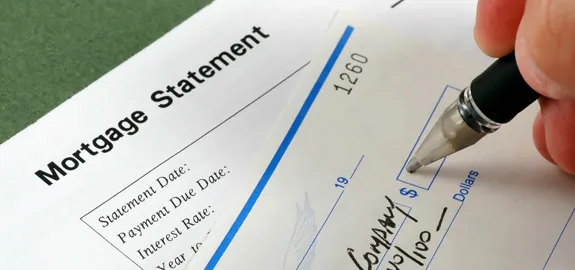 Your mortgage payment may cover your home insurance costs. If you buy a home through a bank or mortgage lender, they'll set up an escrow account for you. The escrow account covers taxes and homeowners insurance costs attached to the home. Changing your mortgage lender or home insurance company may affect the escrow account. This article covers:
Why is Homeowners Insurance Included in My Mortgage Payment?
Mortgage lenders or banks often require a home insurance policy when you buy a home with a loan. This is so their investment during the loan is protected. Unlike car insurance, homeowners aren't legally required by state law to have insurance. But a lender can mandate it as part of your loan terms.
Lenders will require that you buy enough home insurance dwelling coverage to cover the value of your mortgage. If you default on your loan, the lender would at least be able to repossess the house and recoup their investment. Without home insurance, the lender is out their money if your house is destroyed and you're not able to pay the mortgage.
Your mortgage contract will likely include a "mortgagee clause." If you file a claim, this means the mortgage company can withhold your claim settlement. They do this to ensure that the funds from the claim are spent on repairing the home, so the home's value doesn't decrease.
What Does a Mortgage Payment Cover?
When making your monthly payment to your mortgage lender, part of the money goes to an escrow account. The amount reflects the home's estimated yearly property taxes and home insurance premium. At year's end, the escrow amount is adjusted to reflect actual property taxes and the home insurance premium.
If the original estimate was too low, you'll likely owe money, which can be paid out over the next year
If the estimate was high, you will be refunded the difference
Take time to review your yearly escrow statement. This is the best way to know if any mistakes were made in with your escrow account. Check to make sure that your lender is paying your home insurance and property tax on time.
If there are any errors on your escrow statement, make sure to contact your lender immediately. At the end of the day, you're responsible for these payments. The lender is supposed to be making them on your behalf, but you're the one penalized if they're not kept up on.
Refinancing Your Mortgage Escrow Account
If you find a new mortgage rate that allows you to lower your interest rate and reduce your loan term, refinancing your mortgage can be a good step. This can take the edge off other costs that first time homebuyers have to face.
Take a look at how much interest you've already paid on your current mortgage, as well as how much you would pay with the refinanced mortgage. The longer you have been paying your current mortgage, the more each of your future payments would go towards paying the principal instead of the interest. Compare the interest rate on your current mortgage with the rate on the refinanced mortgage. This will let you know if it's worth your while to move forward with the refinancing.
If you decide to refinance, the how much changes depends on if you stay with your current mortgage lender. If you stay with your current lender and just refinance the terms of your mortgage, nothing should change. Your lender won't have to set up a new escrow account for the new loan. They're more likely to use the one created when you first got the mortgage.
If you change your mortgage lender to refinance your mortgage, you might get a refund from your previous mortgage. This is because your new lender will pay off your existing mortgage before setting up the new loan. If the escrow account from your existing mortgage has unused funds, your current lender will refund the surplus funds to you by check within 30 days. Your new lender will also probably set up a new escrow account for the refinanced loan.
How Switching Home Insurance Companies Impacts Your Mortgage Escrow Account
Many homeowners change their home insurance provider over time in order to reduce their premium or get better coverage at a similar price. They may also be dissatisfied with their current coverage. No matter the reason, switching your home insurer can affect your mortgage escrow account in a few different ways:
First off, don't cancel your old home insurance until the new home policy has started its coverage term. It would be bad for you to have a problem occur during a coverage gap. And lapsed coverage can increase your chance of being denied for home insurance.
Once you find a home insurance policy that suits your needs, contact your mortgage provider to alert them of the change. This will prevent them from sending the payment to the wrong insurance provider.
You should notify your mortgage lender of the home insurance change even if they've waived the escrow requirement and you pay your home insurance yourself. If they see you have cancelled your current homeowners policy, they may try to find you a new one. This is annoying and costly to clear up.
After you do this, your mortgage lender should handle the rest. They'll estimate your new yearly premiums and then update your mortgage and escrow payments. They'll also use the escrow account to cover your home insurance premiums moving forward. If your new home insurance policy has a lower premium, you should see a refund.
How to Get Out of a Mortgage Escrow Account
Some mortgage lenders will waive their escrow requirements if you make a down payment of at least 20%. Lenders can work on the assumption that if you have that much money personally vested in the house, you're invested enough to pay your own taxes and home insurance.
The downside to not going with an escrow account for your mortgage is that you'll probably still pay to avoid it. Many lenders charge people who want to avoid an escrow requirement a "waiver fee". This fee is usually one-quarter to three-eighths of a percentage point. It might not be much, but it's still your money.
If you waive escrow, then fail to keep up on home insurance payments, your lender can revoke its waiver.
QuoteWizard.com LLC has made every effort to ensure that the information on this site is correct, but we cannot guarantee that it is free of inaccuracies, errors, or omissions. All content and services provided on or through this site are provided "as is" and "as available" for use. QuoteWizard.com LLC makes no representations or warranties of any kind, express or implied, as to the operation of this site or to the information, content, materials, or products included on this site. You expressly agree that your use of this site is at your sole risk.