How Your Roof Impacts Your Homeowners Insurance
Your roof is a vital factor in the cost of your homeowners insurance. Properly installing and maintaining a roof with the right materials can keep your policy price reasonable.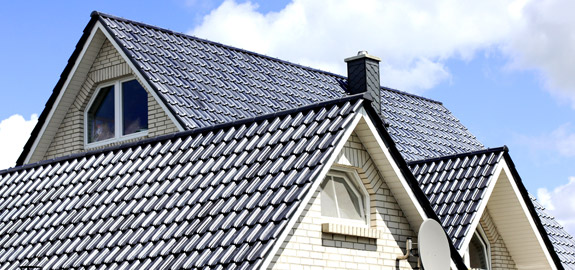 A roof is one of the most important parts of a house. It's the first line of defense against inclement weather. A leaky roof spells big trouble for the rest of the house.

Because of this, insurance companies place big importance on the roof when assessing a house. It's one of the first factors an insurer analyzes. Your roof's quality and condition plays a big role in how much you pay for homeowners insurance.

This article will cover different roof types, how they impact homeowners insurance premiums and how to save money by updating your roof. 
Why Your Roof Matters for Home Insurance Companies
It's relatively simple. When bad weather hits – be it rain, snow, hail, or wind – your roof takes the brunt of it. If your roof isn't up to the task, that bad weather can make its way into the house. If that happens, your home can suffer severe damage. And that means you will probably need to file a claim.

When you file a claim, you cost your home insurance company money. Insurance companies go through great lengths to assess the risk level of the people they cover. People or homes with high-risk levels are more likely to file a claim. Insurance companies, in turn, charge higher rates to cover them.

In other words, if your roof is faulty, cheap, or plain old, your insurance company believes you are more likely to need to file a claim in the future. That's why they will charge you more for homeowners insurance.
Five Most Common Roof Material Types
There are several different common roof types. Each have varying costs, lifespans, and pros and cons. Some roof materials are ideal for specific climates and regions. These are the six most common roofing materials:
Does Insurance Cover Roof Damage?
Maintaining a high-quality roof is a must. It's a preventative step that can save homeowners from expensive headaches down the road. If your roof isn't well-maintained, your insurance company may deny claims for roof damage.
Assuming your roof isn't in shambles, a standard insurance policy covers the following roof damages:
Wind
Rain
Hail
Vandalism
Falling objects
Fire
Hurricanes
Tornadoes
But the extent to which insurance covers these damages depends on a few factors:
Age: If you have an asphalt shingle roof that is over 10 years old, for example, the likelihood of claim denial goes up. Or they may offer a claim settlement that is lower than you hoped. Your insurance company can argue that roof damages were exacerbated by the roof's age.

Imagine that your roof leaks after a heavy rainstorm. Your insurance company, knowing that your roof is 10 years old, may argue that the leak was due to the roof's age rather than unusually strong rains. They may also opt to only pay for the roof's depreciated value.
Condition: Your roof's condition goes hand-in-hand with its age. But improper installation can hurt your chances of a successful claim.

After you file a claim, your insurance company will likely send a professional to assess the damage. If they find signs of inadequate construction or maintenance, they can deny the claim. Most policies include exclusionary language regarding faulty roof installation. That language also extends to improper maintenance.

To avoid this, make sure all roofing work is done by certified professionals. Also, stay up to date with roof maintenance.
Your policy: As we mentioned, policies include exclusions for what is and isn't covered. A policy may exclude wood shake shingles, improper installation, roofs over 20 years old, cosmetic damages, and more.

A vital part of your policy is whether claims are paid out based on actual cash value or replacement cost. With actual cash value, your roof's age and condition are accounted for. Depreciation is subtracted from your payout. With replacement cost, it's simply the cost to fully replace the roof to its original state.
Where you live: Home insurance companies tailor their coverage to the surrounding area. You may need coverage add-ons to address your area's biggest risks.

Some insurance companies will offer one-size-fits-all policies in areas with specific risks. In Oklahoma, for example, many insurance companies only offer actual cash value policies. That's due to the high risk in covering roof damage in tornado alley.

Ask your insurance company about region-specific exclusions.
5 Ways You Roof Can Lower the Cost of Insurance
Your roof is one of the most important parts of your home, and it's a big factor in the price of your insurance policy. Having a proper roof will save you considerable money on home insurance.
Why? A properly installed and well-maintained roof with ideal materials will decrease your chances of filing a claim. Houses with good roofs are a lower risk for insurers.
These are the five most important steps to get a great deal on insurance:
Choose the right roof materials: Pick a roof that is appropriate for your home and your region. What does that mean? Don't install a roof with wood shakes in an area that is dry or fire-prone. Don't install tiles in a place with freezing cold winters.

Licensed roofers know what roof materials do and don't work in your area. They can help you pick the right roof for your home. The price of your insurance policy will reflect your choice.

That's part of the reason why asphalt shingles are so popular. On top of their affordable price, they are one size fits all in the sense that they can handle most types of bad weather. Installing a high-quality asphalt shingle roof won't raise your rates.
Proper installation: As mentioned earlier, an improperly installed roof is a big liability. It has a shorter lifespan and is more susceptible to damage. If your improperly installed roof is damaged, there's a good chance your insurance will deny the claim. They will argue that the damage is due to the roof's poor installation.

You can avoid this by simply hiring a certified, professional roofer. Do your research and get quotes from multiple companies. Ask for references and proof of licensure.
Maintenance: Simple maintenance goes a long way. It increases your roof's lifespan. And it'll help keep your insurance premiums low. Here are simple steps to keep your roof well maintained:

Remove any debris from the roof like branches and leaves
Keep the gutters clean
Don't walk on the roof
Replace broken and worn shingles
Get your roof inspected every few years
Cut down any dead trees that are on your property and near your house
Check for any pests
Remove any moss and mold

Keep photos and paperwork: Insurance companies love a good paper trail. It makes their job easier. Take plenty of photos of any work done on the roof. Make sure that you keep detailed records of said work, including receipts and estimates. It will help you tremendously in the event of a claim.
Pick the right insurance company: As we previously discussed, each insurance company has their own policy requirements. That includes exclusions. It's possible you find yourself unsatisfied with your insurer's exclusions and prices. If that's the case, you can combat that by shopping around and comparing quotes from other insurance companies. You may find that two insurance companies offer considerably different prices for the same coverage.
QuoteWizard.com LLC has made every effort to ensure that the information on this site is correct, but we cannot guarantee that it is free of inaccuracies, errors, or omissions. All content and services provided on or through this site are provided "as is" and "as available" for use. QuoteWizard.com LLC makes no representations or warranties of any kind, express or implied, as to the operation of this site or to the information, content, materials, or products included on this site. You expressly agree that your use of this site is at your sole risk.