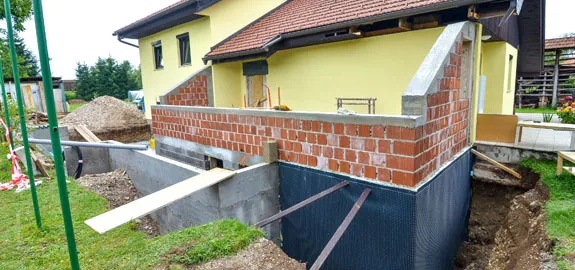 There are many ways your home's foundation can be damaged, and insurance won't always cover it. Homeowners insurance policies usually only cover foundation damage like water, fire, and vandalism originating above the slab. Foundation damage under the slab, regular wear and tear, and damage due to poor upkeep generally aren't covered. This article will explain:
What Foundation Repair Does Home Insurance Cover?
Your homeowners insurance covers damage caused by many risks. The most commonly covered problems to affect your foundation include:
Wind and Hail
Fire or Lightning
Damage due to vehicle or aircraft
Vandalism
Riot or civil disturbance
Explosion
Falling objects
Collapsing snow, ice, or sleet
Water damage from plumbing, overflow, or HVAC
If your slab weakens and cracks due to a fire, your home insurer will pay out to have the damage repaired. A standard homeowners policy, otherwise known as an HO-3, covers the above risks on an "open peril" basis. This means that unless the cause of the damage to your slab is excluded in your home insurance policy, it's covered. A standard homeowners policy pays out for covered structural damages including your foundation up to the dwelling coverage limit stated in your policy. This limit is usually around $250,000.
Homeowners Insurance Exclusions to Foundation Repair
Damage that isn't sudden and accidental and/or sourced from above the slab tends to be excluded from standard homeowners insurance. Common excluded foundation events include:
General wear and tear such as cracks from age or settling
Compaction of the earth underneath the slab
Ground collapse under the slab due to a sinkhole or mine subsidence damage
Water damage under the slab
Tree root damage
Flood and hurricane damage
Cracks in the foundation due to wear and tear when the house settles over time are a maintenance issue and won't be covered. Defects in the foundation from bad construction are excluded as well. If the soil was not allowed to settle when the house was built, the resulting damage to your foundation would not be covered.
The ground under your home can be one of the biggest causes of damage to its foundation. Over time, the soil under the foundation can expand and contract. Drought is a problem along these lines. During periods of extended dryness, the earth under your home can contract. This can cause cracks and fissures in the foundation. As the source of damage does not originate within the premises of the house, it's not covered by your home insurance.
Ground cover collapse, such as a sinkhole, is another issue excluded from standard home insurance coverage. Sinkholes can occur naturally when ground water collects under the slab and weakens it. Eventually, the weight of the house sinking on the weak earth can cause the foundation to crack. Human activity can also cause sinkholes as well. Construction, drilling, and improper excavation can result in the ground under your home collapsing. Regardless of the cause of the collapse, you would wind up paying a huge price tag because of it.
Water damage under the slab is another excluded problem. If you have a backup or a plumbing break under your foundation, it will not be covered.
Tree roots are an excluded issue as well. Tree roots can grow into and crack the home's foundation. Insurance companies assume that homeowners will take measures to keep their trees from causing problems.
Disasters such as earthquakes and floods are never covered by home insurance. Flood and earthquake insurance policies are available to provide the necessary coverage in the event of these catastrophes.
Dwelling foundation insurance riders are available to provide coverage for some of the above damage types noted above. However, soil compaction and erosion are almost never covered by these riders.
Making a Home Insurance Claim on Your Foundation
Dealing with a home insurance claim on your house's foundation should be done quickly in order to avoid further damage. Having a plan can reduce a lot of the stress that comes with the claims process:
Hire a licensed contractor to come and inspect your house's foundation damage. Get written documentation of the extent of the damage, the causes of the damage, and an estimate of what it would cost for repairs.
Once you have the estimate, use it to decide if filing a claim is worth your while. Any home insurance claim you make can result in a premium increase. On average, this increase is about 10 percent of your current home insurance rate. This increase will stay on your premium for about seven years. If the cost to fix the foundation is close to your homeowners insurance deductible plus the increase to your premium over seven years, you should consider paying for the repairs out-of-pocket.
If you decide to file the claim, contact your home insurance company. They will initiate the claim process and advise you on any other steps you need to take.
Your home insurer will arrange an appointment with you for an adjuster to come to your home and examine the damage. Make sure to be on hand to meet with the adjuster so you can show them all the damage, as well as answer any questions they may have.
Your home insurer will read the adjuster's final report. If the damages reported are covered by your policy, your home insurance company will send you a check for the repair cost, up to your policy's limits.
If Your Homeowners Insurance Claim is Denied
If your home insurer should deny your claim, you still have a chance. Your denial letter regarding the claim will state the reason for the denial of coverage. If the reason conflicts with your contractor's statement, contact the contractor to help dispute the reasons with you. Your home insurer will consider the contractor's assessment.
Should your claim still be denied, consider hiring a public adjuster to assess the damage. The public adjuster is on your side to make sure you get the best outcome possible with your foundation claim. Hiring one can be well worth avoiding paying for a foundation repair on your own.
QuoteWizard.com LLC has made every effort to ensure that the information on this site is correct, but we cannot guarantee that it is free of inaccuracies, errors, or omissions. All content and services provided on or through this site are provided "as is" and "as available" for use. QuoteWizard.com LLC makes no representations or warranties of any kind, express or implied, as to the operation of this site or to the information, content, materials, or products included on this site. You expressly agree that your use of this site is at your sole risk.