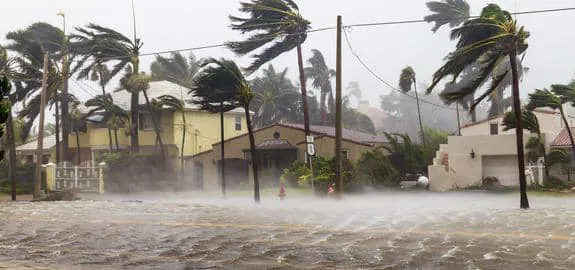 Florida is one of the main states where heavy wind causes a lot of damage. The damage done by extreme windstorms is enough that Florida home insurers do not cover wind damage under standard homeowners insurance and instead sell wind insurance as a separate policy. Florida insurance companies provide incentives to prevent wind damage before it even starts by offering discounts to homeowners who do work on their homes to reduce windstorm damage.
This article covers:
What is windstorm insurance?
Windstorm insurance covers damage to your home and belongings caused by high wind events. These include hurricanes, cyclones, tornadoes and other wind events exceeding 35 miles per hour.
While some wind damage is often covered by home insurance, insurance providers in states where heavy wind is a prevalent cause of damage will sell windstorm insurance as a policy separate from standard home insurance policies.
Sometimes windstorm insurance may be referred to as "hurricane insurance." This isn't a wholly accurate term as windstorm insurance does not cover all the damage that can occur due to a hurricane. In order to get comprehensive insurance coverage for hurricane damage, you want to look at a combination of homeowners, wind and flood insurance.
Why is windstorm insurance necessary in Florida?
Florida's history of extreme storms and the resulting property damage justifies the need for windstorm insurance. Here are three statistics that frame the issue:
According to NOAA's Hurricane Research Division, three of the five U.S. cities most vulnerable to hurricanes are in Florida.
After Hurricane Irma in 2017, there were almost one million damage claims filed. These totalled almost $10 billion in claim payouts. Of these claims, 66% were for damage to homes.
In 2018, Hurricane Michael caused an estimated $13 billion in reconstruction costs to 57,000 homes in Florida.
It's important to know that Florida is one of the states in the country that has windstorm insurance as a separate policy type from homeowners insurance. This means that if heavy winds damage your roof, your homeowners policy may not cover it. This is in sharp contrast to other states where roof damage is covered as part of a standard home insurance policy.
If you bought your home in Florida through a mortgage lender, they will require you to have windstorm insurance if you live in an area considered high risk for wind damage, known as wind pools. If you own your home without a mortgage, you really should consider investing in windstorm insurance. The out-of-pocket costs for repairs after a heavy windstorm could run in the tens of thousands, if not hundreds of thousands, of dollars without wind insurance otherwise.
Hurricane windstorm insurance discounts
If you install wind resistance features to your home, windstorm insurance providers have a set of premium discounts. When you purchase wind insurance in Florida, your insurer is required by law to notify you of the discounts available for installation of wind mitigation features. You may save up to 42% off the cost of your windstorm insurance premium.
In order to qualify for these discounts, your home must be inspected by a certified inspector to make sure the required wind resistant features are installed. Wind mitigation features include:
Impact resistant doors
Roof truss clips
Storm shutters
Hurricane straps
Florida owners of a single-family home with an insured value of $500,000 or less and homestead exemption are eligible for credits towards a free inspection. Homestead exemption helps provide a lower property tax assessment on your home. Mobile, manufactured and second homes are not eligible for free inspections.
If you can't qualify for a free inspection, it's not unreasonable to pay to have one done. The cost of the inspection will probably still be considerably less than the discounts you could get after it's completed.
Ask your windstorm mitigation inspector if there are any other steps you can take to further reduce wind damage to your house. If you make these renovations, there's a good chance you can get even more discounts.
How much does windstorm insurance in Florida cost?
It's hard to lock down an average price of windstorm insurance in Florida. This is mostly because the location of your home can have a huge impact on the pricing. A $250,000 house in Tallahassee could cost you $800 for windstorm insurance, whereas it could cost twice that or more for a house of the same value in Panama City. Coastal properties in Florida usually see higher windstorm insurance rates.
Where to get windstorm insurance in Florida
Most home insurance providers in Florida also sell windstorm insurance. According to Weiss Ratings, a company that specializes in ratings and analysis for insurance companies, the strongest windstorm insurance companies include:
Auto Club Insurance Co. of Florida
USAA Casualty Insurance Company
Amica Mutual Insurance Co.
Castle Key Insurance Co.
Cincinnati Insurance Co.
Southern Fidelity Insurance Co.
Southern-Owners Insurance Co.
Citizens Property Insurance Corporation (CPIC) was set up by Florida state in order to insure new homeowners in high-risk areas who cannot find windstorm insurance through private providers. You can get a windstorm insurance policy through Citizens if you cannot find equal coverage through a private insurance company, or if their windstorm insurance premiums are more than 15% of what Citizens offers. 
Citizens may require a mitigation form from a professional, licensed inspector before providing windstorm insurance.
If you're still having trouble finding wind insurance, the Florida Market Assistance Program is a free service that assists homeowners with finding a licensed windstorm insurer.
The Florida Hurricane Loss Mitigation Program
The Hurricane Loss Mitigation Program (HLMP) was created by Florida's Division of Emergency Management in response to the damage from Hurricane Andrew in 1992. It provides grants to help reduce wind damage to homes proactively. 
With an annual budget of $7 million provided by the Florida Hurricane Catastrophe Trust Fund, it provides:
Retrofitting to homes in order to better withstand wind damage 
Promotion of wind damage education
Sponsorship of hurricane research activities
The criteria for HLMP assistance may vary from county to county, but generally, the applicant must:
Reside in the county in question
Live in the home as their primary residence
Show proof of homeownership
Have homeowners insurance
Include current mortgage, if applicable
If you want to see whether you qualify for an HLMP grant, visit your county's official community support services website and contact the Department of Housing Programs. If you have difficulty finding the right section to find out about the grant, searching for "HLMP" on your county's government page should do the trick.
Due to the small pool of funds available, HLMP grants are often given on a first come, first served qualified basis. Completing the application for a HLMP grant does not guarantee assistance.
QuoteWizard.com LLC has made every effort to ensure that the information on this site is correct, but we cannot guarantee that it is free of inaccuracies, errors, or omissions. All content and services provided on or through this site are provided "as is" and "as available" for use. QuoteWizard.com LLC makes no representations or warranties of any kind, express or implied, as to the operation of this site or to the information, content, materials, or products included on this site. You expressly agree that your use of this site is at your sole risk.