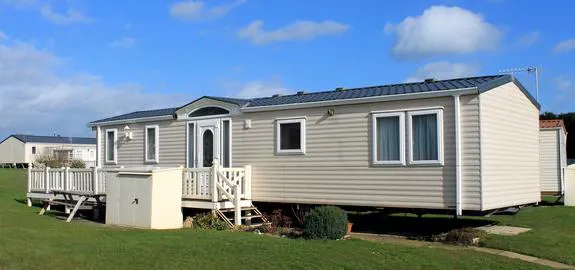 Mobile home insurance is fairly similar to standard homeowners insurance. However, there are some key differences that mobile homes in Florida have that require specialized coverage. A mobile home does not have a foundation, which is a defining point for many areas of coverage in a traditional home insurance policy. Also mobile homes in Florida are more likely to be damaged by heavy wind, which can affect your insurance coverage and how much you pay for it.
This article will discuss:
What does mobile home insurance in Florida cover?
Standard mobile home insurance in Florida usually covers your mobile home against the following sources of damage (also known as "perils"):
Fire and smoke
Lightning
Falling objects including snow, ice or sleet
Civic commotion and riots
Vehicular damage
Theft and vandalism
Explosion
Volcanic eruption
Frozen pipes
In some other parts of the country, windstorm coverage is considered part of a standard mobile home policy. However, given the frequency of hurricanes in Florida, mobile homeowners need to purchase windstorm insurance as a separate policy.
Furthermore, claims after a hurricane in Florida often require a hurricane deductible. This deductible is often higher than your regular mobile home insurance deductible. In Florida, the hurricane deductible is triggered when a hurricane is declared by the National Weather Service. It applies to any damage that occurs from when a hurricane watch or warning starts anywhere in Florida, and is in effect for 72 hours after the declaration.
Flooding is another significant issue for mobile homes in Florida. Flood damage isn't covered by standard mobile home insurance. Florida faces a high risk of flooding due to high tides, storm surges and rising sea levels. If your mortgage lender or mobile home community does not require you to have flood insurance, it is strongly recommended that you invest in it anyway.
It's important to know that mobile home insurance usually does not provide coverage when you are moving the mobile home from one location to another. Your insurer may be able to sell you a rider that provides coverage while your mobile home is in transit. Riders such as this tend to have very specific coverage limits, so make sure your mobile home insurance provider goes over the details to make sure it suits your needs.
The parts of your home that mobile home insurance covers include:
Dwelling
Permanently fixed parts of the structure of your mobile home, including the roof and deck, are covered against open perils.
Contents
Your belongings stored inside your mobile home are covered against damage and theft up to your policy's coverage limit for named perils.
The difference between named and open perils is fairly simple; open peril coverage takes care of any damage to your mobile home that is not excluded in writing in your policy. Named peril coverage takes care of damage from threats expressly listed in your policy.
Liability
Your mobile home insurance provides coverage in the event that you're responsible when someone gets injured on your property and legal fees or medical bills occur.
Other structures
External structures on the same lot as your mobile home, such as a garage or shed, are covered under your mobile home insurance.
Additional Living Expenses (ALE)
If your mobile home is damaged by a covered peril and is rendered unliveable while it's repaired, ALE canhelp cover living space, restaurant and other costs while you're relocated.
Do I need mobile home insurance?
There is no Florida state law that requires you to have mobile home insurance. However, your lender may require you to get it before they underwrite a mortgage for you. Furthermore, many mobile home communities or parks will require mobile home insurance as part of your residency.
Even if you fully own your mobile home and aren't required to have an insurance policy for it, mobile home insurance is a practical way to protect your investment. The average single-wide mobile home costs over $50,000. Mobile home insurance is a relatively cheap way to protect your home against costly replacement and liability events.
Where to buy mobile home insurance in Florida
When looking for mobile home insurance in Florida, specialty insurance companies can sometimes be the best way to go. Following is an overview of the most popular private insurers in Florida who provide mobile home insurance, based on how many mobile home insurance policies they service:
Insurance company
Mobile home insurance policies serviced
Overall % of mobile home insurance policies in force in Florida

American Traditions

63,647

24.19%

Foremost

37,181

14.13%

Florida Specialty

31,775

12.08%

Citizens Property

30,630

11.64%

Safe Harbor

20,005

7.60%

American Integrity

15,286

5.81%

Foremost Property and Casualty Company

12,168

4.62%

Omega

11,970

4.55%

American Reliable

8,443

3.21%

Florida Farm Bureau

7,115

2.70%

Source: Florida Office of Insurance Regulation
Mobile home insurance providers in Florida often offer coverage depending on:
How old the mobile home is
How close to the coast the mobile home is located
What county the mobile home is in
Finding a policy in Florida from the larger mobile home insurance providers can be difficult. The high rate of natural disasters in Florida makes insurance coverage for mobile homes a high-risk venture. At this time, the following insurance providers do not offer mobile home insurance in Florida:
Allstate
GEICO
Liberty Mutual
Nationwide
Progressive
State Farm
If you are unable to find mobile home insurance through a private company, check with Citizens Property Insurance. Citizens is set up to help you get the minimum insurance coverage your mortgage lender or mobile home community requires when coverage is unavailable elsewhere.
Of particular note, Citizens recently updated their coverage to rate the age and condition of attached structures separately from the actual mobile home. This helps to provide better quotes if the attached structures are newer than the mobile home itself.
How much does mobile home insurance cost?
The average cost of insurance for a single-wide mobile home is around $250 to $700 yearly. This price range can vary depending on the age, condition and location of the mobile home. If you use the mobile home for a purpose other than as a primary residence (second home, vacation home, rental, etc.), this can affect your yearly premium as well.
Another cost factor with mobile home insurance policies is what kind of claim payout method you choose. You can have claims on your mobile home paid out at either actual cash value (ACV) or replacement cost.
ACV pays out for covered events equal to the value of your mobile home or belongings, minus any depreciation in value that has occurred over time. Replacement cost pays out without depreciation being a factor. Replacement cost may be the more expensive option of the two in terms of premiums, but you do get a better payout in return.
Ask your mobile home insurance provider what discounts are available to you. Many insurance providers offer discounts if you install wind-resistant features to your mobile home to mitigate wind damage. Bundling your mobile home insurance with your auto or life insurance policies may shave some money off of your premium as well.
QuoteWizard.com LLC has made every effort to ensure that the information on this site is correct, but we cannot guarantee that it is free of inaccuracies, errors, or omissions. All content and services provided on or through this site are provided "as is" and "as available" for use. QuoteWizard.com LLC makes no representations or warranties of any kind, express or implied, as to the operation of this site or to the information, content, materials, or products included on this site. You expressly agree that your use of this site is at your sole risk.