Florida Flood Insurance Cost and Coverage
Here's your complete guide to flood insurance for Florida homeowners: the cost, how to get a quote, and your rate map.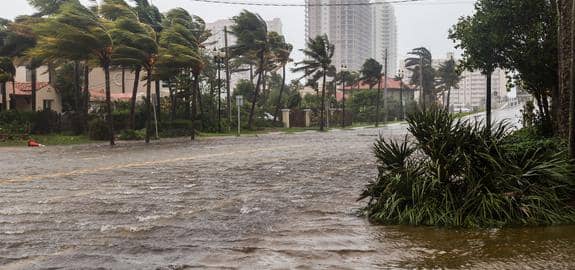 The average cost of flood insurance in Florida in 2020 is $563 dollars a year, which is $145 less than the national average, and makes Florida the cheapest state for flood insurance. Flood insurance is sometimes required by the government or your mortgage lender, depending on where you live in the state. Your rates, options and zone aren't always easy to understand, so we studied the flood insurance market in Florida. This is what our study covers:
Average cost of flood insurance in Florida
The average cost of flood insurance in Florida is $563 a year, but premiums vary widely depending on where you live in the state and your home's level of risk. For example, flood insurance costs $1,032 a year in Tallahassee on average, compared to only $500 a year in Orlando. 
Cost of NFIP flood insurance in Florida by city
City
Average annual cost per policy
Number of policies
Jacksonville
$566
25,121
Miami
$720
51,595
Tampa
$588
27,257
Orlando
$500
2,792
St. Petersburg
$667
34,953
Hialeah
$447
13,270
Port St. Lucie
$411
6,140
Tallahassee
$1,032
1,849
Cape Coral
$571
33,256
Fort Lauderdale
$737
38,806
Pembroke Pines
$378
8,085
Hollywood
$598
21,957
Miramar
$434
5,543
Coral Springs
$539
7,955
Gainesville
$626
1,332
Palm Bay
$394
3,076
Clearwater
$1,038
11,455
Miami Gardens
$543
7,018
source: FEMA.gov
As you can see, flood insurance rates may vary greatly depending on where you live, from $394 per year in Palm Bay to over $1,000 in Tallahassee. Rates are not only high for areas on the Florida coast – inland counties and cities can also be at risk of flooding due to rivers and lakes.
However, the most expensive counties are on the south and Gulf coasts in Florida. For example, Monroe County, which includes the Florida Keys, has the most expensive annual rates, at $2,278 a year.
If you want to get a sense of how much you'll pay for flood insurance in Florida, check out our guide on how to calculate your flood insurance cost based on your zone.
Flood insurance requirements in Florida
You are required by the U.S. government to have flood insurance if you satisfy both of the following criteria: (1) you live in a Special Flood Hazard Area and (2) you have a federally backed mortgage. Your mortgage lender can also require you to have flood insurance, even if the government doesn't.
Every part of the U.S., regardless of how far inland it is or its climate, is at risk of flooding. This is especially true of Florida: the NFIP paid out over $2.6 billion in flood insurance claims to Florida between 1996 and 2016, giving Florida the fifth-most flood losses in the country. Therefore, we recommend considering flood insurance, no matter where you live in Florida.
How to get a flood insurance quote
The cost of NFIP flood insurance policies is determined by the U.S. government, but most policies are managed by private insurance companies. Because rates are determined by a central body, there's no need to compare federal flood insurance policies from different insurance companies.
While there isn't a need to shop around, we recommend choosing a company that will make servicing your policy as simple as possible. For instance, if you already have home or auto insurance with Allstate, it may make sense to try to get an NFIP policy through Allstate as well. Here are the biggest writers of NFIP policies in Florida:
Largest federal flood insurance writers in Florida
Company
Market share
Wright National Flood Insurance
29%
Assurant
13%
Allstate
8%
The Hartford
8%
Progressive
7%
Tower Hill
4%
source: S&P Global Market Intelligence
Wright National Flood is the largest provider of NFIP flood insurance policies in Florida, managing 29% of policies. Assurant, which operates through its subsidiary American Bankers Insurance Company of Florida, is the second-biggest provider.
Florida alone accounts for 34% of all NFIP policies nationally, and 31% of owner-occupied housing units in Florida have flood insurance through the NFIP. So there's a good chance that if you don't already have a flood insurance policy administered by one of these companies, your neighbors do.
Florida flood insurance in SFHAs
FEMA designates areas that have a 1% or greater chance of flooding in a given year a Special Flood Hazard Area (SFHA). These areas are also called 100-year floodplains. Flood zones use letter designations, and SFHAs are usually designated by the letters A or V. Some common flood zones are A, AO, E, V and VE.
You can find out your flood zone using FEMA's online tool. If you live in an SFHA, your flood insurance rates will be higher. Our study of the average cost of flood insurance calculated minimum and maximum coverage through NFIP policies using publicly available rate tables. Here's a summary of our findings:
Zone
Minimum cost
Maximum cost
A, AE, A1-A30, AO
$1,025
$5,892
V, VE, V1-V30
$1,329
$11,399
source: FEMA.gov
Private flood insurance in Florida
Private flood insurance companies have played a small roll since the NFIP's inception in 1968, but recent years have seen immense growth in the private flood market. While only accounting for 3% of all flood policies as of 2018 in Florida, you can expect to see that number rise if the current growth pattern continues.
Assurant, AIG, FM Global and Progressive account for over 75% of all private flood insurance policies in Florida. These companies operate under a number of subsidiaries, which are outlined below.
Private flood insurance companies in Florida
Company
Market share
Parent company
American Security Insurance
19%
Assurant
Factory Mutual Insurance
18%
FM Global
American Home Assurance
12%
AIG
Lexington Insurance
9%
AIG
Voyager Indemnity
8%
Assurant
ASI Preferred
5%
Progressive
National Fire & Marine Insurance
3%
Berkshire Hathaway
Landmark American Insurance
3%
Alleghany
Zurich American Insurance
3%
Zurich
Affiliated FM Insurance
2%
FM Global
American Strategic Insurance
2%
Progressive
source: S&P Global Market Intelligence
Methodology
We reviewed publicly available federal flood insurance statistics from the Federal Emergency Management Agency (FEMA). To find the average cost of flood insurance policies in Florida by city and county, we divided the total written premiums by the number of policies in force.
We used S&P Global Market Intelligence to analyze the respective federal and private flood insurance markets. The percent of Florida households that have flood insurance was also calculated using demographic and geographic information from S&P Global Market Intelligence.
References:
QuoteWizard.com LLC has made every effort to ensure that the information on this site is correct, but we cannot guarantee that it is free of inaccuracies, errors, or omissions. All content and services provided on or through this site are provided "as is" and "as available" for use. QuoteWizard.com LLC makes no representations or warranties of any kind, express or implied, as to the operation of this site or to the information, content, materials, or products included on this site. You expressly agree that your use of this site is at your sole risk.