Compare Homeowners Insurance in Detroit
Detroit, Michigan has become a bit of an underdog story when it comes to their housing market. After decades of decay, Detroit's housing market is picking up steam.
The city is returning to their former glory by adding new residents from across the country. And even though Detroit's housing market is heating up, houses are still considerably cheaper there than in the rest of the country.
While Detroit, MI has some of the highest car insurance prices in the country, their home insurance market is different. Current and future Detroit homeowners should be familiar with the factors that determine the price of their home insurance premium.
Average Detroit Home Insurance Rates
How much is home insurance in Detroit? To find the price of an average policy, we created an 'average' Detroit home. We did this by surveying 1,300 QuoteWizard users in Detroit. After weighing various metrics, we established Detroit's 'average' house:
1,318 square foot home built in 1956
One story
3 bedrooms and 2 bathrooms
Composite shingle roof
Deadbolt locks
Fire extinguishers
We got policy quotes from Detroit home insurance companies for this house. Keep in mind, homeowners insurance is unique to each person and his or her home and insurance needs. Your home insurance rates may vary for a variety of reasons. These are the average rates for a Detroit homeowners insurance policy:
$118/mo.
$1226 annually
The graph below shows the change in average Michigan home insurance rates from 2011 to 2015, the most recent year the data is available. According to the III, Michigan homeowners insurance rates increased from $774 in 2011 to $908 in 2015, a jump of $134 dollars, or 17.31 percent.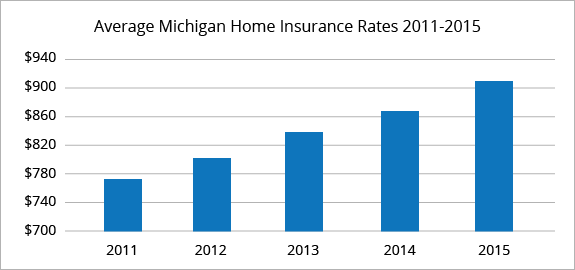 QuoteWizard helps consumers compare quotes from both national insurance companies and local agents. QuoteWizard can help you find affordable home insurance rates near Detroit, Michigan.
Last year, 1,300 people used QuoteWizard to compare compare home insurance quotes in Detroit, MI from multiple companies.
Best Home Insurance Companies in Detroit, MI
Most Popular Insurance Companies
Based on QuoteWizard users, these are the most popular homeowners insurance companies in Detroit:
Progressive
State Farm
Allstate
Liberty Mutual
Esurance
GEICO
Farmers
MetLife
Nationwide
21st Century
Best Insurance Companies
The above list shows the most popular home insurers in Detroit according to our users. But popular doesn't always mean best.
Our study on the best home insurance companies focuses on top of the line companies. In no particular order, these companies stand out among the rest:
Amica: Best Overall
MetLife: Best for Bundling
Allstate: Best for Local Agents
Hartford: Best for Seniors
State Farm: Best for Pet Owners
Travelers: Best for Flexible Policies
Nationwide: Best Replacement Coverage
Farmers: Best for Eco-Friendly Homes
Liberty Mutual: Best for Quick and Easy Quotes
Auto Owners Insurance: Best Claims Experience
Detroit Home Insurance Rate Factors
Insurers companies use a variety of factors to price your home insurance policy. Some are out of your control. But understanding the deciding factors behind the price of your policy can save you money. Below are the most common methods that decide your insurance rates:
Your home's age: Owning an older house will increase your homeowners insurance rates. Due to their age, older homes are more likely to have serious problems. That can include cracked foundations, exposed wiring, faulty plumbing, and dysfunctional appliances. According, to QuoteWizard users, the average home in Detroit was built in 1956. That's old. If your house is old, it helps if you have kept up with maintenance and repairs. That's a serious problem in Detroit, where many houses have been abandoned over the years.
Previous claims: Like with any insurance, your premium goes up when you file claims. If you are filing claims often, your insurance company may label you a high risk. High-risk individuals pay more for insurance, and it's possible for an insurer to refuse coverage for a high-risk person. Insurance companies investigate your claim history when pricing your policy. They also investigate the claim history of your house, including claims from previous owners. If your house had numerous claims before you bought it, expect to pay more for insurance.
Raise your deductibles: Many people choose lower deductibles, because in the event of a claim there are less out-of-pocket costs. However, lower deductibles lead to a higher monthly payment. If you opt for a higher deductible, you'll save more each month. However, there's a lot to consider when choosing your home insurance deductible. Though a high deductible saves you money in the short term, you may end up paying more if you need to file a claim.
Natural disasters: Insurance companies charge for houses in disaster-prone areas more. Luckily, Detroit was ranked the number 1 safest city from natural disasters. Though Detroit has to contend with cold winters an occasional snowstorm, they escape more serious weather patterns.
Coverage amounts: Settling for a basic policy that covers essentials will help you save on your monthly premium. But this leads to extra out-of-pocket costs if you need to file a claim. Your coverage amounts play an enormous role in the price of your insurance. If you own a modest home and few belongings, you won't need as much coverage as someone with collectables, large assets, and more.
Home security and crime: Of the 39,617 total crimes committed in Detroit in 2015, close to 70 percent were property crimes. The property crime rate is more than double that of the national crime rate and the rest of the state of Michigan. This severely influences your home insurance rates. In Detroit, property crimes vary considerably by neighborhood. Check your neighborhoods crime levels – especially if you're still house shopping. You can lower your premiums by making your home safer.
Credit history: People with bad credit pay more for home insurance. Insurance companies use your credit score to gauge your financial responsibility. In some cases, people with bad credit pay as much as 90 percent more for insurance compared to those with good credit. Unfortunately, the average credit score in Detroit is 565, giving the city the worst average credit score in the country. This is a dismal ranking for Detroit, and it's bad news for homeowners.
Types of Homeowners Insurance
There are many different homeowner insurance types. Listed below are the main forms of homeowners insurance policies:
HO-1: Basic insurance covering standard damages.
HO-2: Broad homeowners insurance covering everything in HO-1. This policy also covers falling objects and damages to AC units, pipes, and other household systems.
HO-3: Covers damage from all perils except those specifically excluded. Also covers unattached structures and liability.
HO-4: Belongings and liability coverage for renters.
HO-5: Comprehensive policy like HO-3 but with expanded coverage and fewer limitations for property claims.
HO-6: Covers possessions and provides liability for condo owners.
HO-7: Like HO-3, but for mobile homes.
HO-8: Designed specifically for older homes, this policy provides similar coverage as HO-3. It can be tailored to suit the unique needs of older homes.
10 Ways to Save Money on Homeowners Insurance in Detroit
There are numerous steps you can take to lower your home insurance premium:
Redo your roof: Your home's roof is the first layer of defense against inclement weather. A high-quality roof can be the only thing that stops damage from wind, hail, rainstorms or more. Because of this, insurance companies offer better rates to homes with high-quality roofs. With Detroit's tough winters, a good roof is vital.
Be a senior: Seniors get a lot of discounts, including home insurance. That's great news considering the fact close to 50% of Detroit's population is 45 and older.
Improve security: High-tech security systems can stop theft and vandalism before it happens. From alarms and remote door locks to smoke and carbon monoxide detectors, there are many security options for homeowners. Many insurance companies reward these additions with discounts. Security is especially important in Detroit, where property crime is rampant.
Don't smoke: Being a smoker increases your home insurance rates. Cigarette smokers are considerably more likely to start a house fire. Luckily, Detroit residents smoke less than most of the rest of the U. S. according to a study done by the CDC.
Shop around: Buying insurance is a pain, so it's tempting to buy the first policy that fits your needs. But if you don't shop around and compare quotes from different companies, you could be losing money. Each insurance company has their own pricing strategy and discounts, so one may offer you a better rate than others. Even if you're satisfied with your current plan, you're likely overpaying. Why? Insurers know customers don't like shopping for insurance, so they regularly raise rates assuming you won't switch to another company. That's why you need to compare quotes from several Detroit home insurance companies to start saving.
Renovate: Beyond new roofs and smart technology, certain home improvement steps can lower your premiums. Old homes are costly to repair, and many houses have long-term problems. That's why it's important to stay up-to-date with maintenance and building codes. Installing new appliances, wiring, and plumbing, for example, helps decrease your chances of needing to file a claim. With an average construction date of 1956, Detroit has plenty of old houses. If you can afford to renovate your Detroit home, do it.
Pick a good neighborhood: Certain neighborhoods have lower home insurance rates than others, as crime rates fluctuate. If you can afford it, buy a house in an area with lower crime rates. Reference this map of Detroit's crime by neighborhoods.
Avoid claims: Frequently filing claims will hurt your insurance rates. Your company may label you as high risk, and inflate your insurance rates or cancel your policy. These are long-term consequences that potentially raise your rates for years. If you can pay for repairs out-of-pocket instead of filing a claim, that may be your best option. There's a lot to consider when deciding whether to file a claim.
Raise your deductible: When your deductible goes up, your premium goes down. It's a simple equation. Depending on your personal needs, your finances, and your risk aversion, a high deductible may make sense for you. Be aware that picking a deductible is a big choice.
Bundle: Another great way to easily cut your home insurance costs is to bundle. Bundling your home and auto insurance could save you anywhere from 10 to 20 percent monthly.
QuoteWizard.com LLC has made every effort to ensure that the information on this site is correct, but we cannot guarantee that it is free of inaccuracies, errors, or omissions. All content and services provided on or through this site are provided "as is" and "as available" for use. QuoteWizard.com LLC makes no representations or warranties of any kind, express or implied, as to the operation of this site or to the information, content, materials, or products included on this site. You expressly agree that your use of this site is at your sole risk.