Compare Homeowners Insurance In Michigan
Our study found that the average cost of home insurance in Michigan is $1,096 annually, with Auto-Owners Insurance offering the cheapest annual rate of $592.
Michigan is the home of the American automotive industry, Motown, and the largest system of freshwater lakes in the country. But its long, cold winters and vulnerability to extreme weather present home insurance concerns. We reviewed the top companies so you know when you're overpaying and whether it's time to consider switching.
Average cost of homeowners insurance in Michigan
The average cost of home insurance in Michigan is $1,096 but varies significantly between companies. We've seen annual premiums range from $592 to $2,576, meaning most people in Michigan are paying between $49 and $215 dollars a month for homeowners insurance. Use these averages as a jumping off point so you know what to expect when shopping around.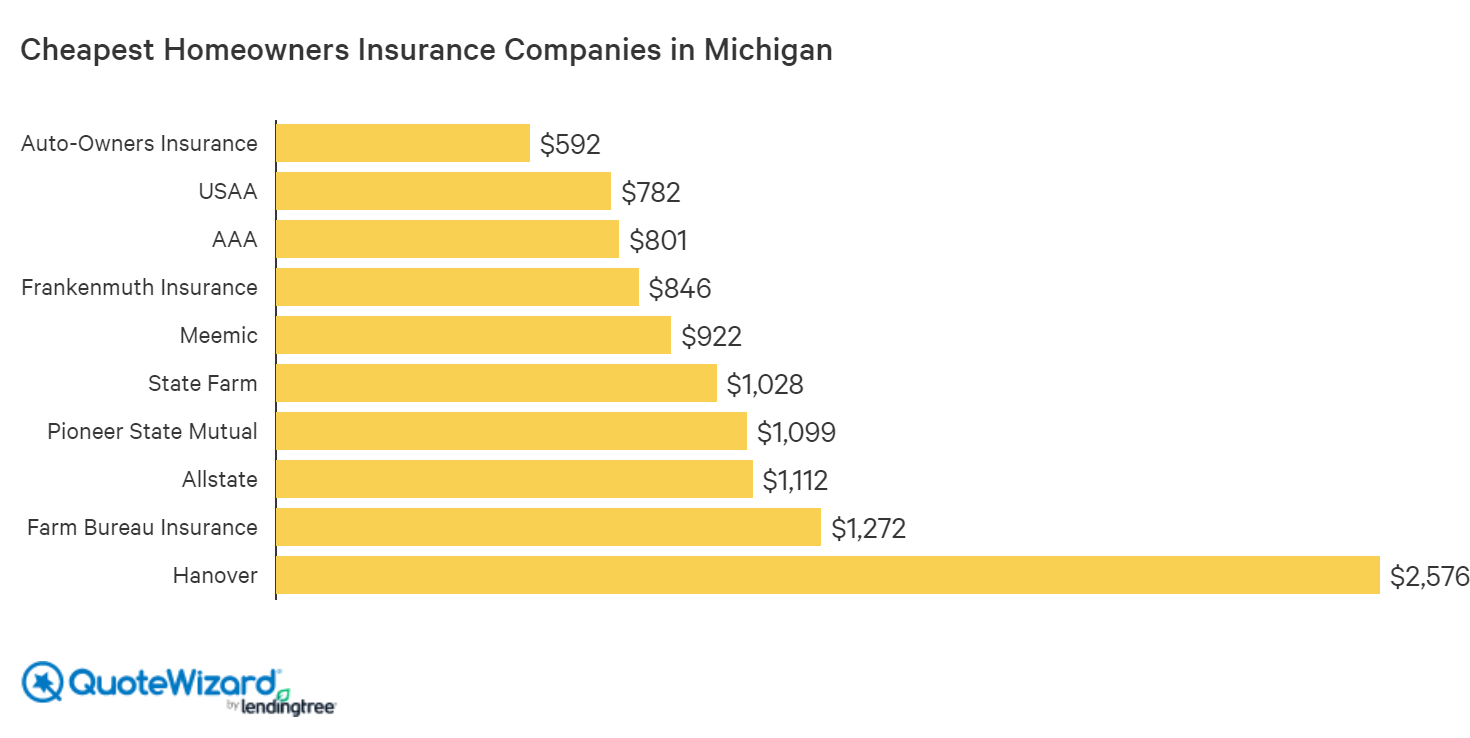 Note: Average rate increases are based on non-binding estimates provided by Quadrant Information Services. Your rates may vary.
We examined four types of security or alarm systems: burglar alarms, fire alarms, smoke alarms and deadbolts. Of those four, fire alarms made the biggest difference, resulting in 2.7% or $31 in annual savings on average. 
The best home insurance companies in Michigan
These are statewide averages, and the best insurance company for you will depend on factors such as coverage, price and claims experience. We picked out our five best companies, each for a different reason. Here are our choices:
State Farm: Best value
State Farm's fair rates, claims experience and widespread accessibility make it QuoteWizard's choice for the best value in Michigan. It is the largest provider of home insurance policies both in Michigan and the U.S. Its size means that you should be able to find an agent close to you, which is especially important if you value face-to-face interaction.
Home insurance rates from State Farm tend to be in the middle of the pack — we found that it had an average annual rate of $1,028, which is $68 dollars less than the state average. The lower price doesn't come at the expense of customer service: State Farm had a North American Insurance Commission (NAIC) complaint index of 0.2 in 2018. That means that it receives five times fewer complaints relative to its share of the market than the national average. Comparing State Farm with its top competitor in Michigan, however, it is about average.
Most insurance companies offer premium discounts for bundling policies and making your home safer, and State Farm is no different. Because State Farm offers auto, home and life insurance, as well as more niche policies for items like off-road vehicles and motorhomes, you'll have ample opportunity to bundle numerous policies.
Hanover Insurance: Best for customer satisfaction
Hanover had the fewest complaints relative to its size, making it our leading insurance choice when it comes to homeowner satisfaction. Hanover Insurance's subsidiary, Citizens Insurance, is the third largest home insurer in Michigan, writing 7.5% of all homeowners insurance policies.
However, that high customer satisfaction doesn't come cheap — we found that Hanover Insurance had an average premium of $2,576 in Michigan, over twice the state average. Still, Hanover may be worth the extra cost if service and satisfaction in home insurance are top priorities for you. If customer service and satisfaction are important to you, then Hanover is worth exploring.
Besides, the fact that Hanover's average premium is high doesn't mean your individual rates will be high. Insurance rates vary widely from customer to customer and company to company. Comparing quotes will always be your best bet for finding the sweet spot between cost, coverage and customer service.
Auto-Owners: Most affordable rates
If you're after an affordable option, then consider Auto-Owners Insurance. Our study found that they have the lowest rates in the state, offering homeowners insurance at almost half the state average.
While cheap rates sometimes indicate that an insurer is leaving out important coverages or compensating for a poor customer service experience, this isn't the case with Auto-Owners. Auto-Owners has a low complaint ratio, meaning it has relatively few complaints for its size. This is a feat considering that they are the second largest home insurer in Michigan (only beat out by State Farm), at almost 15% of the market share.
Auto-Owners lists many available discounts on its website, including run-of-the-mill discounts like bundling and making payments advance. Some of Auto-Owners' discounts we see less often, like its mortgage-free discount and backup generator discount.
Meemic Insurance: Best for teachers and educators
Meemic provides specialized insurance coverage to teachers, school employees and school employee retirees. Meemic also offers annual rates at an average $922 — that's less than the Michigan average of $1,096.
Meemic home insurance is designed to protect school employees, even when they are at work. For example, liability protection through Meemic homeowners insurance policies applies in the classroom, and there is a $0 deductible if you are injured on school property.
Meemic is the 7th largest home insurer in Michigan, despite only serving educators. Originally an acronym for Michigan Educational Employees Mutual Insurance Company, Meemic not only provides specialized coverage for school employees but also offers the advantages of a local insurer that understands Michigan's unique risk factors. 
USAA: Best for military service members and their families
USAA provides insurance to active military members, veterans and their families. It offers fair rates, with an average of $782 in Michigan — that's over $300 below the state average rate.
USAA is financially stable with an A.M. Best rating of A++ and has few complaints relative to its size according to the NAIC complaint index. USAA's customer service and financial backing make it a logical one-stop shop for qualifying members, as they offer a number of financial services, including bank accounts, auto insurance and personal loans.
Cheapest home insurance in Michigan, by city
We found that out of the five biggest cities in Michigan, Grand Rapids had the cheapest home insurance rates of $928 a year. Detroit, on the other hand, had the highest annual rate at $2,420.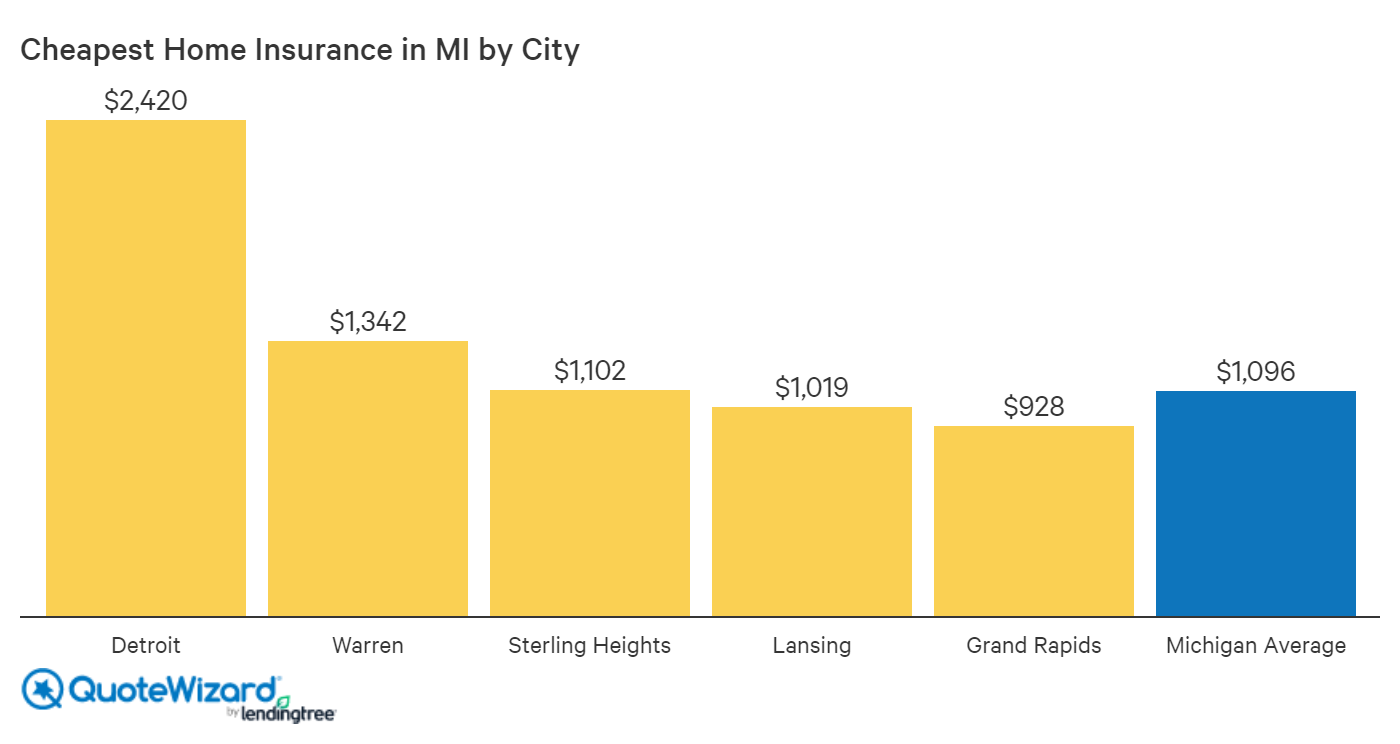 Note: Average rate increases are based on non-binding estimates provided by Quadrant Information Services. Your rates may vary.
We examined four types of security or alarm systems: burglar alarms, fire alarms, smoke alarms and deadbolts. Of those four, fire alarms made the biggest difference, resulting in 2.7% or $31 in annual savings on average. 
Biggest home insurance companies in Michigan
Here are the biggest home insurers in Michigan by number of policies written.
| Rank | Company | Financial rating | Market share |
| --- | --- | --- | --- |
| 1 | State Farm Fire & Casualty Co. | A++ | 16.37% |
| 2 | Auto-Owners Insurance Co. | A++ | 14.77% |
| 3 | Auto Club Insurance Association | A- | 9.24% |
| 4 | Hanover (Operates as Citizens Insurance) | A | 7.50% |
| 5 | Farm Bureau | A- | 5.63% |
| 6 | Allstate | A+ | 4.45% |
| 7 | Meemic | A- | 3.06% |
| 8 | Frankenmuth Mutual | A | 2.75% |
Methodology
We collected quotes for every city, county and ZIP code in Michigan for the 15 largest insurers in the state. The sample house we used was built in 1965 and has a market value of $153,000 — the current median home price in Michigan.
QuoteWizard.com LLC has made every effort to ensure that the information on this site is correct, but we cannot guarantee that it is free of inaccuracies, errors, or omissions. All content and services provided on or through this site are provided "as is" and "as available" for use. QuoteWizard.com LLC makes no representations or warranties of any kind, express or implied, as to the operation of this site or to the information, content, materials, or products included on this site. You expressly agree that your use of this site is at your sole risk.