The Best Home Appliance Insurance
Finding the best home appliance insurance depends on what you need in a policy and in a provider. This article can help.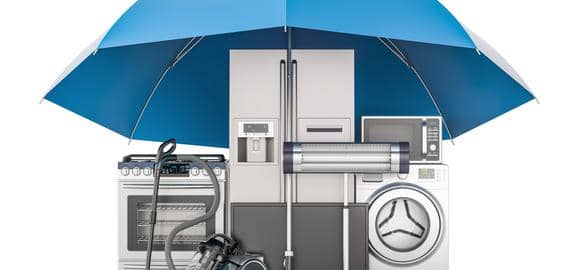 Home appliance insurance, sometimes known as a home warranty, covers appliances in your home damaged by wear and tear. Appliances often include refrigerators, ovens, dishwashers and more. Home appliance insurance may provide an excellent value, as homeowners insurance usually excludes wear and tear.It can be especially useful if you have older appliances in your home.
Finding a home appliance insurance company with a policy that best covers your needs requires some comparison shopping. You'll want to know the pros and cons of the providers out there. Also, take some time to review the coverage options of the various home appliance insurance plans they offer.
This article will cover:
What does home appliance insurance do?
Home appliance insurance provides coverage for the appliances in your home. But home appliance insurance differs from homeowners insurance, which usually only covers events involving sudden or accidental damage. If your washer or dryer were to break down due to old age, odds are your homeowners insurance wouldn't cover the claim. That's what home appliance insurance covers. These plans can vary in coverage, but they usually cover:
Refrigerators
Ovens, ranges and stovetops
Dishwashers
Microwaves
Best home appliance insurance companies
When looking for a home appliance insurance provider, you'll want to find the best combination of coverage and price. Following are some of the more popular home appliance insurance companies that you can review:
America's 1st Choice Home Club
America's 1st Choice Home Club provides appliance coverage in all states except Alabama, Hawaii and South Carolina. They have a Silver plan that is strictly for home appliances and covers:
Washers and dryers
Dishwashers
Refrigerators
Ovens, ranges and cooktops
Garbage disposals
Garage door openers
One of the major distinctions of America's 1st Choice compared with other equipment-breakdown coverage providers is contractors. AFC allows you to pre-approve contractors, so you can use your own technician when making a claim. The large majority of other providers only use their own network of contractors.
The Silver plan costs $450 a year and has a $75 service fee charge. The only major disadvantage of America's 1st Choice is if you live in a state that it doesn't service.
American Home Shield
Founded in 1971, American Home Shield is one of the largest home service contract providers in the country. Operating in all 50 states, AHS stands out from most other home appliance insurance companies because their plans also cover issues that other providers may not, such as:
Insufficient maintenance
Rust
Corrosion
Unknown pre-existing conditions
American Home Shield has an appliance-only policy with rates around $70 a month. Whenever a contractor follows up on your claim, you'll pay them a service fee. AHS has three service fee options: $75, $100 and $125. The higher the service fee tier you choose, the lower your premium may be.
When looking at an AHS policy, it's important to read the fine print. AHS has conditions in its policies that you should be aware of. If an AHS contractor cannot repair a covered appliance, it will be replaced. However AHS may replace the appliance with a model with similar features, but not of similar quality. This means your replacement dishwasher could have all the bells and whistles of your damaged one, but be less expensive and of lower quality.
Furthermore, in the event that circumstances prevent AHS from replacing the appliance, they may pay you out in cash. As this cash payout would probably be figured at actual cash value, it may or may not provide for an equal quality replacement. If your oven, for example, is 60% of the way through its life cycle and deemed irreplaceable by AHS, you could receive a payout of only 40% of what the oven cost.
First American Home Warranty
First American Home Warranty's Basic Plan covering the essential appliances in your home starts at $28 a month. Variables in premium price can include how large your home is and where it is located. First American Home Warranty's service fee is $60, which is lower than most competitors. Their Basic Plan includes:
Washers and dryers
Refrigerators
Dishwashers
Oven ranges and cooktops
Microwaves
Garbage disposals
Trash compactors
First American Home Warranty has a $3,500 spending limit for repairs or replacements per appliance covered, which is higher than many competitors. This could be a positive if you have high-end appliances.
How to find your best home appliance insurance company
When comparing home appliance insurance policies, there are a few key factors to look at that can help you whittle down your provider options to those that suit your needs the best:
Coverage
While many of these plans may look similar side by side, pay attention if they cover high-ticket items such as refrigerators, washers or dryers. Some home appliance insurers may provide an inexpensive basic insurance plan by excluding these items. This is fine if these particular appliances are newer or still under their manufacturer's warranties, but you'll otherwise likely want a policy that includes them.
A key point in finding your best home warranty is knowing how old your appliances are and which ones are most at risk for a breakdown. The status of the appliances in your home is the best reflection of the coverage you need, and finding a policy based on necessity. If your refrigerator is only a couple of years old, finding a home appliance insurance plan that can leave it out until later down the line may be in your best financial interests.
Cost
The average cost of a home appliance insurance policy tends to be between $300 and $600 annually. The majority of providers offer monthly payments, but this isn't the only cost point to look at. The average service fee for a visit on a home appliance insurance claim is usually between $50 and $100. The higher your service fee, the less your premium will likely be.
Limits
You should know what a home appliance insurer's maximum payout is on a particular appliance for repair or replacement. This can vary by provider and plan. Many home appliance insurance companies have a maximum limit of $2,000 per appliance covered. You probably won't want to go lower than that, especially if you have older high-end appliances.
Repair/replacement policy
The majority of home appliance insurance companies will replace a covered item if it cannot be repaired. However, be aware of what conditions a provider considers an item to be in need of replacement. You'll want to know the criteria under which your broken appliance will be replaced, instead of just being repaired over and over again.
Another issue is if a particular home appliance insurer offers a cash payout in lieu of paying for a replacement themselves. This payout is often at actual cash value, resulting in you receiving a much lower payout than what you would need to replace a particular appliance with a similar-quality item.
This means that if your damaged refrigerator is halfway through its life expectancy, don't be surprised if you only receive 50% of what you paid for the refrigerator. Home warranty companies usually are able to get replacement appliances at a significant markdown. Their dollar can get a lot more than the average homeowner's can.
Customer satisfaction
While not tied to a particular cost factor, how well the home appliance insurer takes care of its policyholders' claims might be one of the most important factors in your decision. How quickly can they get a contractor out to handle a claim? How quickly can they resolve the claim? How happy in general are other policyholders with the insurer?
Take some time to read reviews online that policyholders of a particular home appliance insurer have posted. Also use word of mouth to find out where different providers stand. Ask your friends, family, coworkers and neighbors who they use for home appliance insurance and how happy they are with them.
If you can't find a home warranty provider
If you have a problem finding a good home appliance insurance company, contact the National Home Service Contract Association (NHSCA). NHSCA is a nonprofit organization whose purpose is to educate homeowners about home appliance insurance providers and help them find a home appliance insurer and other forms of home service coverage.
QuoteWizard.com LLC has made every effort to ensure that the information on this site is correct, but we cannot guarantee that it is free of inaccuracies, errors, or omissions. All content and services provided on or through this site are provided "as is" and "as available" for use. QuoteWizard.com LLC makes no representations or warranties of any kind, express or implied, as to the operation of this site or to the information, content, materials, or products included on this site. You expressly agree that your use of this site is at your sole risk.