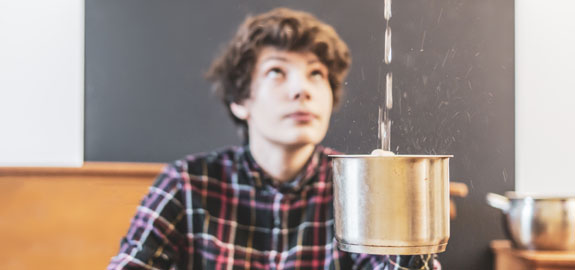 Standard homeowners insurance covers roof leaks in many cases, but there are instances when your roof isn't covered.  Home insurance coverage for your roof leak primarily depends on the cause of your leak and the state of your roof before the leak happened. This article will go over:
Are Roof Leaks Covered by Homeowners Insurance?
A roof leak in your house is one of the common perils usually covered under the dwelling protection portion of your home insurance coverage. If damage from a windstorm, heavy snow, lightning, or a fallen tree branch happens to your roof and results in water damage,your home insurance usually covers it for repair or replacement as needed.  
When Are Roof Leaks Not Covered?
While the standard home insurance coverage provided for a roof leak Is expansive, there are some exclusions you will want to be aware of:
Normal wear and tear on a roof that can occur over time is not covered under home insurance. If the leaking in your house occurs due to a loose shingle that has been slowly becoming larger, it will not be covered.
If your roof is past its prime and a leak occurs, your home insurer will probably deny any claims for it. Once a roof is beyond 10 years old, your home insurance provider is much more likely to deny a claim on it. This is because the chances of the leak occurring due to old age instead of a covered peril are more likely. Roofs over 20 years of age will probably be excluded outright.
Improper maintenance on the roof is also not covered by home insurance. If the insurer's adjuster finds that the damage to the roof was caused by you not taking care of it properly, fixing the roof will come out of your pocket.
Specific types of roof material are often not covered under your homeowners insurance. The reasons for exclusion range from the cost of the materials to their risk for damage. The most often excluded roof types are:

Wood shake
Slate
Recycled shingles
Metal

Rot, mold, and animal damage as causes of a roof leak are not covered. They indicate a problem that occurred over long periods of time, not immediate perils.
Damage to your roof due to flood, hurricane, or earthquake is not covered under a standard home insurance policy. If a leak occurs due to a hurricane, it is excluded from the regular wind peril coverage in your home insurance. Coverage for these three peril types may be gained through separate insurance policies.
Roof Insurance Deductibles
Regarding insurance coverage for roofs, there are three types of deductibles that can come into play:
The standard homeowners insurance deductible for all covered perils in your policy.
Your home insurance policy's specific wind and hail deductible. This deductible is often higher than the policy's standard deductible. It can only apply to wind/hail damage claims. This deductible is normally applies only to home insurance in Midwest, East, or Gulf Coast states with frequent wind or hail damage. Check your homeowners insurance policy to see how the deductible applies to you.
If you have a home along the East or Gulf Coast, chances are you're required to have hurricane coverage with its own deductible. Check your hurricane coverage declarations page for details.
Fortunately, you'll only have to pay one of these deductibles. On the downside, depending on how your home insurer pays out roof claims, this can reduce the size of your claim settlement a lot. Your home insurance provider will pay out your settlement based either on your roof's replacement cost or its actual cash value.
If you're paid out based on the roof's replacement cost, you will receive a settlement based on what materials and man-hours are required to fix the roof. If your home insurance policy pays the roof's actual cash value, you will be paid out equal to the depreciated value of the roof.
This means your roof claim settlement is based on the max amount you can be paid, not how much you'll actually receive. You can see how adding your deductible costs to an ACV claim on a roof can whittle your settlement down a lot.
How to File a Roof Leak Claim
If you have to file a home insurance claim for a roof leak, it can be one more stressful process along with all the other issues you're taking care of because of the roof. Taking a step-by-step approach can ease your mind in this trying time:
The first step in filing a claim for your leaking roof damage is deciding if you should. Any home insurance claim you make is going to result in an increase in your premium. If you have a $1,500 deductible and the damages to your roof are $2,000, calculate if the hike in your premium after you file the claim is going to be worth it. If it is within your means, it may be a good idea to pay out of pocket.
 
Furthermore, you will see your home insurance payments go up. Unless the damages to your roof far surpass your deductible, making the claim may not be financially worth it.
If you do decide to go forward with the roof claim, document every step of the cleanup. Your home insurance provider will need these to assess your claim. Take photographs of the damage. Also keep any receipts for work you have done to prevent further damage in order to get compensated for it.
Take any steps you need to keep more damage from occurring. If at all possible, find the source of the roof leak. Check your attic first. Get a bucket underneath the leak to catch water. Do not put the bucket right on the ceiling tile or drywall, as the bucket can fall through when it's heavy enough. Put a piece of wood across the ceiling joists and place the bucket on top of that. Check the bucket frequently to see if it needs to be emptied. Any other work to keep the leak from doing more damage is not going to be much good until you do this.
To mitigate damage already done, remove belongings to an area of the house untouched by the leak. Roll up damaged rugs or carpets and move them away from water as well. Do not throw anything away until an adjuster can look at it. Open windows if possible.
Mop or shop vac whatever standing water you can find. Use fans to help dry out the area.
Contact a licensed contractor ASAP to come give an estimate on the leak repair. Your home insurer will need this in order to fulfill your claim.
Contact your insurer to start the roof claim process. Let them know the steps you have taken thus far. They will then send out an adjuster to assess the leak. Be sure to be on hand when the adjuster comes. This way you can point out all the damage points as well as answer their questions. If your roof damage is covered by your policy, your home insurance provider will pay to fix the roof, or have it replaced as needed.
If Your Home Insurance Company Denies Your Roof Leak Claim
If the claim on your roof leak is denied, there are still steps you can take to see if your home insurance provider will reconsider:
Collect all documentation of the leak, repair, and claim process for reference.
Read your claim denial letter again closely. If the printed reason for the denial does not relate to the roof's damage, refer to it in a letter to your home insurance company.
It's possible that the reason for the claim denial was due to a miscommunication. If your claim denial letter gives an indication that this happened, note the error in your letter. Only focus on the parts of the denial that are in error.
It's a good idea to also hire a public claim adjuster. A public adjuster is an excellent resource in the event of a home insurance claim denial. The main job of a public adjuster is to advocate for you to your home insurance provider for the best claim possible. They can also help you with all the claim-related paper work.
If you feel like you've hit a wall with your claim denial, a lawyer specializing in insurance claim disputes is always an option. However, if your insurance denial is based around the extent or value of the property damage involved, a public adjuster should be enough.
QuoteWizard.com LLC has made every effort to ensure that the information on this site is correct, but we cannot guarantee that it is free of inaccuracies, errors, or omissions. All content and services provided on or through this site are provided "as is" and "as available" for use. QuoteWizard.com LLC makes no representations or warranties of any kind, express or implied, as to the operation of this site or to the information, content, materials, or products included on this site. You expressly agree that your use of this site is at your sole risk.