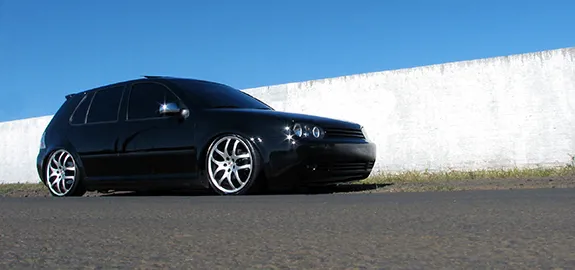 Both modifying a car and buying insurance that covers a modified car can be expensive.
Not only that, but sometimes just finding car insurance that covers a modded or customized vehicle can be tough.
Why "can be"? Because most insurance companies consider any non-standard changes made to a vehicle to be modifications. That definition covers a lot of car mods—from custom paint jobs to chrome rims to turbochargers and more. Technically, even phone mounts count as car modifications.
Standard auto insurance policies rarely cover mods. For that, you often need to get special or supplemental coverage.
You'll learn more about the above in this article, plus you'll find answers to these questions:
What kind of insurance covers modified cars?
If you want car insurance that covers modifications, you'll probably need to buy a classic or collector policy or add an endorsement or rider to a standard policy.
Standard insurance policies usually only cover a car's factory-installed equipment or parts.
Thankfully, many car insurance companies now sell supplemental coverage—in the form of riders or endorsements—that cover so-called aftermarket components.
Esurance, for example, offers customized parts and equipment coverage to its policyholders. It will pay up to $4,000 if any of the following mods are damaged, destroyed or stolen:
Radios and stereos
Scanners
Navigation systems or satnavs
TVs and video entertainment systems
Custom paintings, murals, decals or other graphics
Custom grilles, louvers, side pipes or spoilers
Custom wheels, tires or spinners
Special carpeting or insulation
Height-extending roofs
Anti-roll or anti-sway bars
Winches
Body, engine, exhaust or suspension enhancers
If $4,000 isn't enough to cover the modifications you've made to your vehicle, don't despair. Contact companies that specialize in covering collector or classic autos. Many cover modified cars, too.
Keep in mind, though, that most classic and collector car insurance policies come with restrictions. Some don't let you drive your modified vehicle daily. Or they require you to keep it in a locked garage.
Something else you might have to deal with in this situation is an agreed value provision. It ensures you'll be reimbursed for an amount both you and your insurance company have agreed to if the vehicle is destroyed or stolen.
You'll probably only want to go this route if you've put a lot of money into your modified car, though. Agreed value car insurance policies often carry high premiums.
Do car modifications affect insurance rates?
You'll almost always pay a higher insurance rate for a modified car than you'd pay for a car that hasn't been customized in any way.
The main reason for that is insurance companies believe people who customize their vehicles are more likely to file a claim.
Why? For starters, certain modifications—like those that alter a vehicle's performance or looks—increase a driver's accident risk in the eyes of most insurers. Also, thieves and vandals tend to find modded cars more attractive than conventional ones.
Are there any car modifications that don't affect insurance rates?
Not all car mods will raise your insurance rate. In fact, some car mods will lower your insurance rate.
In general, the vehicle modifications that can save you money are ones that increase safety, security or both. Here are a few common examples:
Accident sensors
Airbags (if your car didn't come with them, or enough of them)
Anti-lock brakes
Anti-theft devices, such as alarms or tracking systems
Daytime running lamps or lights
Rearview cameras
Before you decide to add any of this equipment to your car, though, contact your insurance company. Make sure it'll actually cause your rate to go down or result in some other kind of discount.
On a related note, don't assume a particular mod or part will lower your car insurance premiums. Navigation systems and phone kits often result in the opposite because they're popular with thieves.
How much does modified car insurance cost?
Unfortunately, it's impossible to say just how much you'll pay to insure a modded vehicle. A number of factors determine the cost of modified car insurance coverage, including:
The specific modifications you make to your car
How much those mods cost or are worth
How much those mods raise your accident or theft risk
Where you buy your policy or supplemental coverage
And then there are other premium rate factors that play a role, too, like your age and where you live.
What are the best insurance companies for modified cars?
You have a lot of options whether you're looking to insure your modified vehicle with supplemental coverage or specialty coverage.
If you're looking to add a rider or endorsement to a standard auto insurance policy, ask the company that sold it to you if they offer such coverage.
And if they don't? Shop around. Most of the biggest and best car insurance companies cover modifications in some way or another.
If you're looking to buy classic or collector car insurance for your modified vehicle, start by contacting and getting a quote from one of the following:
American Modern
Condon Skelly
Grundy
Hagerty
Infinity
C. Taylor
Don't feel like you have to stick with specialty insurers, though. Companies like GEICO, State Farm and USAA also offer collector policies that should cover your customized car.
Do I need to tell my insurance company about modifications I make to my car?
Yes, you must tell your insurance provider about any and all modifications you make to your car.
If you don't, your insurer won't cover your car mods if they're damaged or stolen. Even worse, they may invalidate or cancel your policy for withholding such important information.
Don't just make this a one-time thing, either. Let your insurance company know whenever you customize or modify your vehicle.
Not only will it keep you in their good graces, but it'll also ensure any claims you file with them in the future will go as smoothly as possible.
What is a modified car?
Most insurance companies consider anything added to your car after it leaves the lot to be a customization or modification.
Here are some of the most common car modifications:
Accent or auxiliary lights
Anti-roll or anti-sway bars
Custom paint jobs
Custom rims, spoilers or grilles
Phone mounts
Lift kits
Stereo systems or subwoofers
Turbo boosters or turbochargers
Insurers consider additions and changes that help people with disabilities to be modifications, too. And they often charge higher premiums for them just like they charge higher premiums for the mods listed above.
References:
QuoteWizard.com LLC has made every effort to ensure that the information on this site is correct, but we cannot guarantee that it is free of inaccuracies, errors, or omissions. All content and services provided on or through this site are provided "as is" and "as available" for use. QuoteWizard.com LLC makes no representations or warranties of any kind, express or implied, as to the operation of this site or to the information, content, materials, or products included on this site. You expressly agree that your use of this site is at your sole risk.