Good Driver Discount for Car Insurance
Do you have a clean driving record? If so, see if your car insurance company gives discounts for good or safe driving. It could save you hundreds of dollars a year. Here's how to get one.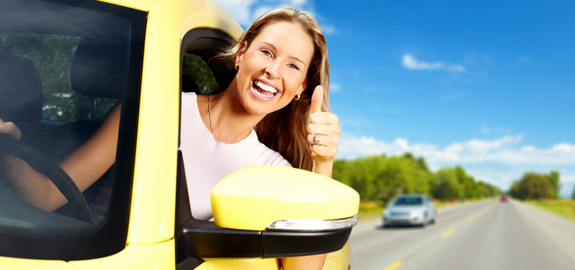 If you're looking to save money on car insurance, you don't have to look very far if your insurer offers discounts for good or safe driving.
After all, those "good driver" discounts save people hundreds of dollars each year. Also, most auto insurers offer them.
One common type focuses on accidents. As in, if you don't get into an accident for, say, three to five years, you receive a lower rate or some other rebate.
A second type of good or safe driver discount focuses on major moving violations. In other words, it's often tied to traffic offenses like speeding, running red lights, or drunk driving. Steer clear of them for a set number of years and, again, your insurance company may reward you.
Good Driver Discounts Offered by Top Car Insurance Companies
You just read that most insurers offer one or more discounts to policyholders with clear driving records.
Well, "most" becomes "all" while talking about the biggest companies in the business.
Here are the good driver discounts the top 10 car insurance providers offer to customers.
Allstate
Allstate's main vehicle for rewarding safe drivers is its aptly named Safe Driving Bonus program.
Customers who sign up receive a check for every six months they go without an accident.
They also take $100 off their collision deductible for every full year drivers are accident-free, up to a maximum of $500.
American Family
American Family rewards customers' safe driving habits through its "Good Driving Discount."
Policyholders who go at least five years without any accidents, other traffic violations, or claims can see their premiums reduced by 5 to 10 percent.
Unfortunately, this discount isn't offered in every state. To find out if it's available where you live, contact American Family.
Farmers Insurance
Farmers' key offering in this area is called the "Safe Driver Discount." It's available to any driver with a clean driving record.
What do you have to do to qualify for this discount? It's pretty simple – avoid traffic violations and accidents. However, Farmers says this discount is only available in certain states.
GEICO
GEICO offers two discounts to customers based on their driving history and habits.
One is its "Good Driver" discount. To qualify, you need to stay accident-free for at least five years. GEICO states that the "Good Driver" discount can cut premiums by up to 26 percent.
Geico also offers policyholders a "Seat Belt Use" discount. It can shave as much as 15 percent off the medical payments or personal injury protection portion of their premiums.
Liberty Mutual
Unlike the other top insurance companies discussed in this article, Liberty Mutual only gives discounts to good drivers who are members of its RightTrack program.
This program uses both a telematics device and a phone app to track participants' driving habits. It monitors driving behaviors like braking, acceleration, nighttime driving, and mileage driven.
How do you benefit from that real-time observation? You save up to 30 percent on your premium. Even better: the discount stays with you for the life of your policy.
Nationwide
Nationwide's good driving discounts include a "Safe Driver" discount and an "Accident Free" discount.
To nab the safe driver discount, you have to steer clear of at-fault accidents and major moving violations for five years or more. In return, Nationwide reduces your rate by up to 10 percent.
As for the company's "Accident Free" discount, you just need to maintain a crash-free driving record to earn it.
Progressive
Progressive offers a safe driver discount, too. To qualify, your record needs to be free of accidents and traffic violations for three or more years.
Your reward for those good driving habits: a discount of up to 31 percent.
State Farm
State Farm makes a slew of discounts available to people who are safe drivers.
The easiest to qualify for is the "Accident-Free Discount." All you have to do is avoid "chargeable" accidents for three straight years to cut your premium payment by as much as 15 percent. Keep your accident-free streak going longer than that, and you save even more.
To earn another of this insurance company's rebates (of up to 20 percent), the "Good Driving Discount," you need to go three years without accidents or other moving violations.
Drivers under the age of 25 are eligible for another State Farm good driver rebate. Called "Steer Clear," it rewards customers who go three years without at-fault accidents or moving violations with a discount of up to 15 percent.
Travelers
To receive Travelers' "Safe Driver Discount," you need to keep accidents, traffic violations, and "major comprehensive claims" off your driving record for three years or more.
Do that, and you could save up to 10 percent on your policy. Do it for over five years, and your discount could be as much as 23 percent.
USAA
Are you a USAA member? And do you have an enviable driving record? If so, you might be eligible for their "Safe Driver" discount. It's also known as their Premier Driver Discount.
To earn it, you must "maintain a good driving record for more than five years." Once you earn it, it's yours to keep unless your driving record gets a blemish. Unfortunately, this discount is not available in Hawaii.
How to Keep Your Good Driver Discount
Getting a good driver discount is just half the battle.
The other half? Keeping it.
You can accomplish that by doing the following as much as possible:
Drive less
Admittedly, this is easier said than done. The more you're behind the wheel, though, the more likely you are to crash, get caught speeding, or receive a ticket for some other traffic infraction. And any one of those incidents is enough to make your safe driver discount go kaput.
So, if you can cut back a bit on driving, do it. Plus, many insurers offer low mileage discounts.
Take it easy on your gas and brake pedals
Follow this advice and you'll be less likely to speed or crash. Which means you'll be more likely to hang on to your good driver discount. Any insurer that offers telematic discounts often primarily monitors acceleration and braking.
Keep distractions to a minimum
This means don't use your phone while driving, of course. But it also means don't unwrap or eat food while driving. And don't try to pick up objects that fall off the dash or seat and onto the floor. No matter what's causing it, distracted driving is extremely dangerous.
Avoid these activities as much as you can, too:
adjusting the radio
looking at directions
talking with passengers
Sign up for a defensive driving course
Not only will it make you a better, safer driver, but it might make you eligible for another discount. (Which you'll learn about in the next section.)
Get accident forgiveness coverage
This policy add-on can keep your rates from going up if you're involved in an accident. And it can keep you from losing your safe driver discount in that situation, too.
Something to keep in mind before you agree to this kind of coverage: sometimes you buy it (such as with Nationwide's product) and sometimes you earn it (an option for Geico policyholders).
To learn more about this add-on, read our article, "What Is Accident Forgiveness and Is It worth It?"
Other Discounts for Good Drivers
The "safe driver" and "accident free" discounts detailed above are the main ones offered by car insurance companies today.
Many auto insurers offer good drivers a few other discounts, too.
Defensive Driving Discounts
For example, some companies give customers discounts up to 10 percent for taking a defensive driving course. Many of these courses can be completed online, and if you take an approved course, you'll automatically qualify for the discount.
Note: you may need to be over a certain age to earn this discount. American Family, Farmers, and Nationwide only offer theirs to drivers who are at least 55.
Also, your insurer might want to approve your choice of defensive driving classes.
Curious to learn more about these courses? Check out this article of ours: "The Cost Benefit of Defensive Driving Courses."
Driver Training Discounts
Several insurers – including State Farm and USAA – offer this type of discount as well.
You usually need to be 21 or younger to qualify. And you need to complete an approved driver education or training course, too.
The savings you receive as a result of that hard work – up to 8 percent in Travelers' case – should be well worth it. 
Usage-Based Discounts
Some companies give discounts to those who join their telematics – or usage-based insurance programs. A handful of examples:
Allstate's Drivewise program is another. It tracks your driving habits through a mobile app and rewards you with cash back – of up to 15 percent – for good ones, like limiting late-night trips or hard breaks.
QuoteWizard.com LLC has made every effort to ensure that the information on this site is correct, but we cannot guarantee that it is free of inaccuracies, errors, or omissions. All content and services provided on or through this site are provided "as is" and "as available" for use. QuoteWizard.com LLC makes no representations or warranties of any kind, express or implied, as to the operation of this site or to the information, content, materials, or products included on this site. You expressly agree that your use of this site is at your sole risk.