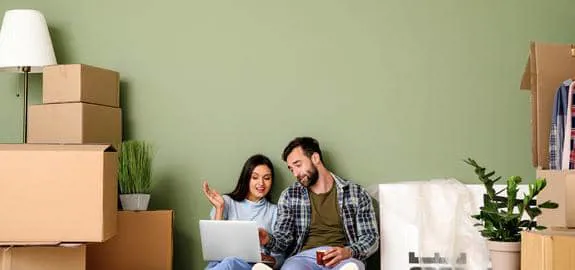 Renters insurance can cover damage from specific perils during a move. These include theft of your belongings, as well as damage from vandalism and fire. However, renters insurance may not cover damages caused by movers, as that is the moving company's responsibility. Licensed moving companies usually offer coverage for damage while they have your stuff, but it can be limited in its protection. Third-party moving insurance is also available to supplement the coverage your moving company provides.
This article will cover:
What does renters insurance cover while I'm moving?
Your renters insurance covers your personal property against your policy's listed perils while in the hands of your moving company. This means that if your belongings are stolen, or if the moving truck is stolen, your renters insurance will cover the stolen items up to your policy coverage limit. However, renters insurance companies usually have a limit on personal property coverage for belongings stored away from the covered rental home. That includes while moving. This limit is usually 10% of your policy's personal property coverage limit.
You may need to move because you need to relocate while your rental home is being repaired due to a covered peril. In cases such as this, the additional living expenses portion of your renters insurance will cover the moving costs to your new temporary home while your rental home is fixed.
Damage or destruction of your stuff due to vandalism, water damage and natural perils such as fire are also covered by your renters insurance.
Renters insurance exclusions while moving
Common renters insurance exclusions apply to moves. Damage caused by your movers is normally not covered. Neither is damage or theft caused by your own negligence, such as if you improperly packed your belongings or if you failed to lock the moving truck you're driving.
Unless you're moving to relocate while your rental home is repaired due to a peril covered by your renters insurance policy, the cost of your move is not covered either.
Coverage provided by your moving company
If you use a licensed, professional moving service, they're liable for damage to your belongings from the time they start packing it up to move to when they drop it off at your new home. As such, they're required by law to offer you coverage for your belongings in their hands. How much compensation you'll get if your stuff is damaged while the movers have it depends on the level of coverage you get.
Most licensed moving companies offer two levels of coverage, released value protection and full value protection:
Released value protection
This is usually the free coverage option offered by moving companies. On one hand, it's free. On the other hand, you may get what you pay for.
Released value coverage is much less comprehensive than full value coverage. It normally offers you around 60 cents per pound, per item moved. This means that if your 200-pound couch that cost you $700 is destroyed, you'll probably only get about $120 in payout. If your three-pound, $1,100 laptop is broken by movers, you'll get $1.80 in coverage.
Full value protection
This is the much better option of the two. Full value protection pays for the repairs of broken items, pays full replacement cost for destroyed belongings or offers cash payout equal to the item's current market value.
Full value protection will probably have some exclusions, listed in the coverage policy.
Any item worth $100 a pound or more (belongings such as jewelry, antiques and art collections, for example) are usually excluded as well. If you are moving a large amount of high-value items, look into a moving company that specializes in moving such belongings. They quite often offer different full value protection agreements, with higher claim limits per item.
You will notice that both the released value and full value protection options are termed "coverage" instead of "insurance". This is because neither plan is considered insurance, nor are they regulated by state insurance laws. As such, you should be very careful to go with a reputable, licensed company when choosing a mover.
Finding and buying third-party moving insurance
If you can't afford a moving company's full value protection, see about getting third-party moving insurance to complement the mover's provided released value protection. Third-party moving insurance covers reimbursement past the limits of released value coverage. For example, if you only receive $120 for the $700 couch referenced above, your third-party insurance would pay out the remaining $580 if it's within the policy's limits. Third-party moving insurance is also a good value in that it's regulated by state insurance law.
How much is third-party moving insurance?
A third-party moving insurance policy normally costs somewhere between 1% and 5% of the declared value of your stuff being moved. Factors that can affect the cost of a third-party policy include:
The amount of coverage you need.
Your deductible.
The types of belongings being moved.
The distance of the move.
In closing
Renters insurance does provide coverage if you're in the process of moving. However, the limits of coverage renters insurance while your belongings are in transit are fairly low. In order to ensure you can have adequate coverage for your personal property while moving, consider purchasing full value protection from your moving company, as well as third-party moving insurance if the value of your stuff is more than the limits of the mover's insurance.
QuoteWizard.com LLC has made every effort to ensure that the information on this site is correct, but we cannot guarantee that it is free of inaccuracies, errors, or omissions. All content and services provided on or through this site are provided "as is" and "as available" for use. QuoteWizard.com LLC makes no representations or warranties of any kind, express or implied, as to the operation of this site or to the information, content, materials, or products included on this site. You expressly agree that your use of this site is at your sole risk.