What is Hurricane Insurance Coverage?
Hurricane insurance coverage doesn't exist as a single insurance policy. There are, however, different insurance types that work together to provide coverage from hurricanes.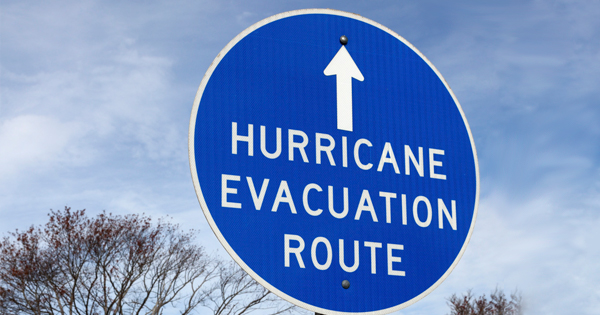 Hurricane insurance does not exist as a specific insurance policy. You can, however, get a combination of home insurance, flood insurance, and, in some regions, windstorm insurance to protect your home from hurricanes. This article touches on:
Does Insurance Cover Hurricanes?
There is no singular insurance policy type that covers a house in the event of a hurricane. There are many ways a house can get damaged from a hurricane. Damage to the house's exterior structure, internal water damage, and ruined belongings are all examples of what can happen during a hurricane.
As such, it's difficult to create one hurricane insurance policy that covers the various types of damage. But homeowners, flood, and windstorm insurance can all work together to offer great coverage against hurricanes.
Does Homeowners Insurance Cover Hurricane Damage?
If a hurricane rips the siding off your home or blows off the roof's shingles, a basic home insurance policy should cover the damages. Water damage from a hurricane usually isn't covered by home insurance. However, if a hurricane tears a hole your roof and water gets inside, the water damage is due to the hole, not the hurricane. The resulting damage is normally covered by homeowners insurance.
Some areas have a steady trend of hurricanes, such as Florida. Wind damage is often excluded from home insurance policies in cases like this. Be sure to check the declarations page of your homeowners insurance policy to see if wind damage is covered.
Hurricane Insurance vs. Flood Insurance
Yes, flood insurance can cover flood and water damage after a hurricane. Flood insurance covers storm surges and rising water, two common types of water damage caused by hurricanes. Flood insurance is not the same as home insurance.
Every state on the East Coast has laws on the books that require homeowners to carry flood insurance. This is because storm surges often occur during hurricanes, causing significant water damage to a home. FEMA defines floods as the "general and temporary condition where two or more acres of normally dry land or two or more properties are inundated by water." If the water damage isn't from an external source or a natural disaster, it's a matter for homeowners insurance.
To cover against flood damage resulting from a hurricane, the National Flood Insurance Program (NFIP) has two separate policies available. One is for dwelling coverage against flood damage and one is for content coverage against flood damage:
A flood insurance policy for dwellings provides up to $250,000 protection for the physical structure of the house after a flood. This includes the structure of the home, its foundation, HVAC equipment, and electrical or plumbing systems.
Flood insurance for content coverage provides protection for up to $100,000 worth of your belongings. This coverage includes clothing, furniture, electronics, and dishwashers.
NFIP coverage is available through most insurance companies that sell flood insurance. If you cannot find a flood insurance provider, contact the NFIP Referral Call Center. Flood insurance normally has a 30-day wait period between the policy purchase date and the start of coverage. This means you can't buy flood insurance if a hurricane is supposed to happen in the next couple of days.
Does Windstorm Insurance Cover Hurricane Damage?
Yes, windstorm insurance covers hurricane damage.
Wind insurance is sold as a home insurance add-on in states with a high risk of hurricanes and wind. Windstorm insurance differs from standard homeowners insurance's wind peril coverage. It covers the physical damage from hurricane-force winds to property and personal possessions in the home. Some windstorm insurance policies offer extra coverage for detached structures like garages and sheds.
The need for windstorm insurance varies from state to state. For example, Florida requires home insurance providers to offer windstorm coverage with residential homeowners policies due to hurricanes frequency. Texas has no requirements for windstorm insurance. However, Texas mortgage companies may require mortgage holders to get windstorm insurance coverage. This is primarily to protect the mortgage company's investment from a hurricane.
Hurricane Insurance Cost and Deductible
Since hurricane insurance is a combination of other insurance policies, it's hard to say how much it'll cost. It also really depends on the weather risks where you live. But here's a baseline yearly cost for the two policies that make up hurricane insurance:
Homeowners insurance: $1083.00
Flood insurance: $540
After this, however, your cost can vary a lot. If you live in a region that has a mandatory hurricane deductible, you'll pay more per month for coverage if you choose a low deductible. Any hurricane mitigation improvements on the house like storm shutters or water-proofing may also lead to a lower premium.
In some states, your home insurance policy can have a separate deductible for hurricane damage. In these cases, the deductible can be higher than your homeowners insurance deductible.
19 states plus Washington, D.C. have mandatory hurricane deductibles for homeowners insurance. Insurers set the cost for these deductibles based on state law and factors such as hurricane start date and duration.
Hurricane deductibles vary depending on what state you're in. The range is usually one to five percent of the amount of your home's insured value. States like Florida with a high rate of hurricanes can have deductibles up to 10 percent.
Say you insure your house for $300,000 and you have a hurricane deductible of two percent. After hurricane damage, you would pay the initial $6,000 out of pocket before your insurer covers the rest. Hurricane deductibles only apply once per hurricane season. Hurricane deductibles go into effect when the National Weather Service names a hurricane (e.g. Katrina or Sandy) or declares a tropical storm.
Hurricane Damage Insurance Claims
Any insurance policy's declaration page should tell you how to file a claim after a hurricane. You may have to file multiple claims depending on the damage done to your home. It could involve different insurance policies.
Should your insurance claim for hurricane damage be denied, you can appeal the decision. You can also involve a public adjuster to help you get a better claim settlement. Finally, contact an attorney with experience in the insurance field. If you have a legitimate claim, they'll tell you.
The most common reasons for a denial of a hurricane damage claim include:
Damage due to poor maintenance
Pre-existing damage
Wear and tear
Damage due to inadequate temporary repairs after a hurricane
QuoteWizard.com LLC has made every effort to ensure that the information on this site is correct, but we cannot guarantee that it is free of inaccuracies, errors, or omissions. All content and services provided on or through this site are provided "as is" and "as available" for use. QuoteWizard.com LLC makes no representations or warranties of any kind, express or implied, as to the operation of this site or to the information, content, materials, or products included on this site. You expressly agree that your use of this site is at your sole risk.