Compare Homeowners Insurance In Vermont
Homeowners insurance in Vermont runs you an average of $771 yearly. This is $444 under the national average yearly home insurance premium of $1,215. To help in your search for your best home insurance rate, we looked at home insurers in Vermont and compared their pros and cons. Here's what we found:
How much does homeowners insurance cost in Vermont?
The average cost of home insurance in Vermont is $64 per month. Vermont has one of the lowest crime rates in the country, which goes a long way toward keeping home insurance premiums low. That helps Vermont have considerably lower insurance rates than the national average.
 

Vermont
U.S.
Average yearly rate
$771
$1,215
Average monthly rate
$64
$101
Average rates are based on non-binding estimates provided by Quadrant Information Services. Your rates may vary.
Homeowners insurance rates in Vermont span a wide spectrum between providers. Average Vermont home insurance rates range from Allstate at $518 a year to Co-operative at $1,032 a year, almost twice the average rate of Allstate. We recommend that you compare home insurance rates before you buy a policy. Here is how rates from the top insurance companies in Vermont compare: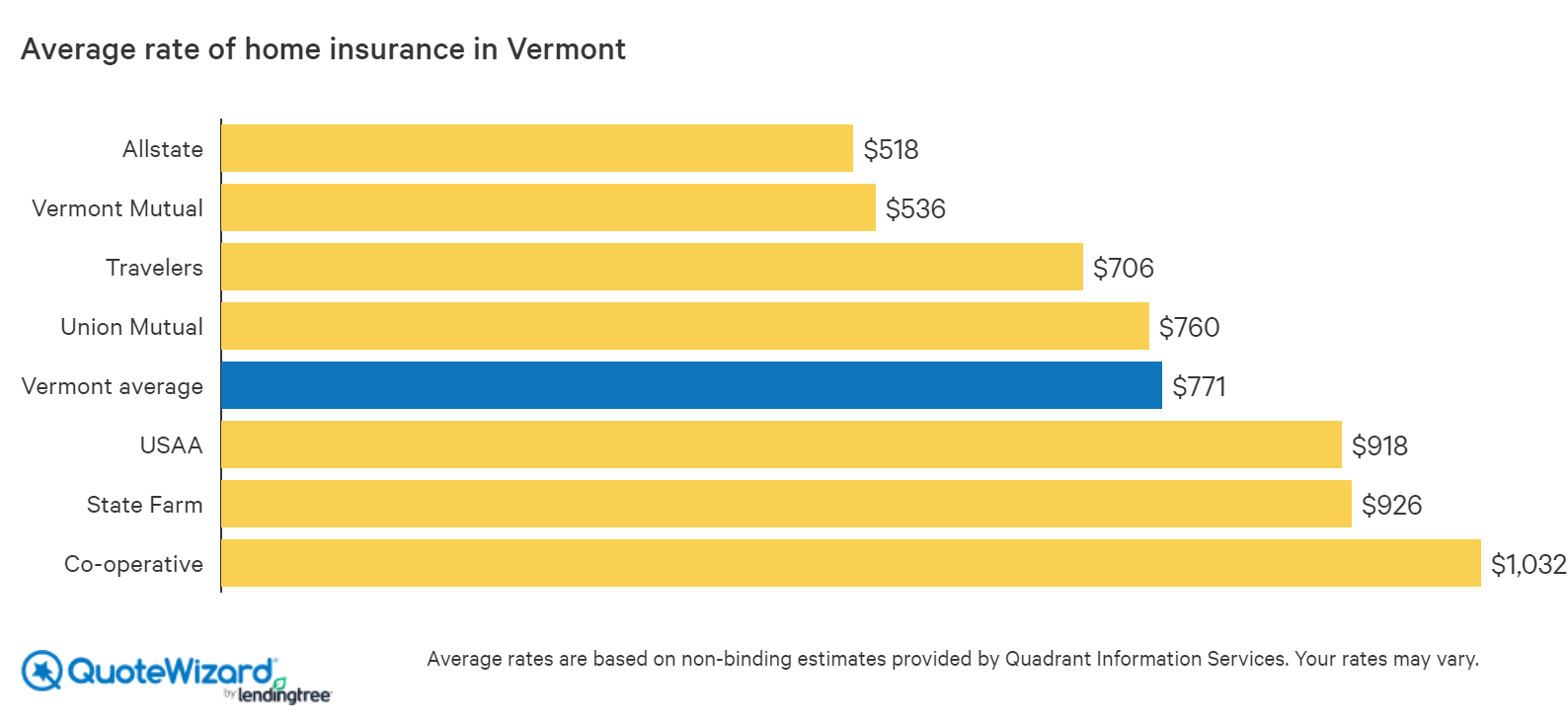 Best homeowners insurance companies in Vermont
Allstate, Vermont Mutual, USAA and Travelers came out as our best choices for home insurance companies in Vermont. Here's why:
Allstate: cheapest home insurance rates
Allstate's average yearly homeowners insurance premium in Vermont is $518. This is almost 33% less than the state average of $771, and 57% less than the national average.
If you're looking to save more money, consider bundling an auto or life insurance policy with an Allstate home insurance policy. You can save up to 25% on your total yearly insurance premiums when you bundle home and auto.
Allstate also offers great financial strength and claim satisfaction. AM Best, a well-reputed insurance industry rating firm, gave Allstate an A+ for financial backing. Also, Allstate in Vermont received a low 0.34 ranking in the NAIC's Complaint Index. The lower your ranking, the better.
Vermont Mutual: favorite local home insurance company
Vermont Mutual carries 8.28% of the Vermont home insurance market share, the second-highest in the state. It also has the second-lowest average homeowners premium in Vermont at $536 a year. Despite its size, Vermont Mutual has over 800 independent agents you can get to easily, and provides insurance for over 300,000 policyholders.
It's important to point out that Vermont Mutual also offers a wide variety of add-on endorsement options for home insurance coverage. You can get an endorsement for damage due to a public water supply line, which is rarely covered under any circumstances.
USAA: best home insurance coverage for veterans
In Vermont, veterans make up 8.4% of the population. This is well over the national average of 7% per state. USAA is unique among home insurance providers in that it provides insurance coverage strictly to serving and retired military members and their families.
USAA's average homeowners insurance premium is 19% above the state average at $918, but it may be worth that little bit extra. USAA received a rare five-out-of-five Power Circle Rating for overall customer service from J.D. Power's 2019 national home insurance study.
Another key point that makes USAA stand out is its constant top spot in J.D. Power's overall customer satisfaction for many years running.
Travelers: best range of home insurance premium discounts
Travelers' average homeowners insurance rate is $706. On top of having a low average premium, it also offers a wide variety of home insurance discounts:
You can save 15% on your auto insurance when you bundle it with your home insurance.
You can qualify for a discount if you've gone a set period of time without making a home insurance claim.
If you upgrade or install a home security system, an indoor sprinkler system or smart detection technology, you can save money on your home insurance premium.
These are just a fraction of the discounts that Travelers offers. Make sure to discuss your home insurance needs with the insurer thoroughly so you can get your best rate.
Biggest homeowners insurance companies in Vermont
Here's a breakdown of the homeowners insurance market in Vermont:
Home insurance comapneis in Vermont at a glance

| Company | Market share | 2019 J.D. Power customer satisfaction rating | NAIC Complaint Index (lower is better) |
| --- | --- | --- | --- |
| Co-operative | 10.87% | - | - |
| Vermont Mutual | 8.28% | - | 0.74 |
| State Farm | 7.5% | 4/5 | 0.20 |
| USAA | 4.59% | 5/5 | 0.31 |
| Union Mutual | 4.59% | - | 0.70 |
| Travelers | 3.86% | 2/5 | 0.56 |
| Allstate | 2.76% | 3/5 | 0.34 |
Homeowners insurance rates in Vermont by city
Vermont home insurance premiums don't really differ that much by city. This is largely due to the cities being close together. South Burlington has the lowest average homeowners insurance rate at $711 a year. St. Albans hits the top at $798.
Average yearly homeowners insurance premium by city
City
Average annual home insurance rate
Barre
$740
Burlington
$754
Montpelier
$758
Newport
$780
South Burlington
$711
St. Albans
$798
Rutland
$781
Vergennes
$755
Average rates are based on non-binding estimates provided by Quadrant Information Services. Your rates may vary.
Homeowners insurance rates in Vermont by county
The range of average home insurance rates across counties in Vermont isn't particularly wide, mostly due to the same proximity factors as Vermont cities have. Here's how homeowners insurance rates in Vermont counties compare:
Average yearly homeowners insurance premium by county
County
Average
Addison
$763
Bennington
$763
Caledonia
$763
Chittenden
$764
Essex
$766
Franklin
$769
Grand Isle
$771
Lamoille
$771
Orange
$771
Orleans
$771
Rutland
$773
Washington
$774
Windham
$776
Windsor
$772
Average rates are based on non-binding estimates provided by Quadrant Information Services. Your rates may vary.
Methodology
We compiled quotes for every ZIP code in Vermont from seven of the top insurers. We based our analysis on Allstate, Vermont Mutual, Travelers, Union Mutual, USAA, State Farm and Co-operative. We gathered quotes for a home worth $247,365 built in 1970 and owned by a 59-year-old. These are the median home value, construction date and homeowner age in Vermont.
We picked the insurers for our study using S&P Global Market Intelligence, which ensured results as localized to Vermont as possible. The largest subsidiary in Vermont of every insurer was taken as a representative for the company.
QuoteWizard.com LLC has made every effort to ensure that the information on this site is correct, but we cannot guarantee that it is free of inaccuracies, errors, or omissions. All content and services provided on or through this site are provided "as is" and "as available" for use. QuoteWizard.com LLC makes no representations or warranties of any kind, express or implied, as to the operation of this site or to the information, content, materials, or products included on this site. You expressly agree that your use of this site is at your sole risk.