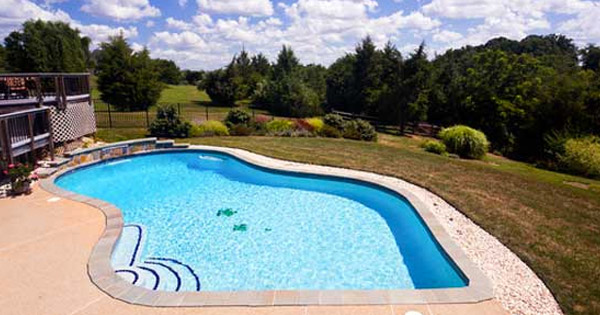 Anything in or around your home, with injury potential, raises insurance premiums. This includes swimming pools and trampolines.
Getting coverage for a swimming pool is easy. It just costs more.
Finding a homeowner's insurance company willing to cover your trampoline is surprisingly difficult. Not impossible, but will require much more research.
Home insurance providers consider swimming pools and trampolines as "attractive nuisances". Attractive nuisance is a legal doctrine.
It means if any child trespasses on a property, due to the attraction of a trampoline or pool, and gets hurt; the homeowner is liable. As a homeowner, you're at fault, just for having the attraction on your property.
For this reason, insurance providers can increase your premium. It's important to be aware of how these extra amenities will increase your insurance rates.
Swimming pools
Homeowners insurance usually covers swimming pools and hot tubs. However, your premium will rise, compared to homes without swimming pools. 
Swimming pool accidents are an unfortunate occurrence. If you have a pool, insurers will assess your policy as a higher risk. And charge accordingly. 
Like any form of insurance, pricing on a policy depends on a variety of factors. With swimming pools, insurers look at:
Zip code
Place of residence
Location of the pool
Diving board
Safety features – fences, pool alarms, etc.
According to the Insurance Information Institute, homeowners with pools should increase their liability protection to $300,000 or more. This is well above the $100,000 most homeowner's insurance policies include.
The institute also suggests purchasing an umbrella liability policy. This is important if your insurance doesn't cover the total cost of injuries or accidents in or near the pool.
An umbrella policy will cover up to one million dollars of liability protection. This protection comes with a higher premium. However, it's worth it.
Get a quote for an umbrella policy with the extra coverage you need to protect your family.
Find low rates with top insurance providers!
Compare now and save!
Click Here
Pool-related accidents can be fatal. Without proper coverage, you could find yourself in great debt from being underinsured.
Many insurance agencies require implementation of safety features around the pool. Such as a locking safety gate and pool alarm.
These prevent accidents and reduce liability. Some companies will give incentives for creating a safer environment. Removing a diving board will result in reduced premiums.
Not informing your home insurance provider of a new pool is a bad idea. Some people do this to save money on their policies.
However, you'll end up paying so much more if there's an accident or injury. Home insurers won't back you up if a claim comes your way.
The bottom line: be wary of the liability that having a swimming pool represents. Speak with your insurance agent or broker to make sure that you have appropriate amounts of coverage.
Request home insurance quotes and compare rates with your existing policy. Or use those rates to compare when purchasing this type of insurance for the first time.
You want to be able to enjoy your swimming pool with peace of mind.
Trampolines
When a parent buys their child a trampoline, they're only thinking of the fun it can bring. They often don't consider the potential danger and financial strain it creates for them.
According to the Consumer Product Safety Commission, in 2014 there were over 104,691 emergency room visits resulting from trampoline injuries. A wrong twist, jump, or turn on a trampoline can land someone in the emergency room.
The most common injuries include broken bones and dislocated joints. However, they also include serious head trauma or spinal cord injuries.
Because of the high risk of injury when using trampolines, insurance providers often don't cover them as part of a homeowner's policy. If they do, it comes with a list of safety precautions that the homeowner must follow. And higher premiums, depending on your insurance carrier.
These safety precautions include getting a safety net and ensuring the trampoline is securely mounted into the ground. Taking these appropriate measures can save you and your insurance provider thousands of dollars. Especially if someone gets hurt and files suit against you.
The reason for this extra precaution is to prevent the unwanted costs of a serious injury. If a friend is playing on your trampoline and they get hurt, their parents can file a claim. Depending on the injury, this can result in a hefty monetary loss, possibly exceeding your policy's limit.
Since the risks are large, a standard homeowner's insurance policy probably won't be able to cover the claim, and you'll be forced to pay the difference out of pocket.
This is where purchasing an umbrella policy is your best bet. It may have a high premium, but can save you thousands of dollars in the long run.
Some companies will allow you to keep the trampoline, but exclude it from your policy. This means they won't cover you or a claim, if an injury occurs.
If your insurance company says "no" to a trampoline, and you install it anyway, there could be major consequences. If they find out, they'll likely cancel or not renew your policy.
Most doctors and insurers say having a trampoline just isn't worth it. The costs definitely outweigh the benefits.
Frequently Asked Questions
Q: I bought a trampoline and I want to be safe, now what?
A: Only allow one child on the trampoline at a time. This significantly reduces the risk of an accident due to children crashing into one another. These crashes can result in head injuries. Provide parental supervision at all times.
Q: Won't my health insurance just pay for the injuries acquired from my trampoline?
A: Your health insurance's ability to take care of your injuries is dependent on your coverage level or health plan. Trampoline injuries can be very serious - head, neck, and spine injuries are common. And might require much more assistance than your health insurance covers.
Don't rely on health insurance to take care of you. If the injury is serious, you could be paying large amounts out of pocket for care.
Plus, the actual medical cost of the injuries isn't the big issue. It's the risk that the injured party will sue you for tens or hundreds of thousands of dollars as a result of the injury.
Q: How will purchasing an umbrella liability policy help me, after I install a swimming pool or buy a trampoline?
A: An umbrella liability policy provides considerably more coverage. It helps with claims and lawsuits if someone gets injured while using a pool or trampoline on your property. A standard homeowner's insurance policy won't cover all the expenses associated with a serious accident; an umbrella policy probably will.
QuoteWizard.com LLC has made every effort to ensure that the information on this site is correct, but we cannot guarantee that it is free of inaccuracies, errors, or omissions. All content and services provided on or through this site are provided "as is" and "as available" for use. QuoteWizard.com LLC makes no representations or warranties of any kind, express or implied, as to the operation of this site or to the information, content, materials, or products included on this site. You expressly agree that your use of this site is at your sole risk.