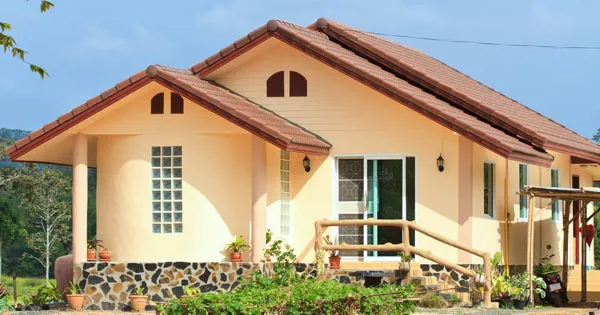 There are many parts that go into making sure you have the best, cheapest home insurance for you. Having the right policy limits and a trustworthy company, and understanding your home's needs are just a few things you can do to save money on home insurance. Being aware of how your own personal history affects your monthly home insurance premium is another influencing factor.
This guide will walk you through various areas of your home insurance policy and help you find the best home insurance coverage for the price.
This article will cover:
How to lower your home insurance costs
The following points are different areas of home insurance coverage you should look at to make sure you're getting the best rate for you. Each section may be a different priority for you, but read over all of them in order to make sure you're not missing out on any opportunities to save.
Review your homeowners insurance policy
Make sure the coverage limits in your policy properly reflect your home. A mistake sometimes made is to think you need to have dwelling coverage, also known as hazard insurance, limits equal to what you paid for your home. This is incorrect. Your dwelling coverage limit needs to equal the rebuild cost of your house, not the value of the land it sits on. Having the correct amount of hazard insurance can lower your annual premium a lot.
You want your personal property coverage to be enough to pay for the complete replacement of your belongings in the event of their destruction, but there's no sense in paying for more coverage than you need. The best way to make sure you're not overpaying on personal property coverage is to make a home inventory list. This way you'll have an accurate dollar amount of what your stuff costs to replace, and insure it accordingly.
Check your policy deductible as well. A higher deductible usually results in lower monthly home insurance costs. If you live in a newer home, or you've done major replacements or renovations in it recently, the lesser chance of having to file a claim could make raising your deductible for a lower premium worthwhile.
If you're getting close to the end of your policy's term, compare homeowners insurance quotes from different companies to make sure you're getting the best coverage for your dollar. Your home insurance premium shouldn't change for the year, but you can bet that different companies' rates will change during that time. The home insurance industry is highly competitive and insurers are constantly changing their policy coverages and annual premiums to keep their current policyholders and to get new ones. About a month before your home insurance policy expires, start looking at what other providers offer. It may result in good savings.
Shop around and compare home insurance policies
Take some time and compare home insurance company policy offerings. This will give you the opportunity to see what each provider has to offer, how their claims satisfaction ratings stack up and to find out if you're overpaying on your home insurance premium.
A home insurer's reputation for claims resolution is a good reflection of how satisfied policyholders are with the company's service. If the insurer has a high Complaint Index from the National Association of Insurance Commissioners (NAIC) or a low customer satisfaction rating, it could be an indicator that you may pay out of pocket for a repair rather than receive a check from your home insurance company. Here are a couple of resources to help you see how companies approach claims resolution and policyholder satisfaction:
J.D. Power compiles an annual home insurance satisfaction survey that breaks down the claims satisfaction ratings of different home insurance providers.
The NAIC Complaint Index provides an overview of different insurers' complaint ratings. The lower a home insurance provider's Complaint Index, the fewer complaints they received.
Look for home insurance discounts
Home insurance companies offer wide arrays of discounts to help their policyholders save money. A popular one that many providers offer is a bundling discount. If you bundle your home and auto insurance together, you may save money on both policies. Many home insurance companies offer discounts for homeowners 55 years of age or older as well. These are just a couple of examples of discounts that can save you money. Check with your home insurance company to see what discounts they offer, and compare them with discounts from other insurers.
Review your credit history
Your credit history can have an influence on your home insurance monthly premium. The better your credit rating, the lower your annual rates may be. Double-checking your credit report for any errors, maintaining a strong credit history and even simple things like paying your bills on time can improve your credit rating and result in cheaper home insurance.
Is filing that home insurance claim necessary?
Putting deep thought into whether or not you need to file a home insurance claim can save you money as well. When you file a home insurance claim, chances are your rates are going to rise. Such increases can stay on your insurance record for up to seven years. If your claim is only slightly higher than your deductible, you may be in a better long-term financial situation if you pay for it out of pocket.
Improve your home, improve your premium
It should come as no surprise that the state of your house can have an effect on your home insurance rates. You could save a lot on your annual home insurance premiums by doing some improvements, especially if you have an older home. Depending on what kind of roof you have on your house, you can expect it to have an average of a 15- to 25-year lifespan. Replacing an older roof can lower your home insurance rates due to the lower risk.
Property theft is a risk that home insurance providers take very seriously. If you take steps to prevent theft from happening, it may result in lower rates. If you install a security system in your home, be sure to tell your home insurance company and see what they can do for you.
Do you have an old shed on your property that you don't use anymore? It could be affecting your dwelling coverage limits. If you remove it, it may result in a lower home insurance rate.
Bottom line
While looking for the best home insurance coverage at the cheapest price may take some work, the payoff may be more than worth it. Comparing your current home insurance policy to what other providers have to offer, looking at your credit and claims history, as well as a little home improvement can go a long way towards shaving a lot off of your annual premium.
References:
QuoteWizard.com LLC has made every effort to ensure that the information on this site is correct, but we cannot guarantee that it is free of inaccuracies, errors, or omissions. All content and services provided on or through this site are provided "as is" and "as available" for use. QuoteWizard.com LLC makes no representations or warranties of any kind, express or implied, as to the operation of this site or to the information, content, materials, or products included on this site. You expressly agree that your use of this site is at your sole risk.