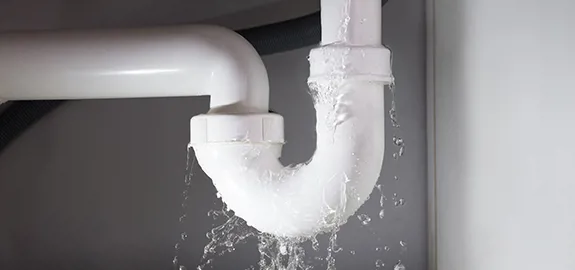 Home insurance covers many instances of sudden plumbing damage in your home, such as a sudden leaking drain pipe in your bathroom or a burst pipe in your wall or ceiling. Coverage extends to your personal property as well as the structure of the house. If you need to relocate while the water damage is fixed, your home insurance may cover your additional living costs.
While homeowners insurance covers a wide array of plumbing damage, it is not without limits. Most home insurance policies exclude negligence, water damage under the slab, and sewer line backup and repair. This article will cover:
How homeowners insurance covers plumbing
A standard homeowners insurance policy usually covers sudden or accidental damage to the plumbing system of your house within your coverage limits. Your home insurance policy often includes separate types of coverages. Here's how each handles plumbing damage:
Dwelling
Your homeowners insurance should cover repair of plumbing problems involving the structure of your home and the plumbing system itself. This includes:
Shower leaks: If your shower springs a leak that results in water damage to your floors, walls or ceiling, your home insurance should cover the repairs.
Burst pipe: A frozen or cracked pipe in your sink or bathtub can result in extensive water damage. This peril is covered pretty consistently by standard home insurance policies. Be aware that homeowners insurance only covers the damage caused by water damage, not the piping itself.
Roof leak: Should a covered peril like snow or ice punch a hole in your roof and allow water to leak in, the necessary repairs are covered.
Personal property
Also known as contents coverage, the personal property portion of your homeowners insurance covers your belongings against perils listed in your policy. For example:
Clothing: If a water leak in the wall results in your clothes getting ruined, your personal property will pay for their replacement up to your coverage limits.
Furniture: Your couch, chairs and tables are covered for repairs or replacement should an internal problem like a broken pipe damage or destroy them.
Valuables such as furs and jewelry: Expensive items such as jewelry and furs are covered by your home insurance against water damage, but at lower limits than your regular personal property coverage. If you feel your contents coverage is inadequate, consider upping your limit with an endorsement.
External structures
Structures off the main house but still on your property are covered for plumbing damage. These include:
Detached garages: If a hole in the roof damages the structure of or your belongings in the garage, the resulting damage is covered for repair or replacement by your home insurance policy.
Mother-in-law units: Your home insurance coverage takes care of pipe leaks and water damage due to a damaged roof in your backyard cottage or studio.
External structure coverage limits tend to be very limited, usually coming in around 10% of your home's dwelling coverage. For example, if you have your home insured for $350,000, then your coverage limit for external structures is $35,000.
Additional living expenses
In some extreme cases, you may have to relocate to other living arrangements while plumbing repairs are made. In these instances, additional living expenses (ALE) coverage, also known as loss of use coverage, can help with additional costs that can arise due to your relocation, up to the limits of your ALE coverage. Frequently covered costs usually include:
Apartment or hotel room rental.
Pet boarding.
Meals.
Laundry.
Cost for extra mileage or transportation to get to work from a new location.
An important clarification to know is that ALE doesn't cover all of your costs due to relocation, only the extra costs that occur due to the move. For example, if you spend an additional $15 a week on commuting due to relocating farther away from your job, ALE will reimburse you $15 a week.
Liability
If a plumbing issue causes damage to your neighbor's property, your home insurance provides liability coverage for repairs. There are times when another party's liability coverage can get involved in your plumbing claim. There is a chance you'll have to pay for repairs out of pocket initially, but you'll get reimbursed if it turns out a second party is at fault for the damage.
Along these lines, if water damage happens to your house due to your neighbor's plumbing bursting, you may have to pay for the cleanup, but your home insurance provider may compensate you. If your neighbor is found responsible for the damages, their home insurance liability coverage should pay for your costs or compensate your home insurer if they paid you out.
Home insurance plumbing repair exclusions
While home insurance usually covers damage from "sudden and accidental" water discharge, there are plenty of plumbing problems that aren't covered, including:
Poor maintenance: Since home insurance focuses on sudden or accidental damage, home insurers often consider rust, corrosion or any other visible or functional disrepair in your piping to be a sign of neglect that could be avoided through proper home maintenance.
Sewer backup: A sewer backup is usually not covered under homeowners insurance. Most of the causes of a backup occur outside the premises of the house, such as tree root damage or city line problems. These are all standard reasons for exclusion. Most home insurers offer a sewer backup rider to cover these instances.
Sewer line repair: For many of the same reasons that sewer backups aren't covered, sewer line repair is excluded as well. There is sewer line insurance available to cover this problem.
Flooding: Home insurance only covers repairs for flooding damage due to plumbing problems, not due to a natural disaster. You can purchase flood insurance separately if you live in an area with a history of flood risk.
Mold: Mold will only be covered if it was a result of the plumbing break you file a claim on. If the mold turns out to be a problem that was occurring over time, it is excluded.
Water leaks under the house: As a standard rule, any problems under your foundation are not covered by home insurance. This includes plumbing issues.
Polybutylene piping: Polybutylene pipes were popular between around 1978 and 1995 because they were inexpensive. Over time, it was discovered that chlorine and other oxidants could easily break polybutylene plumbing down. As such, polybutylene pipes have been blacklisted by almost all home insurers.
Plumbing is often embedded inside your home's internal walls, so if your plumber needs to cut out a section of the wall to access the wrecked pipes, your wall-repair costs may also be covered.
How to file a claim for plumbing repair
While many home insurance companies usually give 30 days from the day a problem occurs to file a claim, you'll want to move quickly if you have a leaking or burst pipe. Water damage moves fast and can quickly cause thousands of dollars in repairs. In the event of a plumbing leak, here are the steps to follow:
Clean up: First, take pictures of any damage caused by the water. Remove any excess standing water and make the necessary repairs to prevent further water damage from occurring. Move undamaged items away from the region of the damage. Do not throw anything away until your insurance company's adjuster can inspect it.
Read your policy: Look over the details of your policy and make sure the problem is covered by your home insurance. Filing a claim for an uncovered peril will not only be automatically denied, but may also still raise your premium.
Document the damage: Compile a list of the damaged items. This is easiest if you have a home inventory list you can copy damaged items from.
Contact your home insurer: Give your home insurance company a call and initiate the claim process. If you've had to do any mitigating repairs, make sure to let them know. They will send you the appropriate documents to fill out and tell you what other steps you need to take.
Meet with the adjuster: Your home insurer will arrange for an adjuster to come to your home to inspect the damage. Make sure you're available when the adjuster arrives to answer any questions they may have.
If the adjuster finds your claim to be valid, your home insurance provider will send you half of your claim to start the plumbing repairs, then the second half after the repairs are done.
QuoteWizard.com LLC has made every effort to ensure that the information on this site is correct, but we cannot guarantee that it is free of inaccuracies, errors, or omissions. All content and services provided on or through this site are provided "as is" and "as available" for use. QuoteWizard.com LLC makes no representations or warranties of any kind, express or implied, as to the operation of this site or to the information, content, materials, or products included on this site. You expressly agree that your use of this site is at your sole risk.