Does Home Insurance Cover Plumbing Repairs?
Water damage from a broken pipe can cost you money and time. Find out if your plumbing leak is covered by home insurance.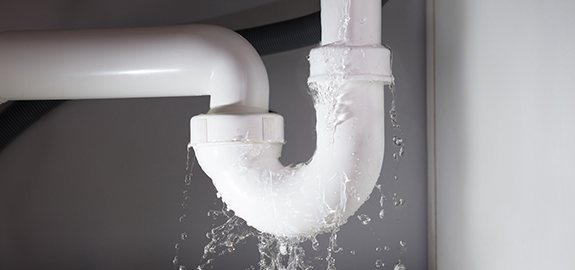 Homeowners insurance covers sudden or accidental damage caused by pipe or plumbing problems. But pipeproblems due to age or poor maintenance usually aren't covered. How much of the damage your home insurance policy does cover often depends on where on your property the water damage starts. As a rule of thumb, home insurance only covers water damage from plumbing problems within the home. For example, if a tree root cracks a sewer main, homeowners insurance doesn't cover it. This article covers:
How Homeowners Insurance Cover Plumbing Damage
A standard home insurance policy, also known as an HO-3, covers many sudden or accidental piping problems. Homeowners insurance is divided into different coverage types:
The structure of your home
Your belongings
External structures
Additional living expenses
Liability
Here's how each one covers your plumbing:
Dwelling Coverage
Your plumbing, your water heater, built-in appliances, and the house structure are usually covered against water damage. For example, home insurance covers damage from a sudden pipe leak – assuming it's not a neglected and poorly maintained pipe.
Content Coverage
If water from a covered plumbing issue damages your belongings – clothing, furniture, and electronics, for example – your home insurance will help pay for it. If your couch gets ruined by a water line break, your home insurance should cover it. Certain types of valuables, such as furs or jewelry, are usually only covered up to a limit of $1,000.
External Structures
If you have a guesthouse, workshop, or other detached building on your property, your home insurance will cover the plumbing, water heater, and the structure itself for water damage. For example, if the pipes burst in your detached garage, your homeowners insurance covers both the garage itself and your stuff in it.
Additional Living Expenses
If the water damage from a broken pipe is extreme, you may need to leave your home while repairs are done. Additional Living Expenses (ALE) can cover for living costs including:
Apartment or hotel room rental
Pet boarding
Meals
Laundry
Cost for extra mileage or transportation to get to work from a new location
It's important to know that ALE only provides coverage based on your current living expenses and often has a limit cap. If you start eating at expensive restaurants for every meal, you'll find your food expense claims quickly being denied.
Liability
If a plumbing issue causes damage to your neighbor's property, your home insurance provides liability coverage for repairs. If extreme pipe damage on your property damages your neighbor's deck, for example, liability helps cover it.
There are times when another party's liability coverage can get involved in your plumbing claim. There is a chance you'll have to pay for repairs out-of-pocket initially, but you might get reimbursed if it turns out a second party is at fault for the damage. For example, if a plumber you hired damages your piping, your own home insurer will probably cover the resulting water damage. The plumbing company should pay for the damage. All the same, contact your home insurer about any resulting water damage. Odds are your insurer will contact the plumbing company's insurer to cover the damage they're responsible for.
As another example, if you neighbor has a plumbing problem that damages your property or possessions, you may or may not have to pay for your cleanup and repairs. If it turns out your neighbor is liable, their liability coverage should reimburse you.
When Won't Home Insurance Cover a Plumbing Problem?
While home insurance usually covers damage from "sudden and accidental" water discharge, there are plenty of plumbing problems that aren't covered:
Neglect or bad maintenance
Sewer backup
Sewer line repair
Flood
Mold
Leaks under the house's foundation
Polybutylene piping
Poor Maintenance
Home insurers often consider rust, corrosion, or any other visible or functional disrepair in your piping to be a sign of neglect. Since home insurance only covers sudden or accidental damage, any gradual water damage from plumbing problems isn't covered.
Sewer Backup
A sewer backup is usually not covered under homeowners insurance. Backups are highly expensive to fix, as they can cause a lot of damage and create a health hazard. Also, most of the causes of a backup occur outside the premises of the house, such as tree root damage or city line problems. These are all standard reasons for exclusion. Most home insurers offer a sewer backup rider to cover these instances.
Sewer Line Repair
For many of the same reasons that sewer backups aren't covered, sewer line repair is excluded as well. There is sewer line insurance available to cover this problem.
Flooding
Homeowners insurance only covers water damage from a plumbing break within the house. Water damage due to flood is never covered under a HO-3 policy, but flood insurance can be bought separately to provide coverage.
Mold
Mold will only be covered if it was a result of the plumbing break you file a claim on. If the mold turns out to be a problem that was occurring over time, it is excluded.
Leaks Under the Slab
As a standard rule, any problems under your foundation are not covered by home insurance. This includes plumbing issues.
Polybutylene Piping
Polybutylene pipes were popular between around 1978 and 1995 because they were inexpensive. Over time, it was discovered that chlorine and other oxidants could easily break Polybutylene plumbing down. As such, Polybutylene pipes have been blacklisted by almost all home insurers.
Damaged Plumbing Claim Tips
If you have a plumbing issue, steps to file a claim depend on how bad the problem is. If the water damage is from a small leak, put a bucket under the leak. After that, call your home insurer to start the claims process. They'll tell you what to do next. If you have a major leak or a pipe break, there are steps to take to avoid further water damage:
Photograph any water damage to provide before and after evidence.
Get a shop vac to remove standing water.
Move non-damaged items to a dry room.
Do not throw away anything until your insurer can inspect it.
Contact your insurer to start the claims process and arrange an appointment with an adjuster.
Pretty much any home insurance claim you make is going to raise your premiums. This includes denied claims. When you file a claim, it alerts your home insurer that a problem exists, even if they don't cover it. This practically promises an insurance rate increase.
QuoteWizard.com LLC has made every effort to ensure that the information on this site is correct, but we cannot guarantee that it is free of inaccuracies, errors, or omissions. All content and services provided on or through this site are provided "as is" and "as available" for use. QuoteWizard.com LLC makes no representations or warranties of any kind, express or implied, as to the operation of this site or to the information, content, materials, or products included on this site. You expressly agree that your use of this site is at your sole risk.