Homeowners Insurance and Home-Based Businesses
While many business owners assume their homeowners insurance will cover their at-home business, this often isn't the case. Learn how to properly insure your home-based business.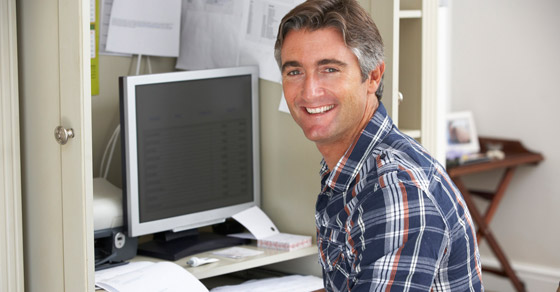 With the advent of modern technology, it has become easier to work and run a business from home. Whether your business consists of freelance writing, running a daycare, or managing your own Etsy shop—you'll want to make sure you have the correct insurance coverage.
Just imagine your home burning down and ruining your laptop used for writing, or destroying the Etsy products you were getting ready to ship. Very rarely will your homeowners insurance cover these sorts of losses.
Home-Businesses and Standard Homeowners Policies
If the fine print says your homeowners policy covers your home business, the coverage will most likely be very minimal. It will usually cover up to $2,500 in damages to your business equipment while in the home, and $250 while outside of it. However, it usually won't cover liability claims, medical expenses, or loss of income.
So as you can see, the coverage is negligible, and some insurance providers won't cover home businesses at all. This is where additional coverage becomes crucial.
Alternative Types of Coverage
If you are insuring a home business, there are many substitutes for a standard homeowners policy. Some types stand alone, while others are complementary. Whatever the case, there is coverage for almost every type of home business.
Probably the most affordable way to get extra coverage is an endorsement or rider. This provides additional coverage and enhances your original homeowners policy.

In the case of a home business, you can use endorsements to add more property damage protection. You may be able to increase the coverage from a $2,500 maximum to upwards of $5,000, for only 15 to 20 more dollars per year in premiums.

However, most insurance companies have conditions you must follow. One of them is that your income must be below a certain (low) amount per year. This is usually around $5,000 or less.

You might also be able to purchase a liability endorsement for your home business. This would protect you against any liability claims arising from visitors to the business. This could include anything from a client delivering paperwork and slipping on your front steps, to your dog attacking someone in your at-home salon. Yet, liability endorsements don't go very far because they are usually only for businesses with a limited number of customers.

Check with your insurance provider if you have more questions or want this type of coverage. If you aren't satisfied with your current provider and are considering switching, feel free to shop around and get quotes from multiple companies so that you can compare what they offer in terms of service and price.

In-Home Business Policy. This is a step up from a homeowners insurance endorsement because it offers more coverage. It will typically include property damage, liability claims, as well as loss of income coverage. However, it will usually only cover businesses with three employees or less.

For the property damage portion, this will cover any damage to your business that's a covered peril under your policy. This includes the physical structure of the building, company assets, as well as any inventory, up to the limits of your coverage.

The liability coverage is also strong. It isn't as hefty as a business owners policy's coverage, but it's more than what you'll find in a homeowners endorsement/rider.

Business Owners Policy (BOP). If you run a small or medium sized business out of your home then this could be the policy for you. It will typically cover property damage, liability coverage, and loss of use/income. Unlike an in-home business policy, a BOP can cover much more than $10,000 in damages.

This is a great policy if you run a business from multiple locations. Maybe you store your inventory in a location other than your home? A BOP will most likely reimburse you for covered perils should something happen to your inventory outside of your home.

It's important to note there are some exclusions to this type of policy. One is that it doesn't include health or life insurance for the employees. It also doesn't cover workers compensation or disability coverage. You will need to look elsewhere for these.

Business Interruption/Continuation Insurance. This type of coverage may be included in a homeowners endorsement, in-home business or business owners policy. This coverage will protect your business if a covered peril disrupts it, and your loss of use/income coverage isn't enough. It will help pay for damages, as well as loss of revenue. Check with your insurer to see if you need a separate policy for this type of coverage.
Commercial General Liability Coverage (CGL). This is liability insurance issued to businesses. It covers bodily injury and property damage claims against your business, as well as lawsuits related to your products. For a couple hundred dollars per year, you can get up to two million dollars' worth of liability coverage.
Professional Liability Coverage. This is important to obtain if you own your home business and someone sues you for the services you provide not meeting their expectations. Some refer to this as "errors and omissions" liability. It will cover the financial losses of the other party due to negligence.
Product Liability Coverage. If a product you provide or sell causes harm to a third party, this will protect you. This is most commonly purchased by businesses that manufacture and export products.
Workers Compensation Coverage. If one of your employees is injured while on the business premises, they could potentially file suit against the company. This will also cover any medical expenses, as well as the employee's loss of income due to the injury, for up to a certain amount of time. Check with the Small Business Administration for further details, as not all home businesses may be eligible for this policy.
Commercial Crime Insurance. In broad terms, this will cover your business' assets if compromised due to a criminal act like fraud or theft.
How Much Coverage is Enough?
You should base the amount of coverage you purchase on the type of at-home business you own and the risk it poses. For example, if you run a successful food blog from home, a simple endorsement to your homeowners policy should be fine.
On the other hand, if you run an at-home beauty parlor and have several employees, you will need more coverage, and can pick and choose from the categories listed above.
Remember that you want at least the minimum amount of coverage to compensate for bodily injury, property damage, and liability claims. For more information, feel free to speak with your insurance provider or compare quotes to find the best rates.
FREQUENTLY ASKED QUESTIONS
Q: How does car insurance play a role?
A: If you run an at-home business where employees will use your vehicle, or you will be delivering products to other businesses and customers, you'll want to look at commercial car insurance.
Many car insurance carriers won't cover your vehicle if you use it for business purposes. Contact your provider for more information on how to access commercial car insurance.
Q: How do employee benefits such as life and health insurance play a role in at-home businesses?
A: If you run a small business from home, you may want to provide benefits to your employees. You can purchase benefit packages such as life and health insurance through a variety of different providers. You can even get tax breaks for providing these benefits.
However, if you have less than 50 employees, you aren't required under the Affordable Care Act to provide health insurance.
Q: If I sell food products from home, do I need a special policy?
A: Your state's agriculture and food regulator will have specific guidelines you need to follow for selling food made in your home. You might also need a special permit.
In terms of insurance, you might want to consider product liability coverage if someone is made ill by your food. Get personal liability in case they sue you, as well as other types of coverage listed above.
Q: What do the deductibles look like with at-home business insurance?
A: Your deductible will vary based on the type of coverage you get. If you get an endorsement to your homeowners policy, your deductible should be fairly affordable. Talk to your insurer or feel free to shop around if you aren't satisfied with your current carrier's price for your deductible.
Deductibles for in-home business policies and business owner policies will also vary. It's important to speak to your insurer about this before purchasing any policy.
References:
QuoteWizard.com LLC has made every effort to ensure that the information on this site is correct, but we cannot guarantee that it is free of inaccuracies, errors, or omissions. All content and services provided on or through this site are provided "as is" and "as available" for use. QuoteWizard.com LLC makes no representations or warranties of any kind, express or implied, as to the operation of this site or to the information, content, materials, or products included on this site. You expressly agree that your use of this site is at your sole risk.