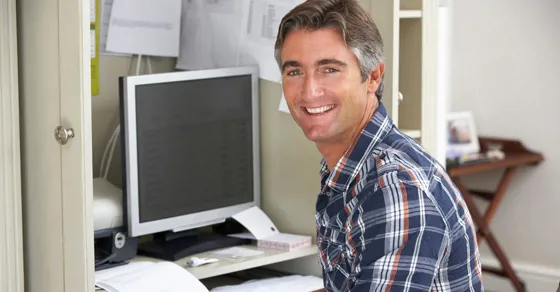 If you have a home-based business, you may quickly learn how little your home insurance covers your business insurance needs.
Fortunately, there are insurance options available to cover property damage and various liability issues in order to help keep you from unneeded financial difficulty. This article will cover:
Does home insurance cover home-based businesses?
While home insurance may provide coverage for your home business, the limits of the coverage are minimal at best. Although there may be some limit variables from insurer to insurer, usually a standard home insurance policy will cover $2,500 in damage to business equipment by covered perils inside the home, and $250 for damage outside the home. Home insurance will not cover liability, employee medical expenses, loss of income or business records.
How to insure your home-based business
With the low amount of practical coverage that home insurance provides for home-based business needs, you should be aware of the insurance options available to pick up the slack. The following are some of the more popular insurance types that home business owners have at their disposal to cover business equipment, liability and other necessities.
Add-on endorsement
The most affordable, but not necessarily the best, way to increase your home insurance coverage for a home business is through an add-on endorsement or rider. Endorsements for a home business may bump the maximum $2,500 personal property coverage up to around $5,000 for business property damaged or destroyed on your premises, and $1,000 for off-premises damages.
Riders like this usually add around $15 to $20 a year to your home insurance premiums. Keep in mind that riders such as this usually don't cover liability. Also, such endorsements tend to require policyholders to have low income levels to qualify. You usually have to make around $5,000 or less in order to purchase the rider.
Liability endorsements are another home insurance add-on that tend to be popular for home-based business owners. Liability endorsements protect against liability claims from injured customers, or if their personal property is damaged on your premises. The downside is that such endorsements are usually only available for business with limited numbers of customers. Ask your home insurance provider what its limits are.
In-home business policy
This insurance policy type offers a wider range of coverage than a homeowners insurance endorsement. It covers property damage, loss of income and business liability coverage up to $1 million. It usually only provides coverage for home-based businesses with three employees or fewer. An in-home business policy usually costs between $250 and $500 a year.
Business owners policy (BOP)
A business owners policy bears many similarities to an in-home business policy, but provides a greater range of coverage. It tends to be a good choice if you're running a business with more than three employees and over $250,000 in annual revenue. It usually covers property damage, liability and loss of income. A standard BOP offers coverage for damaged merchandise and technical or mechanical issues involving business equipment. Business owners policies usually cover $10,000 or more in damages for up to a year.
A BOP may be a sound insurance coverage choice if you have inventory stored away from your home. It does not cover life or health insurance for employees, nor does it cover workers' compensation or disability. A business owners policy can run anywhere between $500 and $3,500 yearly depending on coverage limits.
Business interruption/continuation insurance
This insurance type replaces lost income and covers other business-related expenses in the event of a covered peril. You may need to buy a separate policy for it altogether, so ask your home insurance provider for details. The average cost for this type of insurance coverage is $750 to $1,200 yearly.
Commercial general liability coverage (CGL)
CGL covers bodily injury and property damage claims against your home business. This may include any product-related lawsuits against you. For around $200 yearly, you can get up to $2 million in liability coverage.
Professional liability coverage
This insurance type is also known as "errors and omissions" liability. It covers financial losses as a result of negligence on your end. It can come in handy if you're sued for not fulfilling your contractual business obligations. Professional liability coverage runs an average of $710 yearly.
Workers compensation coverage
Workers compensation covers you if your employees are injured on your home business premises or in the course of performing business duties elsewhere. It covers medical expenses and employee loss of income up to the policy's time and dollar limits.
Not all home-based businesses are eligible for workers comp coverage. Check with the Small Business Administration to see if it is available to you. Workers' compensation coverage usually runs an average of $450 per employee per year.
How much home-based business insurance should I have?
When looking at home business insurance, you will want at the very least the minimum amount of coverage to compensate for bodily injury, property damage and liability for you and your employees. The insurance types and limits you'll want depend on if the business consists of just you, or if you have employees. Again, home insurance provides very low coverage for home-based businesses, so at the very least you should have home business and liability endorsements.
Picking out the right types of home business insurance you need will probably require some expert advice. Talk with your home insurer to find out the policy types and limits you should consider. If they don't provide these policies, ask for recommendations.
References:
QuoteWizard.com LLC has made every effort to ensure that the information on this site is correct, but we cannot guarantee that it is free of inaccuracies, errors, or omissions. All content and services provided on or through this site are provided "as is" and "as available" for use. QuoteWizard.com LLC makes no representations or warranties of any kind, express or implied, as to the operation of this site or to the information, content, materials, or products included on this site. You expressly agree that your use of this site is at your sole risk.