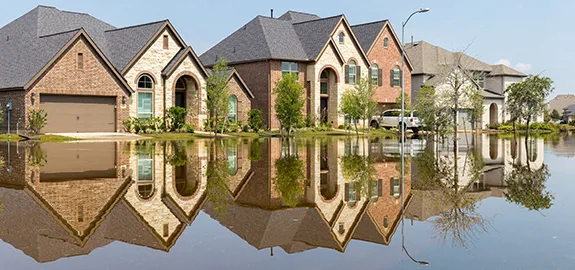 Flood insurance protects your property from flood damage, which home insurance won't cover. When looking for the best flood policy, you'll want to look at flood insurance policy cost, flood risk in your area, what coverage limits you need and the provider's customer satisfaction history. This article will go over:
How to pick the best flood insurance policy
You can purchase flood insurance direct through FEMA's National Flood Insurance Program (NFIP), or through private flood insurers who sell NFIP policies. Since NFIP is the source that all flood insurance comes from, basic flood insurance prices are pretty much the same regardless of where you buy your policy.
The price difference between NFIP flood policies and those sold by private insurers often comes down to whether you get excess flood coverage. NFIP policies pay out a maximum of $250,000. With excess flood coverage, private insurers are able to provide for coverage limits above the NFIP's limits.
Beyond the cost of flood insurance, the main things you want to look at include the flood risk you face, policy limits, and what a flood insurer's customer satisfaction rating looks like.
To pick the best flood insurance policy, you need to understand your choices.
What are my flood insurance policy options?
Your chances of a flood occurring are a big factor when choosing your flood insurance. Flood insurance comes as either a preferred risk or standard risk policy:
Flood insurance for high risk zones
Preferred risk flood insurance is for homes in high-risk flood zones. FEMA defines a high-risk flood zone as an area that has at least a 1% of being inundated by a flood in any given year. This is also known as the "base flood" risk. You can find what kind of flood zone your house is in at the FEMA flood map service center.
Flood insurance for moderate-to-low risk zones
Standard risk flood insurance is more for moderate-to-low risk flood zones. Moderate to low-risk flood areas are defined as having a .02% to base flood-level chance of inundation in a given year. Both policy types provide the same coverage, but preferred risk coverage has a higher premium due to the risk factor. The average price for flood insurance is $700 yearly but again, areas with a long history of flooding can see higher rates.
Keep in mind that zoning for flood risk can change in your area. If you can, find a flood insurance provider who can offer both policy types. This will save you a lot of time if the area where your home is ever gets re-zoned for floods.
The best rated flood insurance companies
Whether it's private flood insurance or not, how well and how quickly a flood insurer takes care of their policy holders is a strong point of competition. Industry ranking companies such as J.D. Power and AM Best are good places to compare flood insurance providers.
We've compiled our own list of top flood insurers based on their policy benefits, financial strength and reputation. Our picks for the best flood insurers are:
Amica
Amica ranked highest in property insurance claims experience for its 8th year straight in J.D. Power's 2019 U.S. Home Insurance Study. One of the longest-lasting insurance companies in the country, Amica provides flood insurance in 48 states. Their strength as a flood insurance provider lays primarily in the financial backing they have. A.M. Best, an international credit rating agency whose sole focus is the insurance industry, gave Amica an A++ rating for financial strength.
The Flood Insurance Agency (TFIA)
In just 11 years, TFIA has written more than 50,000 private insurance policies in 37 states. A standout feature is their offering of way to lock in your annual premium for the following year. They have been nominated twice for FEMA's "Agency of the Year", given to insurance agencies that have made significant contributions to the NFIP.  
The Hartford
In the J.D. Power 2019 U.S. Home Insurance Study, the Hartford ranked third nationwide for customer satisfaction. The Hartford's flood insurance includes rapid response vehicles that can get to flood-affected areas quickly. This allows them to provide quick claims resolution and support when disaster hits. They also have long-standing relationship with AARP and provide many benefits to members.  This makes them an excellent choice for homeowners 55+ years of age looking for flood coverage.
Other companies that provide consistently good quality flood coverage include State Farm, GEICO and Farmers Insurance.
What's the difference in flood policy limits?
Private flood insurance providers tend to have better coverage limits than NFIP-direct policies. You should look at what amount of flood coverage you need before deciding which type of provider to go with. You should also look at what a specific flood insurer's policy doesn't cover. Some flood insurers don't cover basements, for example.
NFIP vs. private flood insurance
All flood insurance policies come from the NPIF. However, private flood insurers have also appeared in recent years. They offer other flood coverage options to people living in flood zones.  Both NPIF and private flood insurers have benefits and drawbacks to consider when looking for flood insurance.
The case for NPIF flood insurance
NPIF is set up to help anyone who needs flood insurance, regardless of their flood risk level. Since private flood insurers are profit-driven, they can deny people in high-risk flood zones. NPIF can be the better choice is you live in a frequent flood zone.
Some mortgage lenders don't see private flood insurers as reliable. NPIF is backed by federal funding accepted by pretty much all mortgage providers.
NPIF policies offer guaranteed renewal as long as you continue to pay your premium. This means you won't be left without coverage at dangerous times.
The disadvantages of NPIF flood insurance
NPIF flood coverage caps at $250,000. This can put you in a dangerous situation if your home's cost to rebuild is higher than the limit.
NPIF does not offer additional living expense (ALE) If your house is unlivable after a flood, you must cover all your own living expenses while it is rebuilt. Having to pay for a place to stay as well as food and other expenses after a flood can be traumatic.
Should a flood occur in your neighborhood, you probably won't be the only one needing NPIF assistance. NPIF's limited number of adjusters could lead to a long wait for your claim to be processed.
How is private flood insurance better?
Greater coverage is one of the main advantages of going with a private provider. Private flood insurance can offer coverage limits above NPIF's $250,000 cap. Many can offer up to $500,000.
NPIF flood insurance has a 30-day wait period before coverage begins. Private flood insurance companies usually have shorter wait periods often around 14 days, often around 14 days.
Being able to get help with your living expenses while your home is repaired after a flood is invaluable. Private flood insurance policies can offer ALE coverage for your living expenses while your house is repaired.
The downside of private flood insurance
A private insurer can increase your flood insurance premium considerably.
A private insurer may cease to sell flood insurance and not renew your policy. You can probably get NPIF coverage if you're dropped. However, you would have to contend with the 30-day wait period for coverage to start.
Because of their unreliability, a mortgage lender may reject a private flood insurance policy. Mortgage lenders often require mortgage holders in high-risk flood zones to have flood insurance. This can put you in a difficult spot.
References:
QuoteWizard.com LLC has made every effort to ensure that the information on this site is correct, but we cannot guarantee that it is free of inaccuracies, errors, or omissions. All content and services provided on or through this site are provided "as is" and "as available" for use. QuoteWizard.com LLC makes no representations or warranties of any kind, express or implied, as to the operation of this site or to the information, content, materials, or products included on this site. You expressly agree that your use of this site is at your sole risk.