Compare Homeowners Insurance In Florida
The average cost of home insurance in Florida is $1,777 a year, making it the most expensive state for homeowners insurance. Florida has expensive home insurance premiums because it is at risk of suffering natural disasters, but we saw rates as cheap as $1,136 a year.
While this may make it tempting to prioritize cheap rates in your search, making sure you have the right amount of coverage is important. To help you get the most for your money, we studied the home insurance marketplace in Florida and picked the best four companies. Here's what we found:
Average Florida homeowners insurance rates
 
Today
2016
2015
2014
Florida annual average
$1,777
$1,918
$1,993
$2,055
Florida price per month
$148
$160
$166
$171
U.S. annual average
$1,215
$1,192
$1,173
$1,132
U.S. cost per month
$101
$99
$98
$94
Note: Average rates for today are based on non-binding estimates provided by Quadrant Information Services. Your rates may vary. 2014–2016 data sourced from naic.org.
Here are the rates for some of the biggest home insurance companies in Florida.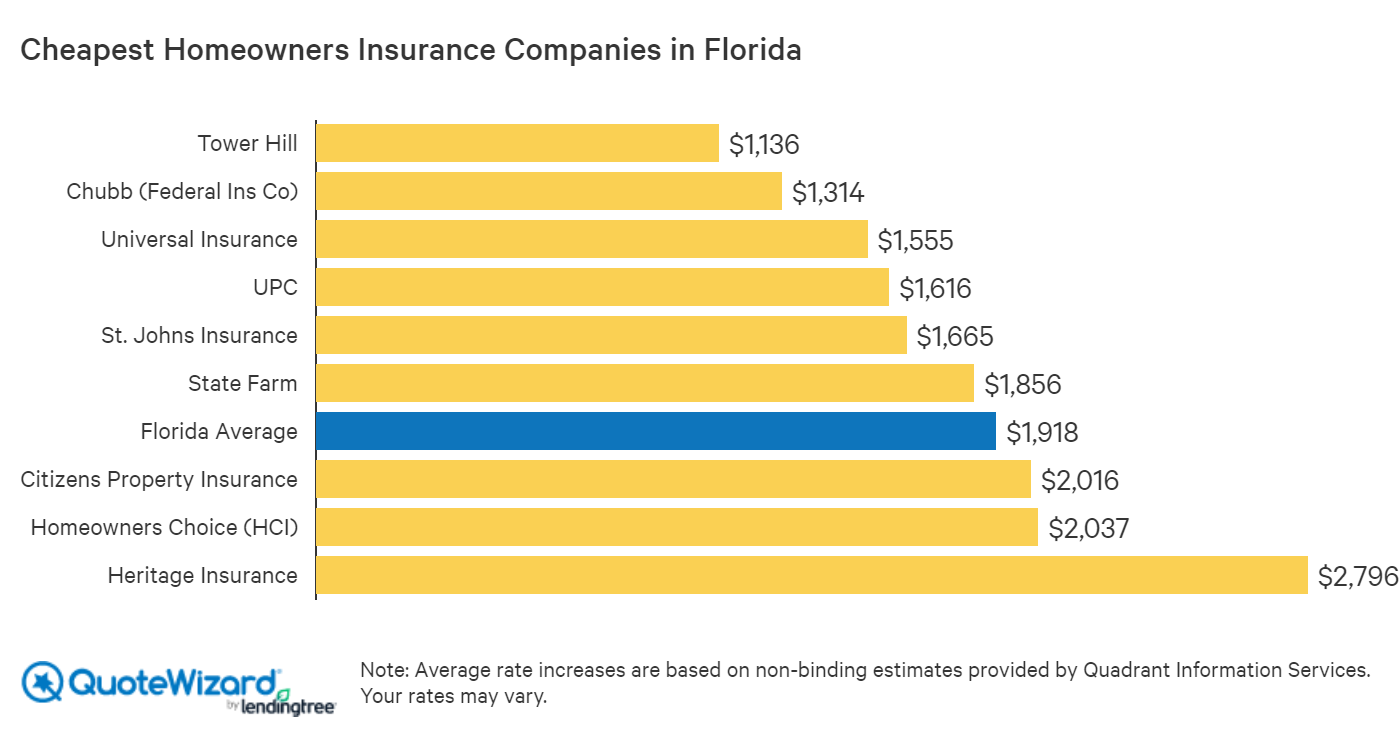 State Farm: best value
State Farm is our top pick for homeowners insurance in Florida because it offers fair rates, great coverage, decent customer service and a large agent network.
By the numbers, State Farm performs better than its competition. State Farm's Florida subsidiary, State Farm Florida Insurance Company, had an NAIC complaint index of 1.90 in 2018, which is a measure of formal complaints made against an insurance company relative to its size. Although State Farm's complaint index is higher than the national average of 1.0, it is the second lowest we found in Florida (behind USAA). Additionally, State Farm received a 4/5 rating from J.D. Power in 2019, meaning overall satisfaction with State Farm is above average.
Our study found that State Farm offers yearly premiums of $1,856, which is below the state average by $62. State Farm may not be the cheapest option, but its rates are fair. Because Florida has the most expensive home insurance rates in the U.S., finding an affordable option can be difficult, but the value State Farm provides for its price is among the best in the state.
The sample home insurance policy we've seen from State Farm includes coverage for windstorms, which includes hurricanes and tornadoes. It is possible that State Farm writes policies that exclude windstorm coverage, but we've yet to see one. Windstorm coverage is especially important in Florida, as it experiences severe weather.
Tower Hill: best for cheap rates
Our study found that Tower Hill offers the cheapest home insurance rates, at $1,136 a year. That's below the state average by $782. Price is not the only factor when shopping for home insurance, so here's what else to know about Tower Hill. 
Tower Hill had an NAIC complaint index of 4.35 in 2018, which means that they received more complaints relative to their size than the national average of 1.0. However, this high complaint index is in the middle when compared to its main competition in Florida. If customer resources are important to you, Tower Hill's online and agent resources may be a perk for you – you file a claim online, over the phone, or by email. 
Tower Hill is a regional insurance company, offering a number of insurance products such as home, renters, condo and mobile home insurance policies in Florida. This means that Tower Hill specializes in covering Florida homes and is in touch with Florida's unique insurance risks. 
Tower Hill is a small insurer by national standards, writing only 0.59% of homeowners insurance policies. Nevertheless, it still provides financially sound insurance policies, with an A.M. Best financial rating of A-. That means you shouldn't have to worry about Tower Hill not paying out on claims after a catastrophe.
Citizens Property Insurance: best for hard-to-cover homes
Citizens Property Insurance was founded as a nonprofit in 2002 by the Florida Legislature in order to provide property insurance to Floridians who couldn't find coverage with private companies. With so many insurance risks in Florida, it can be difficult to find the coverage you need for your home, in which case Citizens may be your best option. However Citizen's average annual rate of $2,016 is higher than the statewide average.
Citizens is the fourth largest home insurance company in Florida, writing just over 5% of all policies. Citizens' NAIC complaint index was 11.21 in 2018, which is relatively high for the state, and the highest complaint index in our top picks. However, when you can't get homeowners insurance elsewhere, it may be your only option.
As far as we can tell, there is no standard Citizens home insurance policy. There are multiple HO-3 policies (the most popular type of home insurance policy) on Citizens' website, but the coverages between them vary. Based on the coverage documents available on Citizens' website, there are sometimes exclusions. For example, some Citizens policies won't protect the roofs of external structures. Therefore, we recommend thoroughly reviewing your policy if you choose to go with Citizens.
USAA: best for active service members, veterans and their families
USAA is only available to current and former military members and their families, but it offers exceptional home insurance coverage if you qualify. USAA's policies are accompanied by top-notch customer service. While its policies are not the cheapest around, it is a great option for veterans and active service members. With over 1.5 million veterans living in Florida, and an additional 65,000 active service members residing in Florida, many Floridians may qualify for USAA.
USAA provides many discounts, which can help offset the hefty price tag. As with many large insurance companies, you can save by bundling. USAA's security system discount is particularly noteworthy: USAA maintains a partnership with ADT, which gives USAA members 50% off installation of a security system and 10% off monthly monitoring. You can also receive a deployment discount, which provides active duty members with a three-month credit.
USAA's home insurance policies accommodate service members and veterans by adding coverage and services that address its customers' unique needs and challenges. For example, USAA covers military uniforms in case they are damaged. USAA also provides services that connect its customers with professional networks, such as contractors and moving services.
USAA's coverage is at the top of the industry. It offers replacement cost coverage on its home insurance policies, which means that insurance claims cover the full cost to get a new item in the event of a loss. With many policy add-ons, there is ample opportunity to customize your policy to get the right coverage for you.
Florida home insurance reviews and rates by the numbers
The insurance marketplace in Florida contains many regional insurers. Unlike many states, Florida isn't dominated by large companies. The 2019 J.D. Power rating is based on over 13,000 interviews with homeowners and renters. The complaint index measures how many complaints a company receives relative to its size.
Overview of Florida home insurance market

| Company | Market share | 2019 J.D. Power rating | 2018 complaint index (lower is better) |
| --- | --- | --- | --- |
| Universal Insurance | 9.76% | N/A | 8.07 |
| State Farm | 6.86% | 4/5 | 1.90 |
| Tower Hill | 5.97% | N/A | 4.35 |
| Citizens Property Insurance | 5.09% | N/A | 11.21 |
| FedNat | 4.29% | N/A | 5.40 |
| Heritage Insurance | 3.95% | N/A | 5.93 |
| USAA | 3.93% | 5/5 | 0.20 |
| UPC Insurance | 3.67% | 2/5 | 5.04 |
| Security First Insurance | 3.59% | N/A | 12.08 |
| Progressive | 3.52% | 3/5 | 4.28 |
Home insurance rates in Florida by county
Miami-Dade County has the highest cost of home insurance, at $4,208 a year, while St. Johns has the most inexpensive premiums, at $1,010 per year. Here are Florida homeowners insurance rates by county:
County
Average cost
Miami-Dade
$4,208
Broward
$3,084
Palm Beach
$2,050
Hillsborough
$1,450
Orange
$1,496
Duval
$1,192
Pinellas
$1,143
Lee
$1,369
Polk
$1,566
Brevard
$1,243
Volusia
$1,127
Pasco
$1,079
Seminole
$1,354
Sarasota
$1,176
Marion
$1,193
Collier
$1,524
Manatee
$1,121
Lake
$1,136
Escambia
$1,387
St. Lucie
$1,727
Leon
$1,029
Osceola
$1,529
Alachua
$1,061
St. Johns
$1,010
Clay
$1,031
Okaloosa
$1,338
Hernando
$1,019
Bay
$1,378
Charlotte
$1,313
Santa Rosa
$1,364
Martin
$1,424
Citrus
$1,078
Indian River
$1,621
Highlands
$1,347
Sumter
$1,092
Flagler
$1,122
Nassau
$1,139
Putnam
$1,072
Monroe
$2,323
Columbia
$1,284
Walton
$1,402
Jackson
$1,201
Gadsden
$1,181
Suwannee
$1,417
Levy
$1,357
Okeechobee
$1,404
Hendry
$1,466
DeSoto
$1,338
Wakulla
$1,336
Bradford
$1,145
Hardee
$1,323
Baker
$1,215
Washington
$1,291
Taylor
$1,168
Holmes
$1,282
Madison
$1,215
Gilchrist
$1,209
Dixie
$1,152
Gulf
$1,521
Union
$1,280
Calhoun
$1,352
Hamilton
$1,268
Jefferson
$1,154
Glades
$1,275
Franklin
$1,497
Lafayette
$1,236
Liberty
$1,357
Note: Average rates are based on non-binding estimates provided by Quadrant Information Services. Your rates may vary.
Florida home insurance rates by city
Our study found that Tamiami had the most expensive home insurance premiums, at $4,534 per year, of the cities we considered, while Spring Hill had the cheapest rates, at $1,016 per year. Here are Florida home insurance rates by city:
City
Average cost
Jacksonville
$1,196
Miami
$3,771
Tampa
$1,431
Orlando
$1,425
Hialeah
$4,512
Port St. Lucie
$1,711
Tallahassee
$1,028
Cape Coral
$1,363
Fort Lauderdale
$2,860
Pembroke Pines
$3,184
Hollywood
$2,957
Miramar
$3,233
Coral Springs
$3,161
Gainesville
$1,062
Brandon
$1,462
Palm Bay
$1,231
Clearwater
$1,166
Miami Gardens
$4,450
West Palm Beach
$1,996
Lehigh Acres
$1,400
Lakeland
$1,561
Spring Hill
$1,016
Pompano Beach
$3,052
Davie
$3,157
Alafaya
$1,556
Sunrise
$3,212
Miami Beach
$3,220
Deltona
$1,180
Plantation
$2,907
Riverview
$1,476
Boca Raton
$2,068
Town 'n' Country
$1,464
Palm Coast
$1,122
Largo
$1,149
The Villages
$1,108
Melbourne
$1,245
Deerfield Beach
$2,949
Kendall
$4,446
Fort Myers
$1,386
Homestead
$4,390
Boynton Beach
$2,065
Weston
$3,250
North Port
$1,181
Lauderhill
$3,218
Kissimmee
$1,533
Delray Beach
$2,058
Jupiter
$1,914
Tamarac
$3,184
Pine Hills
$1,571
Fontainebleau
$4,515
Wellington
$2,030
Daytona Beach
$1,119
North Miami
$4,179
The Hammocks
$4,438
Port Orange
$1,099
Coconut Creek
$3,157
Sanford
$1,352
Doral
$4,495
Palm Harbor
$1,176
Port Charlotte
$1,340
Kendale Lakes
$4,493
Ocala
$1,198
Wesley Chapel
$1,045
Tamiami
$4,534
Margate
$3,161
Palm Beach Gardens
$2,050
Bradenton
$1,072
Sarasota
$1,169
Note: Average rates are based on non-binding estimates provided by Quadrant Information Services. Your rates may vary.
Florida homeowners insurance rate factors
There have been 134 natural disasters in Florida since 1953, according to FEMA. Of these disasters, 65 were hurricanes or severe storms, 45 were fires and 13 were floods – it's no secret that homeowners in Florida face environmental threats.
Homeowners insurance usually covers damage from hurricanes and fires, but never from flooding. However, some companies exclude windstorm coverage for high-risk areas, so you should always check with your insurance company to ensure you're fully protected.
Windstorms: hurricanes, tornadoes, high winds and cyclones
The Florida government doesn't require Floridians to have windstorm protection, but some mortgage lenders do. What is required by the government, however, is that insurers give their customers the option of windstorm coverage, except in some particularly high-risk areas. 
We recommend adding windstorm and hail coverage to your homeowners policy, with protection against tornadoes, hurricanes, cyclones and high winds included. It is possibly the most important protection for Floridian homeowners, due to Florida's high risk. If you aren't sure if windstorms are covered under your policy, you should check with your agent or insurance company.
Most home insurance policies have a hurricane deductible. The Florida government requires that companies offer $500, 2%, 5% and 10% hurricane deductibles. The percentage-based deductibles refer to your dwelling coverage, or how much you home is insured for. So, if your home is insured for $200,000 and you have a 2% hurricane deductible, your insurance kicks in after you pay your $4,000 deductible.
Fire risk in Florida
Home insurance policies usually protect your home and belongings if they are damaged by fire. However, there can be minor variations in homeowners insurance policies, and fire coverage can be excluded in rare cases. Therefore, it is always best to double check that your policy covers it.
Flood insurance in Florida
Flooding is not covered by homeowners insurance. In order to protect your home and belongings from flood damage, you'll have to purchase a separate flood insurance policy. There are two main options: flood insurance through the NFIP (backed by the U.S. government), or flood insurance through a private flood insurance company.
It is difficult to say whether a private flood insurance policy or NFIP policy is cheaper. There are times when NFIP policyholders may overpay compared to a private company, but the reverse can also be true. Therefore, your best bet is to collect quotes from multiple companies to ensure you receive the right coverage at a fair price.
Methodology
We collected quotes from every ZIP code in Florida for a house built in 1986 and worth $214,000, which are the median build year and home value in Florida, according to the U.S. Census Bureau. The quotes were for a standard HO-3 homeowners insurance policy.
The largest home insurance companies in Florida were considered, including: Tower Hill, Federal Insurance Company (owned by Chubb), Universal Insurance, UPC, St. Johns Insurance, State Farm, Citizens Property Insurance, Homeowners Choice (HCI) and Heritage Insurance. We reviewed publically available form filings from State Farm and Citizens Property Insurance.
We accounted for all the subsidiaries of a company that operates in Florida. For example, Tower Hill has two primary subsidiaries in Florida. We weighted these individual companies' complaint index based on their relative size, so that our calculated complaint index is closer to what most people might expect. By weighting the subsidiaries, we avoid letting smaller subsidiaries sway the numbers.
The complaint ratio from the Florida Office of Insurance Regulation was taken from the first quarter (January through March) of 2019.
Florida Office of Insurance Regulation
Website:
Insurance Commissioner:

David Altmaier
Consumer Insurance Helpline:

1-877-MY-FL-CFO (1-877-693-5236)
Office Hours:

Monday - Friday
9:00 am to 5:00 pm
File a Consumer Insurance Complaint
Sources:
QuoteWizard.com LLC has made every effort to ensure that the information on this site is correct, but we cannot guarantee that it is free of inaccuracies, errors, or omissions. All content and services provided on or through this site are provided "as is" and "as available" for use. QuoteWizard.com LLC makes no representations or warranties of any kind, express or implied, as to the operation of this site or to the information, content, materials, or products included on this site. You expressly agree that your use of this site is at your sole risk.