Compare Home Insurance in Jacksonville
Do you own a home in Jacksonville, Florida? Are you considering buying a house in Jacksonville?
 It has been a rough year for metropolitan cities located near the coast. Hurricane after hurricane have barreled through and wreaked havoc on the residents homes. Jacksonville, FL is no stranger to this type of inclement weather.
That's part of the reason why the price of homeowners insurance in Florida is rising. Florida's home insurance cost recently doubled that of the national average. In other words, home insurance in Florida is expensive, and Jacksonville is no exception.
The primary culprit for Florida's expensive home insurance is bad weather and fraud. It may seem unfair that your insurance premium are impacted by this, but that's how insurance works. Fortunately, there are steps you can take to get a great insurance policy at a fair price.
Average Jacksonville Home Insurance Rates
How much is home insurance in Jacksonville? Using data from QuoteWizard users in Jacksonville, we created this 'average' house:
1747 square foot home built in 1976
One story
3 bedrooms and 2 bathrooms
Composite shingle roof
Deadbolt locks and fire extinguishers
We gathered quotes from many insurance companies using this average Jacksonville house. Always remember, your home insurance rates are specific to you and your home. Your price and experience may differ from our findings. Listed below are the average rates for a Jacksonville homeowners insurance policy:
$887 Annually
$74/month
The graph below shows the change in average Florida home insurance rates from 2011 to 2015, the most recent year the data is available. According to the III, Florida homeowners insurance rates increased from $1,933 in 2011 to 1,993 in 2015, a jump of $60 dollars, or 3.10 percent.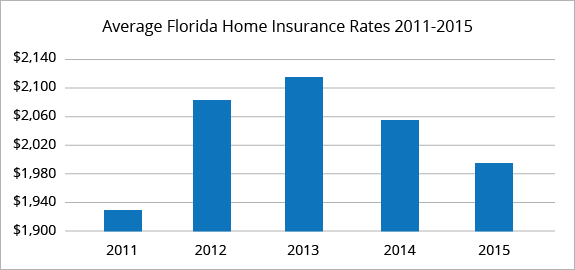 QuoteWizard helps consumers compare quotes from both national insurance companies and local agents. QuoteWizard can help you find affordable home insurance rates near Jacksonville, Florida.
Last year, 1,300 people used QuoteWizard to compare compare home insurance quotes in Jacksonville, FL from multiple companies.
Best Home Insurance Companies in Jacksonville
Most Popular Insurance Companies
These are the most popular insurance companies in Jacksonville according to QuoteWizard users:
Geico
State Farm
Progressive
Allstate
Liberty Mutual
Esurance
Nationwide
Farmers
MetLife
AIG
Best Insurance Companies
The above list shows the most popular home insurers in Jacksonville, Florida according to our users. But popular doesn't always mean best.
Our study on the best home insurance companies focuses on top of the line companies. In no particular order, these companies stand out among the rest:
Amica: Best Overall
MetLife: Best for Bundling
Allstate: Best for Local Agents
Hartford: Best for Seniors
State Farm: Best for Pet Owners
Travelers: Best for Flexible Policies
Nationwide: Best Replacement Coverage
Farmers: Best for Eco-Friendly Homes
Liberty Mutual: Best for Quick and Easy Quotes
Auto Owners Insurance: Best Claims Experience
Jacksonville Home Insurance Rate Factors
Insurance companies use a variety of elements to determine the price of your home insurance policy. Some elements are out of your control. But being aware of the important factors can save you money. Below are the most common factors that decide your insurance rates:
Natural disasters: Jacksonville has lovely average temperature of about 70 degrees year-round. Sometimes temperatures can dip below 40 degrees, but this is a rare occasion. Unfortunately, the state of Florida is one of the most disaster-prone areas in the country. In 2017 the coast endured the highest number of back-to-back hurricanes since 2005. Jacksonville is no exception. The city saw record-setting flooding in 2017 due to Hurricane Irma. Naturally, home insurance companies charge more in Florida due to these disasters. Remember: home insurance policies don't cover water damage. Residents in flood-prone areas need to purchase separate flood insurance.
Your home's age: An older house usually needs more maintenance and upkeep than a new one. This is just a fact that come with aging homes. They can suffer from faulty components, leaking pipes, damaged foundations, decrepit roofs, and more. Because of this, insurance companies charge more to cover an older home. Why? Residents of old houses are more likely to file a claim. According to our data, the average Jacksonville house was built in 1976. That's relatively new for a house, which is good news for insurance shoppers.
Previous claims: A Comprehensive Loss Underwriting Exchange (CLUE) report lets insurers see your claims history, as well as the previous claims history of your home. Homeowners who file multiple claims will face higher rates. Why? They're statistically more likely to file additional claims. And it's not only your previous claim history that can hurt you. The claim history of your home's previous owner you can also impact your home insurance rates. Keep this in mind when weighing the severity of an incident, and whether to file a claim or not.  
Proximity to emergency services: Living close to a fire station is essential. Proximity to a fire station can prevent your home from completely destruction due to a fire. This is another factor taken into consideration when pricing your home insurance policy. Jacksonville received a Class 1 rating by the Insurance Services office. A Class 1 rating is the best rating a city can get for protection services, which is great news for residents. In fact, Jacksonville is the largest city with a Class 1 rating.
Home security and crime: Jacksonville residents reported a total of 32,480 property crimes in 2017. This makes up 85 percent of all crime in the city, which is not good for homeowners or their insurance rates. Insurers charge more to cover homes in areas with high rates of property crime. Your chances of becoming a victim of property crime in Jacksonville are 1 in 27. Fortunately, there are steps you can take to lower your premiums by making your home more secure.
Credit history: Residents with bad credit can expect to pay more for home insurance. Insurance companies rely on your credit score to gauge how financially reliable you are. Of 100 metropolitan cities in the US, Jacksonville ranked 77th for credit score rankings. The average credit score in the area is 647, which isn't great. Jacksonville residents with mediocre credit can expect to pay a bit more for their monthly insurance premiums.
Pools, Hot-tubs, Trampolines: Pools, hot tubs, and trampolines all impact homeowners insurance rates. The term used to categorize these objects is attractive nuisances. They're called this because they attract trespassers or children and can cause injuries. Attractive nuisances increase insurance rates because the liability portion of your home insurance pays for injuries that occur on your property. These attractive nuisances increase the likelihood of a serious injury. Jacksonville has a very desirable climate, and pools are common in the area. In Duval county, 23,000 residents reported having private residential swimming pools in 2006. That's a high number, and it's part of the reason why Florida has the highest drowning death rate for children under age five.
Coverage amounts: A standard insurance policy covers the essentials. The essentials include the house's structure, your belongings, and liability. All this is covered in the event of an incident, plus additional living expenses. Standard policies can be cost efficient and the best option for homeowners that can't afford more. But, some homeowners have unique homes, extra valuables, or large assets. These homeowners will need higher liability and extra coverage amounts. Coverage amounts play a key role in your monthly insurance costs.
Types of Homeowners Insurance
According to the Florida Insurance Department there are three main packages offered for homeowners insurance policies. Those three packages are listed below:
HO – 1: Basic policy that covers standard damages
HO – 2: Like HO-1, but with more covered perils.
HO – 3: This is the most common policy in the nation. It includes coverage for and open peril basis. This means you're covered for all unforeseen damages, unless otherwise stated.
Additional policies: HO – 4 for renters, HO – 6 for condo owners, HO – 7 for mobile homes, and HO – 8 for older homes.
All homeowners policies come with liability coverage.
9 Ways to Save Money on Homeowners Insurance in Jacksonville
Now you know what key factors play a role in your homeowners insurance costs. Let's find out how Jacksonville residents can save monthly:
Be a senior: Seniors get a lot of discounts, and home insurance is no exception. Why? Senior citizens spend more time at home, which means they're more likely to be able to stop a house fire or a burst pipe before it causes considerable damage. Seniors also often keep their homes in tip-top shape. In Jacksonville, residents between the ages of 45 and older makes up 40.7 percent of the population. An additional 12.6 percent of the population is 65 and or older. If you qualify for the senior discount at the movie theater, you're also going to earn a discount on your home insurance.   
Skip the Pool: As we said earlier, pools are popular in Jacksonville. Who doesn't like the thought of unwinding by a pool on a hot summer day? Be aware: having a pool in your backyard can attract trespassers or kids. That can result in drownings or slip and falls on your property. This unfortunate reality is enough to increase your home insurance rates. If you want to save monthly, rethink the swimming pool.
Redo your roof: In areas prone to natural disasters, your home's roof is the first layer of defense. Constant windstorms and torrential rains can wear away at your roof overtime. Maintain a high-quality roof to protect your home from weather-related damage. If you install a new roof, insurance companies may reward you with better rates. Most homes in Jacksonville have a composite shingle roof, which aren't flammable and can withstand a decent amount of weather damage.
Bolster your security system: Jacksonville has a high property crime rate. Residents have a 1 in 27th chance of becoming a victim of property crime in the area. Adding additional security systems and high-tech alarms can make your home safer. Insurance companies reward homeowners who take these safety precautions with better insurance premiums.
Shop around: It's tempting to find a good insurance and then stick with them. Because buying insurance can be a bit of a pain. But a great way to save money on home insurance is by shopping around. Even if you don't switch, you can see if you're paying too much, or if your insurance is the best fit for your insurance needs. Remember, insurance companies routinely raise your rates because they know shopping for insurance is inconvenient. Each insurer offers different rates, so compare rates from several home insurance companies in Jacksonville.
Renovate: The age of your home impacts your home insurance. That's especially true with old homes. Certain home improvement steps can help lower your premiums. For example, updating your electrical wiring, plumbing, roof, or foundation all make your home less of a liability. Be aware that remodeling can increase your home's value. Which can make your coverage amounts imbalanced.
Avoid claims: After you file a claim, your insurance rates will probably rise. That's especially true if you've filed multiple claims. Now, we're not saying you shouldn't file claims. But weigh the severity of the incident. If you can afford to repair the damages out of pocket, consider doing that. It may save you money in the long run. As stated above, if you file multiple claims in a year your insurer may label you as a high-risk. They might even decline your coverage. Therefore, you may want to avoid filing a homeowners insurance claim in some cases.
Raise your deductible: It's simple: when your deductible goes up, your premium goes down. Depending on your personal needs and your risk aversion, a high deductible may make sense for you. Most people with insurance would like to have little to no out-of-pocket expense. But raising your deductible can help you save on your monthly homeowners insurance costs.
Bundle: Another great way to easily cut your home insurance costs is to bundle. Insurance companies love customers who purchase more than one policy with them. If you bundle your homeowners insurance with your auto insurance, for example, you can quickly save 20 percent on your premium.
QuoteWizard.com LLC has made every effort to ensure that the information on this site is correct, but we cannot guarantee that it is free of inaccuracies, errors, or omissions. All content and services provided on or through this site are provided "as is" and "as available" for use. QuoteWizard.com LLC makes no representations or warranties of any kind, express or implied, as to the operation of this site or to the information, content, materials, or products included on this site. You expressly agree that your use of this site is at your sole risk.