Drone Insurance & Your Homeowners Policy
Learn how to insure your drone. Find out which type of coverage you need to get to protect both your drone and your finances from liability.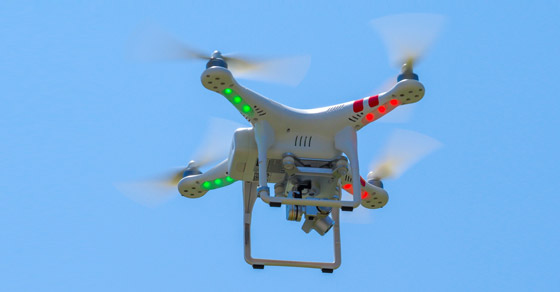 How to get Drone Insurance
What was everyone's favorite gift this past Christmas? If you guessed a drone, you are correct. With a spike in the sales of this recreational, remote-control toy, the potential for risk is rising as well. We've created a guide to answer all of your drone-related insurance questions.
What are drones?
Drones are unmanned aerial vehicles (UAV). This means that they navigate without a human pilot onboard, and instead are operated from a remote control or computer. While initially used as military vehicles, drones are gaining popularity in the commercial and recreational sector.
Companies are developing ways to get drones to do day-to-day tasks such as deliver packages to your doorstep and shoot videos that give an aerial perspective. Hobbyists are using drones as they used to use remote control airplanes. They might use them to take photographs, or just take them on a leisurely flight around the neighborhood.
What types of drones need insurance?
There are three types of drones. Those for military use, commercial use, and those for recreational use. As commercial and recreational drones gain popularity, more regulations are emerging.
If you or your company is looking to insure your drone for commercial use, you may check with the Federal Aviation Administration (FAA) on how to do so. You might also consider researching and purchasing aviation liability insurance.
"Depending on whether or not [the drone] is for private or public use will determine the type of coverage," says Sarah Brown, resident drone expert and tech writer for BestSatelliteProviders.com. "Coverage usually involves premises liability, fire legal liability, and personal injury coverage."
If you want to insure your recreational drone, your homeowners and/or umbrella policies should cover it. These policies contain liability and personal injury protection as well.
What types of coverage are available?
As stated above, your homeowners insurance or umbrella policy should cover the property damage and liability claims against you that might occur due to your drone.
Let's say you are flying your drone in the street when your neighbor drives by in his brand new Range Rover. You lose control and the UAV crashes into the man's windshield, causing him to hit a tree. The damage to his car and medical bills reach could well into the hundred thousand dollar range. This is a situation where appropriate drone insurance coverage would hugely benefit you.
Prior to purchasing your drone, you should check with your insurance provider about whether or not they will cover it in the event that it causes an accident. This is because recreational drones are a fairly new phenomenon, and not all providers cover them.
If for some reason your current provider doesn't cover drones, feel free to compare rates on homeowners insurance coverage that does.
Homeowners Coverage. A standard homeowners insurance policy will cover the structure of your home, personal property, liability claims, and possibly some extra living expenses. The components that are applicable to drone damage would be personal property and liability coverage.

Maybe you are playing with your drone one day and it gets out of control and crashes into your roof? Or better yet, your new car. Because drones are your personal property, you may file a claim against the drone and your insurance may pay you out for the damage. In most cases, they should treat your drone like any other model or remote control (RC) airplane. However, check with your insurance carrier to make sure drones are covered.

If your drone causes injury to another party, your liability coverage consists of medical payments coverage, which will help with their medical bills. However, if the expenses exceed your policy limit, they might decide to sue you. Luckily your liability policy will also cover your legal fees. You want to make sure you have the minimum coverage, or more. This is so you don't have to pay out-of-pocket for your legal expenses if they do file suit.

Liability coverage acts as a financial cushion for when your personal property injures someone. You should base how much liability coverage to get on the level of risk and damage your property can inflict on others. For example, if you have "toys" like drones or ATV's, you might want to increase your coverage.

Most insurers suggest getting at least $300,000 or more in coverage. If you still feel like your liability coverage won't be enough and want to enjoy playing with your drone, anxiety free, consider an umbrella policy.

Umbrella Coverage. Umbrella coverage is a safety net if someone files a liability claim and your homeowners insurance can't cover all the medical and/or legal expenses. Many homeowners invest in this type of coverage if they want to ensure the full protection of their assets.

Umbrella coverage consists of bodily injury and property damage liability coverage. It will cover the medical expenses of the person injured, the expenses for property damage, as well as legal expenses if they decide to press charges.

The coverage comes in increments of $1 million to $10 million or more. The premiums are affordable and range around a few hundred to a thousand dollars a year. But the deductible will be around a couple hundred thousand dollars. However, if you think your drone could cause major property damage or injury, consider getting umbrella coverage.
What exclusions are there?
A standard homeowners insurance policy excludes injury or personal property damage from an aircraft. In most policies, this doesn't include model or recreational aircraft, a category that includes drones.
Your homeowners insurance also won't cover drone use for business. Say you're filming a short documentary and your drone causes property damage or injury while taking photos of someone's home. You'd need to purchase commercial insurance to cover your drone because your homeowners policy won't cover this type of commercial activity.
There have also been instances of people filing invasion of privacy claims due to drones showing up in their backyard. According to John D. Deans who operates and owns central Texas drones, "Invasion of privacy laws depend on the state law since no federal law exists as of Jan 2016. No insurance will cover an act that breaks any law."
FREQUENTLY ASKED QUESTIONS
Q: What is the FAA?
A: The FAA stands for the Federal Aviation Administration. Its purpose is to regulate aviation in America. With more drones in US airspace, the FAA has an increased role in keeping the airways safe. Statisticians estimate that around one million drones were sold during the 2015 holiday season. That's a lot of potential midair collisions!
"Taking the time to get your Part 107 commercial drone license will ensure you know all the FAA requirements and can avoid unsafe flights," says Dick Zhang, CEO and founder of commercial drone company Identified Tech. Statisticians estimate that around one million drones were sold during the 2015 holiday season. That's a lot of potential midair collisions!
Q: If my drone causes injury to someone else's, can they file a claim and receive a settlement from my insurance company?
A: If this is the case, you can file a liability claim and they will receive monetary compensation for the injury. However, if the coverage isn't enough or they feel the damage was due to negligence on your part, they can sue and possibly receive a settlement.
Q: Can I get a homeowners insurance rider for my drone?
A: You should check with your insurance carrier. If you get an expensive drone and want to be able to protect it, you should look into getting a rider. Think of it like any other luxury item that you would want to get extra coverage for. A couple thousand dollar drone would need more than the minimum personal property damage coverage to repair it.
Check with your carrier to see if this is a situation that warrants the use of liability coverage.
Q: What if my drone hits another drone mid-air and they're both destroyed? Does home insurance cover that?
A:  Unfortunately, if you can't determine who was at fault, you will most likely have to each pay to replace your own drone. So, if you have a couple thousand-dollar drone, you'll want to get good coverage.
On the other hand, if your drone was $500 you might not want to file a claim. That's because the deductible will probably be around the same price of the drone itself. Not to mention, your insurance premiums will most likely rise after filing a claim.
Q: Are there drone no-fly zones?
A: Because there's an increased influx of recreational drones in the sky, the FAA developed a no-fly zone where UAV's can't go. For example, drones can't fly near most airports, military bases, national parks, and a few other government entities. A quick Google search for a drone no-fly-zone map will give you a wealth of information.    
The FAA also declared that recreational drones must fly within 500 feet of the operator. This will hopefully ensure less accidents.
Q: Are remote control airplanes also covered under your insurance policy?
A: Most insurance providers will exclude liability coverage for an aircraft. But model/remote control airplanes and drones should be alright. However, you may want to check with your insurance provider for whether or not they cover drones.  
Q: How do I register my drone?
A: On December 21, 2015, the Federal Aviation Administration (FAA) made it a requirement for all owners with drones between .55 and 55 pounds to register them online. You can register your UAV through the FAA website.   
Q: What can I do if someone shoots down my drone?
A: This is against the law and you should file a police report. Intentionally destroying property is a misdemeanor, and in some cases a felony, depending on the type of damage.
Q: What if someone is spying on me with their drone?
A: If you suspect that someone is intentionally spying on your home with their drone, you should file a police report. There has been some debate over whether it is illegal for a drone to fly over private property. However, intentionally spying and trespassing is illegal. This is also a situation that warrants the involvement of law enforcement.
References:
QuoteWizard.com LLC has made every effort to ensure that the information on this site is correct, but we cannot guarantee that it is free of inaccuracies, errors, or omissions. All content and services provided on or through this site are provided "as is" and "as available" for use. QuoteWizard.com LLC makes no representations or warranties of any kind, express or implied, as to the operation of this site or to the information, content, materials, or products included on this site. You expressly agree that your use of this site is at your sole risk.