Compare Homeowners Insurance in Baltimore
Current and future Baltimore, Maryland homeowners: are you curious about the cost of homeowners insurance? Are you interested in lowering your rates?
This spring, Baltimore saw a 3.2 percent house price increase. These are the highest prices in a decade. An increase in the price of housing usually results in an increase in homeowners insurance rates.
And while Baltimore has an unfortunate reputation for high crime-rates, the city actually does relatively well in regards to property crime. Home insurance rates are most impacted by property crime, a small silver lining for residents.
Fortunately, Baltimore residents have plenty of options when it comes to homeowners insurance.
Average Baltimore Home Insurance Rates
How much is home insurance in in Baltimore? With data from nearly 1,300 QuoteWizard users in Baltimore Antonio, we created this 'average' home:
1,653 square foot home built in 1945
One story
3 bedrooms and 2 bathrooms
Deadbolt locks
Fire extinguishers
Composite shingle roof
Using this 'average' Baltimore house, we gathered quotes for home insurance companies. Remember, home insurance rates are unique to the homeowner and their home. Your coverage levels, house, and insurance rates may differ. Listed below is the average rate for a Baltimore home insurance policy:
$73.58/Month
$883.00 annually
The graph below shows the change in average Maryland home insurance rates from 2011 to 2015, the most recent year the data is available. According to the III, Maryland homeowners insurance rates increased from $800 in 2011 to $982 in 2015, a jump of $182 dollars, or 22.75 percent.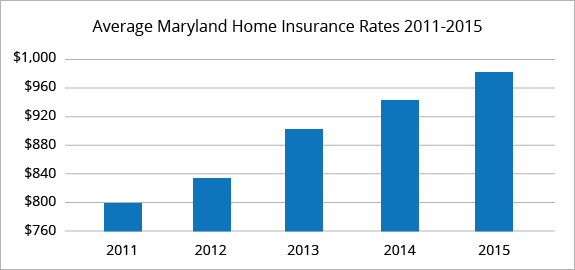 QuoteWizard helps consumers compare quotes from both national insurance companies and local agents. QuoteWizard can help you find affordable home insurance rates near Baltimore, Maryland.
Last year, 1,300 people used QuoteWizard to compare compare home insurance quotes in Baltimore, MD from multiple companies.
Best Home Insurance Companies in Baltimore, MD
Most Popular Insurance Companies
According to QuoteWizard users, these are the most popular insurance companies in Baltimore:
Geico
Allstate
State Farm
Liberty Mutual
Nationwide
Progressive
Farmers
MetLife
Esurance
Erie
Best Insurance Companies
The above list shows the most popular home insurers in Baltimore according to our users. But popular doesn't always mean best.
Our study on the best home insurance companies focuses on top of the line companies. In no particular order, these companies stand out among the rest:
Amica: Best Overall
MetLife: Best for Bundling
Allstate: Best for Local Agents
Hartford: Best for Seniors
State Farm: Best for Pet Owners
Travelers: Best for Flexible Policies
Nationwide: Best Replacement Coverage
Farmers: Best for Eco-Friendly Homes
Liberty Mutual: Best for Quick and Easy Quotes
Auto Owners Insurance: Best Claims Experience
Baltimore Home Insurance Rate Factors
Insurance companies and agents use many elements to estimate your home insurance premium. Some of these factors are out of your control. But you do have influence on some important aspects of home insurance. These are most common elements that decide your insurance rates:
Types of Homeowners Insurance
There are several different home insurance plans that may fit your specific needs:
HO-1: Basic insurance covering standard damages.
HO-2: Broad homeowners insurance that covers everything in HO-1. Also covers falling objects and damages to AC units, pipes, and other household systems.
HO-3: Covers damage from all perils unless specifically excluded. Also covers unattached structures and liability.
HO-4: Belongings and liability coverage for renters.
HO-5: Comprehensive policy like HO-3, but with expanded coverage and less limitations on property claims. This is a premium policy.
HO-6: Covers possessions and liability for condo owners.
HO-7: Similar coverage as HO-3, but for mobile homes.
HO-8: Specifically for older homes, this policy provides similar coverage as HO-3. It can be tailored to suit the unique needs of older homes.
8 Ways to Save Money on Homeowners Insurance in Baltimore
Below are some tried and true ways to lower your homeowners insurance premium:
Don't smoke: With over 19 percent of adults, the state of Maryland has the 11th highest percentage of smokers. Smoking dramatically increases the chance of a house fire, so insurance companies charge smokers more for coverage. If you're looking to save on your premium, ditch the cigarettes.
Redo your roof: In areas prone to natural disasters, your home's roof is the first layer of defense. Constant windstorms and torrential rains can wear away at your roof overtime. Maintain your current roof, or install a high-quality roof to protect your home from harsh weather. Insurance companies usually offer rate discounts to homes with new roofs. With Baltimore's snowy winters, a good roof is a great investment.
Add technology: Unfortunately, Baltimore homeowners are paying the price for the city's bad crime rates. But installing high-tech security systems and alarms can help protect your home. In fact, insurance companies frequently offer security and technology discounts.
Shop around: It's easy to find an insurance company and never look again. But if you don't see what else is available, you're probably losing money. Why? Insurance companies have their own pricing methods, so each company offers a different price. On top of that, insurers usually raise rates every year, because they know that people don't like to shop for insurance. But you can lower your premium by shopping around and comparing companies. Even if you don't end up switching, you can see if your insurance is the best choice for your needs. It's easy to compare insurance quotes and save money.
Renovate: The age of your house can raise the cost of your home insurance. That's especially true for poorly maintained homes. If your home is old and in bad shape, you're more likely to need to file a claim. But if you spend the money to insulate your home, replace faulty wiring, upgrade appliances, or redo your plumbing, for example, you can earn an insurance discount. Remember: remodeling can increase your home's value. That, in turn, can make your coverage levels inadequate.
Avoid claims: Filing claims frequently, causes your monthly home insurance premium to increase. If you file more than a few claims in a year, your insurance company can label you a high risk. That will cause your rates to raise. If you continue to file claims, they may even drop your coverage. If possible, pay for damages out of pocket, and try to avoid filing a claim unless it's absolutely necessary.
Raise your deductible: Many people prefer low deductibles to minimize out of pocket costs. But that means they're paying a higher monthly premium. If you opt for a higher deductible, your monthly bill will lower. However, there's a lot to consider when choosing your home insurance deductible. While a lower monthly bill is great, it might cost you more in the event of a claim.
Bundle: A great way for Baltimore residents to save money is by buying more than one insurance policy with the same company. Bundling your home and auto insurance could save you anywhere from 10 to 20 percent monthly.
QuoteWizard.com LLC has made every effort to ensure that the information on this site is correct, but we cannot guarantee that it is free of inaccuracies, errors, or omissions. All content and services provided on or through this site are provided "as is" and "as available" for use. QuoteWizard.com LLC makes no representations or warranties of any kind, express or implied, as to the operation of this site or to the information, content, materials, or products included on this site. You expressly agree that your use of this site is at your sole risk.