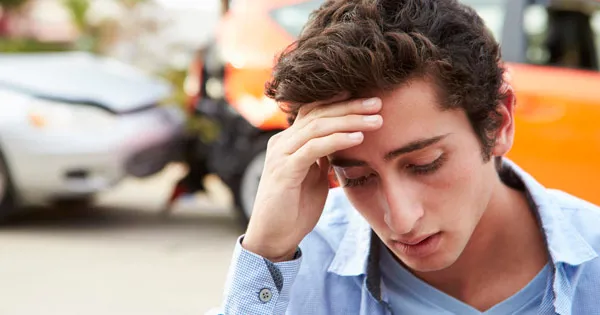 A car accident can cause you immediate physical danger and long-term financial costs in terms of damages and higher insurance rates. If you get into a car crash, here are steps to take while you are on the scene and afterwards:
1. Don't leave the scene of the accident
Even if you are certain that the car accident was not your fault, stay at the scene. If it's decided that you were at fault, you could face criminal charges for leaving the scene of the accident. Additionally, if anyone is injured, if there is a dispute as to who was at fault or if the accident was a hit-and-run, you should call 911 right away.
2. Get to a safe location
If it's unsafe for you to remain at the scene of the accident, move to a safer place to wait for police or an ambulance to arrive. For instance, you can try to get to the shoulder if you are on the highway or the sidewalk if you are on a local road. Be sure to move to safety especially if the accident occurred on a busy highway or intersection. And remember to turn your hazard lights on so other drivers can clearly see you.
However, don't stray too far from the accident site because police or other first responders may not be able to find you easily. Lastly, if someone in your party or other parties involved in the accident is severely hurt, do not move them yourself. Instead, wait for emergency services to respond. If you try to move them, you could do more harm than good.
3. Dial 911
First, get a sense of the severity of the car accident. Is it just a fender bender, or is there serious vehicular damage and injuries? If the accident is not severe and if you think you can hash out with the other party who was at fault, you may choose not to call 911. But you should know that some insurance providers require a police report in order to process a claim. Review your policy to make sure you are clear on this point.
If you decide to call 911, write down the names and badge numbers of the responding police officers. And take down the police report number. If you or the other party decides to sue, this information can be useful if you need documentation or witnesses. And if you obtain medical help from emergency services, get copies of all the medical bills and documents. If your insurance includes medical payments coverage, you could be reimbursed. Medical payments coverage pays for medical expenses for you or your passengers whether you are at fault or not.
4. Snap accident photos and track down witnesses
If it's possible to do so, take photos of the accident as soon as possible, even before first responders arrive. Photos can be helpful if you need to file a police report or insurance claim. And scan the scene to see if any passersby may have witnessed the car accident. An eyewitness account can be useful if there is a dispute over who is at fault for the accident.
Even if you believe you are at fault for the accident, do not state this at the scene. Another party could use this information against you to sue you. Write down full names and phone numbers for witnesses.
5. Exchange information with other drivers
Ideally, all of the parties involved in the car accident will remain at the scene. If this is the case in your situation, make sure to get key information from all of the parties. This includes full names, addresses and phone numbers. Additionally, get the full names and phone numbers of all of the passengers in the vehicles.
You'll also want to take down vehicular and insurance information, particularly car make, model and year; driver's license and license plate numbers; and insurance carriers and policy numbers. If a driver involved in the accident is not the owner of the vehicle they were driving, get the full name, insurance carrier and policy number of the car's policy holder.
6. Find a towing company
You'll need to call a towing company to remove your car from the scene of the accident if you are not able to drive it after the crash. Plenty of insurance companies have particular towing companies with which they work. As a bonus, you may receive a discount if you hire a tow that works with your insurer.
7. File an insurance claim
Once you tie up all the loose ends at the scene of the car accident and return home, you'll want to file a claim with your insurance company as soon as possible. Typically, you can file a claim in person, over the phone, online or on your insurance company's mobile application. The faster you file your claim, the quicker you can receive the money owed to you to pay damages that resulted from the crash. Write down your claim number so you can track the claim's progress.
After you file the claim, an insurance adjuster should contact you within a few days. The adjuster will examine the damage to your vehicle and who was at fault based on the car accident's details and information. After this procedure, the adjuster will decide how much money you will receive for your claim.
Wondering how the claim will affect your insurance prices going forward? Unfortunately, it's likely that your premium will rise, since one factor that determines your car insurance rates is your driving record. If the value of the damages is close to the same amount as your deductible, it may be a better idea to pay out of pocket. For more information, check out our article on car insurance claims.
8. Get your car fixed
You'll get a good idea of how much it will cost to repair your vehicle based on your insurance adjuster's determination of the value of the damage. Still, you should go to several repair shops for a price quote. If the numbers are way off from what the adjuster decided, you can argue the cost with your insurer.
How to be prepared for a car accident
One of the best ways to handle a car accident is to be prepared before it occurs. Even if you are an excellent driver with years of experience, statistics show that car crashes are remarkably common. And remember, you could get into a crash through no fault of your own.
So what does preparation entail in this case? First, take a look at your car insurance policy when it comes time for your renewal, which may be on an annual or semiannual basis. Make sure that you are fully covered for your needs, whether that means adding collision and comprehensive coverages or tweaking the amount of liability coverage you have. Also check if your insurance provider has made any changes to your policy on their end.
If it's been a while since you purchased a new vehicle and you have the budget for it, you may also consider buying a safer car. A newer car should have more updated safety features. Those features could also save you money on your insurance premium. Many providers offer discounts for safety features like air bags and anti-lock brakes.
Lastly, make sure that you always have your driver's license, registration and insurance information with you when you are driving.
QuoteWizard.com LLC has made every effort to ensure that the information on this site is correct, but we cannot guarantee that it is free of inaccuracies, errors, or omissions. All content and services provided on or through this site are provided "as is" and "as available" for use. QuoteWizard.com LLC makes no representations or warranties of any kind, express or implied, as to the operation of this site or to the information, content, materials, or products included on this site. You expressly agree that your use of this site is at your sole risk.