What to do if you get in a car accident
Getting in a car accident is a stressful situation. We've provided a checklist of the steps you should take if and when you're in a car crash.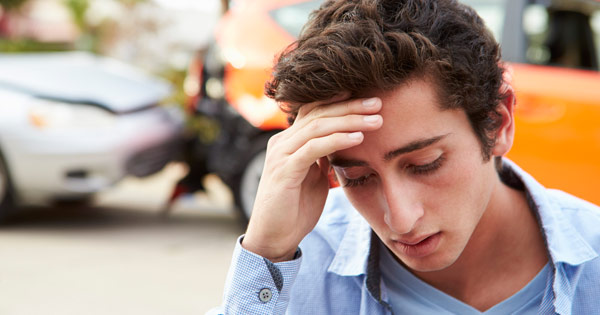 Car accidents are surprisingly common in the US. According to the NHTSA (National Highway Traffic Safety Administration), there were nearly 7.2 million police-reported vehicle crashes in 2016, the most recent year for which statistics are available. Because car accidents are unfortunately so common, it pays to be prepared.
Plan Ahead
It is always a good idea to review your car insurance policy during the renewal period. An auto insurance policy renewal usually happens annually or semi-annually. Make sure to read through your policy's provisions to see if there are any changes to the policy, or changes to your insurance needs since you last renewed. You want to make sure that you have coverage that's appropriate for your current needs.
You might also consider purchasing a newer, safer vehicle. A newer model vehicle can make a big difference while on the road. For one, they are equipped with the most advanced safety features. You also might be able to get a discount for purchasing a safer car—check with your provider for more information.
Also consider purchasing a dash cam. They're more popular than ever, and for good reason. Why do you need a dash cam? They remove the 'he said she said' blame game after an accident. You'll have irrefutable proof of who is at fault if you're involved in an accident. Plus, they're more affordable than ever.
And as always, make sure you have your insurance information, license, and vehicle registration with you at all times in case an accident occurs.
How to Handle the Situation
In the unfortunate event that you get into an automobile accident, here are some guidelines to follow:
Stay on the Scene. Whether you or the other party is at fault, never exit the area. If the accident is ruled to be your fault, you could face criminal charges for leaving.

Call 911 if anyone is injured, if there are disputes as to who is at fault, or if it was a hit-and-run.
Move to Safety. If it isn't safe to stay at the scene of the accident, move somewhere safe to wait for the police or an ambulance. Take cover on the shoulder of the freeway or the sidewalk. This is especially important if the accident occurs on the freeway or a busy intersection. However, don't move too far from the accident, because law enforcement might not be able to track you down. Regardless, remember to turn on your hazard lights so oncoming traffic knows there has been an incident.

If someone from your party or the other sustains serious injury and cannot move to safer ground, leave them put, as it is often safer than trying to move them yourself.
Call 911. You'll want to first assess how bad the accident is and whether or not it is worth calling law enforcement. If you think you can negotiate who was at fault without the help of another party, you may do so. However, it is a requirement of many insurance carriers to contact the police and file a report, before you file a claim.

It's also a good idea to get the name and badge numbers of the police officers who helped you at the scene of the accident. Furthermore, make sure to get the police report number. You might use this information if you or the other party files suit and you need witnesses or documentation.

If you called 911 for medical assistance, you'll want to make sure to get copies of any medical bills and documents. This way you might be able to get a reimbursement if you have medical payments coverage. This is coverage that pays for your medical and funeral expenses, no matter who is at fault.
Take Photos and Find Witnesses. If you can, take photos of the accident before the paramedics and police show up. You want visual evidence of the scene of the accident. The photographs will be very useful when filing a police report and/or an insurance claim.

Make sure to also find any witnesses that were at the scene of the accident. You might want these witnesses to confirm your alibi is accurate if any conflict ensues over who is at fault. Write down the names and numbers of as many witnesses as possible.
Exchange Information. In the case that all parties involved in the accident stay on the scene, you'll want to get each other's information. Write down the names, phone numbers, and addresses of everyone. You'll also want to get the names and numbers of any passengers in the vehicles.

Also get the license and license plate numbers, make/model/year of the cars, and everyone's insurance information. This should consist of their carriers, as well as their policy numbers. If the person driving the car isn't the owner who insured it, ask for the name of the person who's on the insurance policy.
Get your Vehicle Towed. If it isn't safe to drive your vehicle after the accident, you'll want to get it towed. Many insurers have recommended towing companies they work with. You may even get a discount if you go with a company that's a partner of your insurance carrier's.
File a Claim. After everything is resolved at the scene of the accident, you'll want to file an insurance claim, either over the phone or online. You should do this right after the accident occurs. The sooner you file a claim, the sooner you will receive compensation to pay for your damages. Be sure to make a note of your claim number.

You should hear back from an insurance adjuster within the next few days. They will assess the damage to your vehicle and who was at fault, by considering all the data collected from the accident. From there, they will determine how much monetary compensation you will receive for the damages. For more information, check out our article on car insurance claims.
Get your Vehicle Repaired. Your insurance adjuster should provide you with the value of your property damage. In other words, how much it will cost to repair your vehicle. However, it's always a good idea to get quotes and repair prices from multiple shops. If the numbers come out differently, feel free to contest the cost to your insurance company.
Frequently Asked Questions
Q: How much will my premium rates go up if I file a claim for an accident I am not at fault for?
A: It often depends on the company, but it is likely that your premiums will go up with every claim you file. Your carrier will be more inclined to increase your premiums if you're at fault in an accident.
According to the Insurance Information Institute, you can see an increase in your premiums for up to three years from the time you file a claim. Check with your insurer for more information.
Q: Should I file a claim if the accident was minor?
A: This is a tricky one. If you were the only one involved in the accident or crash and the deductible will be more than the damages, it might not be worth it. You also might not want to file a claim if the damage is minor, and you have filed multiple claims with your insurance company recently. This is a surefire reason for them to raise your premiums.
However, here's where not filing a claim can backfire. Say another party is involved but the accident and damages are minor. You decide not to file a claim. About a month later you get a notice saying that the other party has decided to sue. Without having filed a claim, you could be liable for the other party's damages and possible injury.
It is your dilemma to assess, but if you are worried your insurer might raise your rates, you might want to shop around and compare insurance quotes.
Q: What if the accident was a hit-and-run and the person who hit me drove off?
A: If you can't get a picture of the other vehicle's license plate when they drive off, see if there are any witnesses that caught it. If not, you might want to look and see if there are any security or traffic cameras in the area that might have caught the accident. If so, you can contact the owners of the cameras to find out more information on how to get ahold of their footage.
Without any information about the other car, it might be hard to file a claim against them. Your best bet would be to file a police report and provide as much information as you can about the incident.
If you have uninsured/underinsured motorist coverage, your insurer should cover your medical expenses and automobile repairs.
Q: Should I tell the other parties or law enforcement that the accident was my fault?
A: No. Don't admit to it being your fault while at the scene of the accident. Leave law enforcement or your insurance adjuster to determine who's in the wrong. There are a lot of factors that go into the investigation, and you should leave it to the professionals to do the determining.
If you admit you're responsible right after the accident, the other party might use this against you and sue you for fault or negligence.
Q: Should I get rental car reimbursement?
A: Most insurers will agree that you should if you don't have another car at home. This is where your insurance provider will give you a rental car if your car becomes unusable from an accident and needs to go to the shop.
Rental reimbursement insurance will be around a few dollars to $20 added to your monthly premiums. For more information, check with your insurer directly.
Q: What if the other party involved in the accident doesn't have insurance?
A:  As stated above, this is where uninsured motorist or underinsured motorist (UM/ UIM) protection comes into play. It will cover any medical expenses and car repairs up to your policy limit.
Q: Do I need to report the accident to the DMV?
A: This depends on the state you live in. In most states, you need to file a report if the property damage exceeds a certain amount, or if someone gets injured or loses their life. Check with the DMV for your state's specific requirements. 
References:
QuoteWizard.com LLC has made every effort to ensure that the information on this site is correct, but we cannot guarantee that it is free of inaccuracies, errors, or omissions. All content and services provided on or through this site are provided "as is" and "as available" for use. QuoteWizard.com LLC makes no representations or warranties of any kind, express or implied, as to the operation of this site or to the information, content, materials, or products included on this site. You expressly agree that your use of this site is at your sole risk.