Does Car Insurance Cover Flood and Water Damage?
Car insurance usually pays to repair the expensive damage caused by flooding, but only if you carry comprehensive coverage.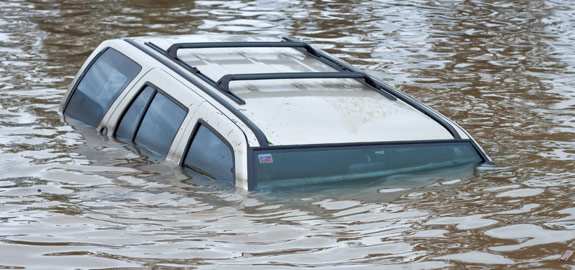 Car insurance covers flood damage if you have the right kind of coverage. A policy with legal minimum liability coverage won't cover flood damage. But a policy with comprehensive coverage will reimburse you for water damage to your car.
This article covers:
Which Types of Car Insurance Cover Flooding?
Only comprehensive car insurance covers flood damage. Collision and liability insurance don't cover flooding.
Liability car insurance coverage protects you if you cause an accident and injure another person or damage another vehicle or piece of property. Collision car insurance coverage protects you if you cause an accident and it damages your vehicle.
If you only have the minimum car insurance for your state, you'll have zero protection from flood or water damage. That's because state minimums only come with liability coverage.
How Does Car Insurance Cover Flood Damage?
Comprehensive car insurance covers you if:
Someone vandalizes or steals your car
Something falls on it
A storm or natural disaster damages or destroys it
That last bullet point is what covers flood and water damage to a vehicle. It doesn't just cover flood damage caused by hurricanes or tropical storms. It also covers damage caused by flash flooding and some other weather events. In other words, you're only protected from water and flood damage if you have comprehensive car insurance.
When Does Car Insurance Cover Flood Damage?
If the event that damages your vehicle is listed as a "covered peril" in your car insurance policy, you can file a claim to repair or replace it.
Again, that's only the case if you have comprehensive coverage.
Your policy won't cover flood or water damage if you leave your windows or sunroof open during a storm. In that situation, you have to pay for damages out of your own pocket.
How Much Does Flood Insurance for Cars Cost?
Comprehensive coverage, the part of a policy that covers flood and water damage, costs $134 per year, according to the III. That price varies depending on what insurance company you choose. Progressive customers, for example, pay $22 a month on average for comprehensive coverage. Comprehensive rates also depend on personal factors like:
Your age
Your driving record
What your car is worth
How much it costs to repair your car
Where you live
Your deductible
Overall, adding comprehensive coverage to your car insurance is affordable. Compare quotes for comprehensive car insurance to protect your car from flood and water damage. It's worth the money.
What If Flooding Damages My Car and I Don't Have Insurance?
If flooding damages your car and you don't have insurance, you have to pay to repair or replace it on your own.
The same is true if you have car insurance but don't have the right type of coverage. Maybe you only carry liability coverage, for instance. Or you carry liability and collision, but not comprehensive.
If you want car insurance to protect you and your vehicle from flood damage, you need comprehensive coverage.
Do You Have to Buy Car Insurance Before Flooding Damages Your Car?
Yes, you have to buy car insurance before a flood damages your vehicle if you want your policy to cover the aftermath. In fact, you have to buy car insurance before hurricane or tropical storm warnings are issued.
Once either of those things happens, you probably won't be able to buy car insurance until the storm passes. You also won't be able to add coverage to an existing policy until then. Insurance companies put these "binding restrictions" in place to keep people from buying coverage only when a storm or other peril is on the way.
Filing an Insurance Claim for a Flooded Car
Filing a car insurance claim for flood damage is pretty much like filing a claim for any other kind of damage. You'll have to pay your deductible before insurance kicks in.
The most important thing when filing a claim for flood damage is speed. File your claim immediately. Water can be particularly damaging to a car. The longer you wait to have yours looked at, the worse it could be for your vehicle. If a storm damaged your car, it probably damaged other cars in the area, too. The sooner you file your claim, the sooner your insurance company will process it.
Do I Need Comprehensive Car Insurance If I Don't Live in a Flood Zone?
Only you can make this decision, but floods occur outside of flood zones all the time. This is especially true when it comes to flash floods.
Also, flood zones are changing all the time. Where you live might not be in a flood zone now, but it may be in one down the road. And comprehensive coverage protects you from flood damage if you're on a road trip away from home.
Plus, protecting yourself from flood damage isn't the only reason to buy comprehensive coverage.
Do I Need Flood Insurance If My Car Is Old?
It depends on your car's make and model, age, and value. Most experts will tell you to carry comprehensive coverage on a car if it's less than 10 years old and if it's worth more than $3,000 or $4,000.
If your car is pretty old, isn't worth much, and you're no longer making payments on it, feel free to drop your comprehensive coverage.
You'll have to pay for all flood or water damage to your vehicle after that, but you can use the money you'll save on your car insurance premiums to pay for repairs or even a replacement.
QuoteWizard.com LLC has made every effort to ensure that the information on this site is correct, but we cannot guarantee that it is free of inaccuracies, errors, or omissions. All content and services provided on or through this site are provided "as is" and "as available" for use. QuoteWizard.com LLC makes no representations or warranties of any kind, express or implied, as to the operation of this site or to the information, content, materials, or products included on this site. You expressly agree that your use of this site is at your sole risk.