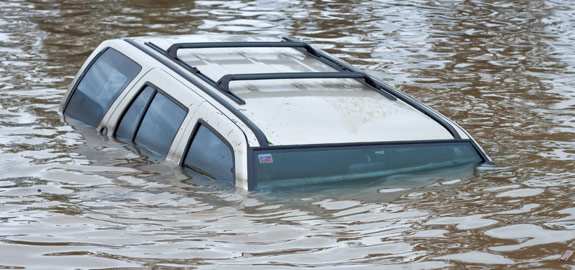 We're in the middle of hurricane season. If you have glanced at the news, you no doubt saw the destruction wrought by recent hurricanes.
Up to half a million cars will be totaled by Hurricane Harvey. According to the New York Times, Hurricane Harvey will inflict as much as $30 billion in damages. But they estimate that a paltry 40 percent of that damage is covered by insurance.
After the devastation brought by flooding in Houston, now is a great time to consider whether or not your car is insured from flood and water damage. You might think that your standard insurance policy will cover you in the event of a catastrophic flood. But unfortunately, that's not the case.
Basic Car Insurance Doesn't Cover Flood Damage
A standard insurance policy only comes with liability coverage and, in some states, uninsured motorist coverage and personal injury protection.
If you have a legal minimum insurance policy, flood damage is NOT covered. Why? Flood and water damage is ONLY paid for by comprehensive coverage. Comprehensive coverage is not included in a basic insurance policy.
In other words, if you don't have comprehensive coverage, your insurer won't pay for water damage.
What Is Comprehensive Coverage? What Does It Cover?
Comprehensive insurance is an optional policy add-on that pays for damages to your car that are not caused by a collision. It's different than other forms of insurance coverage which cover medical bills, property damage, and vehicle expenses after collisions.
Comprehensive insurance, on the other hand, pays for damages to your car from the following incidents:
Fire
Theft
Vandalism
Water damage
Falling objects like trees
Natural disasters
Animal damages
Hail
Earthquakes
Explosions
If your car is damaged by any of the above scenarios, comprehensive coverage will help pay for it. However, without comprehensive coverage, you're on the hook for all damage expenses. So, if you live in a hurricane or flood-prone area, you should purchase comprehensive coverage.
Contrary to its name, comprehensive coverage doesn't pay for everything. Collisions, property damage, and bodily injury are not paid for under comprehensive coverage. But in the case of floods and water damage, comprehensive coverage can save the day.
What to Do If Your Car Is Damaged by Water
There are multiple scenarios in which your car may be damaged by water. Floods, heavy rains, leaks, hailstorms, and hurricanes all cause millions of dollars of water damage every year.
If your car is impacted by water damage, here are immediate steps you should take:
Above all, make sure you're safe. Don't risk your safety and well-being to save your car. It's not worth it.
Take as many photos of the damage as you can. Include your license plate in the photos if possible.
Do a water damage checklist:

Check for wet air filters.
Check the dipstick for water. If you see any, there may be water in your engine.
Remove any water damages cylinders and check for corrosion and rust.
Siphon gas to check for water in the fuel tank and line.

Contact your insurance company as soon as possible. Claims are very time consuming, especially during a natural disaster. During a natural disaster, insurance companies deal with many claims. The faster you start the claim process, the better.
Find out if your claim exceeds your deductible. If it doesn't, you'll have to pay for repairs yourself.
Do not start the car. If your car still has moisture in the engine or near electrical components, starting the car can cause severe damage. Tow your vehicle to a mechanic for inspection.
Dry the car as much as possible. Tow it to a professional detailer. If that's not possible, use a wet/dry vacuum, dehumidifiers, and fans to dry it as much as possible. If you don't fully dry the vehicle, it may develop mold, which can easily total a vehicle.
If your car was damaged by salt water, be prepared for rust. Corrosive rust can ravage an undercarriage. And you might not notice it until later.
Only use mechanics and detail shops that are approved by your insurance. This can save you from a big headache down the road.
Ask your insurance company about a rental vehicle. Many insurers offer rental benefits.
If your car was parked on your property, your home insurance may pay for some damages. Contact your home insurance company to find out.
If the engine is submerged, prepare for total loss. That damage is hard to recover from. Similarly, your car's electrical components can easily get damaged, and those are notoriously difficult to fix.
Observe your car for several months. Some water damage isn't immediately obvious, and only becomes apparent over time.
For more helpful tips on how to deal with insurance claims after catastrophic incidents, visit the Insurance Information Institute. Hopefully, you have comprehensive coverage. If not, you should add it to your policy.
Buying Comprehensive Coverage
Bottom line: if you live in a flood-prone area, or if you simply want more protection and peace of mind, you need comprehensive coverage.
The good news is that buying comprehensive coverage is simple and straightforward. Depending on a few factors, it can be pretty cheap.
Unfortunately, folks who live in areas with higher likelihoods of floods, vandalism, or other comprehensive risks will pay more for coverage. That's because insurers know people in those areas are statistically more likely to file a claim.
We recommend speaking to multiple agents and comparing quotes to get the best comprehensive car insurance policy. QuoteWizard can help you easily compare quotes and connect you with multiple agents. We can help you find the ideal policy, the cheapest prices, and agents with the best customer service.
When purchasing comprehensive coverage, you need to choose a deductible. Choosing the right amount depends on your finances, the value of your vehicle, and your risk-level.
You can calculate your monthly premium depending on your preferred deductible. It's often worth it to purchase a lower comprehensive deductible. An agent can help assess your situation to find you the right deductible amount.
Choosing the right deductible isn't easy. For example, a $1,000 deductible will have a cheaper monthly premium than a $500 deductible. But if a tree branch falls and smashes your windshield, the damages probably won't equal your $1,000 deductible.
That means you'll have to pay to have the windshield replaced out of pocket. If you don't have a decent emergency savings fund, that will put you in a tough spot.
Some people choose to pay out of pocket for small damages to prevent their premium from rising due to filing a claim. Fortunately, filing a comprehensive claim usually doesn't raise your premiums like other claims do. That's because a comprehensive claim doesn't mean you're a bad or risky driver.
If Your Car Is Totaled
Once your car is impacted by major water damage, be prepared to say goodbye. Water damage can easily total a car by destroying electrical components and flooding the engine compartment.
When the cost of repair plus the salvage value of a car exceeds its market value, an insurance company will deem it a total loss.
When that happens, your insurance company will pay you for the retail market value of your vehicle. In some states, insurers may replace your car with a comparable car.
If you and your insurer disagree on the value of your vehicle, an appraiser may be needed to independently value the car.
Some people will sell their totaled car to a scrapyard for cash. If a car is barely deemed a total loss, an owner may choose to keep it and attempt to repair it. The insurance company will still pay you the cash value, but they will keep the deductible and salvage value.
If you intend to keep a totaled car, sometimes you will have to negotiate with the insurance company to buy it back from them. The exact procedure depends on your states requirements.
If you're attempting to repair a totaled car, be prepared. It's not easy, and insuring a salvaged car presents unique challenges. If you don't know a lot about fixing cars, we recommend that you move on from a salvage vehicle.
What Else Do I Need to Know About Insurance and Flood Damage?
If you're just now reading this article because you found out a hurricane is headed for you, you may be out of luck.
Insurance companies generally require a waiting period to purchase policy add-ons in areas with storm warnings. That means either a 30-day waiting period, or simply halting policy sales until the storm has passed.
That's why it's important to purchase comprehensive coverage ahead of time. If you're purchasing this policy because you live in a flood-prone area, don't forget to add flood insurance to your homeowner's policy. It's not just homeowners – renters also benefit from flood insurance. And guess what? You can bundle policies to save money.
We know that shopping for insurance isn't fun. But you know what is less fun? Having a flooded house and car with no insurance protection. Don't wait until it's too late. Get flood insurance for your home and car.
QuoteWizard.com LLC has made every effort to ensure that the information on this site is correct, but we cannot guarantee that it is free of inaccuracies, errors, or omissions. All content and services provided on or through this site are provided "as is" and "as available" for use. QuoteWizard.com LLC makes no representations or warranties of any kind, express or implied, as to the operation of this site or to the information, content, materials, or products included on this site. You expressly agree that your use of this site is at your sole risk.